We use affiliate links. If you buy something through the links on this page, we may earn a commission at no cost to you. Learn more.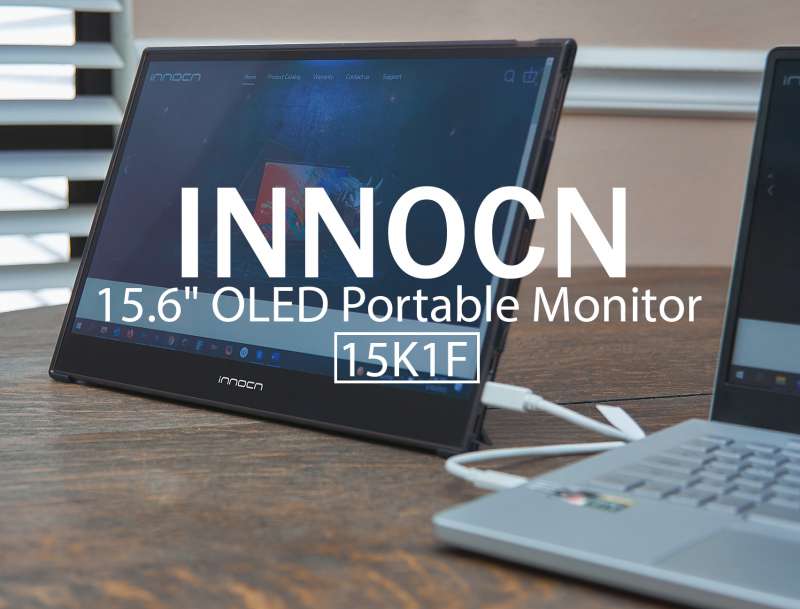 REVIEW – When I'm working on my computer, productivity is key. So, having an extra monitor is not only convenient but can also provide to be a necessity especially when you are working with multiple files, programs, tabs, or folders.  When using an extra monitor you can gain more desktop space and cut down on screen clutter. The INNOCN 15K1F 15.6″ Inch OLED Portable Monitor is one such monitor that can help organize your desktop and assist with multitasking making for better and faster productivity.
What is it?
The INNOCN 15K1F is a portable 15.6″ in. 1080P OLED external display monitor with a bright and vivid screen that is perfect for you to use as a second monitor with your computer or laptop setup.  It can also be used with tablets, smartphones, and gaming consoles. Its slim profile makes it a perfect size for travel or if you have very little space in an area that won't fit a larger monitor.

What's in the box?
INNOCN 15K1F 15.6″ Inch OLED Portable Monitor
Monitor Case/Stand
Mini HDMI to HDMI  Cable
USB-C Power Delivery Cable
USB-C Charging Cable
USB-C Wall Charger Adapter
Manual
Color Calibration Factory Report
Hardware specs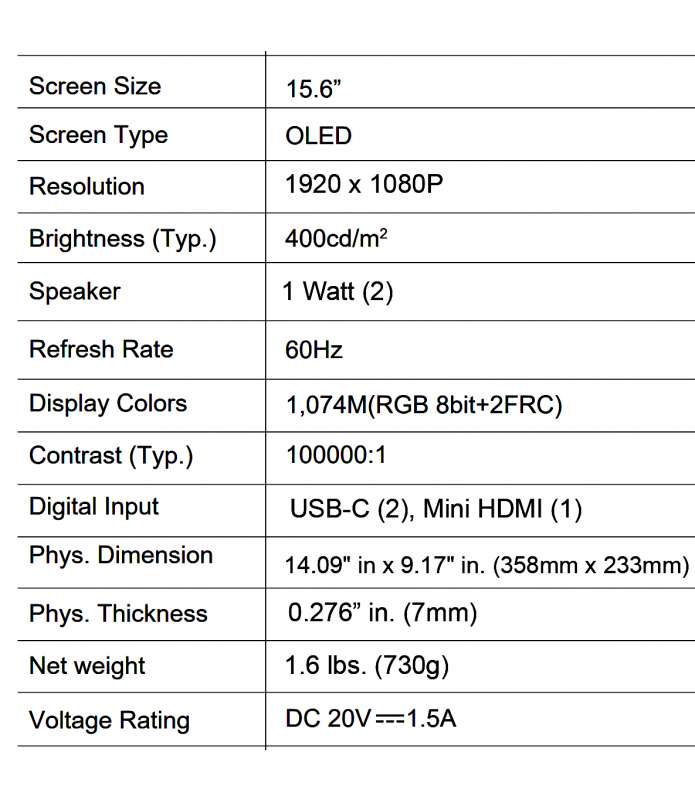 Design and features
The INNOCN 15K1F is a great size for a secondary monitor screen that doesn't take up a lot of space on my desk and because it is light, I can pick it up and move it around easily. With ordinary monitors, they aren't as thin and have a larger footprint due to the monitor's base or stand. Plus, I can literally pick up the 15K1F with one hand if I need to shuffle it around on my desk. Because it takes up little space and is lightweight makes it a great portable monitor. This monitor has a weight of 1.6 lbs. (730g) and has a dimension of 14.09″ in x 9.17″ in. (358mm x 233mm).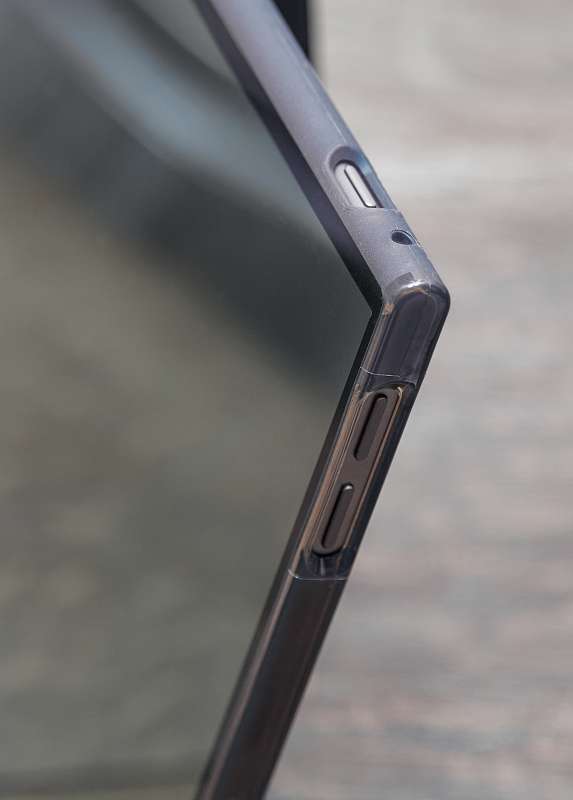 Not unlike some standard monitors, the 15K1F has a Power button, Volume Up/Down buttons, and Connection ports. The Power button also activates the OSD (On Screen Display) Menu as well as the Sub-Menus. The Volume buttons can also help you navigate through the Menus.
At the top right of the monitor, you will find the Power button and next to it is an LED status light. Moving down the right side of the monitor are the Volume buttons. And past those buttons is one of the two speakers for the monitor. The second speaker is located on the left side of the monitor.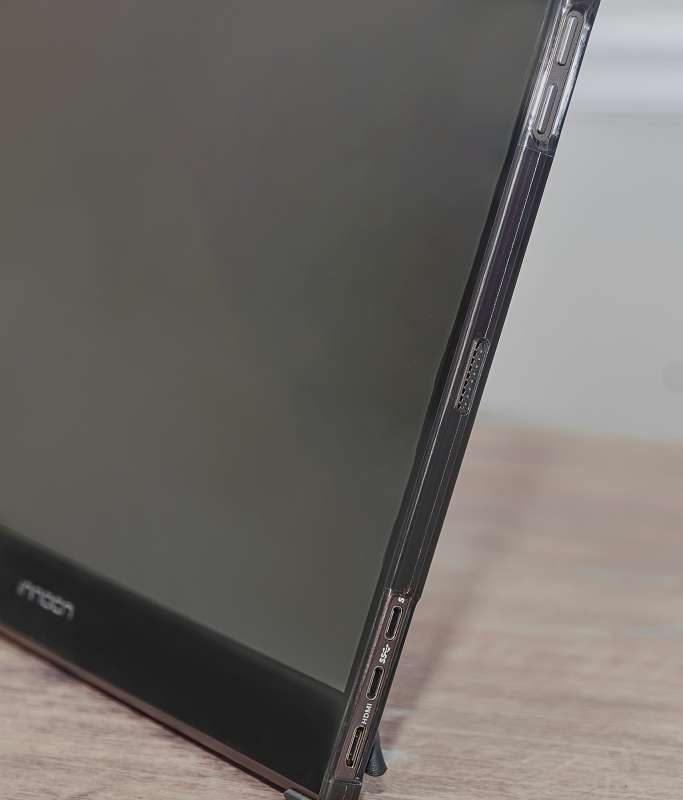 As far as the sound quality of the INNOCN 15K1F 15.6″ Inch OLED Portable Monitor's speakers, you won't be wowed by the sound but it is acceptable. I thought the sound was decent enough since these small speakers didn't get blown out or rattle when I had the volume turned all the way up. With that in mind, there is no 3.5mm headphone jack available. So, if you wanted to connect headphones to this monitor then you're out of luck. I think a headphone jack would have come in handy with this monitor.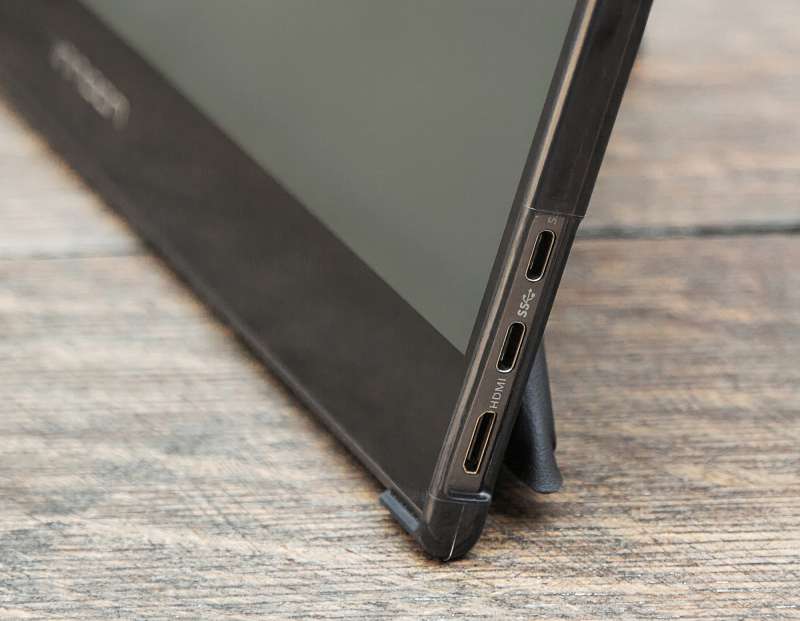 At the bottom right of the monitor are the Power and Connection ports. For the Connection ports, this monitor has two options: a Type-C USB port and an Mini HDMI port. The great thing about this monitor is that it has a Type-C USB, or USB-C, connection. If your device has power delivery, you are able to use the included USB-C cable and plug directly into your laptop, or even your smartphone, without any extra power cords. Having only one cable keeps things neat and tidy. Plus, it is less cables to carry around should you travel with this monitor. However, if you end up using the Mini HDMI cable instead of the USB-C cable, then you will have to use the extra USB-C power cable with the wall charger to power the monitor.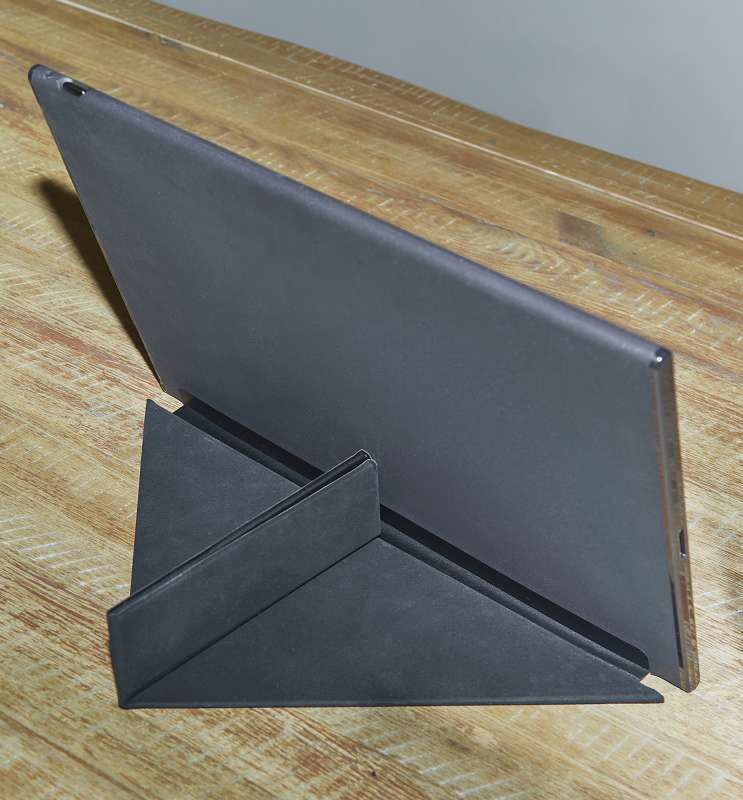 The 15K1F monitor comes with a protective flip case which doubles as a monitor stand. The case can be folded to form a stand and is held together with magnets to hold its shape. Although you can fold the stand in two different ways, there is really only one angle that the monitor can be positioned. I would have liked for the stand to be adjustable in case you want to set the monitor in different positions, or at a more upright angle, but at least the protective case gives you the ability to create a stand at all.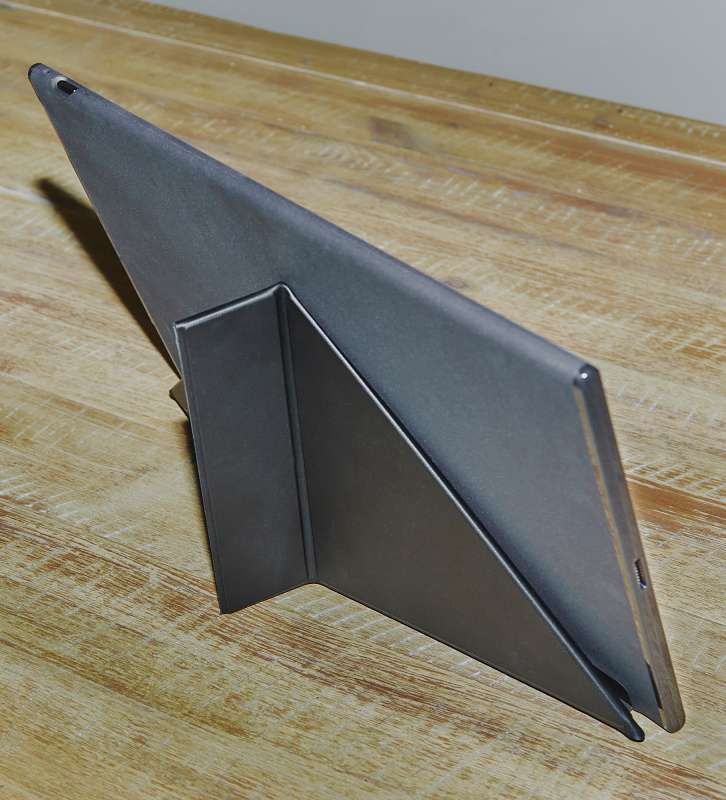 The INNOCN 15K1F 15.6″ Inch OLED Portable Monitor has six color space Profiles: Standard, Text, Movie, Game, Adobe RGB, and sRGB. There are other display Menu options such as Color Temperature, as well as typical settings to adjust Color, chroma, saturation, and sharpness. One feature setting that I  found helpful is the Eye Protection Level mode which adjusts the blue light on the monitor screen to help alleviate eye fatigue and strain.
Performance
The OLED screen resolution on this monitor is great. The image quality is very rich and eye-catching. And that's thanks to the monitor's 100% DCI-P3 color gamut, which a standard in the film industry. DCI-P3 is supposed to have around 26%  more color space than sRGB monitors. I found this monitor to be great when viewing images in Photoshop as well as viewing videos in Premiere Pro. Plus, with the monitor's 100000:1 contrast ratio, the dark areas in images and videos are significantly dark since you don't get any backlight on the screen making shadows washed out. I really enjoyed using this display to compare the images and videos against my regular monitor. 
The 15K1F monitor has a 400 nits brightness display, 60Hz refresh rate, and a 1080 full HD display. However, INNOCN has another model (PU15-PRE) that supports 4K, plus it also features a touchscreen and a built-in battery. Maybe someday I'll be able to get my hands on the 4K touchscreen model and see how it compares to this one. It also features a 1ms latency which is ideal for gaming so you get that faster response time.
As I mentioned, I compared some of the images I was editing in Photoshop between this monitor and my main monitor to see the differences in quality. I can say that the colors and image quality were definitely punched up on the 15K1F than my ASUS 4K monitor, which was a surprise since I only made very minor adjustments to two or three settings due to the fact that the monitor looked well calibrated right out of the box.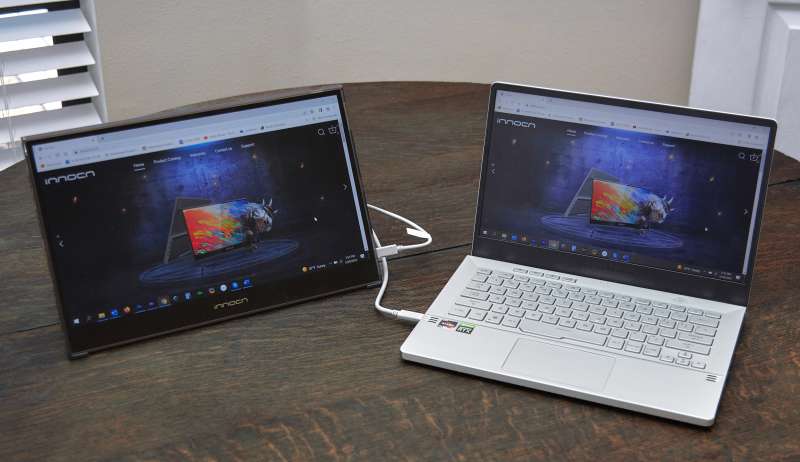 Since the USB-C port on my ASUS Zephyrus laptop was already used up by a docking station, I ended up using the supplied Mini HDMI cable to connect the monitor to my laptop. In doing so, I had to plug the monitor into the wall using the power USB-C cable and wall adapter. However, I did try the connecting the monitor into my laptop's USB-C port as well.
Both ways worked great without any hesitation or issues. So, when connected with either the Mini HDMI or USB-C cable, the image quality looked amazing.  If I wasn't already using the docking station, I would prefer the USB-C cable since only one cable would be needed. Just know that I was able to use the USB-C cable by itself because the Asus Zephyrus laptop has a USB-C port with Power Delivery to power the laptop on its own. When connected to my desktop PC, I used the Mini HDMI cable and then powered the monitor with the USB-C  power cable.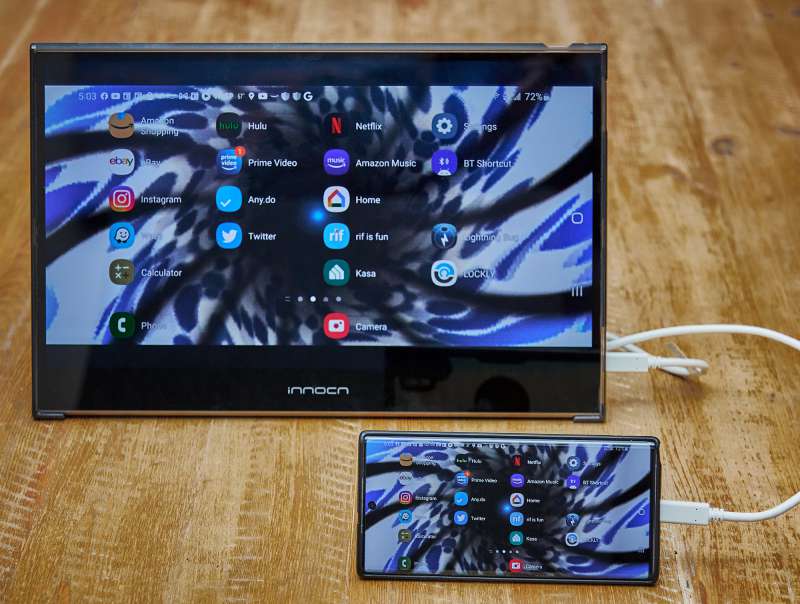 And speaking of the USB-C cable, I could plug the USB-C cable right into my smartphone and use the monitor with my phone as well.  Keep in mind that I was using my Samsung Note 10 Plus, which is an Android phone, that has a USB-C port that supplies power for the monitor. I tried this monitor with an iPhone and a USB-C to lightning cable, but unfortunately, I could not get the monitor to work with the iPhone so the monitor may not be compatible with iOS at the time of writing this review.
What I like
Colorful vivid screen
Thin and lightweight
100% DCI-P3 color gamut
Single USB-C cable for connection and power
Use with Android smartphone
What I'd change
Have  a case stand with variable angles
Add a 3.5mm headphone jack

Final thoughts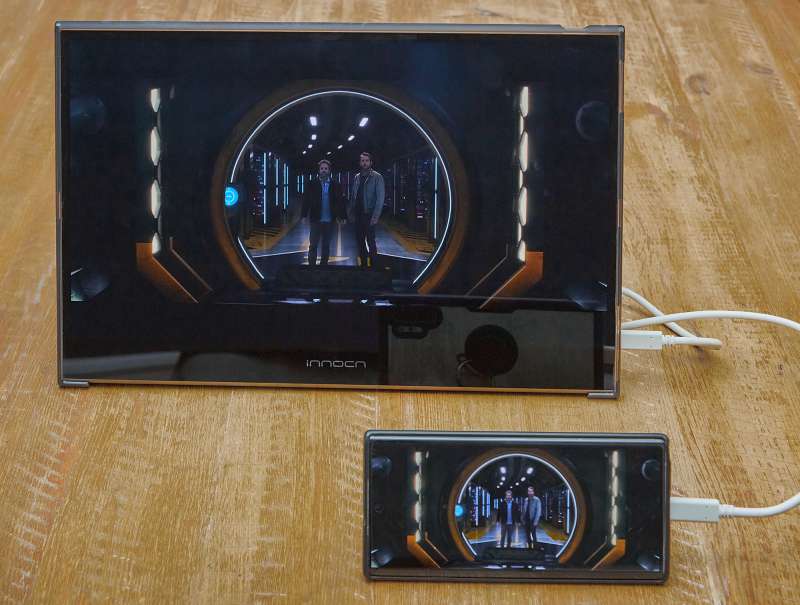 Whether using the Mini HDMI or the USB-C cable connection, the INNOCN 15K1F 15.6″ Inch OLED Portable Monitor is truly a plug and play device since there are no drivers to install.  This monitor was super simple to set up and a joy to use. Plus, it is lightweight and thin so it makes it convenient to take along with you. You can stash it in your backpack, luggage, or carry-on, or can be just as simple and easy to carry by itself. The picture quality of the INNOCN 15K1F 15.6″ Inch OLED Portable Monitor is fantastic. I really enjoyed using it side by side with my ASUS 4K monitor. Although the 15K1F isn't a 4K monitor, it's 1080P OLED screen, and 100000:1 contrast ratio truly showcases the 15K1F's picture display. Plus, with the monitor's 100% DCI-P3 color gamut, it helps me get more accurate color space when editing photos or videos. The 15K1F is a great addition as a secondary monitor for productivity as well as for having a little fun and leisure.
Price: $339.99
Where to buy: Amazon
Source: The sample of this product was provided by INNOCN.