We use affiliate links. If you buy something through the links on this page, we may earn a commission at no cost to you. Learn more.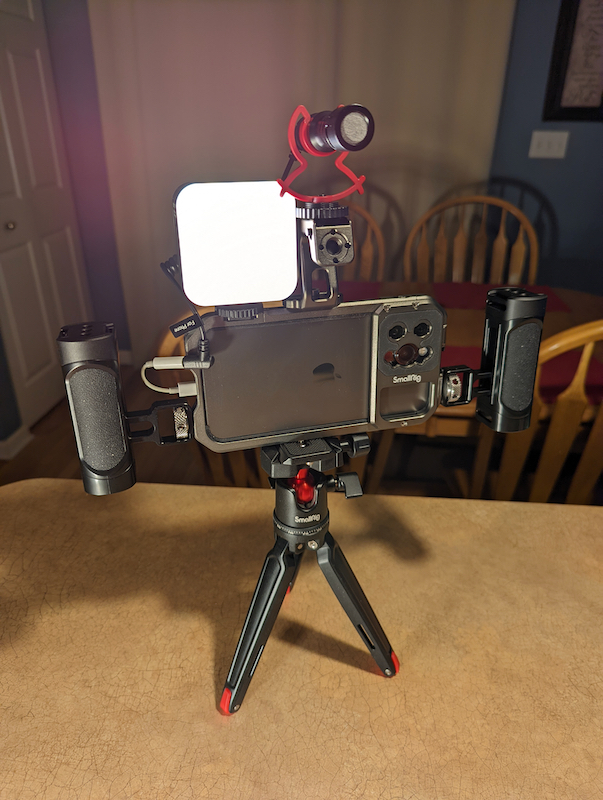 REVIEW – Mobile filmmaking has become a phenomenon in recent years. For over a decade people have been using shots from mobile phones in movies and TV shows, shooting short films with them, with some even shooting full feature-length movies on smartphones. SmallRig, a well-known video accessory manufacturer, has released the Mobile Video Cage for iPhone 13 Pro and Pro Max phone models. Here's a quick overview of its features and some test footage I shot around my neighborhood. I hope you enjoy it.
What is it?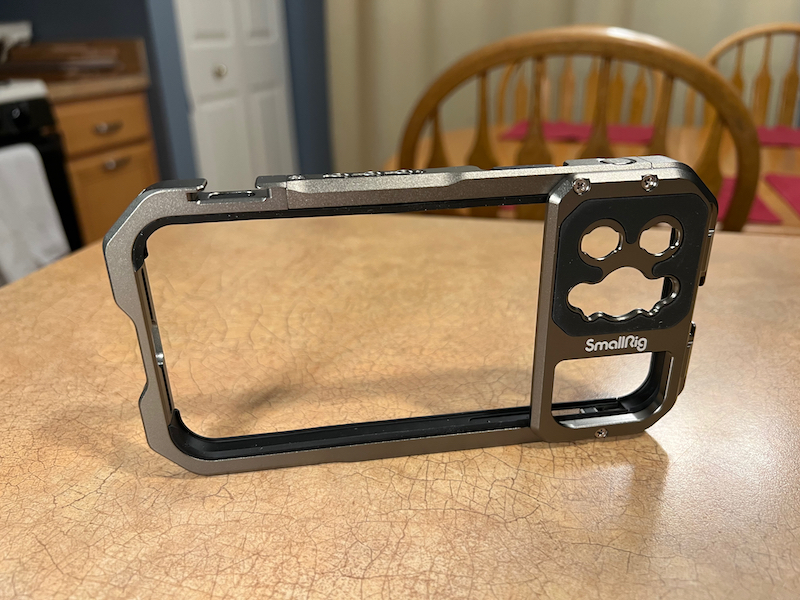 The SmallRig Mobile Video Cage is a lightweight aluminum alloy frame designed to hold an iPhone 13 Pro or 13 Pro Max. In addition to holding the iPhone, the SmallRig has attachment points for various accessories, some sold by SmallRig and some from third-party vendors. There are separate SmallRig models for each size of phone so make sure you purchase the right one for your device.
What's in the box?
SmallRig Mobile Video Cage
Hardware specs
Dimensions: 6.38 x 3.44 x .61 in. (162 x 87.5 x 15.4 mm)
Weight: 87 ± grams
Material: Aluminum alloy, silica gel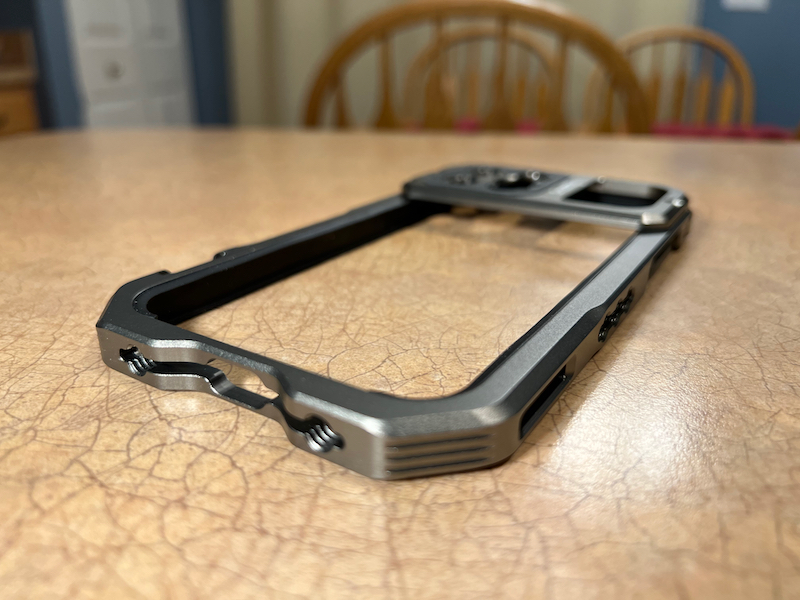 Design and features
The SmallRig video cage is similar to bumper-style phone cases that protect the top, bottom, and sides of the phone with no protection for the screen or back sides. There is a small frame section that goes around the lens area on the back of the phone, which can be used to mount lens attachments for wide angle, telephoto, or macro lens options. The cage supports M-mount or 17mm threaded lenses. SmallRig says the frame doesn't interfere with the built-in wide-angle lens or the LIDAR array on the back of the phone, so all features are still available.
Around the edges of the frame are 1/4″-20 threaded mounting holes and cold shoe mounts, both used to attach various accessories such as a top handle, side handles, tripods, lights, microphones, and other items as needed. The SmallRig allows for both horizontal and vertical shooting modes.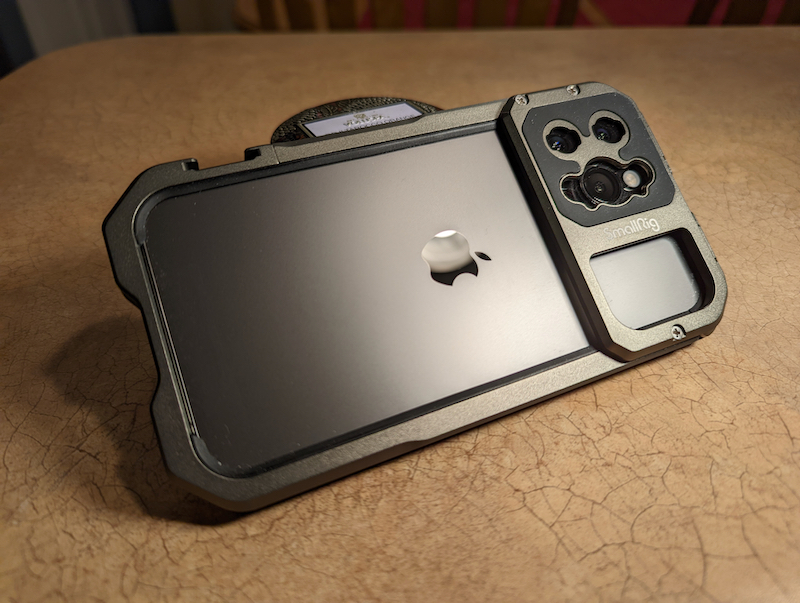 In addition to holding the phone and accessories, the cage is compatible with several quick release plates that work with gimbals, specifically models from DJI and Zhiyun, as mentioned on SmallRig's site, although I assume it can fit other gimbals as well.
The inside of the cage is a soft rubbery material which prevents the edges of the phone from being scratched while in the cage. All ports are still accessible and the buttons are also covered by the soft rubbery material but still fully usable.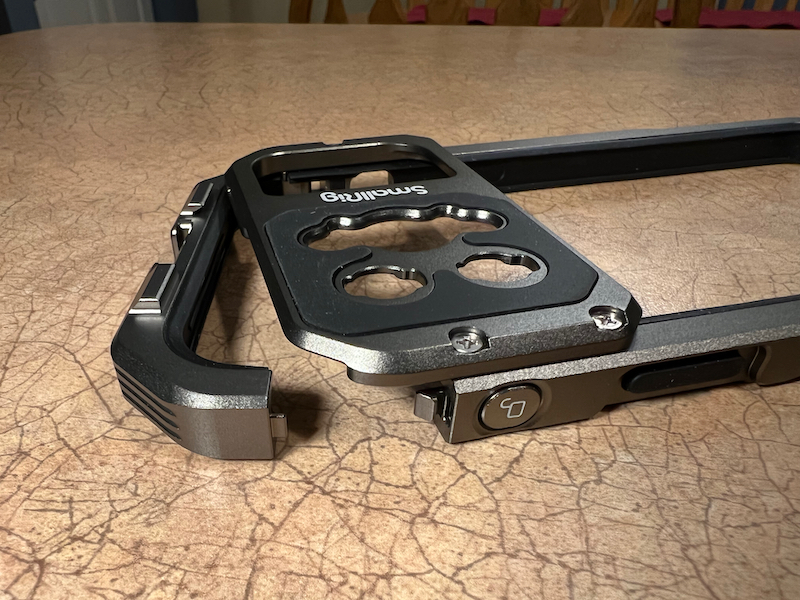 Installation and setup
SmallRig sent me the Mobile Video Cage as well as a box of optional accessories to test with it. (Please note – these are optional accessories and are not included in the purchase of the SmallRig video cage.) The accessory pack included:
simorr Wave S1 Lite microphone
simorr Vibe P80 Double-faced LED Video Light x2
SmallRig BUT2664 Tabletop Mini Tripod with Panoramic Ball Head
SmallRig 2772 Lightweight Side Handle x2
SmallRig HTS2756 Mini Top Handle
SmallRig 2070B Articulating Arm with Dual Ball Heads
SmallRig 2066B Articulating Arm (9.5 inches)
SmallRig 2903 Swivel and Tilt Adjustable Monitor Mount with ARRI-style Mount
This is a nice accessory package, useful for many shooting scenarios, both still and video.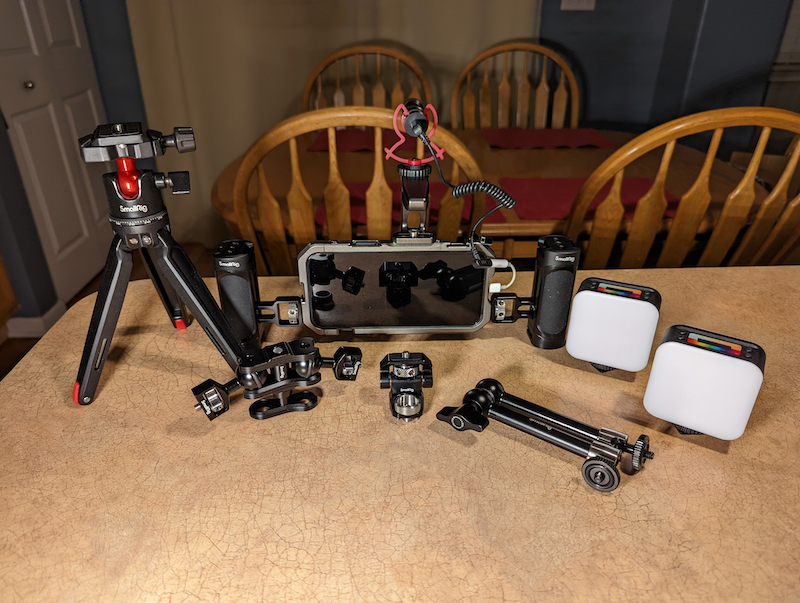 As far as installation and setup go, all you need to do is take the phone out of its case, press the button to release the hinged section of the cage, slide your phone in, and close the hinged section. It latches solidly; I had no concern for this popping open while shooting. If you have the optional handles, a microphone, a light, or anything else, they'll need to be attached as necessary, but otherwise, there's nothing else to do to mount the phone in this cage. It couldn't be easier. I did find that one of the handles seemed to rock just a little bit if I moved it very hard. This didn't affect my ability to shoot with it, but I cranked it down as hard as I could and it still had just a little bit of a wiggle to it.
In Use
Once the phone is in the cage, and you've attached the accessories, you can shoot whatever you want. I decided to take a walk around my neighborhood and get some footage on a crisp, cold, cloudy day after a decent snowfall. Carrying the phone with the handles was convenient – I could go wherever I wanted and not fear touching the screen and accidentally shooting, changing apps, changing settings, etc. When I was ready to shoot, I'd grab the cage by both handles, select the lens I wanted to shoot with in my camera app, and press the volume up button to start/stop shooting with my gloved hand.
**ignore the buzzing sound – I think my headphone dongle is going bad**
This ended up being a convenient way to walk around and be ready to shoot any time I wanted. The dual handles provide a nice surface to hold on to vs. trying to hold the edge of a phone, which is a much narrower surface to grab on to. It also meant I could hold on with gloved hands and not worry about my gloves getting into the shot because they were far enough away from the lens to be out of the way.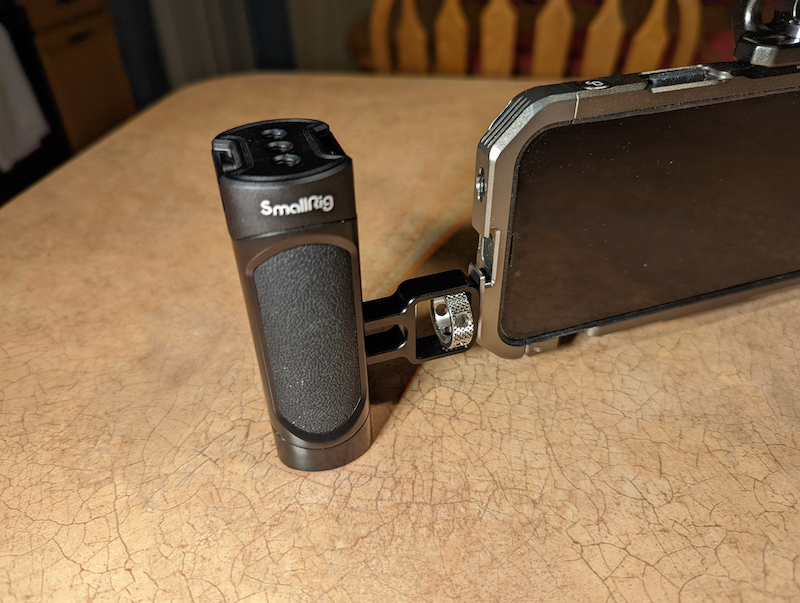 There's a lot to be said for having a tight grip on the camera you're shooting with, whether it's a phone or a dedicated camera. Keeping a good grip on the camera, being able to hold it away from your body in a comfortable position, makes it easy to shoot and achieve better angles than you may be able to with just the phone.
This review is not really about the accessories, but I'll mention a few of them specifically here. The tripod is very sturdy and is able to hold the phone with all its accessories attached without issue. I also used it to hold up a Rosco DMG DASH Pocket LED that I've been using for a while with an old Joby GorillaPod. This is a much sturdier tripod than the Joby, which means I'm not in fear of knocking the light over like I've done many times with the GorillaPod.
The next accessory I'd like to mention is the simorr Vibe P80 LED Video Light. This light is a double-faced light, with one light covering the full RGB spectrum, and the other side is white with color temperature adjustable from 2500K to 9000K. Magnetic sides allow you to attach multiple light fixtures in an array and an included cold shoe mount allows it to be attached to the SmallRig cage as well as other mounts and cameras that include a shoe mount.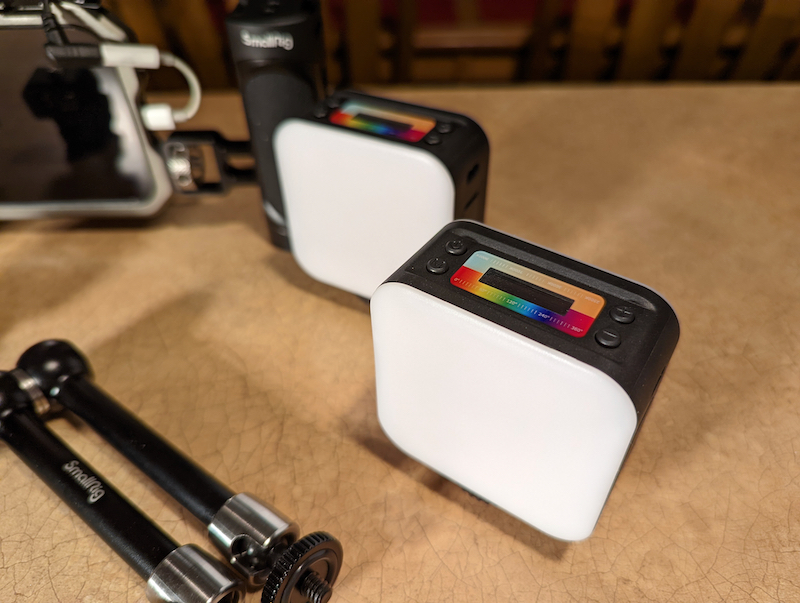 Lastly, the simorr Wave S1 Lite microphone is a great accessory for recording better audio than the microphone built into your smartphone. This can also be mounted in a cold shoe mount and includes a foam windscreen, a furry windscreen, a suspension mount, and cables to attach to a regular camera or a smartphone. Having an external microphone is necessary for capturing good natural sound and for getting the microphone closer to the subject than you can when using a built-in mic.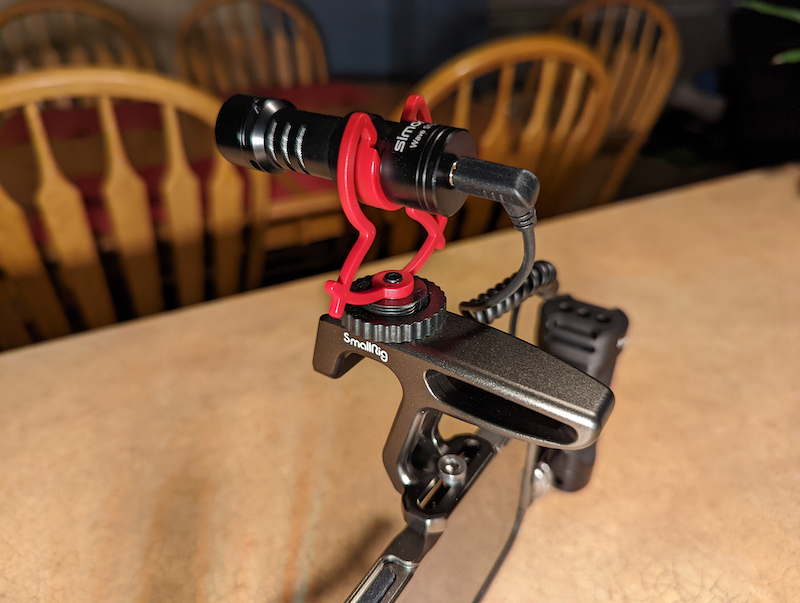 What I like
Ultimate flexibility
Solid construction
Low price
Lots of accessories available
What I'd change
Fix the wobble with the optional handle
Final thoughts
This is not a case I would keep on my phone every day, but they're not selling it for that purpose. Being able to take a phone out of your pocket, taking off its case, sliding it into this cage, and being ready to shoot in about 30 seconds, means you can be ready to shoot just about any time. Today's phones can shoot such good footage and a device like this makes it possible to accessorize it to fit just about any shooting scenario.
Price: $39.90 for iPhone 13 Pro model at smallrig.com
Where to buy: smallrig.com or Amazon
Source: The sample for this review was provided by SmallRig. For more information visit their site.