We use affiliate links. If you buy something through the links on this page, we may earn a commission at no cost to you. Learn more.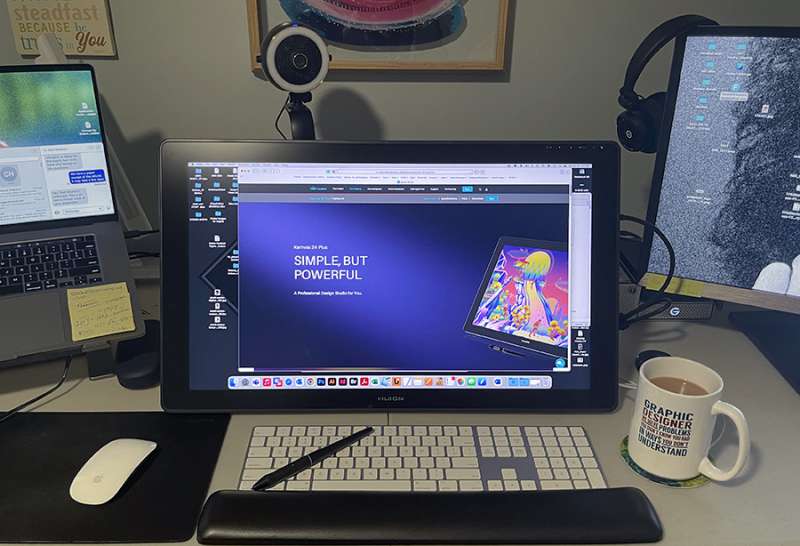 REVIEW – If you're a digital artist, graphic designer, or just a photo hobbyist and you don't already own a graphics tablet, you may need to rethink that. There are so many choices today among tablets, it's becoming overwhelming. In digital prehistoric times, there was one company that made graphics tablets—Wacom. They were quite simply the best. They were (and still are) also quite expensive. Today, that's changed—a lot. There are now many good choices of tablets that can fit any budget. Huion is a company that has begun to compete head-to-head with Wacom and is winning in price—especially in the larger tablet arena like the Huion Kamvas 24 Plus Pen Display.

What is it?
The question is more like, "What is a pen display?" 
Graphics tablets are tablets you draw on with a digital pen. It lies flat on a desktop as you draw while looking straight ahead at a monitor in front of you. 
A pen display is basically a monitor you draw on with a stylus (pen)—similar to an iPad with one difference. Pen displays are not autonomous—they require a computer to work. However, the major advantage of pen displays (and graphics tablets) is you can run any program your computer will run. It is a monitor, after all. 
The Huion Kamvas 24 Plus Pen Display is a large, 24 in. desktop monitor you can draw on with the included battery-free pen. It has some features usually found on more expensive pen displays, such as lamination, glass surface, stand, and high resolution. These will be explained in the review.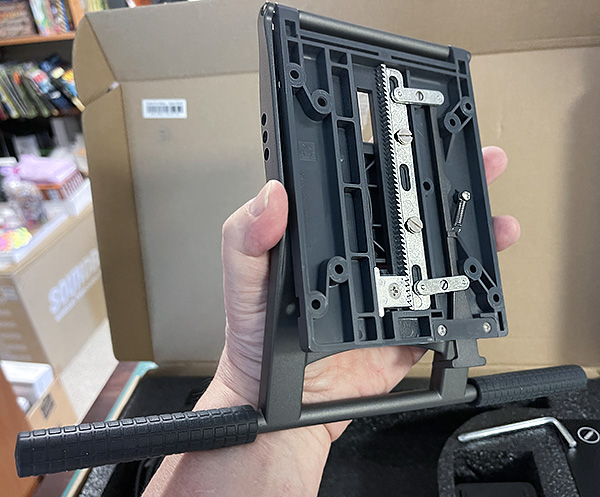 It rests on an included stand that allows the monitor angle to be raised or lowered from 20°-80*.
Huion makes three 24 in. display tablets: Kamvas 24 Plus (this one), Kamvas Pro 24 (QHD), and the Kamvas Pro 4K. The Kamvas 24 Plus holds the sweet spot. Even though "Pro" is not in the name, the 24 Plus is as Pro as the Pro 24 (QHD)—maybe more so. The Pro 24 has short-cut keys built into the outer frame. The 24 Plus has a better color gamut, better contrast ratio, and USB-C connections. You can add an optional Mini Keydial KD100 for shortcut keys if you wish. Confused? I hear ya. Huion needs to simplify its line of displays. Know this: The 24 Plus is better than the Pro 24.

Hardware specs
LCD Panel size: 23.8 inches (Diagonal)
Resolution: 2560 x 1440 (16:9) QHD
123 PPI (Pixels Per Inch)
Active Area: 526.85 x 296.35mm
Contrast Ratio: 1200:1
Color gamut: 140% sRGB
Pen pressure levels: 8192
Dimension: 23.8 x 14 x 1.1 in.
Net weight: 12.3 lbs. (With Stand)
VESA compatibility

What's in the box?
Battery-free Pen
Pen Nibs x 10
Pen Holder
Power Adapter and AC Cable
3-in-1 Cable
USB-C to USB-C Cable
Glove
Quick Start Guide
Cleaning Cloth

Design and features
I want to start the review with my list of complaints about the Huion Kamvas 24 Plus Pen Display . . . I got nuthin'. 
I honestly can't think of anything to dislike about this monitor. First, a little backstory: Recently, my backyard studio building was flooded by hurricane Ian in Central Florida. The studio is currently a stripped-out shell of a building waiting for my contractor to rehab it. I received the 24 Plus display a few days before the storm. I wisely brought all of the computer gear into the house before Ian hit and am now working in a spare bedroom. The 24 Plus display has been a godsend. After loading the driver, it quickly became my main monitor as well as my go-to drawing tablet.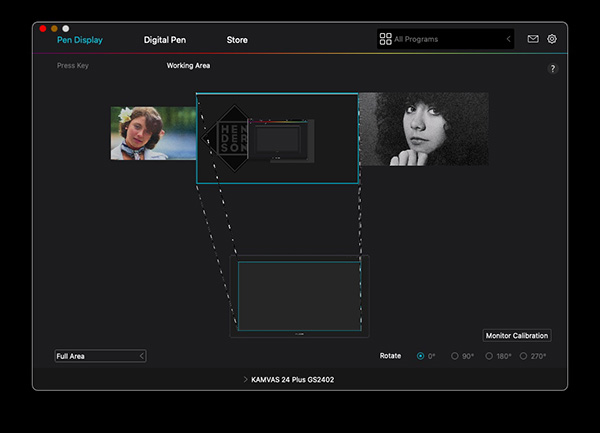 All pen displays and graphic tablets need drivers—apps that tell the computer that the display exists and is now connected. Any driver app is almost always the weak link in any pen display setup. The HuionTablet driver app installed with no errors and it works well on my MacBook Pro.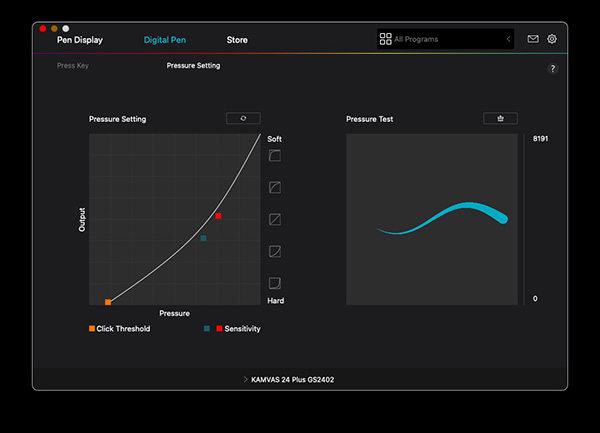 This driver lets you customize settings for both the pen and the display.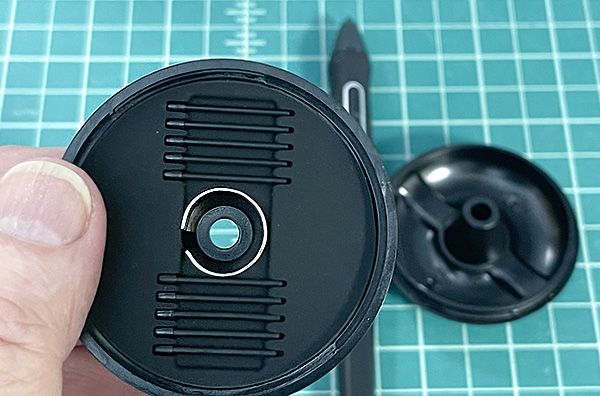 The pen features what Huion calls PenTech 3.0—supporting a 60° tilt function and 8192 levels of pressure sensitivity. This means you can draw a thick-to-thin line just by how hard the pen tip is pressed. Pen nibs do wear down over time and need to be replaced. Huion provides a generous 10 extra nibs.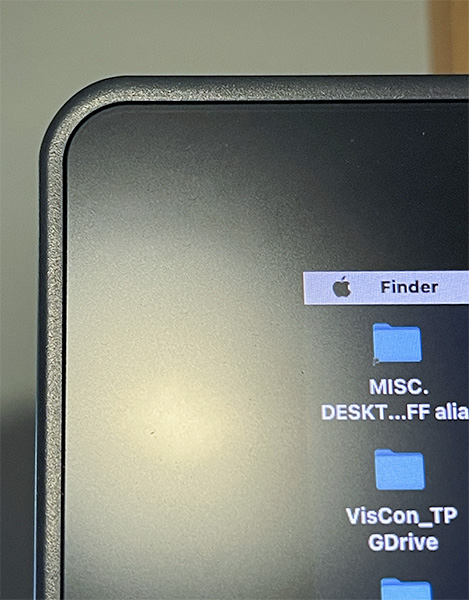 The surface of the 24 Plus is made of etched glass. Many pen displays in this price range have a matte plastic screen cover over a shiny glass surface. This plastic covering can be scratched or worn down over time. Etched glass lasts far, far longer.
Since there are no built-in short-cut keys (like on the Pro 24), the 24 Plus has a smaller footprint overall. The 23.6 in. live monitor area is surrounded by a 1.25-inch bezel.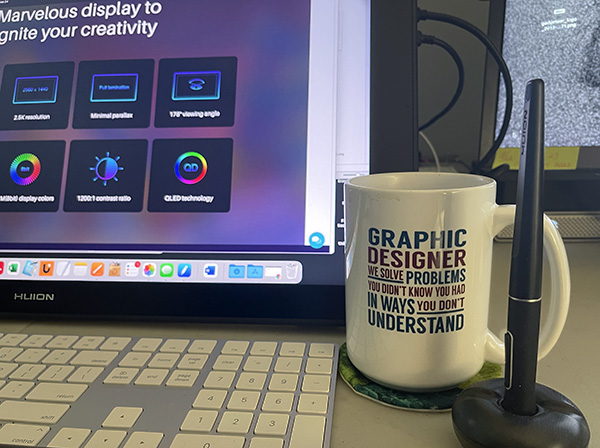 The monitor has a resolution of 2560X1440 (2K)—a good resolution for drawing and photo retouching. Granted, it's not 4K (3840 x 2160), but unless the displays are side-by-side, you might not notice. More importantly, a 2K screen has much finer detail than an HD screen (1440 x 1080). Let's talk lamination.
Lamination is the distance—or lack of it—between the glass surface and the imaging monitor screen underneath. If those two pieces are not laminated, there is a tiny gap between them. This can give the illusion that the pen tip is not touching exactly where the drawn line is. This visual offset is called parallax. If the screen is laminated, there is no gap—or parallax. The pen tip touches exactly where the line is on the screen. The 24 Plus's etched glass screen is laminated.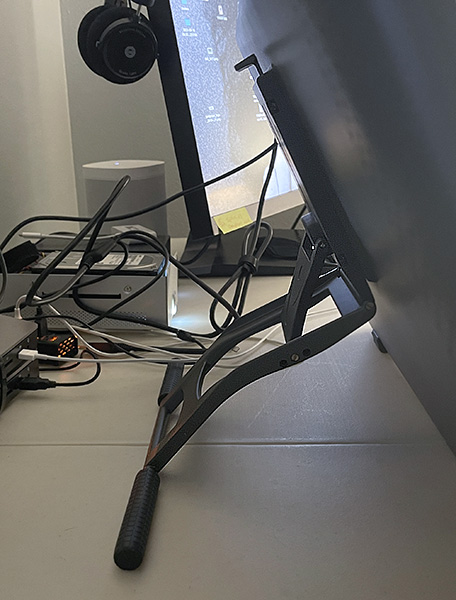 Thank goodness the 24 Plus comes with a stand. For some strange reason, the more "pro" a display is, the less chance it will have an included stand. Maybe it's because pro artists will have either a stand or an ergonomic arm already attached to their desks. Whatever the case, I do like that a standard VESA-sized stand was included with the 24 Plus.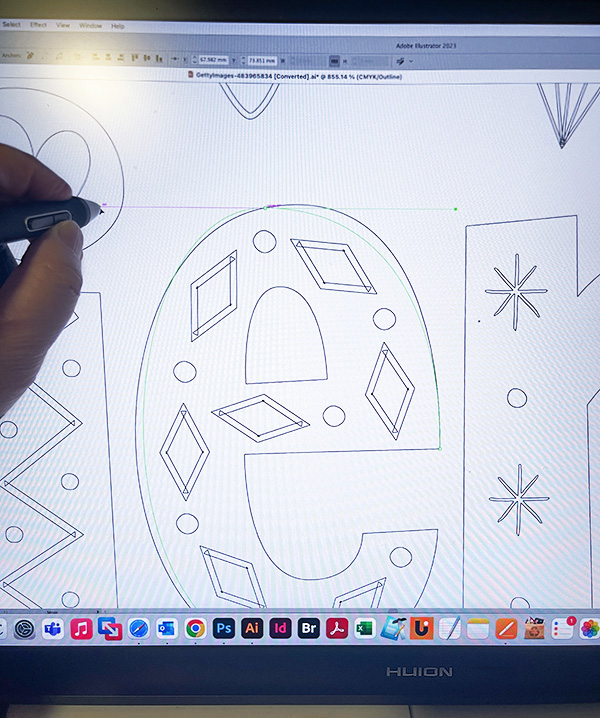 I am not an artist, per se. I hire people to do whatever illustrations I need for my job as an art director. However, I do a lot of photo editing and logo creation, so I depend heavily on a pen display to get work done. If the experience is less than desirable, the pen display will be replaced in a heartbeat. The pen and monitor screen tablet must work seamlessly together—and the Huion 24 Plus is more than up to the task. When I boot up the MacBook every morning, the 24 Plus screen powers on and I'm in business. The monitor works great—even if I don't start up the HuionTablet driver app. That's only needed if I want to use the pen.

What I like
Affordable for its size
Etched-glass surface

 

USB t USB-C cable included
2.5K resolution is good enough for a 24 in. tablet
Stand included
No shortcut keys on the pen display (if you don't like shortcut keys)
What I'd change
Not 4K (Huion offers a 24 in. 4K display tablet)
No shortcut keys on the pen display (if you want shortcut keys)
Shortcut keys remote is extra-cost optional

Final Thoughts
As I said, the 24 Plus is doing double duty as my main monitor as well as my drawing tablet. At first glance, its $899 price may seem a bit steep, but that's the price of a good monitor—and you can draw on this one! Also, the price is quite reasonable—especially when you price the competition. However, if the price is out of your budget, Huion has (almost too) many other pan displays to choose from. If your budget allows, Huion also offers their Kamvas 4K Pro version ($1,299) should you require the ultimate in pen display resolution. 
If you are a creative in the digital world, there is no excuse anymore to not own a graphics tablet.
Price: $899.00
Where to buy: Amazon
Source: The sample of this product was provided by Huion.