We use affiliate links. If you buy something through the links on this page, we may earn a commission at no cost to you. Learn more.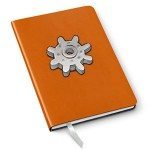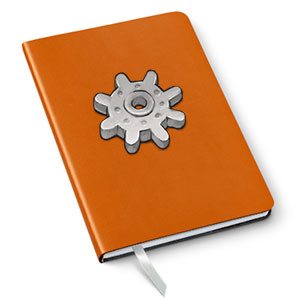 I can't believe that it's been almost 2 years since I posted my EDC setup. Time sure flies when you're having fun reviewing gadgets! I recently decided that it's time to downsize the gear that I carry with me everyday because my bag has been gaining weight for awhile now and I'm starting to really notice when I sling it over my shoulder in the mornings. There are a lot of items that I rarely if ever use that are just weighing me down. This is going to be a 2 part article. This first part shows the state of my EDC as it currently stands and in the next week or so I will post another article with my updates.
Since my EDC post back in the Spring of 2013, I've dropped a few things and added a few things. Here is my current collection of stuff.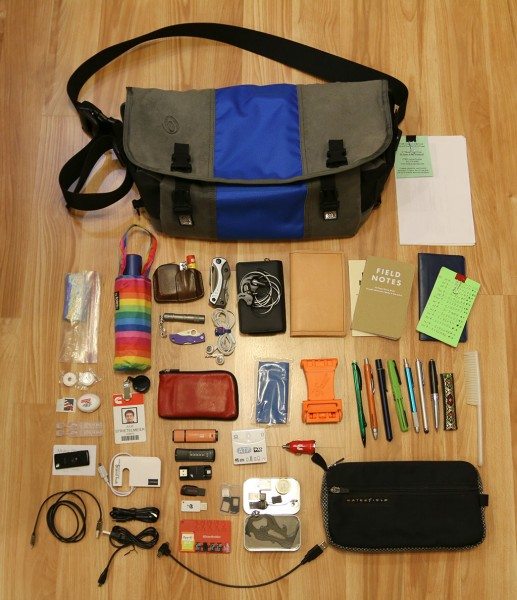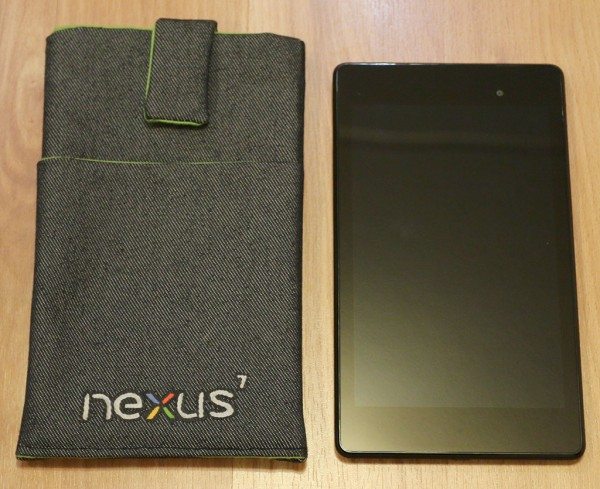 Details in images above top to bottom, left to right.
Gear bag
Timbuk2 Custom Laptop Messenger Bag – I'm still carrying this bag and have no real desire to switch to something else. I sometimes think that it would be fun to order a new one with new colors though.
A few papers clipped together with a small binder clip
Ziploc baggie with some Stevita Surpreme stevia sweetener packets
Mini Totes umbrella
Dragonthorn Leatherworks Pocket Carry System – Holds an Altoid Smalls tin of Ibuprofen, Carmex lip balm and fingernail clippers
Spyderco Ladybug pocket knife
Gerber Crucial Pocket Tool Multi-Plier – I like this one because it's small and doesn't have a lot of tools that I will never use
Stock Apple earbuds
Bose MIE2i Mobile Headset – I'm going to be switching to a new pair of earphones that you'll see in part 2 of this article
Leather Field Notes / Moleskine Cahier cover that I made myself and holds 2 Field Notes notebooks
2 extra Field Notes notebooks
Checkbook and a stack of colored index cards clipped with a binder clip
Wintogreen Livesavers
Forever stamp
Dental floss
2 tubes of eye drops
Cummins ID badge
Waterfield Finn wallet – I love zippered wallets and Waterfield is my favorite
Polishing cloth
HAND Stylus, another stylus (can't remember the brand), Uniball Jetstream, generic Bic pen, cheap Papermate clicky mechanical pencil, Fischer Space Pen, Targus stylus, Kum PenCut scissors and EiMIM Pen – My current favorite pen is still the very affordable Uniball
Comb
OTG 3 port hub – This is handy when I need to turn my Android phone into a pseudo computer.
Kingston DataTraveler 32gb USB flash drive, Lexar 8GB flash drive, Leef Bridge USB Drive, Sandisk 8GB USB Cruzer flash drive, Keyshair adapter
ATP Pro Max card reader – can't remember the last time I needed to use this
12V USB car adapter
Altoids tin that holds:

Tru-Nord compass – you never know when you might need to know which way is which. This is a cool little compass with a brass case
PocketMonkey – this is a handy credit card sized multi-tool that is made of stainless steel, has 12 different functions and is TSA compliant.
SDcardholder –  Holds a regular SD card and several microSD cards
Little USB dongle jig – it's supposed to save your bacon if you can't boot your Android phone into recovery mode. Since I've been playing around with custom ROMs, I thought it might be good to have one
Collection of SIM card adapters
Sandisk microSD card reader

3 micro USB cables and a short USB cable that has both mini and micro connectors on one end
Waterfield Designs iPod Gear Pouch – Holds a lot of the small items shown here
Not pictured – Kleenexes and an empty Walmart style plastic shopping bag just because..
Not pictured – Fork (or a spoon depending on what I brought with me to eat that day)
2013 Nexus 7 LTE Android tablet in a case I bought from Etsy.
Total weight of everything including the bag is 7 lb 6.6 oz. As Larry G told me, it's like I'm carrying around a newborn! He's right! 😉
Keychain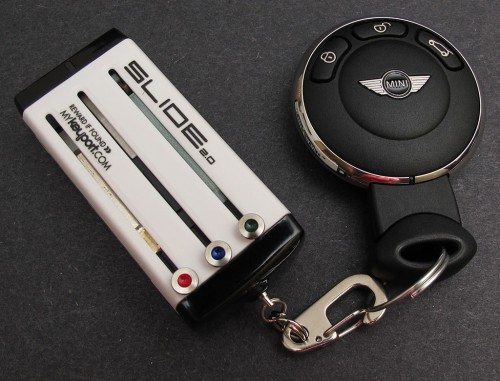 Keyport Slide 2.0 – Love this and can't imagine going back to a traditional keychain. The Keyport has 2 house keys, a USB flash drive, pen, flashlight and a bottle opener.
MINI Cooper car key fob attached to the Keyport so that I can easily hand over just the key fob to mechanics.
 Pocket gear
Virgin Healthmiles pedometer – I carry it on my belt loop every day. At my day job (Cummins), we earn points for steps and can redeem them for cash at the end of the year
EDC update plans
That's the "before" picture and gear list. I'll be posting the "after" article once I'm finished with my updates. My plan is to do an audit of everything I actually use and ditch the items I don't use. I also want to replace items for gear that can serve a multipurpose. That will hopefully not only help make the collection smaller, but also not as heavy. Items I know I would like to replace:
Gerber multitool / Kum Pencut scissors – replace with one small multitool that includes pliers, scissors, flat and Philips screwdriver. If it includes an easy to access knife I would also drop the Spyderco Ladybug pocket knife.
Various pens, pencils and styluses – I know I'll still keep the Uniball Jetstream pen. But I'd like to replace all the others with one multifunction pencil that also has a stylus.