We use affiliate links. If you buy something through the links on this page, we may earn a commission at no cost to you. Learn more.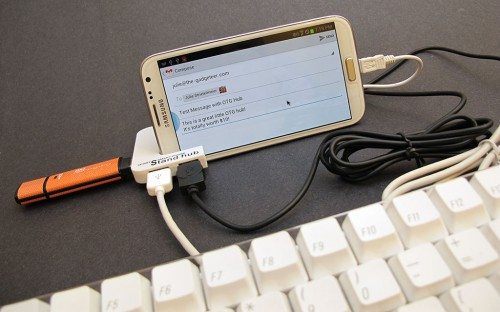 A true gadgeteer is always looking for ways to make their gadgets do more than they were originally intended. The MicroUSB OTG 3-Port Hub with Smartphone Stand from Brando is a $10 accessory that effectively turns your Android smartphone into a mini workstation by giving it 3 USB 2.0 ports. Laptops all over the world just gasped in fear…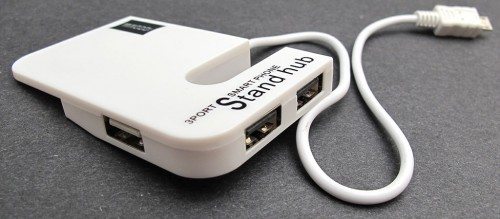 The Stand hub is a small plastic adapter that has been designed to provide both an angled stand and 3 USB 2.0 ports to your Android smartphone without requiring an additional power source – it pulls power from the phone. The packaging lists compatibility with the following phones:
Samsung Galaxy R, Galaxy S, Galaxy SII, Galaxy SIII, Galaxy Note, Galaxy Xcover, Galaxy Celox, Sony Xperia arc S, Xperia P, Nokia N8 and Nokia oro.
I haven't heard of some of those phones, but for my review, I tried the Stand hub with a Samsung Galaxy S3, Note 2 and a Motorola Droid X. Android with version 3.1 or higher of the OS support USB_On-The-Go. My Motorola Droid X only has version 2.3.1, so it quickly failed the test.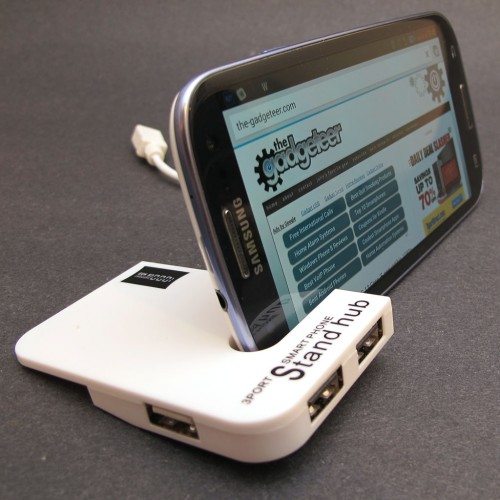 Testing the hub with my S3 fared much better. Basically all you do is slide the phone into the stand slot and plug in the microUSB cable into the microUSB port on the bottom of the phone. After you do this, you can then plug in a standard USB mouse, USB keyboard and a USB flash drive. Boom, you've turned your smartphone into a workstation. Really!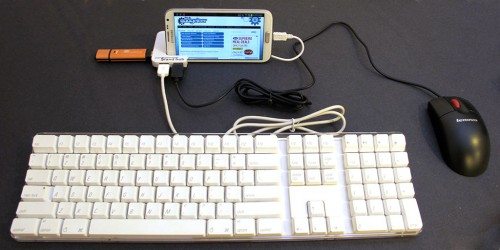 Here we see a Samsung Galaxy Note 2 connected to the Stand hub along with a Lenovo mouse, an Apple keyboard and a 32GB Kingston flash drive.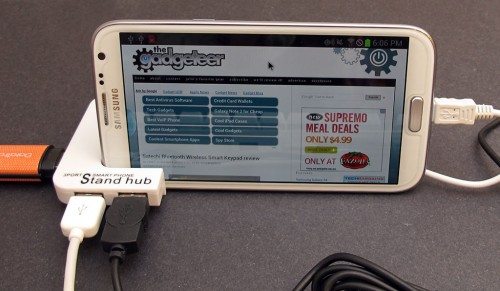 When you plug a mouse into the hub, a cursor will appear on the display that you can move with the mouse. Being able to use a mouse to click on links, app icons, etc, is very cool. At first I didn't think the mouse was working with my S3, but then I figured out that the cursor was just a tiny circle instead of an arrow. I think this is a side effect / feature of the custom ROM I have installed (Carbon). On the Note 2, it's a nice big arrow like you see above.
Observed mouse behavior with a Samsung Galaxy Note 2:
Using the wheel to scroll through lists works as expected
Double clicking text in a web browser toggles zooming in and out
Double clicking text in a text editor or Gmail will select a word and give you the ability to widen the selection by dragging the selector bars
Putting the mouse cursor at the top edge of the default browser window will cause the page to automatically scroll to the top as long as you hold it there
Clicking the right mouse button takes you back a screen or back in a web page
Moving the mouse after the device has gone idle will wake it up and then clicking both mouse buttons at the same time will unlock it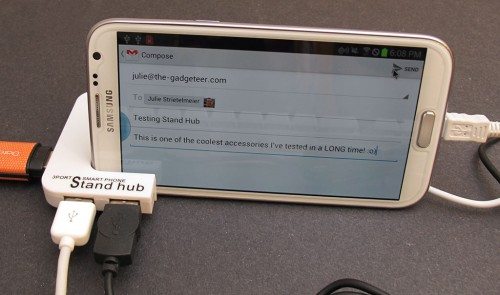 Plug in a USB keyboard and suddenly you can touch type in any app that has text fields. Here I am typing in Gmail. I was really surprised that the Apple keyboard worked with the Note 2.
Observed keyboard behavior with a Samsung Galaxy Note 2:
Dedicated volume adjustment buttons on the keyboard controlled the Note 2's volume settings
Esc button works as a back button
Pressing a button on the keyboard will wake up the device when it's idle
Ctrl-C and Ctrl-V worked as expected
Using a keyboard worked very well with the Note 2, but was a little annoying with my S3 because the onscreen keyboard kept popping up. I'm not sure if this is another side effect of my custom ROM though… Pressing the ESC button made the keyboard go away. If anyone is interested, I can retry some of these actions with a stock SGS3 on Monday when I can try it with a friend's phone.
It's pretty useful to be able to use a mouse and keyboard with a phone. Especially when you need to write a very long email or document. I do wish there was a keyboard shortcut to go back to the home screen or app list. As it is, I have to reach out and press the home button.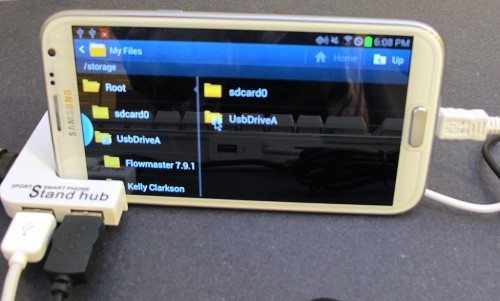 In addition to adding a mouse and a keyboard to your device, you can also add a USB flash drive. I tested this functionality with a 32GB flash drive, a 32GB microSD card in a tiny USB card reader and a 100GB USB hard drive. The hard drive test failed right away because there wasn't enough power to spin up the physical drive. It just kept making little squeaking noises so I didn't let it try very long before giving up. The 32GB flash drive and 32GB microSD cards worked fine though.
Observed flash drive behavior with a Samsung Galaxy Note 2:
Depending on the app, you can play music stored on the flash drive as if it were stored on the device itself
It's easy to copy files to and from a flash drive
Playing video files stored on a flash drive worked fine. No lag, stutters or freezing were noticed
It's possible to connect 3 flash drives at one time
I've been playing with the Stand hub for the past few hours and have only noticed one gotcha… The adapter uses the same connection that you would use to charge your device. That means while you're using the Stand hub, you can't also charge the phone. I noticed that connecting a keyboard, mouse and flash drive to my S3 caused the battery to drain faster than normal. I didn't notice this as much with the Note 2 though – probably because it has a much larger battery.
I love this little gadget so much that I'm going to order a couple extras as I have an idea for what might be a cool modification… more on that if/when I am able to do it.
The bottom line is that the MicroUSB OTG 3-Port Hub with Smartphone Stand from Brando is a GREAT accessory for your Android smartphone. It's easy to use and adds a ton of extra functionality to your phone for only 10 dollars. Definitely a must buy. Now I'm off to find an extremely portable USB keyboard that still large enough for touch typing.
Product Information
Price:
$10.00
Retailer:
Brando
Requirements:
Pros:

Adds 3 USB 2.0 ports
Turns a phone into a mini workstation by adding a mouse, keyboard and flash drive
No power required

Cons: