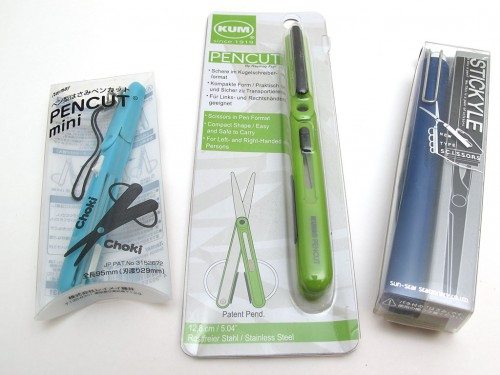 JetPens.com offers a wide variety of pens and pencils that will make any stationary addict go into a frenzy. We've reviewed several of their writing instruments in the past, but today I want to stray off the beaten path and review something a bit out of the ordinary – scissors. JetPens sent me 3 different pairs of folding scissors to test and here are the results.
Note: Images can be clicked to view a larger size.
Raymay Pencut Mini Pen-Style Scissors
At a mere 3.7 inches long, the Raymay Pencut Mini Pen-Style Scissors are the smallest pair of scissors in this review. They are available in 5 colors including the blue ones that were sent to me.

When not in use, they fold into a handy pen sized form that includes a protective cap with a pocket clip and a tether.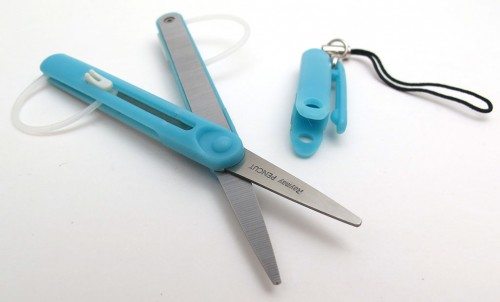 To use these scissors, you remove the cap and slide the white plastic tabs towards the back of the handles. As you do this, flexible plastic loops extend from the sides to create two traditional scissor handles for your thumb and index finger.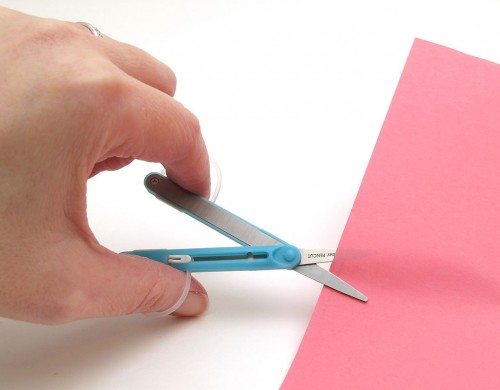 These scissors are similar in size to cuticle scissors, so they are very tiny. I wasn't sure how comfortable they would be to use, but I was pleasantly surprised. They are ambidextrous, meaning they work fine for righties and lefties like myself.  I was able to cut detailed shapes from regular typing paper using the Raymay Pencut mini pen style scissors. I was also able to cut through card stock and up to 6 sheets of typing paper… although 6 was pushing it. These little scissors are handy because they are so small that you can easily find room for them in a purse, gear bag or pocket.
Price: $8.25
Kum PenCut Pen-Style Scissors
The Kum PenCut Pen-Style Scissors are a larger version of the Raymay Pencut scissors above. They are available in 3 colors including the green ones you see here.


These scissors are 5 inches long and feature a protective cap with a pocket clip.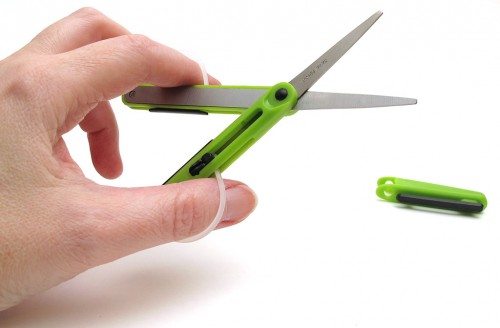 Just like the smaller Raymay scissors, these also have the sliding tabs that extend the handles. These scissors perform well and were able to easily cut through card stock and 6 sheet stack of typing paper. If I were going to choose between the Raymay's and these scissors, I'd choose the Kum PenCuts because they feel sturdier and are easier to manage due to their size. They would make a perfect addition to pen case, travel sewing or first aid kit.
Price: $15.25
Update 10/18/16

On a whim, I brought these folding scissors with me on vacation this week and have used them for several tasks including cutting out images and logos from travel brochures to add to my journal. Since the fold down to the size of a pen, the small amount of space and weight is easily justified by their usefulness.
Sun-Star Stickyle Pen-Style Scissors
Last but not least, we have the Sun-Star Stickyle Pen-Style Scissors. Like the others, this pair of scissors offers a cap with a clip, making it easy to store in a bag or pen case.

The Sun-Star is 4.5 inches long and is available in 4 colors including the blue version that you see here.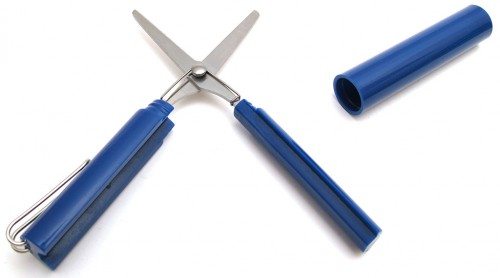 Unlike the other scissors that require you to extend the handle loops, this pair is ready to use as soon as you pull off the cap. The Sun-Star scissors are even easier to use due to their spring loaded handles. When you relax your grip, they spring open ready for the next cut.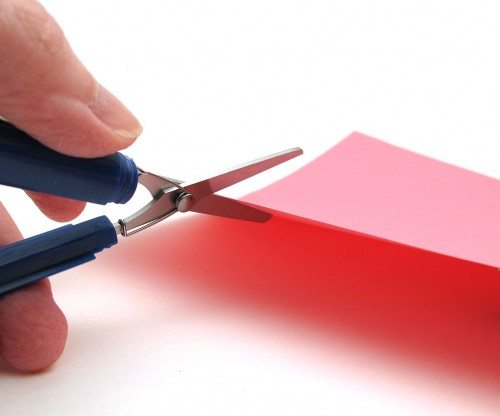 These scissors easily cut through card stock and an 8 sheet stack of typing paper. After using them for a little while, I found that I missed the finger loops that the other two provide because they allow a better grip on the scissors if you need to do precise cutting.
Price: $8.25
Although you can find cheaper folding scissors online, I like the fact that I can store any of these three in a regular pen slot in my gear bag. It makes it much easier to find them when I need them instead of having to dig around in a pouch filled with other items.
Any of these folding scissors from JetPens would be a welcome addition to your EDC setup. But if I had to pick a favorite for myself, it would be a close race between the Kum PenCut Pen-Style Scissors and Sun-Star Stickyle Pen-Style Scissors, with the winner being the Kum PenCuts.
Do you carry a small pair of scissors with you every day? If so, which ones?
Support The Gadgeteer
:
We may earn a small affiliate commission from purchases made from buying through links on our site. As an Amazon Associate I earn from qualifying purchases. Learn more.
Product Information
Price:
$8.25 - $15.25
Retailer:
JetPens
Pros:

Compact
Handy
Fits in a pen / pencil slot

Cons: