We use affiliate links. If you buy something through the links on this page, we may earn a commission at no cost to you. Learn more.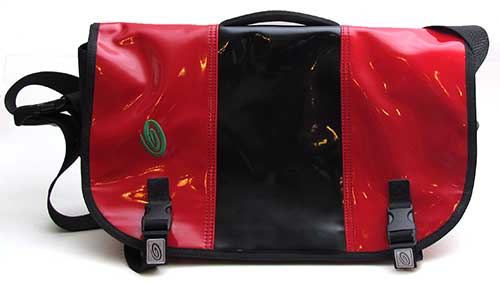 When I find something I like, I tend to stick with it for a long time. Case in point, the Timbuk2 messenger bag. I reviewed their classic messenger back in 2005 and carried it everyday till I reviewed their laptop messenger bag in 2008. You guessed it, I've been carrying that one for the past 2 years. I noticed that they had updated the design with different materials and more pockets, so I asked if I could take another look. They agreed to let me create a custom bag for this review. Let's check out my creation. My previous messenger bags have been ballistic nylon. As you can see from the image above, I decided to go with their new shiny vinyl fabric. At the time I went through the custom creation process, Red was an available color. Unfortunately, that color isn't available now… but they have lots of other choices including some new vinyl colors.
The exterior of this bag doesn't differ much from the previous version. It has a grab handle at the top and the same standard 3 panel design that Timbuk2 is known for. If you decide to create your own custom bag, you can make each panel a different color. You can also choose the color of the piping around the edges, the interior color and the logo color.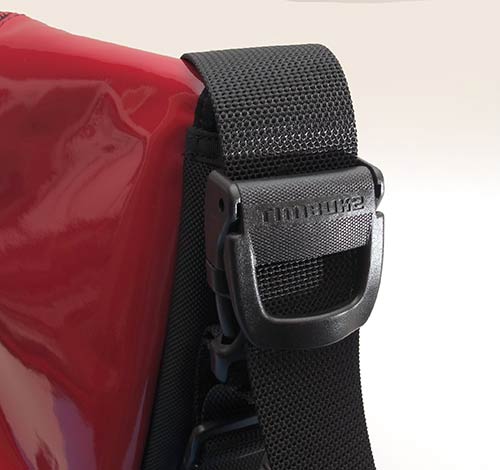 The main change to the outside of the bag is the new shoulder strap adjustment lever. It has the same job – to allow you to easily shorten or lengthen the shoulder strap while you're wearing the bag. The new design is just a bit easier to grab than the previous version.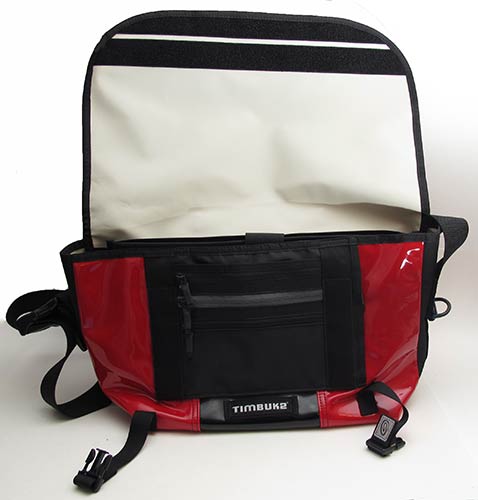 Lifting the flap will reveal a panel of pockets on the outside of the main compartment.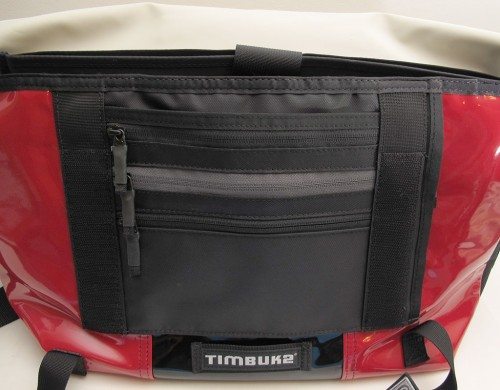 This new grouping of pockets is quite a bit larger than the previous version of the laptop messenger. There are now 3 flat zippered pockets and a roomy open topped pocket at the top. I like to store my wallet and company card key in the open pocket and lesser used items in the zippered pockets.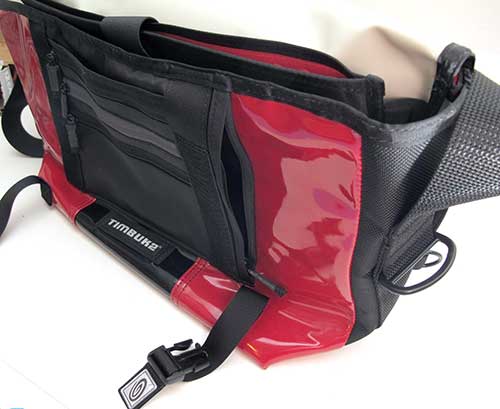 There's a new vertical zippered slot behind the panel of pockets. It's kind of hidden, which might make it a better location for a wallet.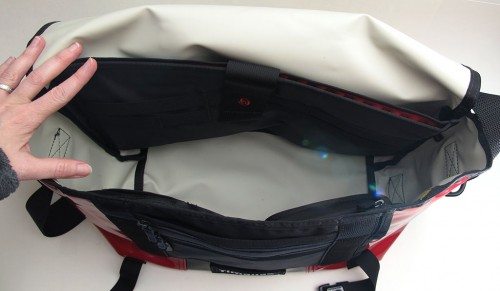 Check out the roomy interior. I went with the Medium sized messenger, which continues to be the perfect size for me. There's plenty of room for all your gear and then some. I decided to go with Pebble as the interior color, to make it easy to see small items at the bottom of the bag.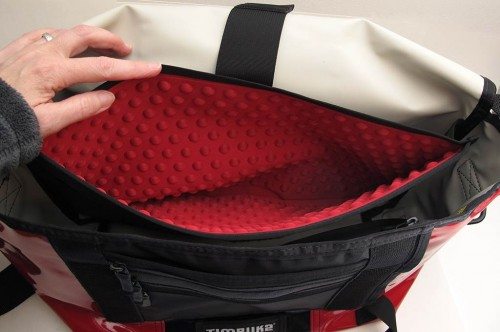 The new love glove laptop sleeve as Timbuk2 calls it is a nubby foam sleeve with a webbed Velcro tab to secure your computer. This sleeve is quite a bit thinner than the padded corduroy sleeve that was used in the previous version of this bag.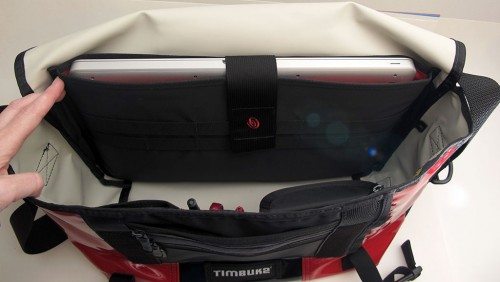 Although it accommodates my 15″ Macbook Pro with no problems, I prefer the old sleeve. It was thicker and was attached the back wall of the bag by strong Velcro on the sides, bottom and sewn along the top edge. The current sleeve is only attached by the sides.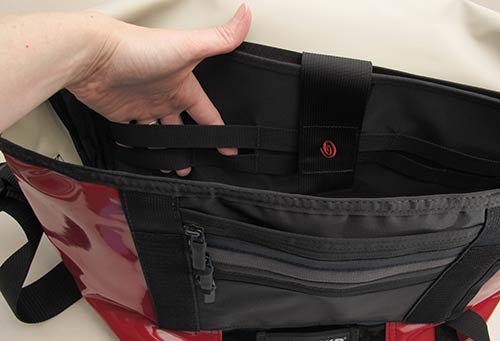 The laptop sleeve does have some handy straps on the front that you can use to clip things too. What, I'm not sure…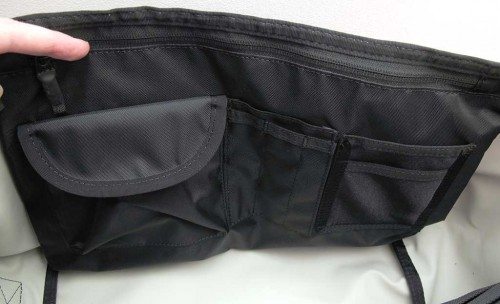 The main storage area (other than the laptop sleeve) in the main compartment of the bag is sewn into the front wall of the bag. It's been redesigned from the previous version to include several new pockets.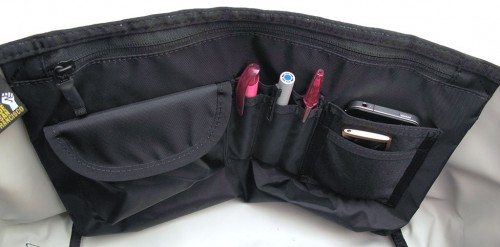 There's a velcro flapped pocket, 3 pen / pencil slots with an open topped pocket behind them. There are also two soft lined open topped pockets for your cell phone, MP3 player, etc. They are large enough to hold an iPhone and lined with soft material that won't cause scratches.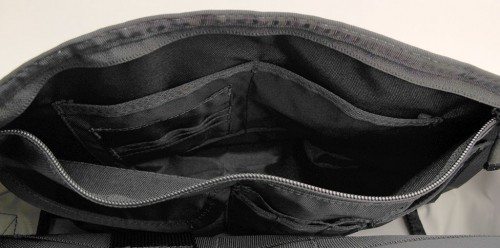 A zipper behind those pockets and slots reveals another large pocket with more open topped pockets. When it's all said and done, this bag has 21 storage compartments (counting all pockets, slots and the laptop sleeve). You can never have too many pockets right?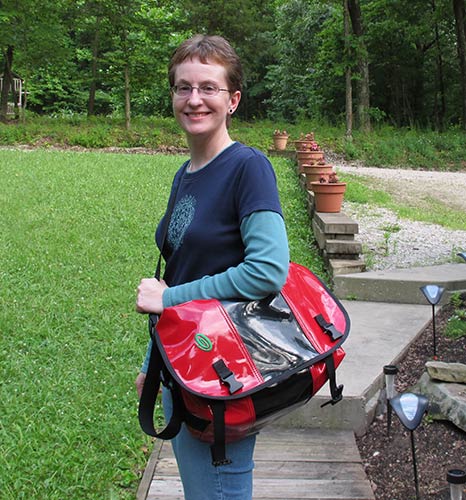 Whoo, flashy right? I like it though 🙂 For a size perspective, this is the Medium sized laptop messenger bag and I'm 5'5.75″ (every quarter inch counts when you're height challenged ok?).
Timbuk2 bags are comfortable to wear, their wide shoulder strap doesn't cut into my shoulder even when I am carrying a laptop along with other gear. Timbuk2 sells a shoulder pad as an option for this bag if you like that kind of thing. I just like it plain.
Other than the laptop sleeve (and I'm being really picky there), I can find anything to complain about with this bag. It's made really well and if my 2 prior Timbuk2 bags are any indicator, they continue to look brand new for years to come. The only worry I have is that vinyl might get scuffed on the bottom after day to day use. I'll add an addendum to this review in a few months with an update on how well this particular material is holding up. If you go with the ballistic nylon, I know for a fact that it looks new even after a couple years of carrying it every day. Timbuk2 continues to be a favorite of mine for classic messenger style bags.
Update 02/05/15
Although I don't have this exact same bag anymore (I accidentally tore off one of the flap straps and Timbuk2 replaced it), their messenger bags are my favorite. Here's the one I'm carrying now: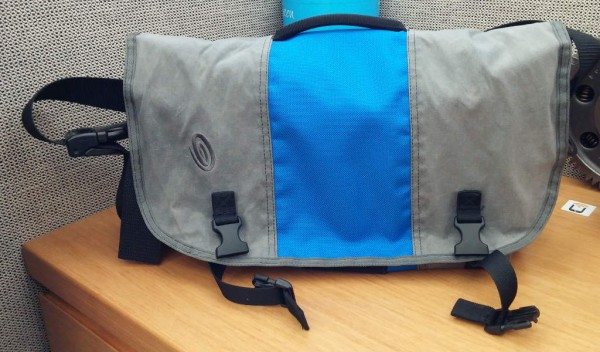 I've been using this one for for a few years and am considering creating a new one soon-ish because I get bored with the colors after years of using the same bag. I think the newer bags have some extra pockets inside. That said, it still looks good as new except for the zipper pull tabs that have frayed ends due to Velcro strips sticking to them.
Update 05/18/17
I just recently switched back to this bag for my everyday carry. I had been using the Peak Design Everyday Messenger bag for over a year but started missing the floppy form factor of the Timbuk2 compared to the stiffness of the Peak bag. Switching back reminded me why I love Timbuk2 bags. For one thing, they hold up really well to being carried day in and day out for years and years. This blue one does show some wear here and there, but for the most part, it looks new.

Product Information
Price:
Starts at $140. $195 as reviewed.
Manufacturer:
Timbuk2
Pros:

Many color, pattern and material choices
Lots of pockets
Grab handle
Adjustable shoulder strap

Cons:

Laptop sleeve not as padded as previous version