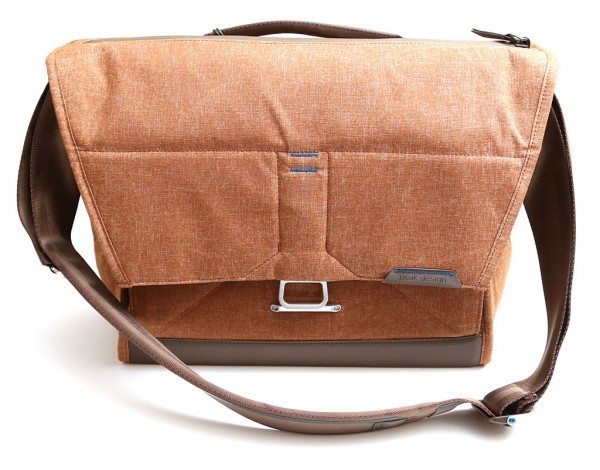 What do you get when you cross a traditional messenger bag with high-end camera bag features and user customization options? You get the Peak Design Everyday Messenger Bag which was an insanely successful Kickstarter project from earlier this summer which brought in more than 4.8 million dollars in pledges. If that number made you look twice, then let me give you a tour of the bag.
Note: Images can be clicked to view a larger size.
First of all, what exactly is the Everyday Messenger bag and who is it for? With all the photography features built into this bag, you might think that non-photographers wouldn't want to look elsewhere. You would be wrong. The Everyday Messenger is a bag for almost everyone to use every day. Travelers, photographers, commuters, students, you name it. Anyone who carries "stuff" can use this bag.
The Everyday Messenger has the wedge shape with a wider top and a narrower base that most traditional messenger bags are known for. The bag comes in charcoal or heritage tan and has an exterior that is made of wax Kodra synthetic canvas material which has been treated for weatherproofness. The bag does not have a bunch of gaudy logos all over it, but has one small tag attached to the edge of the main flap.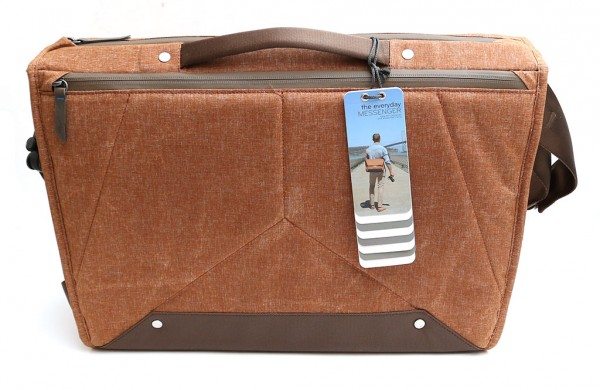 The bag has a flat base that allows it to easily remain upright on a flat surface even when it's filled with your gear. The bottom of the bag has a rubber coating that  protects the bag from any dirt and water when you set it down on a less than clean surface.
Also on the back of the Everyday Messenger bag is the laptop pocket. It's accessed by the covered zipper. I tested the size of this pocket with my 13 inch MacBook Pro and a 15″ MacBook Pro. The 13″ MacBook fit with room to spare, while the 15″ MacBook Pro was a tight but manageable fit. Also inside the laptop section is another smaller flat pocket that can easily accommodate a full-sized iPad or other similarly sized tablet.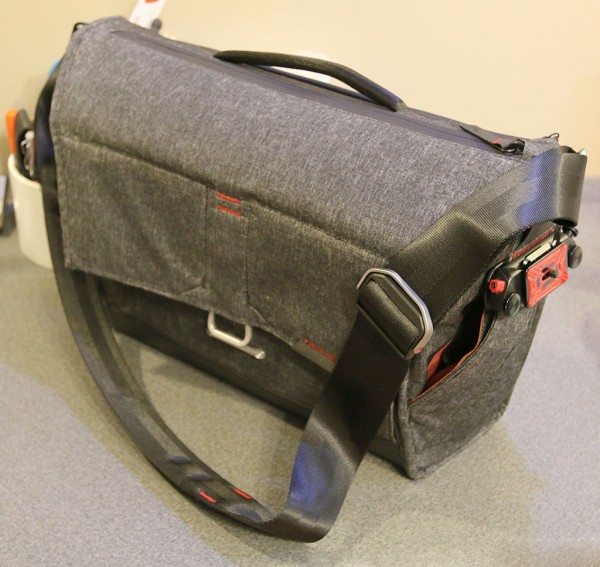 In the image above, you will notice the handy grab handle which is made of what feels like seat belt webbing. The handle has rolled edges and a slight padding that makes it comfortable to use. The shoulder strap is made from the same material and features a padded section and a latch that allows you to adjust the length even while carrying the bag. The strap can be changed from left shoulder to right shoulder depending on your preference.
There's also a zipper on the flap's exterior that you can use to gain access to the main compartment without unbuckling the flap.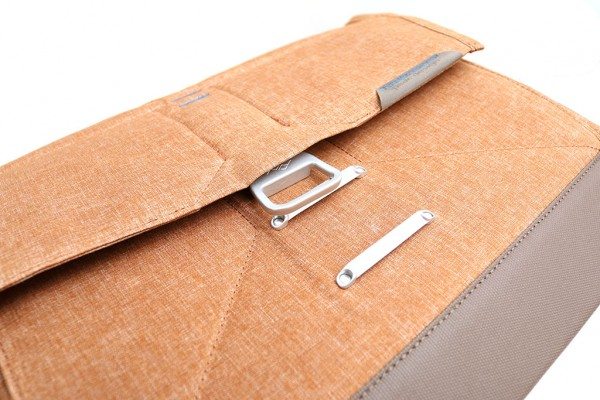 One of the most unique features of the Everyday Messenger bag is the flap closure hardware. Where other messenger bags like to use fingertip pinching plastic clips or annoyingly loud Velcro strips, Peak Design has used a magnetic latch system.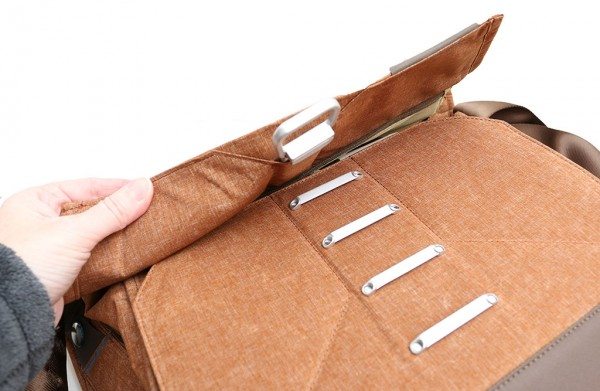 The MagLatch system consists of four steel ladder bars attached to the front of the bag and a magnetic hook on the flap. The hook on the flap is attached to a strong elastic band that can be stretched to hook over the nearest ladder. It's easy to use with one hand and even without looking at what you're doing.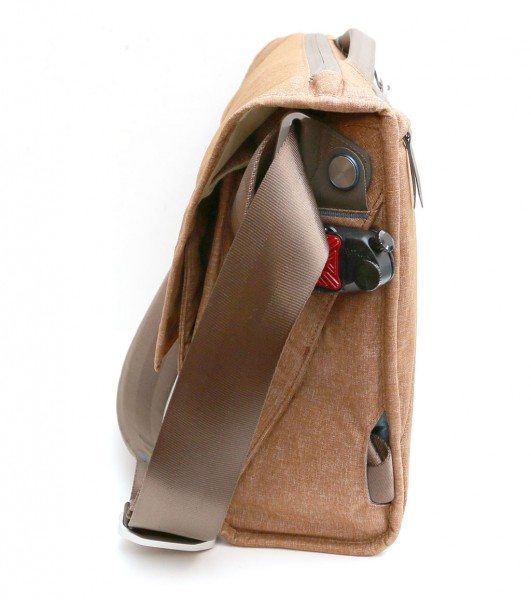 Another feature of the Everyday Messenger bag is its ability to expand depending on how much gear you are carrying. Here you see a side profile with an unexpanded bag.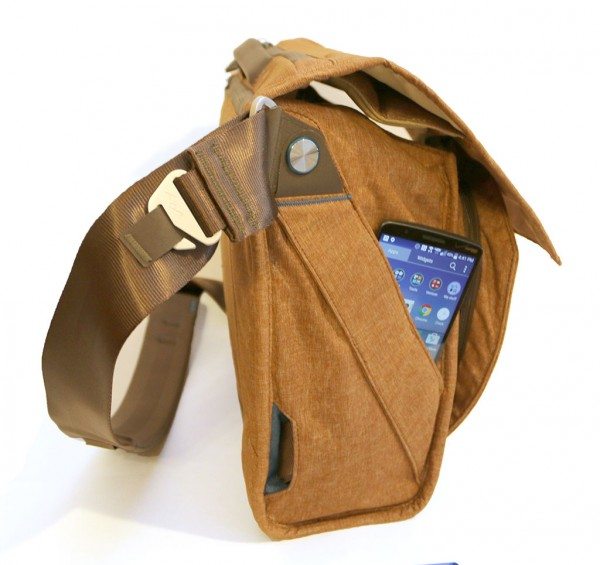 And here it is when the bag is used to carry more gear. See how the front expands? You'll also notice that both sides of the bag have a slash pocket which is perfect for holding a larger smartphone like the LG G3 pictured here, lens caps, ID cards, etc. There's also a hidden ID/key tether attached to one of the side pockets and the stabilizer strap tucks neatly into the slot at the bottom.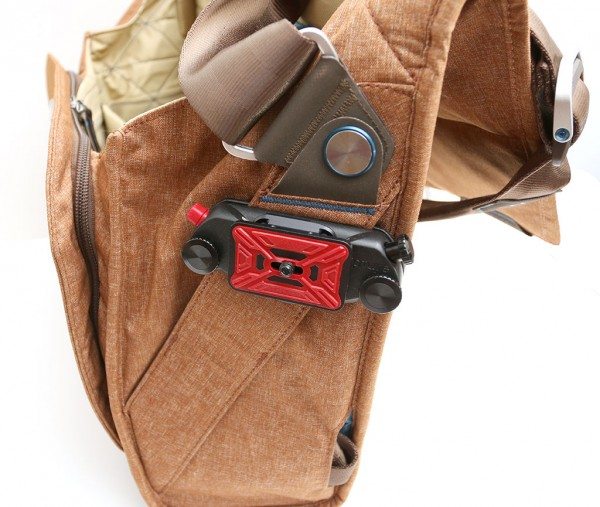 The sides also have an open band of material that has been designed to accommodate one of Peak Design's Capture clips (sold separately).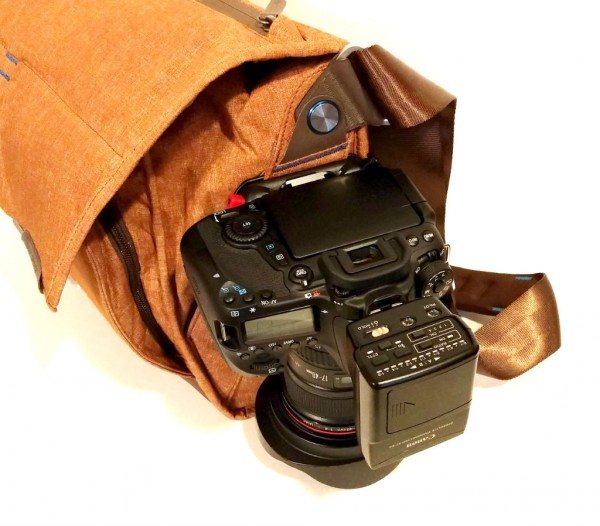 Perfect for photographers, the Capture clip allows you to easily and quickly attach a camera to the side of your messenger bag. The bag has been designed so that you can attach the clip to either side of the bag.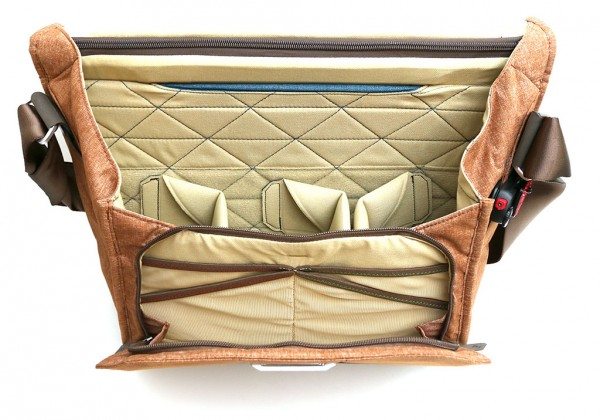 The flap of the Everyday Messenger bag can flip all the way back to reveal the roomy interior that is lined with a poly-spun twill material in a light color which makes it easy to see all of your gear. There's a zippered panel on the front that has four open topped stretch pockets on the back wall and four narrow slots on the opposite side.  The main compartment has an open slot at the top of the back wall and a main section in the center which can be customized with the removable inserts.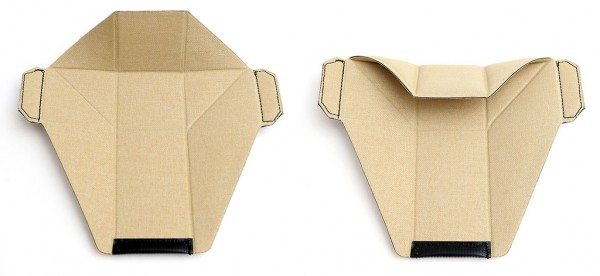 The messenger bag comes with three inserts that can be folded in various ways and attached to the sides of the bag to allow you to set up the bag specifically for your gear.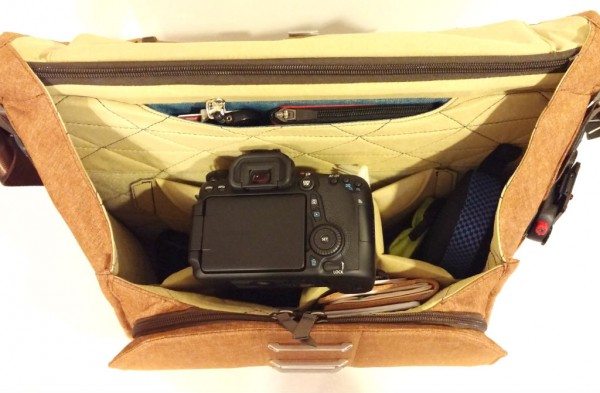 Photographers can use the folding sections to create holders for lenses and cameras and other photo gear.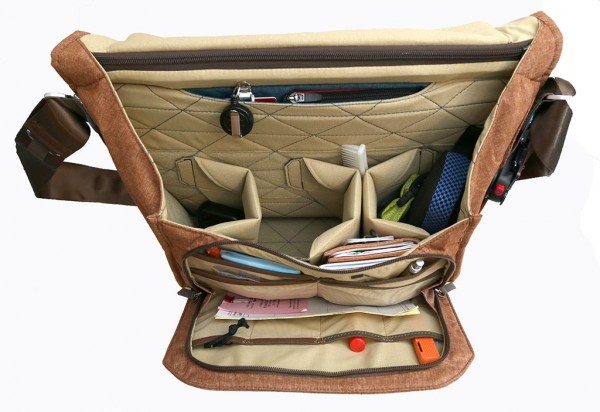 Non-photographers like myself can use the sections to organize their EDC (every day carry). I really like the way I can make sections to organize all my stuff instead of having everything in a pile at the bottom of the bag.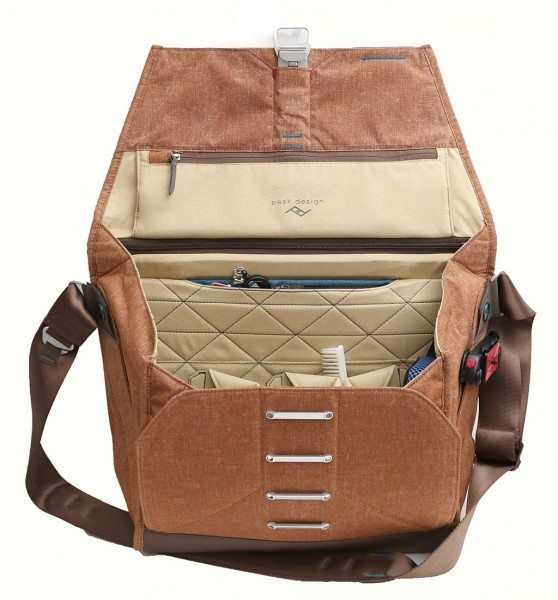 The flap has a wide zippered pocket that can hold small flat items like memory cards,etc. The flap hides another great feature for photographers, which is the tripod holder. To use the tripod holder, you just slide one leg of the tripod through the slot (behind the zippered pocket).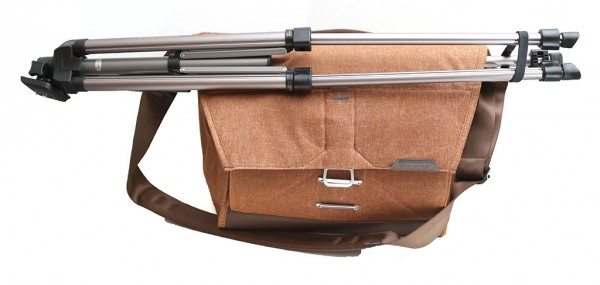 Then close the flap and use the included black rubber band to hold the tripod's legs together.
Peak Design has taken the traditional messenger bag and elevated it to a bag that almost anyone would be happy to use. It's been designed with a clean, classy style that will fit in with both casual and business environments. The bag is well made and has great features for photographers and gadgeteers like me. After carrying one for several weeks, I can't really think of anything that I don't like about this bag other than wishing it came in several other colors. If you're a fan of messenger bags and have been thinking about upgrading to a new one, you should definitely take a close look at the Peak Design Everyday Messenger bag. It's a keeper.
Updates 03/31/16
I continued using the Peak Design Messenger bag for a week or so after I posted this review, but then I went back to my comfortable old Timbuk 2 Custom Laptop Messenger bag that I'd been carrying for the past year and a half. But a week ago, I decided I was tired of the Timbuk2's floppiness and switched back to the Peak. I'm glad I did because I really like this bag because It's easier to keep everything organized due to the dividers. My gear is always exactly where I want it to be, neat and tidy. I've also grown to like the easy to access side pockets which I use for my keys and my phone.
Updates 10/24/16
It's been 7 months since my last update and I'm still using the Peak Everyday Messenger as my every day gear bag. I love everything about this bag except for two things: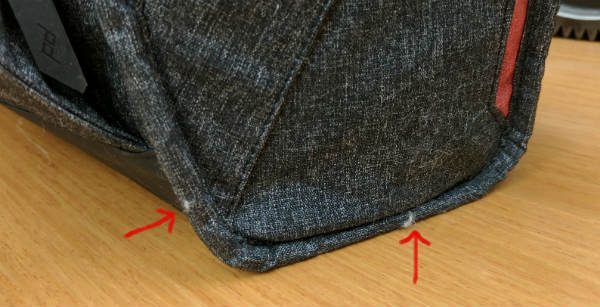 1. It attracts lint and fuzz balls on the edges. I'm not really sure where the fuzz is coming from… Maybe my fleece jacket or the cloth office chair that I set it on at home.
2. The other problem which annoys me more than the fuzz is that the lock mechanism that is supposed to keep the shoulder strap at the adjusted length does not hold. I can adjust the strap length to make it shorter and within a day or two, it's back to being too long. I think this is happening due to the fact that the shoulder strap is made of seat belt type webbing which is kind of slick.
Updates 06/26/17
After carrying the Everyday messenger every day for the past year, I decided it was time to change bags again and went back to my Timbuk 2 Custom Laptop Messenger bag. The Everyday messenger didn't get stowed in my closet of cast off bags though. I gave it to Jeanne. She's been carrying it for a few months now and says she likes it a lot. The only complaint that she mentioned was that that shoulder strap won't stay on her shoulder when she carries it over one shoulder. I never had this issue because I always carried it bandolier style.
Source: The sample for this review was provided by Peak Design. Please visit their site for more info and Amazon to order one.
Some of our links in posts like this one are affiliate links, which means that we may receive a small commission on purchases at no cost to you.
Product Information
Price:
$249.95
Manufacturer:
Peak Design
Retailer:
Amazon
Pros:

Interior can be customized
Side pockets
Expandable
Magnetic flap latches

Cons: