We use affiliate links. If you buy something through the links on this page, we may earn a commission at no cost to you. Learn more.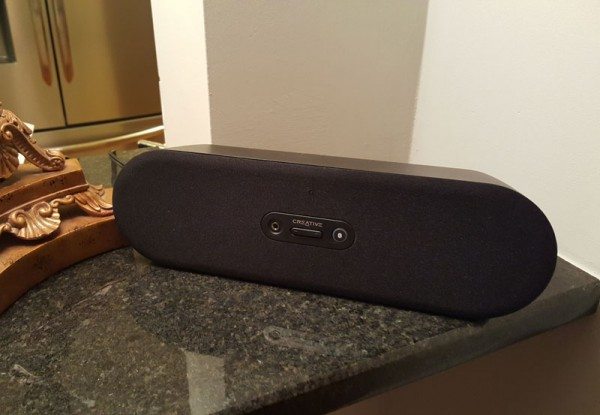 Keeping your family safe is a pretty high priority.  Luckily, you have lots of ways to do that, from home security systems, to video cameras, to smartphone apps that help you keep track of where everyone is, and many more cool technology tools.  Add to that list the Zone Shield WiFi Security Bluetooth speaker (herein after referred to as theZone Shield) for KJB Security. TheZone Shield is both a fully functional Bluetooth speaker and a hidden security camera with built-in DVR that you can access remotely using a smartphone app.  So it can fit in just about any place in the house and give you a 24/7 piece of mind that you can keep a watch on your house.  But is it worth the price?  Let's find out.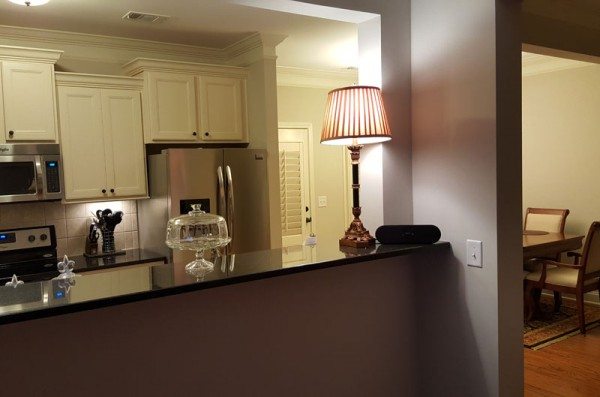 At a price of $399, it is pricey.  And most of KJB's products are pricey as well.  But a quick search on Google will show you that KJB's hidden security cameras are not the most expensive brand out there, although in general I think that this type of product is expensive.  KJB also offers a huge array of hidden camera products, like a mantel clock, a teddy bear, a plant, a wallet, a smoke detector, a keychain, a power adapter, a weather clock, a DVD player, and more.  They even have a bird feeder.  If you can afford them, you have lots of options to provide security for your home.
Specs
Dimensions:  13 in x 4 in x 4 in
Weight:  2 lbs 3 oz.
Camera resolution:  1280 x 720
Field of vision:  140 degrees
Storage:  up to 32 GB micro SD card
Features
As I mentioned, the Zone Shield operates as a regular Bluetooth speaker and in that regard it is a pretty standard speaker compared to all the Bluetooth speakers I have owned.  Nothing special in my opinion.  It comes with a short user guide to help you get up and running.  It has an aux-in jack on the front that you can use to plug your smartphone/tablet to the speaker and play music through the wired connection.  The volume button is on the front to adjust the volume on the speaker, as well as the Bluetooth button to enter pairing mode.  The power button is on the back.  And that's about it as far as the speaker functions go.
Never miss one of our posts again. Sent MON, WED, and FRI with the latest gadget reviews and news!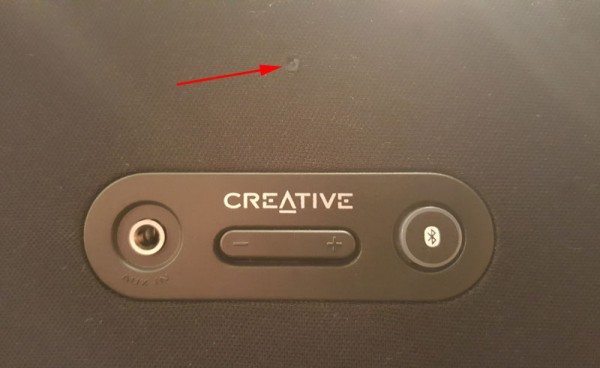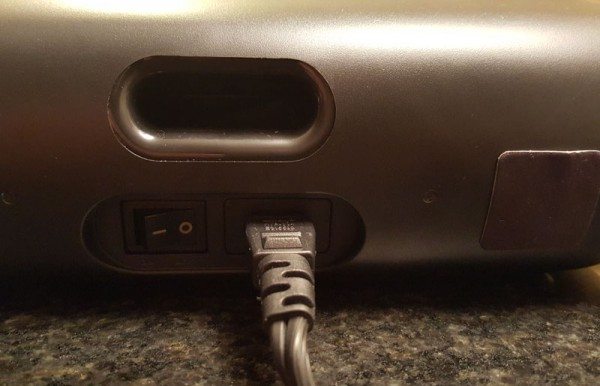 When it comes to the hidden security camera features, they are numerous.  First of all, you'll see the pinhole camera that is located on the front of the speaker in the picture above.  Anyone looking for a pinhole camera would find it, but most people I would guess would simply not notice it.  I won't go through the whole list of steps to set it up, but I'll summarize the process.
Plug the Zone Shield up to the wall outlet and insert the micro SD card on the back behind a square sticker that covers the card slot (see pic above to see the square sticker and see pic below to see the card slot behind the sticker).
Download the free EZ SEE app from the Google Play Store or Apple App Store.
Press the "Add" button on the main app screen and then scan the QR Code on the back of the Zone Shield. The app will then directly connect to the Zone Shield and allow you to change various settings, e.g., connecting to your home wifi network and more.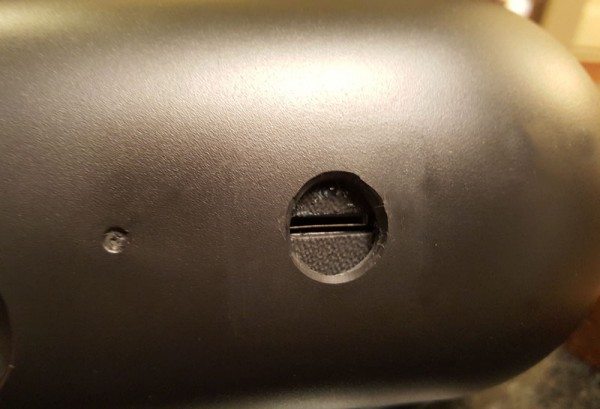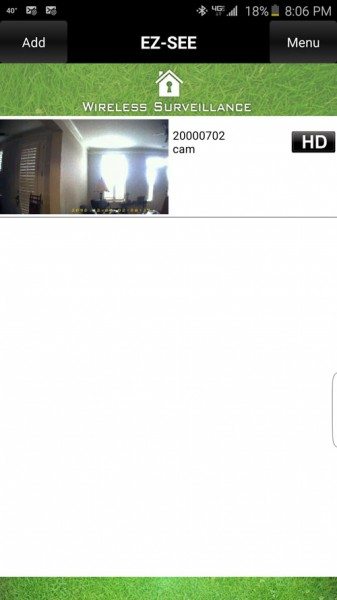 The settings available on the Zone Shield are extensive, and you'll get a CD with a PDF of settings instructions that is about 30 pages long, so I won't go into detail on all the settings.  But let me summarize what you can do with this hidden security speaker.
If you don't have a wifi signal in your house, you can connect directly to the Zone Shield (using your smartphone/tablet wifi signal) and view the LIVE camera feed from the app. Keep in mind you'll have to be within wifi range to do this.
If you connect the Zone Shield to your home wifi then you can view the LIVE camera feed remotely from the app.
You can set the Zone Shield to record video every time it detects motion or you can set it to record continuously.
You can set the Zone Shield to record video on a set schedule that you specify, e.g., Monday from 8am-11am.
You can set the app to notify you when the Zone Shield detects motion so that you can view the LIVE camera feed immediately.
You can take a snapshot of what you see on the screen and it will save the picture to your smartphone/tablet's picture gallery.
You can specify a phone number to quick-dial right from the LIVE camera feed screen.
You have the option of recording in HD with a framerate of 1, 2, 3, 4, 5, 10, or 15 fps.
The Zone Shield will record even if the speaker's power button is turned off, although it must be plugged up to the power outlet in the wall to work.
All video files are recorded as AVI files, and to view them you take the micro SD card out of the Zone Shield and view them on your computer.
You can specify a username and password on the Zone Shield so that no one can connect to it unless they know it.
What I didn't like
The main thing that I didn't like was that you can't turn off the broadcasting of the SSID on the Zone Shield even when it is connected to your home wireless system.  That means it is constantly broadcasting its SSID for anyone to see.  I would prefer to be able to turn that off once I have the Zone Shield working on my wireless network.  You also can't change the name of the SSID, which is disappointing, and you also can't change the default password to connect via wifi to the Zone Shield.  Again, disappointing.  So everyone can see the SSID named "EZ-SEE" and with a simple Google search you'll discover that there is a hidden camera in the house.   Now, as I just mentioned in the previous bulleted list, you can specify a username and password so that unless you know it you can't use the app to connect to the camera and view the LIVE camera feed.  But still, if you truly want the security camera to be hidden, you should be able to turn off the SSID from being broadcasted.
The screen that displays when you are watching the LIVE feed has several buttons available to you to perform certain functions on the screen (see pic below).  But you can only see the buttons when you touch the screen with your finger and then the buttons appear.  What I experienced was that it didn't always respond on my first touch, so I had to tap on the screen numerous times to make the on-screen buttons appear.  Sometimes it would respond on my first touch, but not always.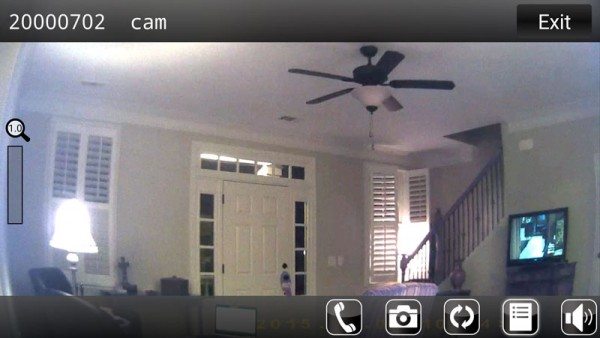 Finally, I specified in the app to have the recordings in 'HD' mode but I don't consider what I viewed in the recorded files to be HD.  At best they appeared to me to be standard.  Now, having said that, I don't really need to have the files in HD because they were good enough for viewing in the event that I ever needed them, for example, to provide to law enforcement.  They were certainly better than those grainy video files you see on the news from the convenience store robbery!
Other considerations and the bottom line
One time I had the motion detector sensitivity set to 'high', and set my app to notify me every time it detected motion.  Then I set the Zone Shield up so that I could watch the dog at home while I was at work.  My phone was popping up notifications constantly because every time the dog moved it notified me.  So I turned off the notifications in that case.  But this would be extremely beneficial if you wanted to be notified when someone entered your house and you faced the Zone Shield toward the door of your house.
I believe that for all the benefits that the Zone Shield provides, it is worth the price if you can afford it.  At a price of $399 though it would be very expensive to buy multiple cameras and provide surveillance for your entire house.  The Zone Shield worked great and performed all the functions that it promised.  I was able to view it remotely and was notified when it detected motion.  And it worked every time.  I can live with the things that I didn't like in exchange for the piece of mind I get with having the camera.
Notes from KJB:
Hiding the SSID is on the list of future updates
All Zone Shield devices are higher quality and made in America, therefore, the cost is more than what you'd find in lower quality devices.
Source: The sample for this review was provided by KJB. Please visit their site for more info and Amazon to order.
Product Information
Price:
$399
Manufacturer:
KJB Security
Retailer:
Amazon
Pros:

Dual function Bluetooth speaker and security camera
Great performance
Continuous or motion detected recording
Remote viewing

Cons:

Can't hide SSID broadcast
Not true HD in my opinion
Expensive