We use affiliate links. If you buy something through the links on this page, we may earn a commission at no cost to you. Learn more.
It doesn't matter if you call it a gear bag, a carry all, a man purse, or a satchel; finding your perfect bag seems to be a personal quest without an end. I speak from experience as I've been on such a quest for the past 20 years or so. It always seems like the bags that I choose have 1 or 2 things that keep me from loving them. Most of the time it's the number of pockets and ease of use, but sometimes it's as simple as the color and size. I've often thought that if I could only design my own bag from the ground up, that it would be perfect and I'd never need another gear bag again. Even though I watch a lot of shows on the HGTV and DIY Networks, I don't have much experience sewing or making bags, so I've yet to try this endeavor.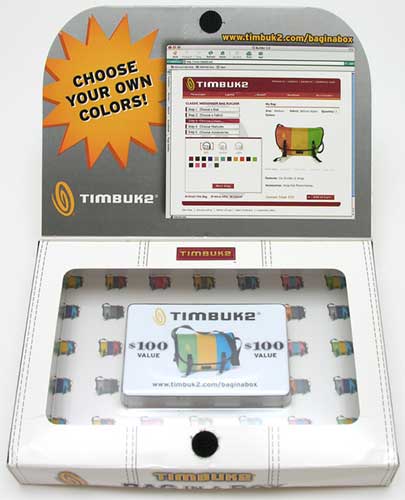 Recently I came across a bag manufacturer that comes very close to giving you the ability of designing your own bag from the ground up. The company is Timbuk2, who have been in business of making messenger bags since 1989. Made popular by bicycle messengers, these style bags have to be tough and road worthy. Now you can have one built to order by purchasing their Bag In a Box kit. This kit is actually a $100 plastic gift card with a special code on the back, that you can use to go on to Timbuk2's website to configure your bag in 5 easy steps.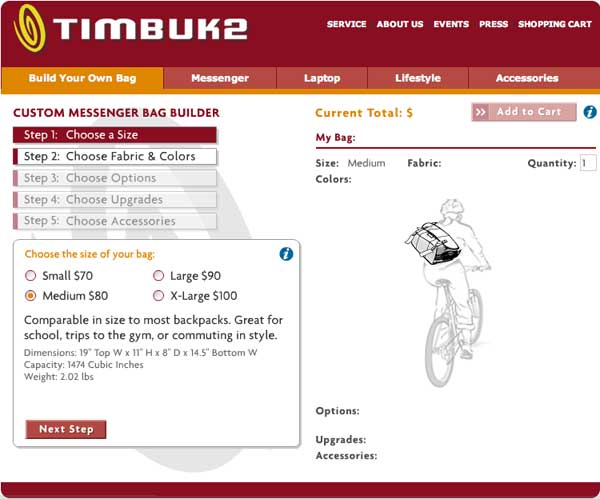 When you start the online process, you first have to choose the size of messenger bag:
Small ($70) 15″ Top W x 10″ H x 5.5″ D x 12″ Bottom W
Medium ($80) 19″ Top W x 11″ H x 8″ D x 14.5″ Bottom W
Large ($90) 23″ Top W x 12.75″ H x 8.5″ D x 16.5″ Bottom W
X-Large ($100) 27″ Top W x 14.5″ H x 9″ D x 20″ Bottom W
As you can see, your choice of bag size will have a substantial effect on what you can actually get for your $100 gift card. I went with the Medium sized bag, which according to the website, is comparable in size to most backpacks.
Step 2a is where you make the choice between Ballistic Nylon and Cordura. Ballistic Nylon has a higher sheen, brighter colors and won't pill your clothes. Cordura looks and feels more like a tightly woven matte canvas. I opted for the Ballistic Nylon.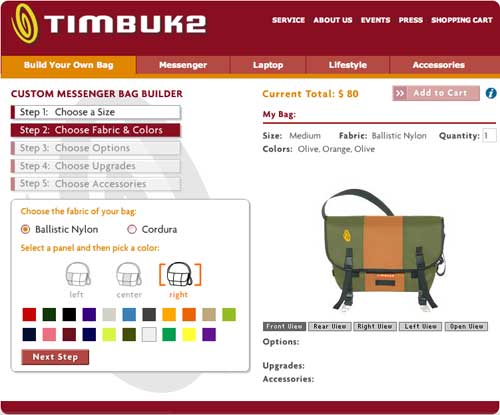 Never miss one of our posts again. Sent MON, WED, and FRI with the latest gadget reviews and news!
Step 2b, we get to pick colors! The number of colors that you can choose from depends on which type of fabric that you decided on in Step 2a. If you chose Ballistic Nylon, you will have 21 color choices. If you went with Cordura, you only have 16 colors to pick from. You can pick different colors for the left, right and middle panels. As you can imagine, there are many possibilities. I went with Olive for the left and right, and Orange in the middle.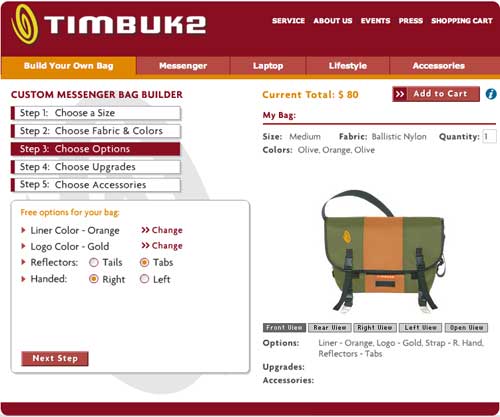 Step 3 is the free options choosing step. Here is where you can choose the color of the bag's interior (or liner), logo color, type of reflectors and whether the bag is right or left handed. I decided on orange for the liner, gold for the logo, tab reflectors and a right handed bag. At this point, the cost of the bag was totaling up at $80.
Step 4 allows you to choose some upgrades for your messenger bag. The upgrades include a grab strap and a center divider. Both cost $10 each. I went ahead and picked both, which brought my total up to $100.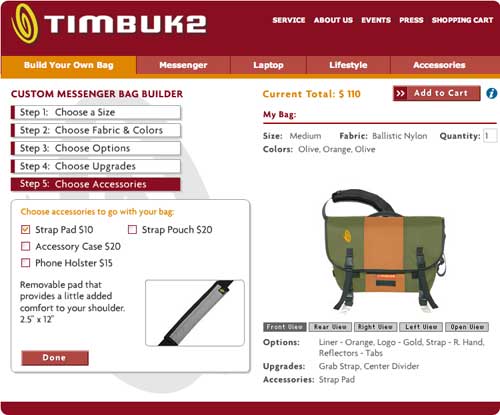 And finally we get to Step 5 which gives you a few other accessory choices including a strap pad, strap pouch, accessory case and phone holster. The only one I decided to get was the strap pad for $10. This wraps around the shoulder strap to give some extra padding and gripping ability. At this point you see that I've gone over budget by $10. With shipping, I ended up running over $22. It was a small price to pay for a bag that I customized myself though.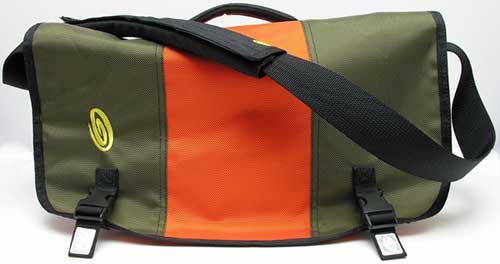 A few days after placing the order, I came home to find a box on my front porch. Opening it revealed a bag that looked even better than what I had envisioned. I loved the colors that I had chosen, and the Ballistic Nylon looked and felt great.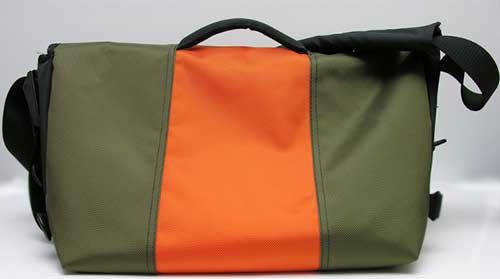 The stitching is perfect. The top handle is padded and comfortable.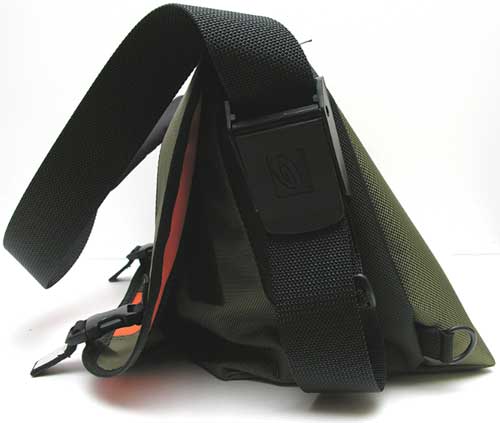 As you can see, this bag will sit on a desk or floor without falling over. This is one of my main pet peeves when it comes to a gear bag. If it won't stand up on its own, it will go bye-bye. The wide woven shoulder strap is surprisingly comfortable. More so with the padded strap pad that I added. The right side of the bag has a large plastic adjustment buckle so that you can use to lengthen or shorten the shoulder strap. It would be nice if there was a strip of canvas that you could tuck the shoulder strap loop into. The Waterfield Cargo bag has this same style buckle with the feature I'd like to see here.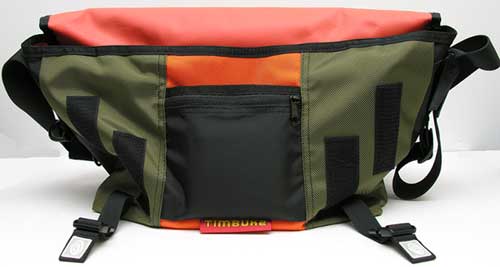 The flap is held closed with 4 large strips of Velcro. Yeah, I hate Velcro with every fiber of my being, but I've reluctantly grown used to the rippppppppppppppppppp noise that it makes every morning when I open it at work. Besides the Velcro, two plastic pinch latches also hold the flap closed. I don't much like this style of latch because I invariably pinch my fingers with them at least once a week.
Under the flap you'll find a zippered pocket with another unzippered pocket behind it. I keep my car keys in the unzippered pocket, and my wallet in the zippered one.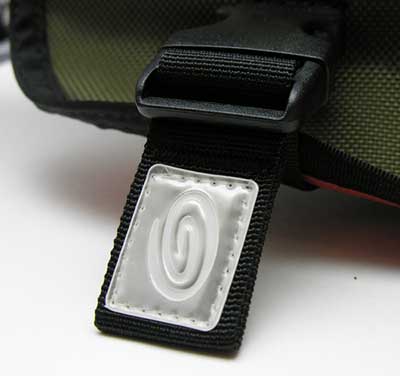 At the bottom of flap latches are reflectors. Great for visibility if you happen to carry the bag at night.
The interior of the bag is washable vinyl. I chose a bright color so that it would be easy to see my junk at the bottom of the bag.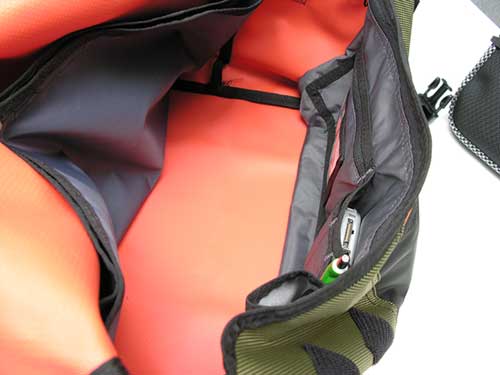 Inside the bag is one large cavity with the optional thin double ply divider sewn into the back wall, and a organizer panel on the front wall. I've never really liked a messenger style bag due to the fact that it typically has just one cavernous area, instead of lots of dividers and pockets. I will have to say that I've changed my mind about that after using this bag for several weeks. I've come to appreciate being able to stuff a lot of gear in there and still having room left over.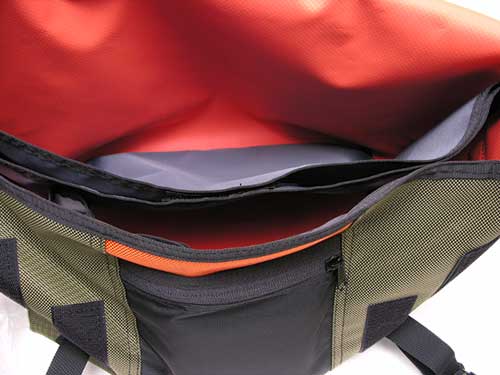 If you opt for the divider, it is sewn into the back wall and uses Velcro to hold the two layers together. I use this area to hold small flat items like papers and user manuals I may be reading.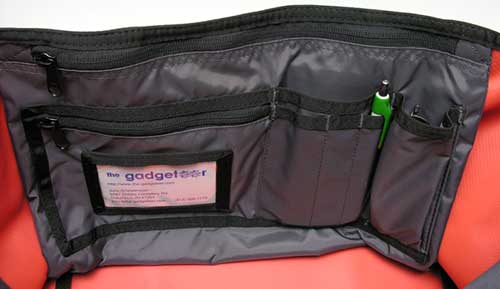 The organizer panel sewn into the front of the bag has a large zippered area with other pockets sewn on the outside of it. There is another large zippered pocket with a clear business card holder in front of it. Next to it there are 3 pen/pencil pockets, with an open pocket behind them. Next to that pocket there is a flannel lined pocket suitable for a narrow cellphone or pair of sunglasses.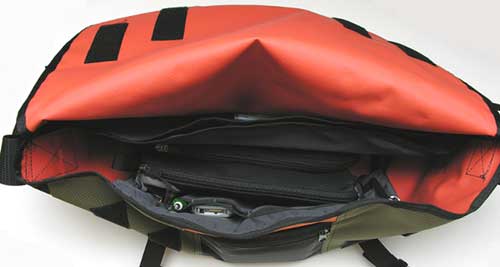 Here you see that I have 2 similarly sized Waterfield zippered pouches (one is the iPod Gear Pouch) in the main cavity of the bag. I also have my One Touch glucose meter pouch in there, but you can't see it. Even with those 3 items, I find I still have a lot of room to spare. In the morning, there's plenty of room if I want to put a McDonald's bag with an egg McMuffin in it. And when I come home from work, I'm able to stuff all the mail from the mailbox in the bag. I can also fit quite a few full sized magazines behind the divider. This bag can carry a laptop, but since the bag itself lacks padding, I don't really recommend it unless you put the laptop into a separate padded sleeve. Timbuk2 makes some laptop specific bags that are a much better choice.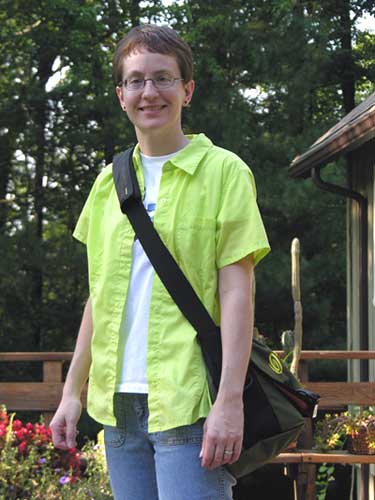 As for carrying the bag, I typically wear it bandolier style. I find it to be very comfortable against my back since the bag is soft and molds to the shape it rests against. I've been really happy with the materials and workmanship of this bag. I think the messenger style is now my favorite style of bag and I will probably be sticking with it for future bags. If I could change any features to make this bag more perfect for me, I would get rid of the Velcro, change the flap latches to something more finger friendly, and add a small pocket on the outside for easy access to a cellphone. Yeah, I know you can attach a cellphone pouch to the shoulder strap, but I'd rather just have a pocket on the bag itself. Even though the bag isn't my end all be all bag, it is my current favorite which says a lot.
Product Information
Price:
100.0
Manufacturer:
Timbuk2
Pros:

You get to pick your own colors
Lots of storage

Cons:

$100 may not be enough to get all the options you want
Velcro - nuff said