We use affiliate links. If you buy something through the links on this page, we may earn a commission at no cost to you. Learn more.
Besides being functional, comfortable and practical, my perfect gear bag must also be unique. You'll never see me carrying the same bag that one of my friends has. I like being different (no comments!) and having the ability to easily create a custom bag is very appealing to me. Over two years ago, I reviewed Timbuk2's
Bag In A Box option. I still have the bag that I created for that review. In the two years since that review, they've added some new materials and asked if I might like to take a second look. This time around, I decided to create a custom laptop messenger bag. Let's take a look…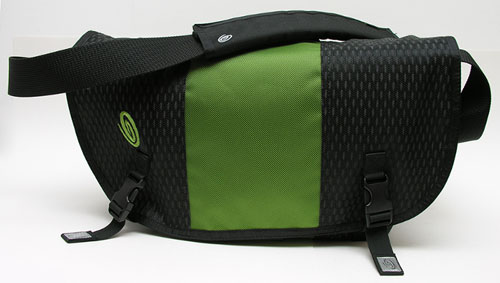 Back when I did my original review, creating a messenger bag was the only option. Now, you can choose from a messenger bag, laptop messenger, market tote, Eula (small messenger) or LEX Pack (backpack). I picked a medium sized laptop messenger bag to fit my 15″ Macbook Pro.
Small – 14.5 x 9.8 x 5.3 (fits a 12″ laptop)
Medium – 18.8 x 10.5 x 7.8 (fits a 15.5″ laptop)
Large – 22.5 x 12.5 x 8.5 (fits a 17″ laptop)
I wanted to use one of their new fabrics for this bag, so I chose the outside flap panels using Black Under Pressure fabric. Then the middle panel, I chose Leaf Green Ballistic Nylon. A logical choice for the interior color was Moss, and a light Green logo for the flap seemed to fit in well with my Green theme for this bag. I also decided to go for an optional padded strap pad. I really like the way it turned out, what do you all think? Now let's check out the details.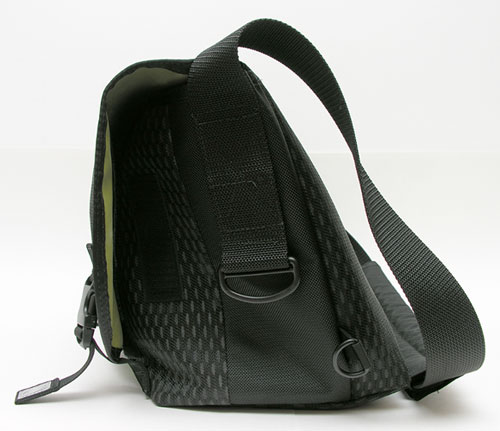 This laptop messenger has the classic wedge shape that you can see by the side view shown above. What I like about this design is the fact the bag stands up without falling over… even when there's a laptop inside.
On the Right side of the bag, there are two connection points that can be used to attach the included cross strap. The cross strap is something that bike riders will appreciate as it helps keep the messenger bag secured on your back.
The image above also illustrates the wonderful texture to the Black Under Pressure fabric that I chose for the body and outside panels of this bag. I really like the look.
Never miss one of our posts again. Sent MON, WED, and FRI with the latest gadget reviews and news!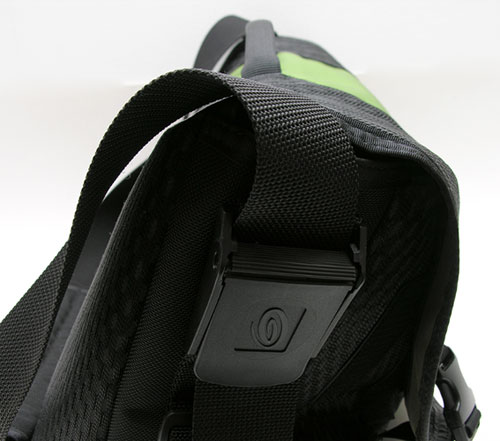 If we flip around to the opposite side, you'll notice the plastic buckle that you can use to adjust the length of the shoulder strap. If I had the ability to change something about this bag, I would probably want to use removable / changeable shoulder straps. The wide woven strap that Timbuk2 uses works fine, but would like the ability to swap it out with something more comfy like the Skooba SuperBungee.
You will notice that Timbuk2's messengers all have a feature that is always a must-have on my favorite gear bag checklist… a grab handle. I love the rolled woven and padded handles that they use. Very nice and handy.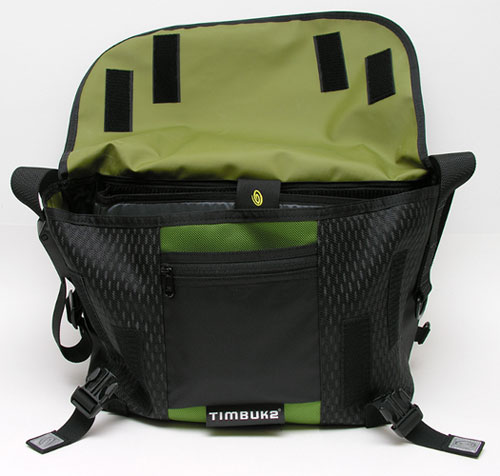 Now it's time for a pocket tour! Lift the flap (which is held closed by four strips of Velcro and two plastic buckles) and you will find and open topped 6 x 6 inch pocket with a 6 x 5 inch flat zippered pocket on top of it.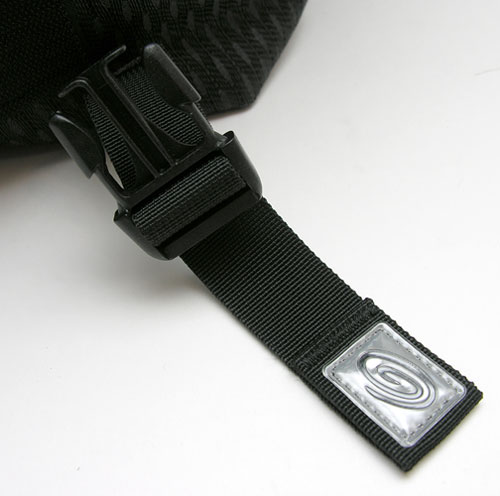 The flap buckles have reflective tabs. Great for bike riders.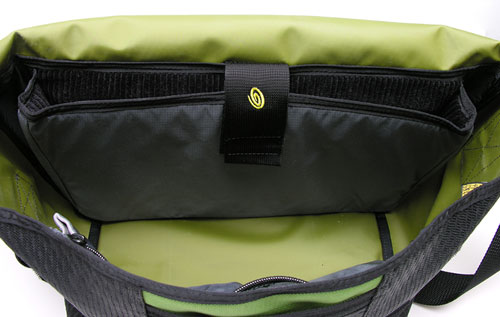 Now for a tour of the interior of the bag… On the back wall of the bag is a very nice open topped laptop sleeve. It is generously padded on all sides, with a wide Velcro strap to keep you laptop from falling out.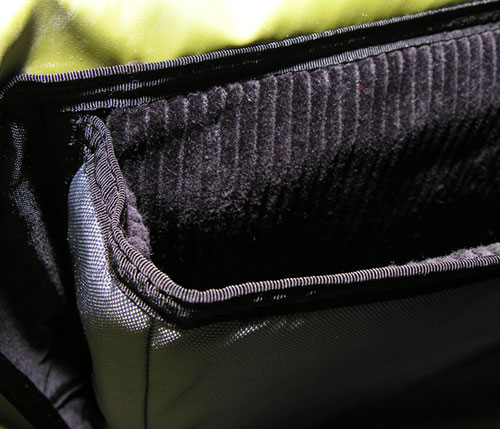 The interior of the laptop sleeve is lined in thick corduroy. I should mention that the sleeve in the medium sized laptop messenger fits the Macbook Pro like a glove.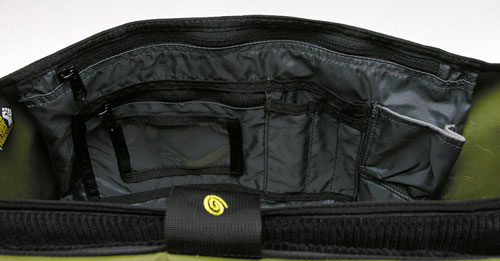 The main storage panel is attached to the front wall of the bag. The outer section has a clear plastic slot for an ID card, a zippered pocket behind it, three pen / pencil slots with an open topped vertical slot pocket behind them and next to that is a flannel lined vertical cell phone pocket.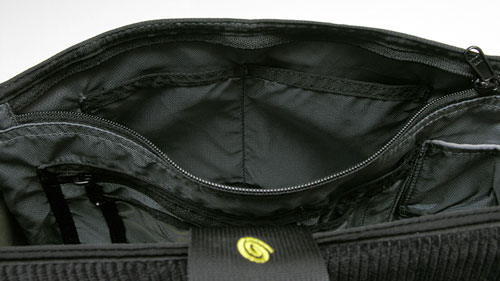 A large zippered pocket with two open pockets is located behind all of the pockets just mentioned. Lots of storage!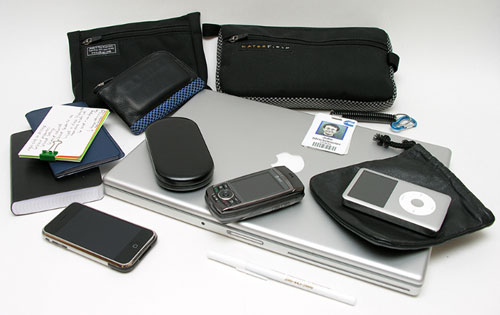 To give you a idea how much gear the medium sized laptop messenger can hold, I've laid out my current daily gear collection. There it is outside the bag…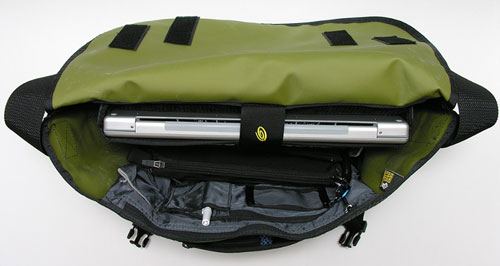 And now, here it is all inside the bag. As you will notice, there is still considerable room for more gear. This bag is generously sized and I have yet to feel constrained by it.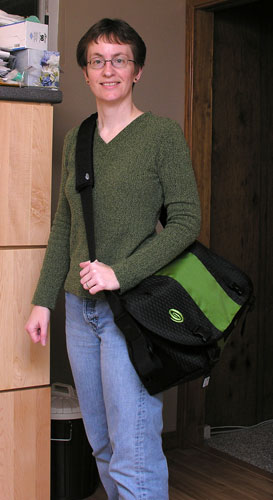 Here I am wearing the bag. As a point of reference, I'm about 5'6″ tall.
I could find no faults in the materials and workmanship on this bag. I think it will serve me well for years to come.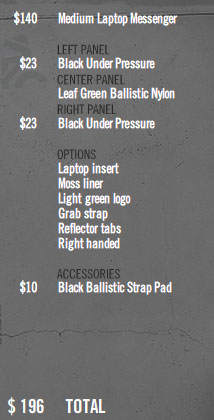 The price to configure a custom Timbuk2 laptop messenger bag will vary depending on what size and options you chose. Above you will see the tally for the bag I built for this review. No, they are not cheap… I could have saved $46 by not choosing the new fabric for the outside panels and just going with the Ballistic Nylon or Cordura. The base price for this bag in medium is $140 (small is $130 and large is $150). Each special fabric panel is an additional $23. I also added the strap pad for $10. You can get this same bag in your choice of six color combinations for $100 (small), $110 (medium), $120 (large) respectively. But for me, having the ability to make it 'mine' by picking my own colors is really what makes this bag unique.