We use affiliate links. If you buy something through the links on this page, we may earn a commission at no cost to you. Learn more.
For the past 8 months, my everyday gear bag of choice has been a custom Bagaboo messenger bag. That bag ended a long personal quest for the perfect bag… That is until I saw Waterfield Design's latest creation, the Sling. Actually, I didn't really pay much attention to the Sling when I first saw it show up on Waterfield's site. Then they contacted me to ask if I would like to review it. I said sure, but still was not totally excited about it. Then it arrived and my mind instantly changed.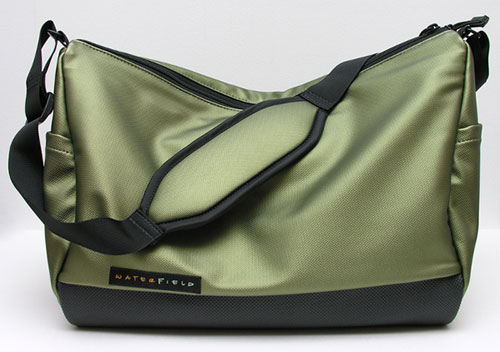 The Sling is unlike any Waterfield bag that I've reviewed in the past. It has a messenger bag shape and style with material that is almost metallic looking… shiny. It has a fine canvas look and texture, but feels somewhat slick to the touch. A friend at work said it reminded him of a space suit. Guess what? This 'spacesuit' is machine washable!
Available in Blue, Brown, Green, Red and Silver, I was sent the Sling in Green. My favorite color! Yay! The exterior of the bag is plain except for a small Waterfield logo along the bottom edge of one side.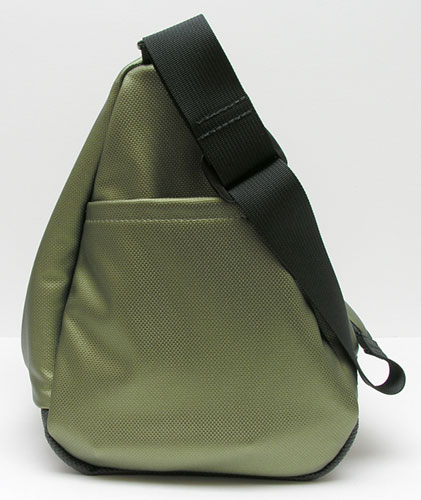 Both ends of this bag have a roomy open pocket that is large enough to stash items such as phones, PDAs, digital audio players, a water bottle, etc.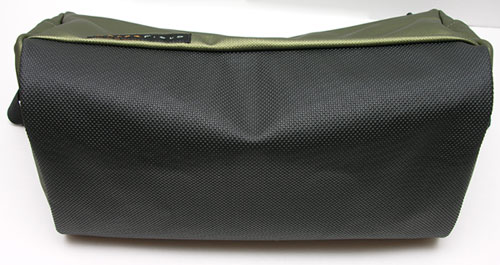 The bottom of the Sling is covered in a layer of nubby rubber that both keeps the bag from sliding around on a slick surface and also protects the bottom from dirt. The padded adjustable shoulder strap has the same nubby rubber strip on the underside, to keep it from slipping off your shoulder.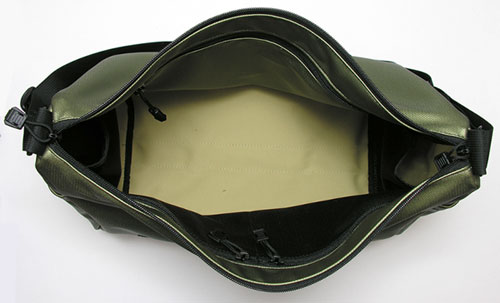 Access to the interior is accomplished by unzipping dual zippers across the top of the bag. Inside you'll notice that the bag has a lighter color lining. This makes it easier to see dark objects that might be hiding on the bottom of the bag.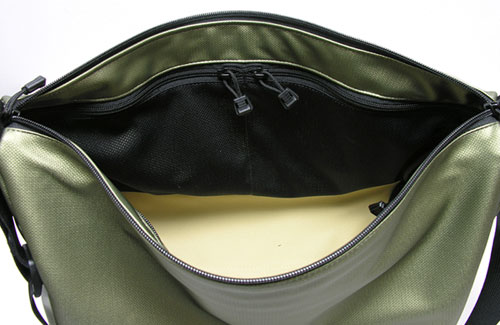 One interior wall of the bag has side by side 7 x 7 inch zippered mesh pockets.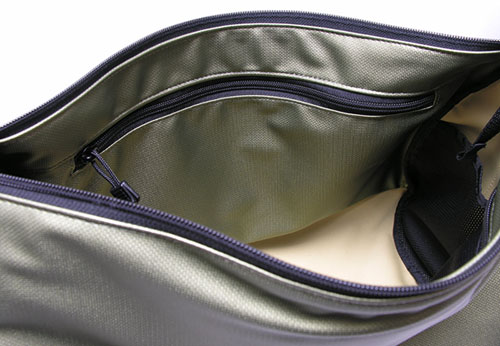 The opposite wall has one large 6.5 x 11 inch non mesh zippered pocket.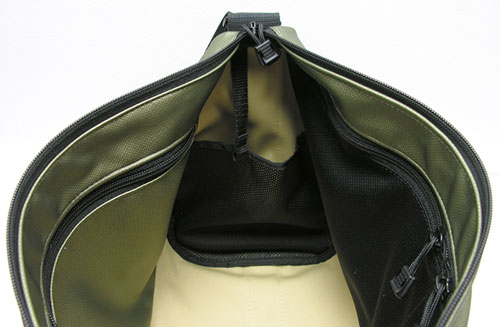 Both ends of the bag have open topped mesh pockets. The mesh used for the interior is finely woven and is not snaggy. You can see through it, but just barely. Also, one end has a strip of canvas that you can attach an optional matching pouch or a set of keys.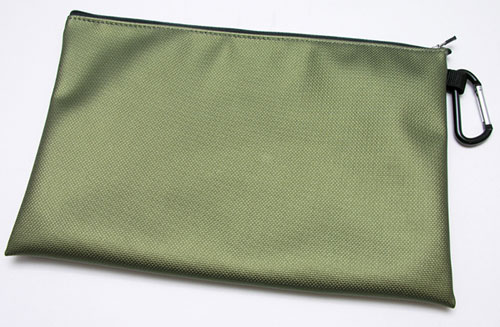 The matching zippered pouch is 11 x 7 inches and has no padding. There are no pockets inside the pouch.
The Waterfield Sling bag might not be the right bag for everyone given the fact that it is a 'soft' sided bag. Since it has no padding or support, it doesn't make a very good laptop bag. But it makes a great 'throw all your junk into it and go' kind of bag.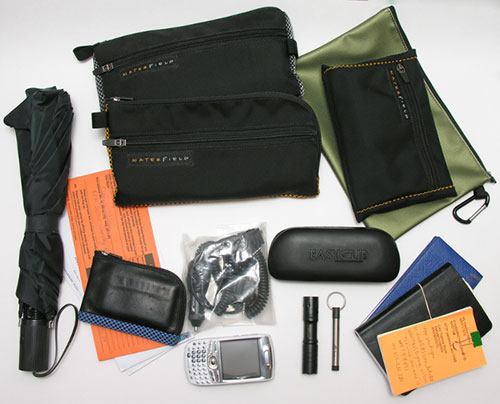 Now let's load it up with all the stuff that I carry with me on a day-to-day basis:
Umbrella
Some mail
Waterfield Wallet
Various Waterfield Pouches (4) which hold all kinds of nifty things
Eyeglass case for my magnetic sunclips (which is entirely too big for what it holds…)
Treo 680
Inka Pen
Huntlight FT-A2 Flashlight
Gomadic car charger with several exchange tips
Checkbook
Miquelrius book for my Gadgeteer ideas, to-dos and lists
Stack of 3×5 index cards with often used info for my day job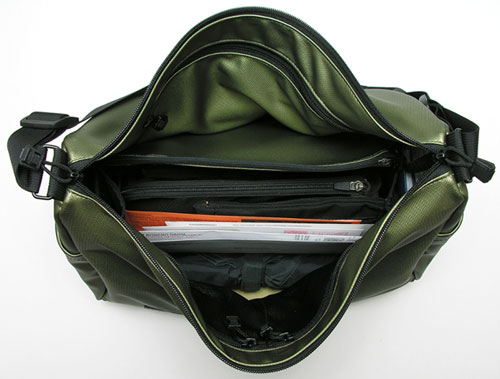 Now here is the Medium sized Sling containing all the items listed above. There is still plenty of room left for other items.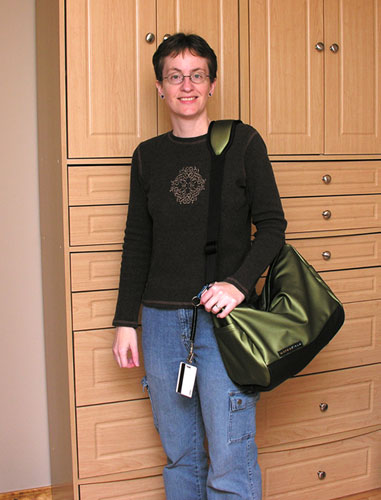 Here I am holding the bag which is still containing all of the items that I listed above. Just for reference, I'm 5'6″ tall. The bag is very comfortable to carry on your shoulder.
If I had the opportunity to change one thing about the Sling bag, I would add a grab handle to the top. Maybe a rolled handle on either side attached by rings so that it would fold down flat when not being used. Other than the lack of a grab handle, the Sling has all the features that I look for in a great gear bag: storage capacity, easy access to interior and all pockets, no Velcro, flat bottom so that it won't topple over when sitting on a desk / floor and of course, style. I think I've found my new favorite gear bag. Thanks Waterfield!
Large Sling $139 / 17″ x 14″ x 10 " / 1.9 lb.
Medium Sling $129 / 15″ x 11″ x 8 " / 1.4 lb.
Small Sling $99 / 12 " x 8 " x 5 " / 1 lb.
Matching Gear Pouch. $10 / 11″ x 7″
Product Information
Price:
Manufacturer:
Waterfield
Retailer:
Waterfield
Pros:

Good storage
Great look
Comfortable to carry

Cons: