We use affiliate links. If you buy something through the links on this page, we may earn a commission at no cost to you. Learn more.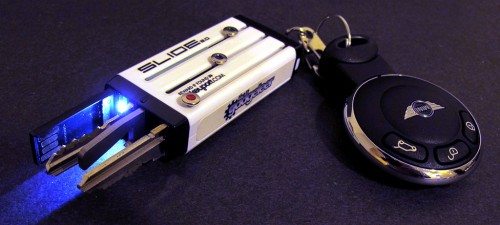 About 3 years ago, Jackie reviewed the original Keyport Slide and liked it so much that he ended up buying a second one and then he helped fund the Kickstarter project for version 2.0, which I'm going to show you today. The Keyport Slide 2.0 reinvents the everyday clunky bulky keychain into something more compact and useful. I've been looking forward to reviewing this product for months and now that I've used it for a few weeks, I'm ready to give you the details. 
Note: Images can be clicked to view a larger size.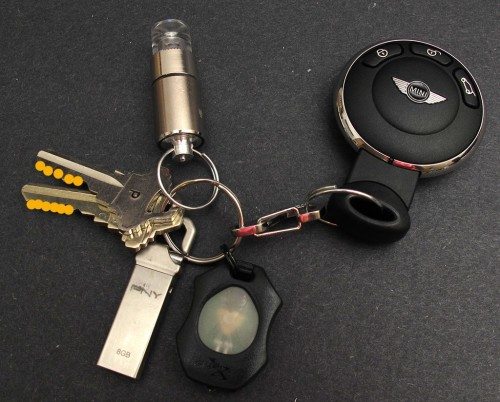 Does anyone else find it interesting that normal everyday keys really haven't changed all that much in the past several decades? Yes, a lot of car keys now have electronics built in, but other keys have remained pretty much the same. When you add more than a few keys and other items to a split ring keyring, they become noisy and bulky.
In the image above, you see my keychain with 2 door keys, a car fob, flash light, USB flash drive and a little glow fob thingy. Total weight = 3.6 ounces.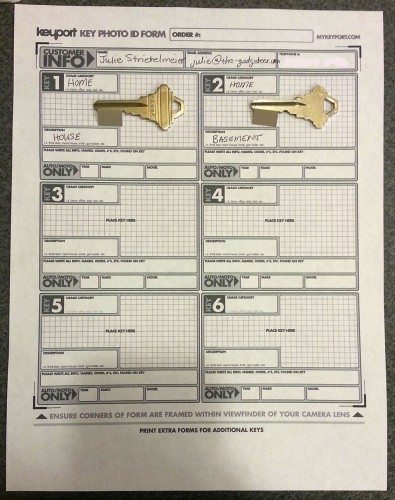 The first step to switching over the a Keyport is to get the blades for up to 6 keys that you want to use with it. To do this, you download a key ID form from the Keyport site, place your keys on the form with a small piece of tape over the actual keyed part of the blade (for security purposes) and then take a picture of the page, flip the keys over and take a 2nd picture and submit it to Keyport. They take a look at the image and can determine the types of blades that you will need. Each standard blade (without electronics) is priced at $4.99. If you need a transponder chipped auto blade, they are priced at $25 each. That's much cheaper than getting a new chipped key from a car dealer. Unfortunately not all makes and models of cars are compatible with the Keyport system though. There's a lookup form on Keyport's site to help you determine if your car is supported. I was a little disappointed that I wasn't able to get a blade for my 2013 MINI Cooper, but since each chipped auto blade requires two ports, I wasn't heart broken. Besides, when I get my car serviced, I'd rather only give them the fob and not all my keys.
In addition to key blades, there are also accessory inserts for things like USB flash drives, bottle opener, flashlight and barcodes. Prices for these inserts range from $3.99 up to $44.99 each.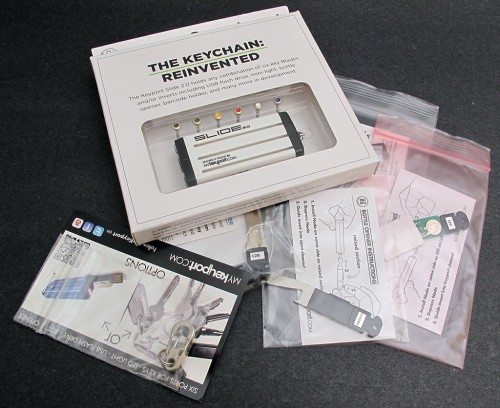 The Keyport system arrives in a box, with the blades and inserts in individually marked ziploc bags.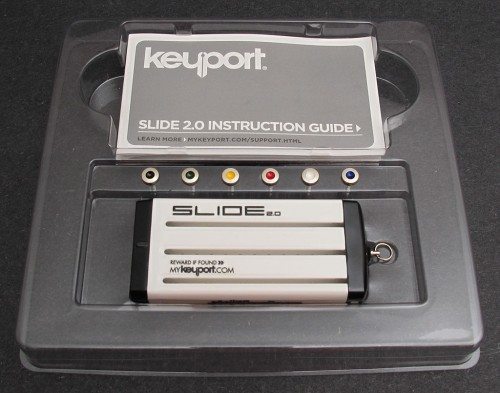 The original Keyport has a stainless steel skin while the main body of the Slide 2.0 is made of a light weight but strong polycarbonate shell with end caps that  are made of Ultem, which is extremely strong and rigid. The Slide is available in white, black or red. As you can see, I chose the white version.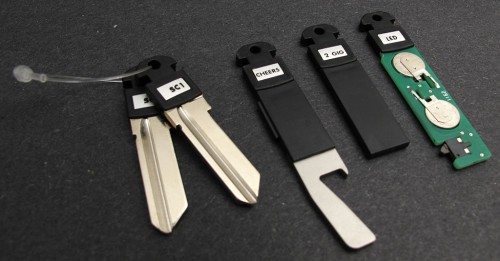 And here are the blades and inserts that were included. Two key blades from the Key ID form I had submitted, a bottle opener insert, USB flash drive and an LED flashlight insert.
My next task after receiving the Keyport, blades and inserts was to take the 2 blades to my local locksmith. Although you can take your keys to Walmart or Lowes, Keyport asks that you support your local locksmiths and go to them instead. I'm certainly glad that I did.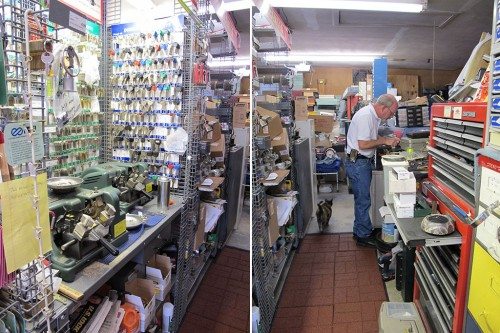 Not only did I get to meet a really nice guy who did an excellent job grinding my keys…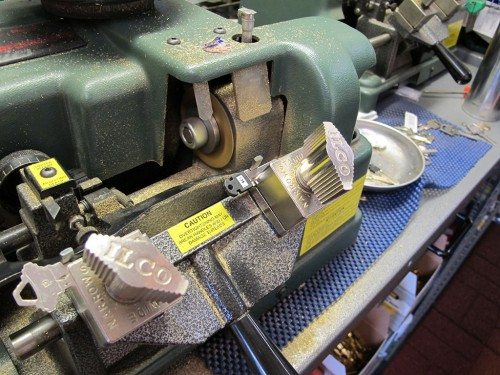 But he duplicated the keys quickly and for free. Thanks Steve of Steve's Lock & Safe.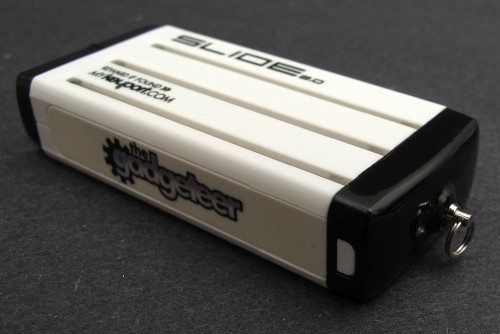 The next step was to assemble the parts.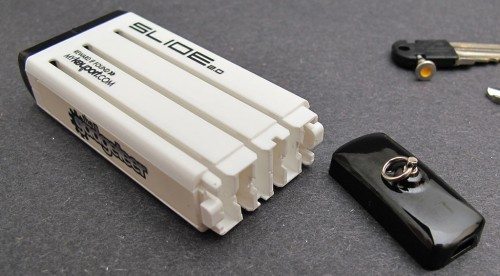 To do this, the top cap has to be removed to gain access to the 6 internal slots (ports).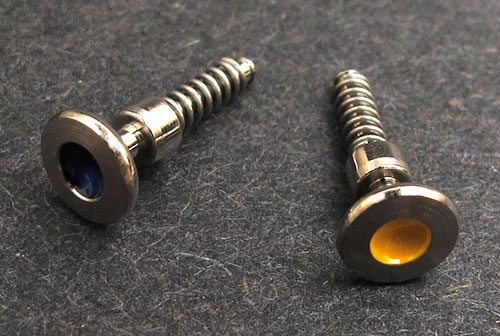 Then the spring loaded nodes have to be installed into the blade and inserts. The tops of the nodes are colored to help you associate a color with one of the blades. For example, yellow = front door, red = LED light, white = USB flash drive, etc. You can customize your set of nodes with the colors you want or even ones with no color at all. They even offer nodes with crystals.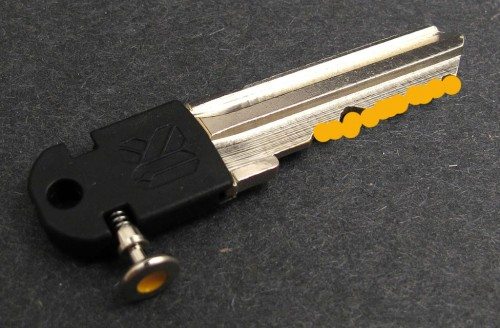 The nodes can be installed on either side of the blades. It's up to you which side you put them on as it will determine which edge of the blade faces up when you extend it. Since there will be 3 nodes on each side of the Keyport, it does require a little thought about how you want to arrange things.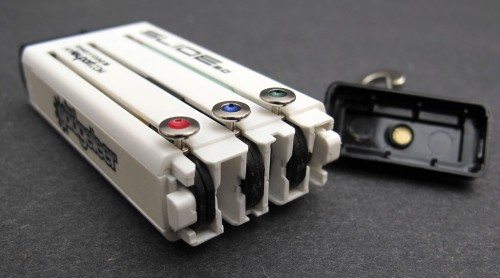 When the blades and inserts have been arranged and slid into the ports, you can put the cap back on and you're ready to go.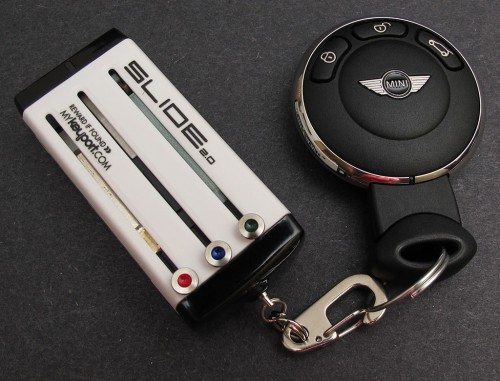 The top cap has a swivel attachment with an uber-tiny split ring. I added the mini gate clip that Keyport sells and attached my MINI key fob. Total weight 3 ounces. That's a saving of 0.6 ounces. Not a lot, but the simplicity of this system is what I really like.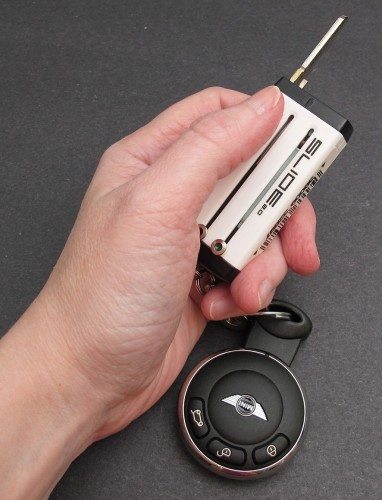 To use a key, just press the node and slide it forward with your thumb until it locks in place.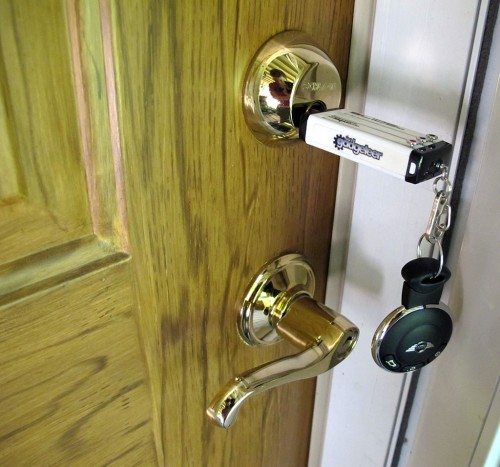 I had no problems opening my front door with the Keyport. The Slide 2.0 provides a nice handle for the key and felt sturdy to use. I didn't worry that the blade was going to snap or break while trying to unlock a door.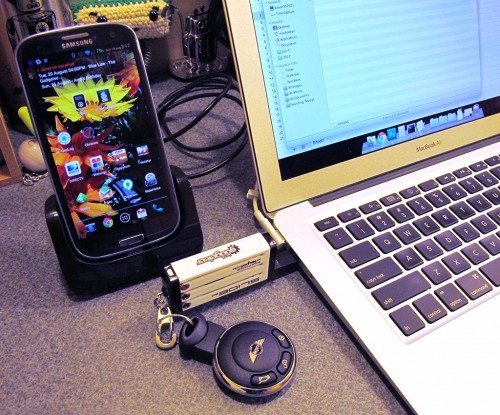 The USB flash drive works great as long as you put it in one of the outside ports to enable it to easily slide into USB ports that might be tough to access.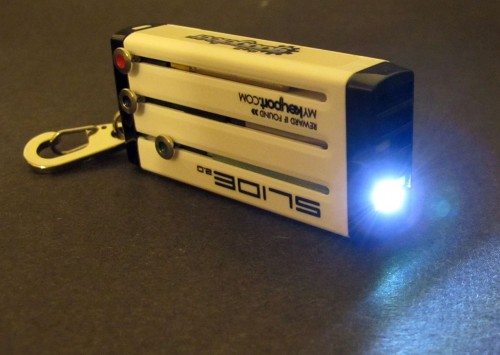 The LED flashlight isn't bright enough to light your way through the woods or even a parking lot, but it's perfectly suited to helping you find the keyhole in a door when it's too dark to see it.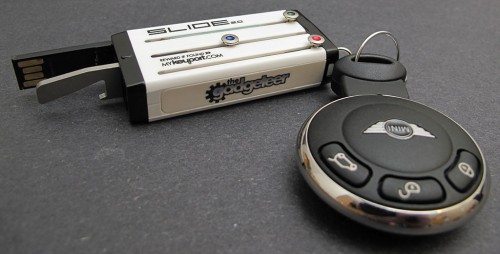 The only insert that doesn't lock in the extended position is the bottle opener. Not that I will probably ever use that particular tool. I'd much rather have a pen, knife or screwdriver in that slot. The folks at Keyport tell me they have plans for more inserts, so stay tuned.
After using the Keyport for several weeks, I don't think I'll ever go back to using a standard keychain. I like having everything enclosed in a compact package for easier everyday carry.
Updates 03/19/15
My Keyport is still my favorite keychain accessory. After a year and a half of everyday use, it still looks and works great. I've added an inkpen insert which is really handy as long as I remember that I have it. I'm still wishing for a knife insert and it would be wonderful if there was a key insert that would be compatible with my MINI Cooper. But as is, I don't mind attaching the MINI fob.
Source: The sample for this review was provided by Keyport. Please visit their site for more info.
Product Information
Price:
$29 for the Slide 2.0 case, inserts and blades are all individually priced
Manufacturer:
Keyport
Pros:

Unique
Compact
Quiet
Easy to change
Organizes and debulkifies your keychain

Cons:

Not cmpatible with all car keys that require a transponder chip