We use affiliate links. If you buy something through the links on this page, we may earn a commission at no cost to you. Learn more.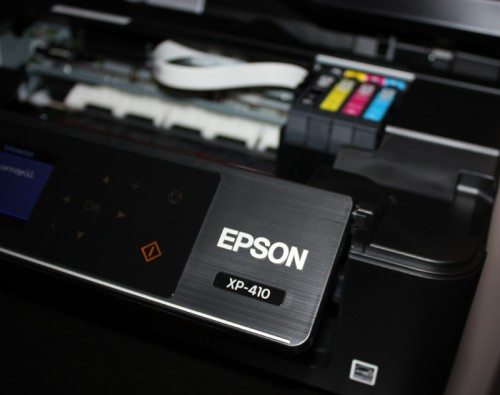 There are so many printers on the market that choosing the right one can be a real chore. For basic home use, I've found using a printer/scanner combination fits my needs just fine, so we picked up an Epson XP-400 simply because it was on sale and did not have many bells and whistles that could potentially break down. Recently, I was given the opportunity to try the Epson Expression Home XP-410 Small-in-One All-in-One Printer, which is a near twin to my old printer, but with a few extra upgrades. Let's see how Epson's latest Small-in-One printer does with scanning, printing, and ease of use.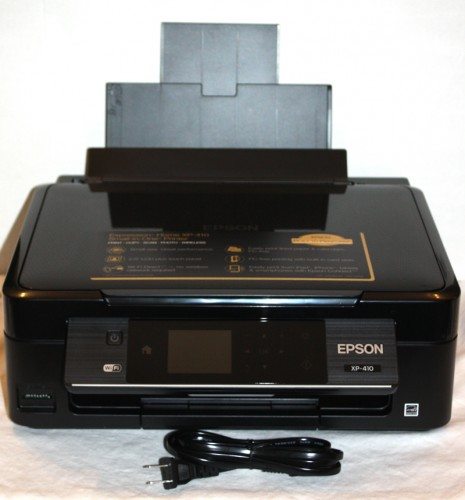 Inside of the box are the basic components: power cord, instructions, the Epson software/driver CD, and of course, the XP-410 itself.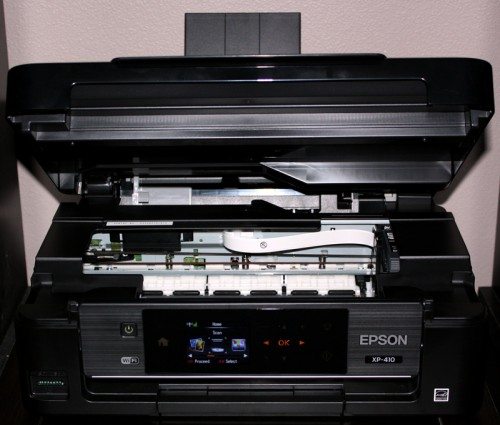 The specs from Epson are:
Print Speed
Black: 8.7 ppm
Color: 4.5 ppm
Scanning
Optical Resolution: 1200 dpi
Hardware Resolution: 2400 dpi
Maximum Resolution: 10,200 x 14,040 dpi
Paper sizes
PC-free paper support: Plain letter paper and photo paper – 4″ x 6″, 5″ x 7″, letter, and A4
Paper sizes via PC: 4″ x 6″, 5″ x 7″, 8″ x 10″, 8.5″ x 11″, 8.5″ x 14″, A4, half letter, user definable, 16:9 wide
Maximum paper size: 8.5″ x 44″
Borderless printing sizes: Photo – 4″ x 6″, 5″ x 7″, 8″ x 10″ ; Letter – A4, 16:9 wide
Supports many different paper types from plain paper to iron-on.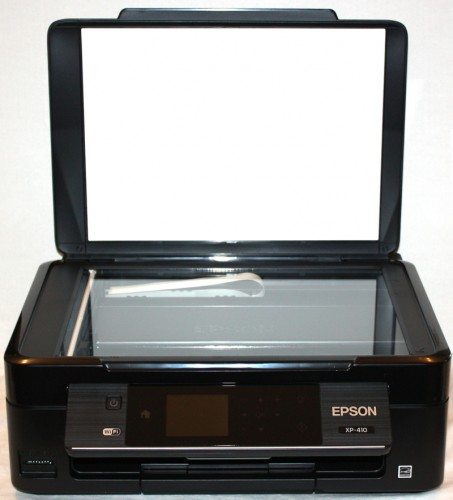 There are a couple different ways to use the scanner. The easiest way I found was to place the picture on the front right corner of the glass (marked by an arrow), go into the menu on the XP-410, and press scan. Once there, you have the option to scan to your PC, memory card, or to the cloud. I nearly always used scan to PC in JPEG mode.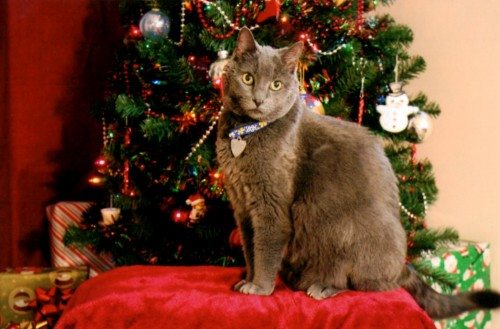 Above is a picture of my cat that I had in a frame near my desk. This was scanned using the Scan to PC (JPEG) option. One downside to using this mode is that you may have to crop the picture yourself in your photo editing software. As you can see though, the picture quality came out very well using the standard settings. When using the EPSON Scan software, the same picture came out just as nice, but I was able to rotate and make sure it was cropped correctly before scanning, leading to no need for post-scan photo editing. The XP-410 will also scan and differentiate between multiple pictures, which worked surprisingly well compared to the previous scanner I had owned. The scanner works much better on glossy photo paper than semi-glossy. Semi-gloss would have a bit of a grainy feel unless scanned with a super high dpi setting, while the glossy (the type used on the above picture) worked great.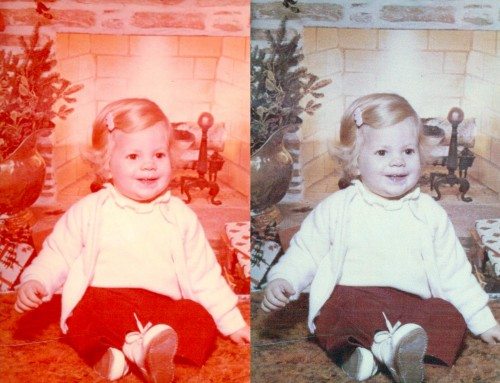 The EPSON Scan software also has a feature to restore faded photographs. Above is an example of a before-and-after picture using the software. I was quite impressed with how it fixed the faded orange photograph. The downside to this is that the fixed picture is of a lower quality. There were lines across the picture which were less pronounced with higher dpi settings. The picture on the right is a hefty 17 MB and you can still see the lines. At 300 dpi (standard for photograph printing in the EPSON Scan software), the picture looked horrible with lines streaking through it.

Using my WiFi and the printer's WiFi Direct was easy. You can choose to connect your printer to your network using a USB cable and your PC or by using just the printer itself. I chose to use the printer to add the WP-410 to my network, since I believed it would be the more difficult method and thus better for this review. To my surprise, it was very easy. In the menu, you just arrow over to the WiFi setup and use the setup wizard. It scans for wireless networks just as a laptop would.  You choose the network you want, enter in the password, and connect. Once connected, the signal strength is shown on the top right corner of the LCD display. If a friend wants to connect to the printer and print something from their mobile device or tablet, they can use WiFi Direct – it acts like a wireless router point that is able to be located on your device's WiFi list. You connect with the password given on the printer screen, and it will show up as a wireless printer on the device. The downside to this is that you have to disconnect it from your wireless network in order to use WiFi Direct, so it is easier to just give them your WiFi password. If you do not have a wireless network, this setting would come in handy for mobile printing.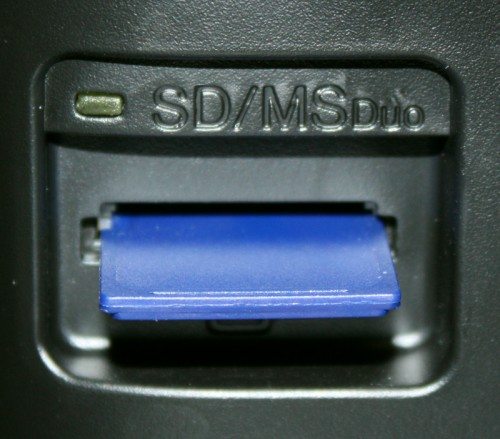 An SD/Memory Stick Duo card slot is included for direct printing of pictures without a PC. You just insert the card and arrow over to Print Photos; a preview of the photos will be on the screen, and you can scroll through and choose which photo you would like to print. You can choose from a couple options, such as print quality or paper size after choosing the picture you wish to print via the settings section.

Other than the addition of WiFi Direct, the other major improvement between my old printer and the XP-410 is that the LCD display is much crisper and all of the icons are now in color. When previewing the photos on the SD card, I was impressed with the quality of the display.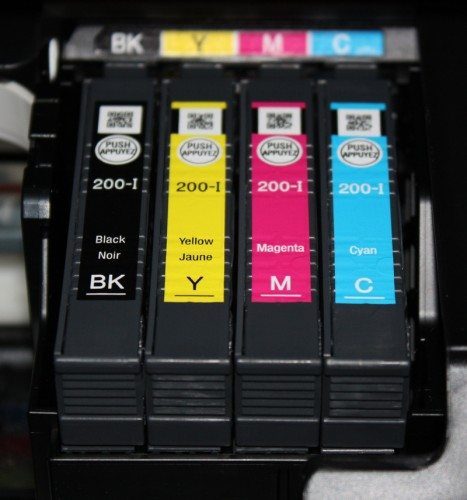 One thing I never realized with the Epson DuraBrite Ultra ink is that it will not run when exposed to water and that it dries so quickly that I could print off my test picture and scan it immediately. Since one of the downsides of Epson is that their ink rarely goes on sale, this definitely is a nice perk. The ink comes in four colors that can be replaced (and purchased) separately and are easy to install. After charging the ink, which took about four minutes, and printing a test page, the printer was ready to go.
If you are someone who needs to print while away from home, you can connect to the printer using Epson Connect. An email address is assigned to your printer ;  whatever is in the email – picture or text – will be printed when you send an email to the printer. When I used Outlook and inserted a photo into the email, the picture was too big and half of it was cut off, though it printed just fine when I attached the same picture as a file. The Epson iPrint app worked the best for remotely printing pictures, since you could choose the quality and add multiple photos if wanted.
Overall, for a printer in the sub-$100 price range, I find the Epson Expressions Home XP-410 Small-in-One to be a good and reliable printer and scanner that will do what you need it to. The scanner quality is good for regular scanning, and their software adds in a bonus with color restoration, though using it sacrifices picture quality. The printing quality is great for photographs on both Epson photo paper and generic photo paper, and documents look just fine. I don't think that I will find much use for the Epson Connect and iPrint, but it's nice to know they are offered if I chose to utilize them. I can see this printer working well in a family home or for someone who is a moderate user.  It is easy to learn how to use it. The Epson XP-410 is a good solid printer for its price point.
Product Information
Price:
$99.99
Manufacturer:
Epson
Requirements:

- Windows 7, Windows Vista, Windows XP, Professional XP x64
- Macintosh OSX 10.5.8, 10.6.x, 10.7.x,10.8.x

Pros:

- Easy to use
- Doesn't take up too much space
- Prints out good quality pictures and documents
- Able to print photos and documents from your mobile device

Cons:

- Semi-gloss photos can be a little grainy
- Ink is expensive