We use affiliate links. If you buy something through the links on this page, we may earn a commission at no cost to you. Learn more.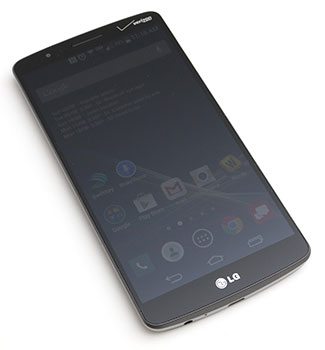 I'm crazy lucky (although some would use the word spoiled) because I have the opportunity to review any phone that runs on Verizon's network. I just tell my Verizon contact what I'd like to do a review and they send me a loaner phone for a couple weeks. Yeah, I'm definitely spoiled. So much so that I haven't really felt the desire to upgrade from the Samsung Galaxy Note 2 which has been my personal phone for the past few years. I still love that phone but finally decided it was time to splurge on a new one. I chose the LG G3 and have been using it for the past 2 weeks along with Dave Rees who also just upgraded from the Samsung Galaxy Note 3. Are we both happy with our decision to buy the LG G3 Android smartphone? Let's find out in this dual review.

Note: Images can be clicked to view a larger size.
Julie's comments will be in black and Dave's will be in Blue italics.
Hardware Specs
Processor: 2.5GHz Quad-Core
Operating System: Android 4.4.2
Memory: 32GB on board memory + 3GB RAM/Supports up to 128GB microSD Card (sold separately)
Network: CDMA/GSM/WCDMA/LTE
Frequencies: GSM 850/900/1800/1900 MHz, CDMA 1.9 GHz CDMA PCS/800 MHz CDMA, LTE Bands 4/13
Data Transmission: EVDO, EVDO Rev A, 1xRTT, LTE
Display: 5.5" Quad HD Display Gorilla® Glass 3 Touch Screen Display
Camera (rear): 13 MP OIS+ Laser Auto Focus Camera with Dual Flash
Camera (front): 2.1 MP
Wi-Fi, Bluetooth 4.0, NFC
Headset: 3.5mm Audio Jack
Battery: 3000mAh (Removable Battery)
Dimensions: 5.76"(H) x 2.94"(W) x 0.35"(D) inches
Weight: 5.28 oz
Package Contents
LG G3 smartphone
Lithium Ion 3000mAh battery
Micro USB cable
Wall/USB adapter
Dave: My LG G3 is the T-Mobile version. Other than carrier bloatware and branding, the only noteworthy differences between the two siblings is that the T-Mobile variant can make calls on their VoLTE and VoIP via an internet connection.
Julie: I've not heard of VoLTE, how does it work?
Dave: I believe the VoLTE  feature is suppose to be coming to all the carriers. The phone routes the call through the best pathway. In this case that would be VoLTE/HD Voice (high speed data/LTE). T-Mobile also allows you to make and receive calls via VoIP when there is no service. So when there is poor to no coverage but I am in decent WiFi, my cellphone would still work as if it were on the T-Mobile network (aka someone calls my number & my phone rings).
Style and design
Julie: There isn't a whole lot to say about the physical design of the LG G3. It's not flashy by any definition. It's currently available in black and white versions. I opted for black. The front of the phone is completely flat with a gorgeous display that goes edge to edge. There are no physical buttons on the front of the phone, which is something I thought I'd miss having become reliant on the home button on Samsung phones. Instead LG has what some consider a funky location for volume and home buttons – the back.
Dave: I like the 'keep it simple' design. T-Mobile and Sprint have the G3 in gold as well. Supposedly LG is releasing a Burgundy Red and Moon Violet in the next few months.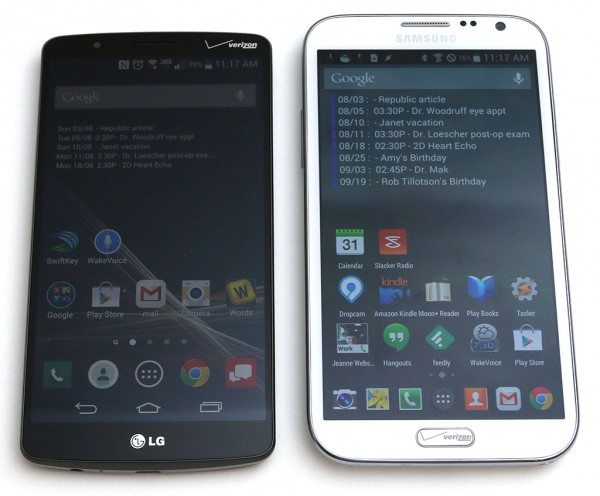 Julie: As far as size goes, I was looking forward to a phone with a slightly smaller footprint than my Samsung Galaxy Note 2 "phablet". But it was quickly evident when I pulled it out of the box that the LG G3 is about the same size as my previous phone. Oh well…
Dave: The G3 feels smaller and more comfortable than the Samsung Galaxy Note 3. Where the Note 3 definitely took two hands to operate, the G3 can (almost) be used one-handed. This is due to the G3's smaller screen size (5.5″ vs 5.7″) and minimal bezel. The LG G3 is definitely in the phablet category with its larger form factor but I find phablets to have greater usability due to their larger screen size.
Julie: I agree. I would have a hard time going back to an iPhone sized device. That said, I do still suffer from a severe case of "my phone is poking out of my pocket" syndrome. I've learned to live with it though.
The LG G3 feels well made, solid and stands up to my punishing gadgeteer squeeze test with no creaks, cracks or flexing. 🙂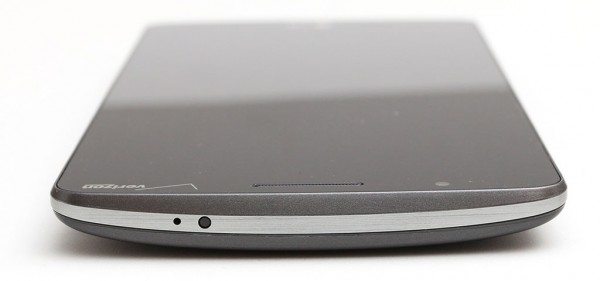 Julie: The top edge of the G3 has a microphone and an IR transmitter so that you can use the phone as a universal remote to control your home theater components. In the image above you can see how the glass display goes edge to edge without a bezel or lip. The sides of the phone have a brushed metal section in the center – at least I think it's metal.
Dave: The LG G3 does look and feel more high end than the Samsung Galaxy line of smartphones. But still does not compare to the material quality of the iPhone 5s or the HTC One (M8). The IR blaster is a bit under powered compared to the Note 3. There are several locations that my Note 3's remote worked just great that I find myself leaning forward to get the LG to reach out to the same media devices.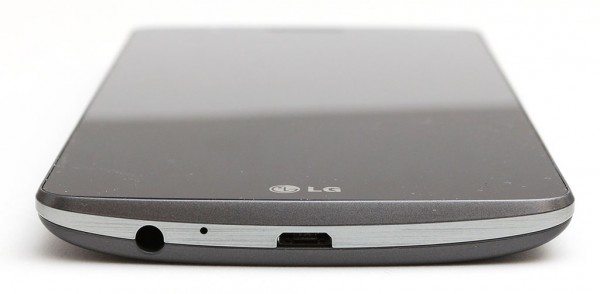 Julie: The bottom edge of the phone has a 3.5mm stereo headphone jack, another microphone and a micro USB connector for charging. Speaking of charging, I was really disappointed to find out that the US version of the LG G3 does NOT have Qi wireless charging capability out of the box. This came as a surprise to me because last year's LG G2 did have it. So now we have to wait for the official back plate from LG… which can't come soon enough in my opinion. Having to plug in a USB cable to charge my phone requires way too much effort 😉
Dave: I am with Julie 100% regarding the lack of wireless charging. The Korean LG G3 has it and I was expecting the same feature in US model. I could have even lived with buying the wireless enabled charging back as an accessory but they were not available out of the gate. Sadly the current rumor is that LG will not be bringing them to the US till the mid to end of August. Once you have gotten use to simply laying your device on a Qi charger, plugging in a USB charging cable really is a hassle/burden 😉 .
Julie: I have a Quick Circle case coming for review which adds Qi charging, but I'm more interested in the Slim Guard back cover since I'm really not a fan of flip cover cases like the Quick Circle case.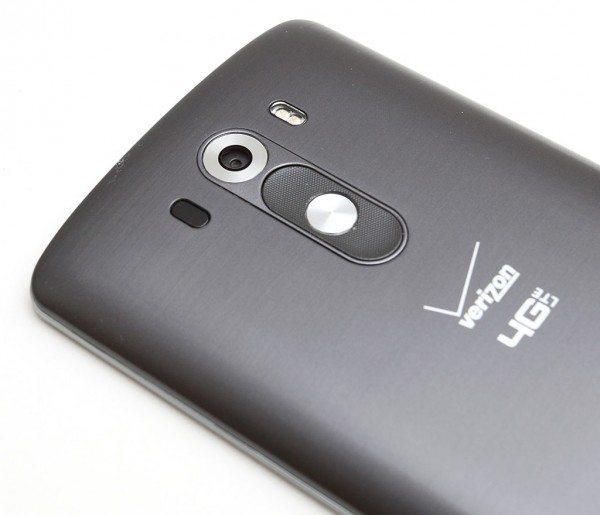 Julie: The back of the phone has a camera lens, flash, laser focus lens, volume and home buttons. I wasn't in love with the back buttons on the G2, but I've already become accustomed to them on the G3 and now find myself trying to press in that area on other phones to turn them on. The volume buttons are slightly concave and the home button is convex. This makes them really easy to find with your finger when trying to change volume while on a call. I also found the button location to work very well for ebook reading using Google's Play book reader app that has the ability to use the volume button to turn pages.
Dave: I like where LG has placed the buttons on the G3. It does not take long at all to get to use to where they are located and once you do they are intuitive and easy to use.
Julie: There's also the Knock-on feature that you can use to wake up the phone. Just double tap the screen and it wakes up. You can do the same gesture to turn it back off. I use this feature more often than the back button to wake the phone.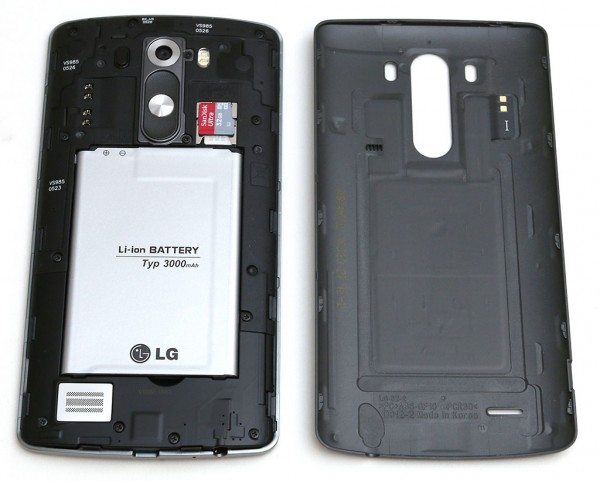 Julie:  The G3 has a removable cover that looks like brushed aluminum, but is really plastic. It snaps on and off pretty easily and provides access to the replaceable battery, micro SIM slot and microSD slot. As far as I understand, NFC is built into the back cover, which explains the two contacts that you can see on the right.
Dave: The wireless back cover will have two additional leads that will allow the built-in Qi coil to recharge the battery.
Julie: You have to be careful though, some of the covers and Qi patches being sold on eBay and other sites are not compatible with AT&T's version of the G3 or even Verizon, Tmobile and Sprint's version of this phone. First of all the AT&T branded LG G3 isn't Qi capable at all… They opted to go with the PMA (Powermat) standard instead of Qi. Yuck… As for the others, you have to pay close attention to the layout of the pins. Look at the image above on the left. See that vertical row of four pins? See how they are spaced out with a pair of pens, a space and the other pair instead of one evenly spaced row of four pins? The international version of the LG G3 does not have that space between the pairs. That means if you buy a Qi cover designed for the international version of the G3, it will NOT work on the US version of the G3.
Dave: The small rectangular grill below the battery is a 1-watt speaker the produces decent sound. Since it faces away from you,  I often find it difficult to hear or have to turn it up high enough so those around me can hear it as well.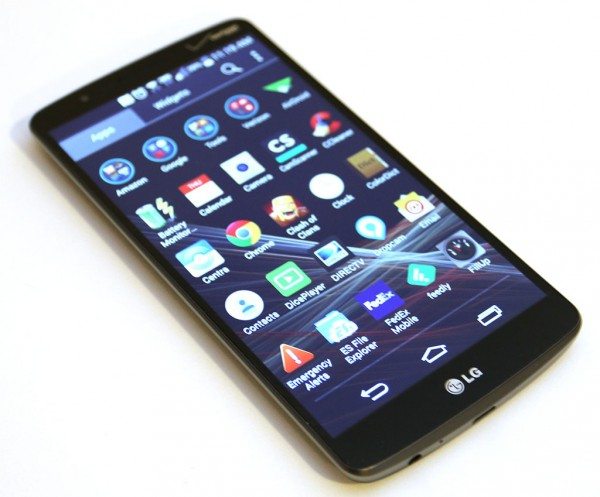 Julie: One of the most anticipated features of the LG G3 is its 5.5 inch Quad HD 2560 x 1440 resolution display with 538 pixels per inch.
Dave: The screen is excellent, wonderful to look at and an ideal size for playing games, viewing content, and reading ebooks. The coloring and saturation are very pleasing to my eyes, where the Note 3 was a little too over the top for me.
Julie: It's so crisp and clear. It's probably the best display I've ever seen. It's even better than the Retina display on my 13″ Macbook Pro. That said, the display isn't perfect. No LCD, AMOLED or IPS screens are… because you can't comfortably use them in full direct sunlight. So outdoor eBook reading isn't really possible unless you are in the shade.
Camera
Julie: Another feature I was looking forward to trying was the laser auto focus built into the camera. I thought you'd be able to see the laser grid while focusing, but it's invisible.
Dave: Compared to the iPhone 5 and Galaxy Note 3, the G3's camera is much faster at focusing and has less lag-time taking the picture itself. The picture quality is very good, with better picture sharpness and clarity than the Note 3.
Dave: Here are a sample image that I took using PANORAMIC mode. Click to view full sized image.

Julie: Here are a few sample images that I took with the camera using AUTO mode. Click to view full sized image.
Julie: The camera does really well with macro and low light pictures. Overall I'm really happy with the camera on the G3, although it isn't perfect all the time. You'll notice in the second image that my cat Max is way over exposed. He's mostly a blob of white and you can't see the definition of his fur. That picture was taken on bright overcast day.
I was impressed with the low light performance of the camera. The bookcase images above were both taken at night in my basement. That half of the room didn't have any overhead lights on. The left image is without flash and the right has flash.
Dave's right, this camera is much faster than my previous phone. I also like that I can program the down volume button on the back of the camera to wake the phone when the button is held down and bring up the camera app. Then just I just have to press the button once more to take the picture. This all happens pretty quickly which is great for snapping impromptu pics.
Dave: Learn something new everyday…I did not know that (camera) trick.
Software
Verizon Apps: AppStore, Audible, IMDb, Kindle, Mobile, MP3, Verizon: Cloud, VZMobile, NFL Mobile, Slacker, VZ Support & Protection, Visual Voice Mail 3, VZ Navigator, VZ Tones, VZ Messages, ISIS Mobile Wallet, Caller Name ID, Mobile Hotspot
T-Mobile apps: Lookout, Mobile Hotspot, T-Mobile My Account, T-Mobile Name ID, T-Mobile TV, and Visual Voicemail
LG Apps: Calculator, Calendar, Camera, Clock, Contact, Dialer, Download, Email, Gallery, Help, Messaging, Music, Thinkfree Document Viewer, QuickMemo+, QuickRemote, Settings, Setup Wizard, Tasks, Voice Command, Voice Recorder, File Manager
Google Apps: Chrome, Drive, Maps, Google Play (Books, Games, Movies & TV, Music, Newsstand, Store), YouTube, Gmail, Google, Hangouts, Google Photos, Voice Search
Dave: I like LG's flatter looking user interface. Once again I think LG is heading in the right direction with their 'keep it simple' approach to this year's flagship smartphone.
Julie: The one app I don't like is the stock calendar app. Unlike Samsung's calendar app (above on the left) which shows text in the month view, the LG's camera app (above on the right) just shows bars to represent appointments. Yuck. I guess I'll be shopping for a calendar app replacement.
Call quality and data speeds
Dave: Call quality is based on many factors/variables. One of the reasons we switched to T-Mobile was due to our Verizon service had gone seriously downhill over the past 12 months. The T-Mobile VoLTE/HDVoice on the LG G3 is stellar, crystal clear. Overall the G3's call quality is as good or better than most landlines. 
Julie: I also have no complaints about call quality. I've not experienced any dropped calls or problems with audio quality in the past 2 weeks of using the phone.
Julie: T-Mobile data speed test on left and Verizon data speed tests screenshot on the right. I think I want to move to Seattle!
Performance and battery life
Dave: On occasion, the LG G3 seems a bit laggy compared to the Galaxy Note 3. The Note 3 is nearly instant and there are definitely times that the G3 takes an extra heartbeat to open a big app.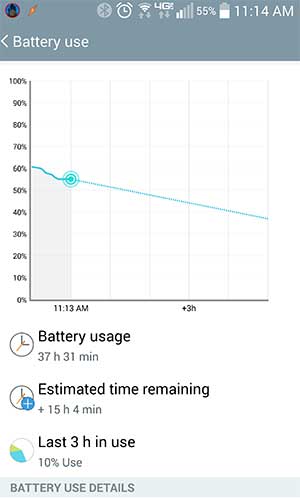 Julie: For me the LG G3 feels a little faster than my Galaxy Note 2, so I have no complaints. I've also found that battery life is better than my Note 2. Since I don't yet have Qi wireless charging, I don't plug the phone in to charge as often. I can get almost 2 days from of one charge. That's with making a couple calls, texting several times a day, playing a couple rounds of Words with Friends, reading a chapter or so with the Google book reader app and streaming Slacker Radio tunes via Bluetooth through my car stereo for about 20 minutes twice a day with the display on the whole time while driving. I've been impressed.
Dave: I agree the battery life is good. But like Julie, I find that without always topping off the battery via Qi charging plate there are some high-use days that I am down to nearly zero when I plug in for the night.
Final thoughts
Julie: I'm very happy with my purchase of the LG G3. The fact that I got it for $99.99 from Verizon helps a lot in that regard. I don't find myself missing anything from the Note 2. Well other than the Qi charging… But I'll have that feature soon – I hope. So other than Qi wireless charging, I can't really think of anything I'd add to the LG G3 to make it better than it already is. It's definitely a keeper!
Dave: I really like the LG G3 and have zero buyers regret. Even though I shelled out $600 plus to buy it outright from T-Mobile. Its gorgeous 5.5″ QHD screen is ideal for my mobile commuting needs. Like Julie, I look forward to wireless charging and other than that cannot think of  a thing I would change about the LG G3. 
Long term follow up
Julie: It's been 4 months since I purchased this phone and it's still my favorite even after testing the Sony Xperia Z3v, Motorola DROID TURBO and Samsung Galaxy Note 4. The size is perfect and I've come to really like the volume buttons on the back because they are perfect for turning pages while reading ebooks.
Dave: Like Julie, I continue to use the LG G3 as my main smartphone. It is definitely a great phone: zippy, nice form factor, screen, camera, wireless charging, etc. That said, I find myself looking and pining over the more premium flagship phones recently released…specifically the Galaxy Note 4 and iPhone 6+. Their metal build quality is definitely a step up from the G3's plastic and sadly, I will most likely be buying a Note 4 to replace my G3 in the near future.
Update 02/05/15
Julie: I've been using the LG G3 for the last six months and am still very happy with it. The form factor is perfect for me. Not too big and not too small. I'm still a fan of the volume buttons on the back of the device because I like to use them as page turning buttons while reading eBooks. That said, I do miss the button on the front of the device like Samsung Galaxy smartphones.
I'm getting tired of waiting for Verizon to approve the Lollipop update and plan to take matters in my own hands soon and flash a new ROM.
Update 05/20/15
Julie: A couple months ago my LG G3 started having issues with the volume and power buttons. While reading books using the Play Books app, sometimes pressing the volume buttons would flip multiple pages instead of just one page. I dealt with that annoyance for awhile, but then using the volume button to take a picture would cause the phone to make the image capture sound but the new images would not be in the gallery later when I'd go to look at them. Pair that with a flaky power button that would turn the phone on and it would turn off so fast that I couldn't swipe the screen, caused me to think about upgrading. The phone wasn't even one year old so I called Verizon's tech support and they had me try a few things including a full reset of the device. I thought that fixed things, but the issue persisted so they sent me a "new" G3 which I have been using for the last few days. So far no issues. Yay! I anticipate continuing to use this phone at least until I get a chance to try the LG G4 and Note 5.
Update 12/14/15
Julie: The replacement G3 started having some odd digitizer issues, but I continued to use it until I was able to get my hands on a Nexus 6P. Now the LG G3 is in a drawer and the 6P is my new main phone.
Source: The phones used in this review were purchased by Dave and myself with our own funds from T-Mobile and Verizon respectively.
Product Information
Price:
$599.99 without contract
Manufacturer:
LG
Pros:

5.5 inch QHD 2560 x 1440 resolution display with 538 pixels per inch
Solid build/material quality
Nice camera

Cons:

Does not have wireless charging out of the box