We use affiliate links. If you buy something through the links on this page, we may earn a commission at no cost to you. Learn more.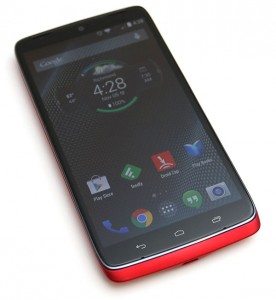 It's the time of year that I always look forward to… No, it's not the gorgeous autumn foliage that I like, it's not Thanksgiving dinner or Black Friday deals either. It's the time when many new smartphones roll out. A few weeks ago it was the iPhone 6 and iPhone 6 Plus from Apple and now it's the Motorola DROID TURBO from Verizon Wireless. I was lucky enough to test drive this phone for a week and am ready to share my thoughts on this battery sipping Android smartphone.
Note: Images can be clicked to view a larger size.
In The Box
Motorola DROID TURBO
Pre-installed SIM Card (4FF NFC)
AC Wall Adapter
USB Cable
Quick Reference Guide
Hardware Specs
CPU: Qualcomm® Snapdragon™ 805 processor with 2.7 GHz quad-core CPU (APQ8084) with 64-bit memory access Adreno 420 @ 600 MHz GPU Natural Language Processor Contextual Computing Processor
Network: LTE Band 13/4 (700/1700 MHz), CDMA/1xEVDO Rev. A (800/1900 MHz); Global Network: EDGE/GSM (850/900/1800/1900), HSPA/UMTS(850/900/1900/2100
Display: 5.2" 1440p Quad HD 2560×1440 AMOLED, 565 ppi Corning® Gorilla Glass® 3
Memory (RAM: 3 GB (LPDDR3 with 64-bit access)
Storage: 32 GB (All models), 64 GB (Black Ballistic Nylon only)
OS: Android 4.4.4, KitKat
Cameras: 21MP, 2MP front
WiFi: 802.11 a/b/g/n/ac (dual-band capable), mobile hotspot
Sensors: Accelerometer, Ambient Light, eCompass, Gyroscope, Hall Effect, Infrared, Proximity
Bluetooth v4.0 LE, NFC, Qi wireless charging
Dimensions: 2.89 x 5.56 x 0.42 inches
Weight: 6 oz.
Battery: 3900 mAh
Water resistant: Yes
Physical Design
The old adage "It's what's inside that counts" rings true with the Motorola DROID TURBO. This phone has all the best goodies baked inside including a fast processor, gorgeous display and a 21MP camera. But the outside is just as nice as the inside. The TURBO is available in Black Ballistic Nylon, Metallic Black and Metallic Red. As you can see, I was sent the Metallic Red version which has a high-strength aluminum and Dupont Kevlar body with a back cover made of metalized glass fiber. It doesn't feel like metal at all though. The back cover has a soft touch that provides a decent amount of grip. The downside is that the matte finish can get splotchy with greasy finger prints and streaks. Eew.
The TURBO has a 5.2 inch display with narrow side bezels. There is a front firing speaker that is located above the front camera, and below the display are the Back, Home and Open Apps soft buttons. These buttons are always visible, but light up when you're in the dark.
The back of the phone has the Motorola and Verizon logos along with the 21MP camera lens which is flanked by a dual LED flash.
Never miss one of our posts again. Sent MON, WED, and FRI with the latest gadget reviews and news!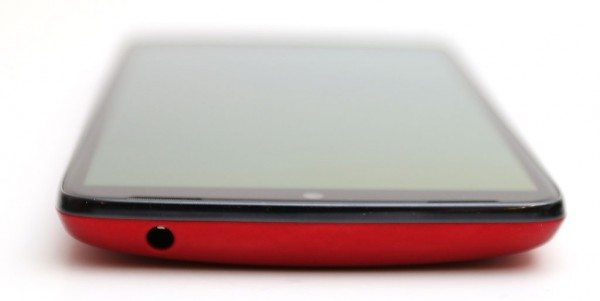 The top edge of the phone has a 3.5mm headphone jack.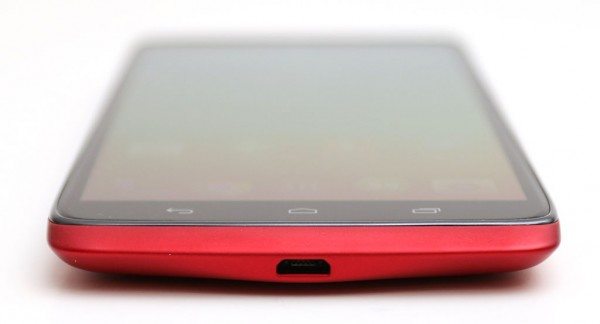 The bottom has a microUSB port for charging and syncing.

On the right side of the phone is the power button and one piece volume rocker switch. The volume switch sits pretty flush with the case, but it has some ridges so that you can feel where it is with your finger.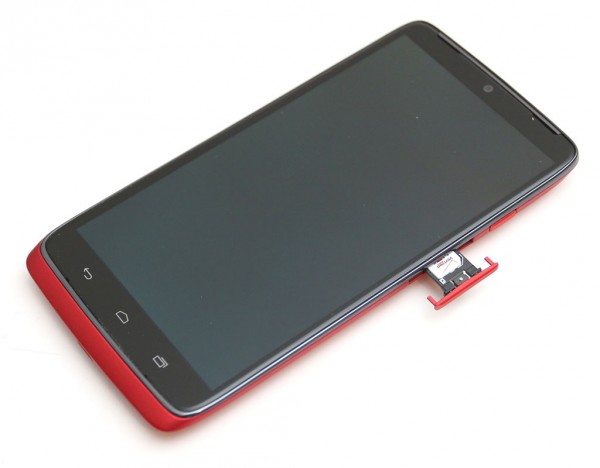 The volume switch pulls out to reveal the SIM card slot. The DROID TURBO uses a nano sized SIM.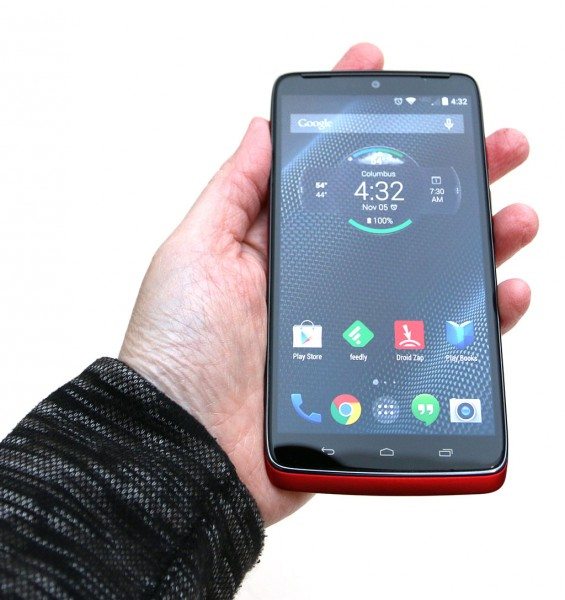 The Motorola DROID TURBO looks nice and has a solid build that feels good in your hand. It didn't creak, flex or feel flimsy when I put it through my patent pending gadgeteer squeeze test. The display is bright, vivid and crisp. The display has been chemically strengthened and if it becomes damaged during the first two years of ownership, Verizon will replace it once for free which is a very nice incentive for klutzy gadgeteers 🙂
One of my favorite features of the TURBO is the Active Display feature. When you hover or wave your hand over the display it will wake up and show a digital clock and icons that represent missed calls, text messages, alarms, etc. It's smart enough not to do this while it's in your pocket… You can see a quick demo below:
The display will continue to come on for a couple of seconds and then go off again showing the time and notification icons until you address the notifications. This is actually nicer than a pulsing LED and I wish my LG G3 had this feature.
Camera
The Motorola DROID TURBO has a 21 megapixel camera. That's an impressive number of pixels. I was impressed by the images I was able to capture. Here are a few examples:
The picture on the left was taken in a somewhat dimly lit restaurant without flash. It doesn't look like the room is dark though, it looks like I'm sitting in a bright room. If you click the images to see the full size, they do look a little grainy, but web sized images like the ones you see here look crisp.
Images can be captured in standard 4:3 format (above left) or in widescreen 16:9 format (above right).
I have no complaints with the DROID TURBO's camera. I think it does a very good job even in low light.
Making and Receiving Calls
I didn't have any problems making or receiving calls during the time I was testing this phone. I almost always had full signal strength and didn't have any dropped calls. Call audio was clear on the TURBO side of the call as well as the other end of the call.
Performance and Battery Life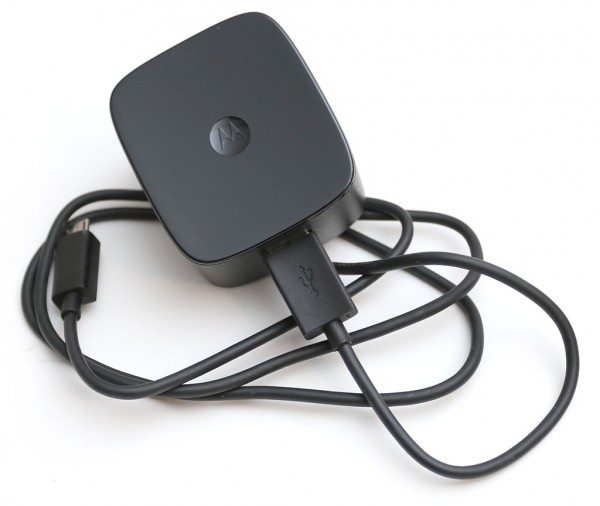 One of the major advantages of the Motorola DROID TURBO is its long battery life. Unlike most smartphones that barely have enough juice to last a full day, this phone can last up to 48 hours on one charge. It also offers Qi wireless charging which is one of my favorite features. Another important advantage is the included Motorola Turbo charger which will add 8 additional hours of power with just 15 minutes of charging. This only works when the battery is almost empty though, charging rates will slow as the battery's capacity fills up.
As far as performance, the TURBO is a snappy smartphone. But in all honestly, I've not had a laggy phone in ages. This phone has a faster processor than my LG G3, but I can't really tell a difference. I just know that it loads apps quickly, scrolls pages and switches between apps without hiccups. So no complaints with regards to performance.
Software
The clock widget on the home screen uses something called MinuteCast to tell you down to the minute when it will rain or snow and when it will stop. I found it to be pretty accurate.
If you keep up with my gadget diary posts, you may remember when I told you how I use Tasker to turn my phone into a media controller for my car. Basically when I get in my car and start the engine, my phone pairs with my Kinivo BTC450 Bluetooth Adapter and starts playing music using the Slacker Radio app through my car's stereo. If I wave my hand in front of the phone it will skip to the next track. When calls come in the music pauses so I can answer the call and then starts again when I hang up. The same thing happens when text messages are received. The music stops and the text message is read aloud. It took a lot of tweaks to get everything to work and I have been darn proud of myself for figuring it all out. Well the DROID TURBO has all those features built in minus the hand wave gesture to change music tracks. However the TURBO does have some gesture commands including one that will let you wave your hand to silence an alarm. These are the types of features that make me love the Android operating system.
Final Thoughts
The Motorola DROID TURBO Android Smartphone is a great phone. It has almost everything that I could want in a smartphone including a fast processor, great display, great camera, active display, long battery life and Qi wireless charging. There are only two things that would make this phone even better. A replaceable battery and a microSD card slot. But even without these two features, the DROID TURBO is still one of the best phones currently available from Verizon. I don't think you can go wrong with this one.
Source: The sample for this review was provided by Verizon Wireless. Please visit their site for more info.
Product Information
Price:
$199.99 w/2yr contract, $599.99 w/no contract
Manufacturer:
Motorola
Retailer:
Verizon Wireless
Pros:

Qi wireless charging
Long battery life
Fast USB charging
Active display

Cons:

No microSD card slot
Non removable battery