The Gadgeteer is supported by readers like you! If you buy something through links on our site, we may earn an affiliate commission. Thank you! Learn more.

Although I stayed up until 3:00am ET to pre-order my iPhone 6 Plus from Verizon and got my order in within 8 minutes, I still was horrified to see that I could expect my new phone on October 14 instead of September 19!  I got lucky and received my 6 Plus earlier than expected, and I've been busy trying it out since then.  It's a big change going from the iPhone 5 to the iPhone 6 Plus.  Do I regret my choice?  You bet I don't!  (Lead image copyright Apple.)
The iPhone 6 Plus is Apple's entry into the "phablet" arena.  I had originally thought I could perhaps replace my iPad mini with Retina display with the iPhone 6 Plus, but I don't think that will happen.  Although the screen is incredibly clear and sharp, and it's big enough to do most everything I could imagine, it is a bit cramped for typing on the landscape keyboard.  It's better than typing on the iPhone 5's tiny keyboard, but I don't relish the idea of typing all my emails on either of the iPad 6 Plus' keyboards.  Another consideration for me is finding I've drained my battery and needing to tether up for charging during the day.  It's not a big deal now with my iPad mini, but I don't want to lose use of my phone because of a dead battery.  It's the only phone I have; we gave up having a landline years ago.  Although I don't intend to give up my iPad mini anytime soon, I may change my mind about that in the future.  I'll have plenty of time to play around with the 6 Plus and decide if it, or a similarly-sized future product, can be my only device before my Verizon contract is up for renewal.  I just wish Apple would listen to my cries and add full cellular phone functionality to the iPad mini!  That would be perfect for me!
Tech specs
Size: 6.22″ long X 3.06″ wide X 0.28″ thick and 6.07 ounces
Retina HD display
5.5-inch (diagonal) LED-backlit widescreen Multi‑Touch display with IPS technology
1920-by-1080-pixel resolution at 401 ppi
1300:1 contrast ratio (typical)
500 cd/m2 max brightness (typical)
Full sRGB standard
Dual-domain pixels for wider viewing angles
Fingerprint-resistant oleophobic coating on front
Support for display of multiple languages and characters simultaneously
Display Zoom
Reachability
Chips: A8 chip with 64-bit architecture, M8 motion coprocessor
Fingerprint identity sensor built into the Home button
Check Apple's site for details about the cameras, video recording, and FaceTime
The iPhone 6 Plus is a big phone.  It's so big that it doesn't fit in some of my bags.  It doesn't fit in the wallets I've used as go-to-lunch wallets, and I've had to buy a new small cross-body bag that I can wear all day to carry the iPhone 6 Plus around with me.  I don't usually have pockets on my clothing, and while I think that "bend gate" was overblown or perhaps even manufactured, I don't intend to test that theory myself.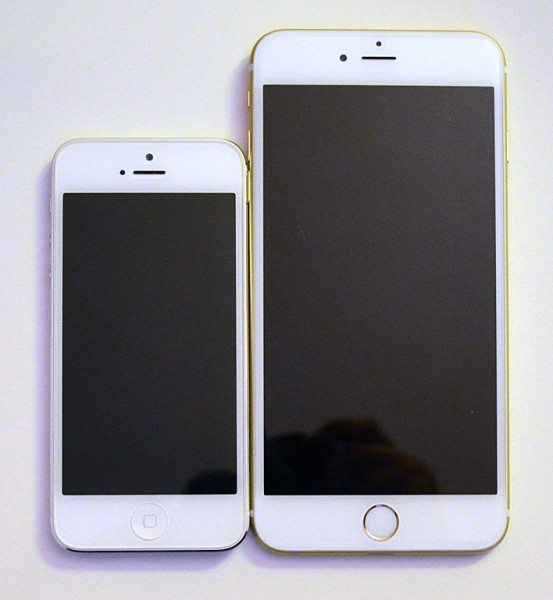 You can see that the iPhone 6 Plus is much bigger than my iPhone 5.  In fact, the iPhone 5 is smaller than the 6 Plus' actual screen.  I had used a mophie battery case on my iPhone 5 for several months before upgrading, so the difference in size doesn't feel quite so apparent in my hand.

The 6 Plus is much thinner than the iPhone 5 in the mophie case, and it's even thinner than the naked iPhone 5.  It has rounded edges, which makes it feel even sleeker.  It's all glass on the front and smooth metal on the back, which makes the iPhone 6 Plus a slippery little devil.  I keep it in a thin, clear case which gives the phone a little grip without making it too bulky and without obscuring its beauty.  I finally got the gold iPhone that I've been lusting for, and I want to see it!
You can clearly see the metal ring around the Home button on the iPhone 6 Plus that indicates it has a thumbprint reader.  I haven't had a device with a thumbprint reader before this, and I was surprised at how quickly the iPhone was able to learn my fingerprint.  I started out using my right index finger, and the reader was very accurate at identifying me when I opened my iPhone 6 Plus.  I eventually added a second finger, my right thumb, and it was learned as easily and is read as accurately as my index finger.  Of course, being a creature of habit, I sometimes forget to leave my finger on the thumbprint pad and swipe the screen as always.  I'm still able to enter my code and access my phone using the old method, which means I'll be able to have my daughter handle messages and maps when she's riding with me.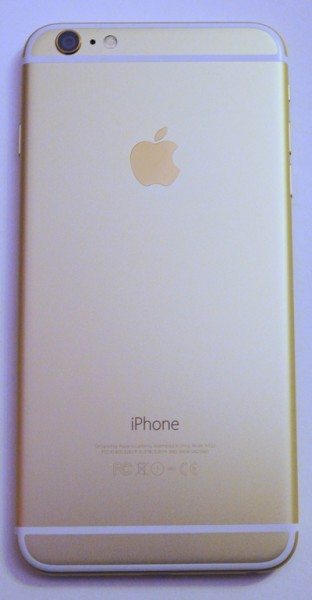 The back of the iPhone has the plastic strips where the antennas are. I've heard people complain that these are ugly, but I actually like this better than the back of the iPhone 5 with the bands of glass (or plastic, whatever) at the top and bottom of the large metal back.  I've also read a lot of complaints about the lens of the camera sticking up above the back.  (To those people, look at the back of a Samsung Galaxy phone… )  Just put a case on the iPhone, which you need anyway to improve your grip on that thin, slippery little eel, and the camera lens won't be a problem.  The flash is beside the camera.  Unlike the flash on my iPhone 5, this flash is the True Tone flash.  You'll also notice one of the phone's microphones is located beside the camera lens.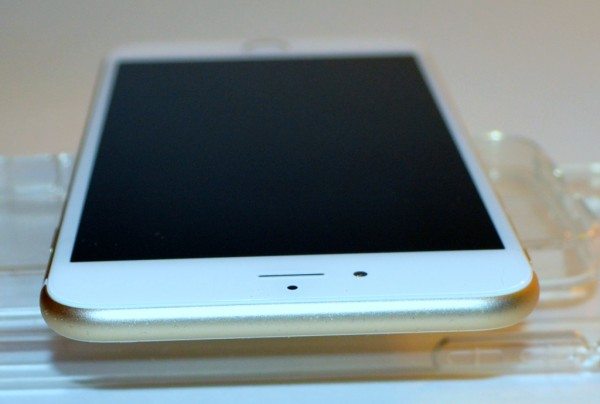 This is the top of the iPhone 6 Plus.  You'll notice there are no buttons on the top edge now.  You can see the phone's top speaker (slot), the FaceTime camera (rightmost in this image), and the ambient light sensor (bottom of this image).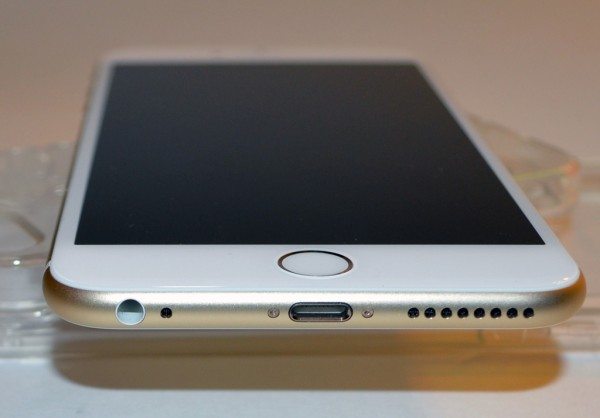 The bottom of the iPhone 6 Plus has the earbud jack, a microphone, the Lightning connector, and a grid for the speaker.  You can also see the Home button with the metal ring that indicates it has a thumbprint reader.

The power button has moved to the same side as the SIM card tray.  This new location takes some getting used to.  I still sometimes reach for the top for the power button.  When I do press it, especially when I'm simultaneously pressing the Home button to capture the screen, I find that I also press the volume buttons on the other side of the phone.

Here are the volume buttons.  Just above them is the mute switch.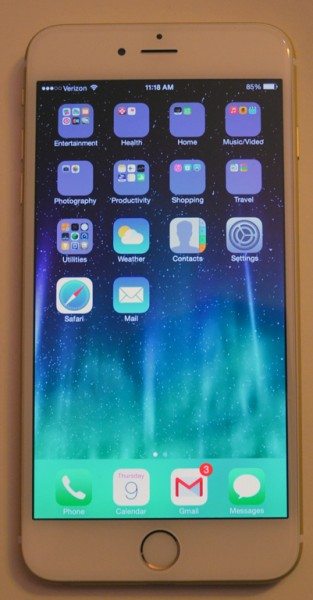 You can see that the screen has a lot of real estate for icons and folders.  A settings option allows you to enlarge the icons.  They are standard size in this image.  "Zooming" (in Settings>Display & Brightness>Display Zoom) makes the icons and folders just a bit bigger, but not so large it reduces the number of things you can fit on a Home page.  I tried Zooming while I was writing this, and I think it makes the contents of folders just a bit easier to see.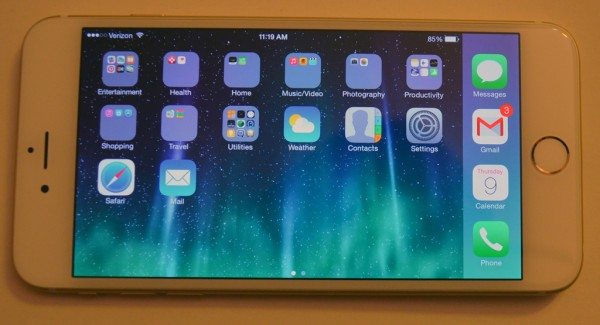 Unlike all the iPhones that came before (including the iPhone 6 4.7″ model), the iPhone 6 Plus model can be used in landscape mode at the Home screen.  It moves the Dock to the right side of the screen, but otherwise, it looks like the iPad does when used in landscape.  I like this mode for many things I do, like surfing the internet.  It doesn't work as well for everything, and some apps disallow landscape mode, but it's nice to have the option.  I've learned that when the screen is Zoomed, you can't use the landscape mode.  I'll be leaving my screen set to standard.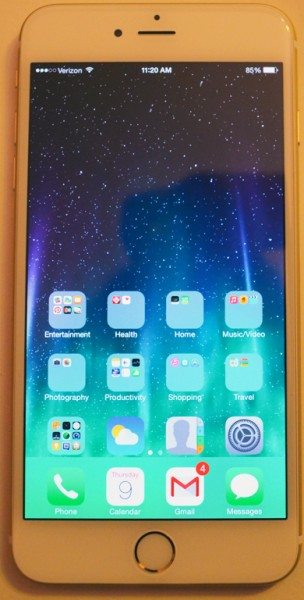 Because the screen is so large that many people won't be able to use the phone one-handed, Apple added a function called Reachability.  To make it easier to reach the items at the top of the screen, you double-touch (not double-tap, because that opens up the window showing open apps) the Home button to make the screen contents slide down so you can reach the top items.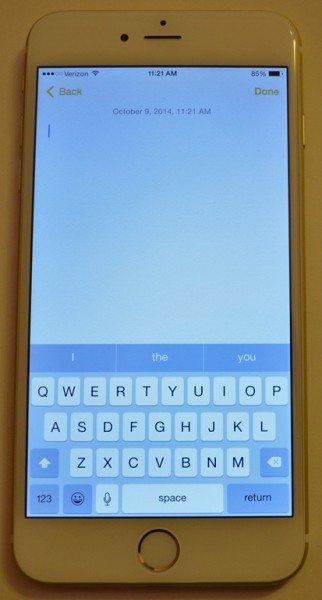 The keyboard looks different for portrait and landscape modes.  Here you see the portrait keyboard.  It looks the same as the keyboard on my iPhone 5, except for the line of predictive text.  Apple explains predictive text:  "Now you can write entire sentences with a few taps. Because as you type, you'll see choices of words or phrases you'd probably type next, based on your past conversations and writing style. iOS 8 takes into account the casual style you might use in Messages and the more formal language you probably use in Mail. It also adjusts based on the person you're communicating with, because your choice of words is likely more laid back with your spouse than with your boss. Your conversation data is kept only on your device, so it's always private."  I'm not sure if predictive text makes my typing any faster because the selected word is always inserted with a space after it.  I often have to remove that space so I can insert punctuation.  You can turn it off by going to Settings>General>Keyboard and setting Predictive to off.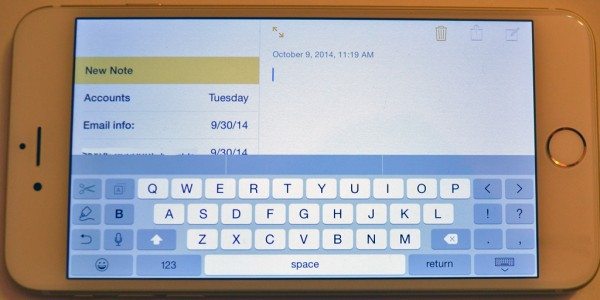 I was hoping the landscape keyboard would have slightly bigger keys, but that's not the case.  You can see that some editing function keys have been added at each side, using up the extra room.  I do like the left and right arrow keys, but I would have preferred to have up and down arrows instead some of the other editing commands – if I couldn't just simply have bigger keys.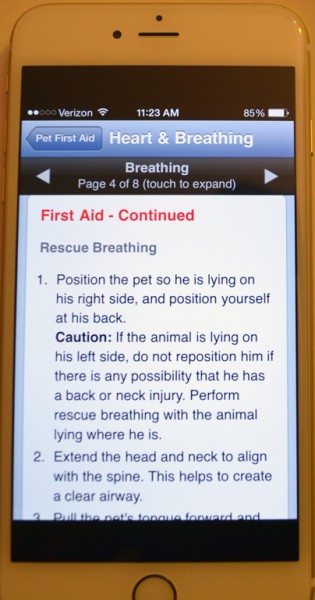 Standard iPhone apps work just fine on the giant screen of the 6 Plus.  This is a screen from Jive Media's Pet First Aid app.  This particular app doesn't seem to have been updated since November, 2010, but it works just fine with the iPhone 6 Plus.  As further evidence that Apple sees the iPhone 6 Plus as a phone and not a tiny iPad, you can't see any iPad-only apps in the App Store from the 6 Plus.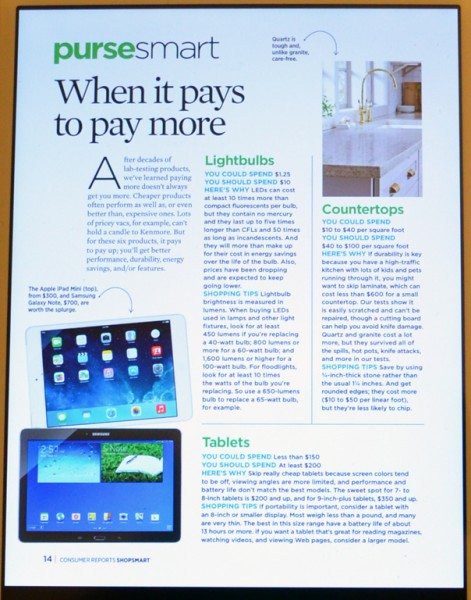 This image is a photograph of a page from the ShopSmart magazine in the Next Issue app.  I read magazines all the time on my iPad, but I'd never tried it on my iPhone 5 because the screen was just too small.  The magazine pages don't fill the entire screen, to preserve page layout, I'm sure, but they are completely readable.
The camera in the iPhone 6 Plus is an 8MP, f/2.2 iSight camera.  It has a five-element lens, hybrid IR filter, backside illumination sensor, and a True Tone flash.  It has automatic HDR still images now.  I have included three images; these are completely unedited, and they will be much bigger than the normal images in this review when you click through.  The first image is using HDR on the iPhone 6 Plus, the second is using the 6 Plus' flash, and the third is using HDR on my iPad mini's camera.  The iPad's camera suffers in comparison.
The camera will, of course, take video as well as still pictures.  Here's an example of the slo-mo function:  iphone-6-plus-review-slomo  And here's an example of the time-lapse function of the video camera: iphone-6-plus-review-time-lapse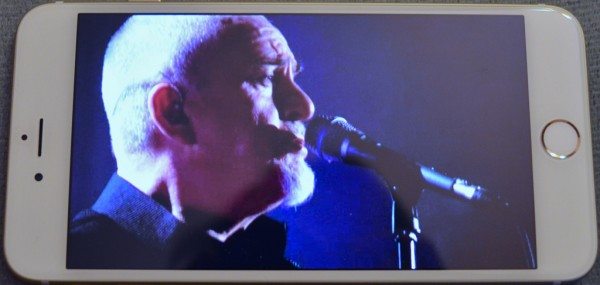 The iPad 6 Plus' screen has a 5.5″ diagonal measurement, and it is an LED-backlit widescreen Multi‑Touch display with IPS technology.  It is full HD, with 1920-by-1080-pixel resolution at 401 ppi.  Dual-domain pixels allow wider viewing angles, so you don't have to pack your friends in quite so tightly to share a video.  Full sRGB standard, 1300:1 contrast ratio (typical), and 500 cd/m2 max brightness (typical) specs mean the images you see are clear and bright.  Here's a photo taken while I was watching Peter Gabriel's New Blood: Live in London concert (streaming from iTunes).  Because this is a 16:9 widescreen display, HD videos fill the screen without the black banding required to fit many other screens.  The size and weight of the 6 Plus makes it easy to hold while watching a video, and the screen is big enough that it's enjoyable to watch on.
There's a lot of technical stuff about the iPhone that I'm not addressing, like the new A8 and M8 chips.  You can read more at Apple for technical details.  Just suffice it to say that my iPhone 6 Plus performs quickly and so well that I never think about all the stuff happening to make it possible for me to surf or to play a game of mahjong.  Some other functions, like Apple Pay or Home Kit, aren't enabled yet.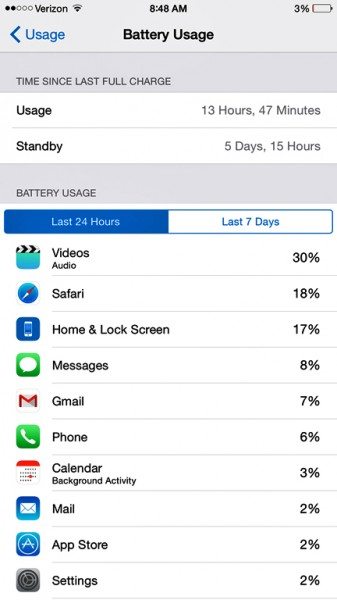 And what about battery life?   It's got a lot!  Apple promises up to 24 hours talk time on 3G; up to 12 hours internet use on 3G, up to 12 hours on LTE, up to 12 hours on Wi‑Fi; up to 14 hours of video playback; up to 80 hours of audio playback; and up to 16 days (384 hours) of standby.  I'm not a power user who drains a phone battery in less than a day.  With my iPhone 5, I mostly used it for texting and some email, very infrequent surfing or app use, and the occasional 2-hour phone call.  I've been using my iPhone 6 Plus more than I used the iPhone 5.  It certainly hasn't replaced my iPad mini, but I have surfed on it and played games on it several times since the last charge.  I've read a magazine, and I have watched about 30-40 minutes of video since the last charge.  You can see from this image that I got 13 hours, 47 minutes of use time over 5 days, 15 hours since the last full charge.  There was no topping off of the battery during this time.  I do tend to do certain things to prolong my battery life: keep the screen brightness at about 25-30%, minimize the number of apps that can update in the background, close off apps that I won't be using again soon.  I do other things that are battery wasters, like pushing email apps.  I think even extreme power users should expect at least a full day between charges, unless you watch a lot of movies or play a lot of power-intensive games.
Oh, and by the way, it works well for making phone calls or receiving/sending text messages or emails, too.
I find the iPhone 6 Plus to be large compared to my iPhone 5, but I quickly became accustomed to the bigger size.  When I see my iPhone 5 now, it looks like a miniature to me instead of the iPhone 6 Plus looking like a giant.  I think the slim form-factor helps with that perception.  And after being used to my iPhone 5 in the mophie case, the 6 Plus feels lighter than the iPhone 5 did.  I like using the thumbprint reader, but I'm a little disappointed that the power button is in a different place.  I like that I can use the iPhone in landscape mode now, but I'm disappointed that the landscape keyboard doesn't have bigger keys.  The iPhone 6 Plus is an iPhone, and not an iPad, and I'm not sure it could ever completely replace the need for an iPad mini in my life, but it will make a great substitute for the iPad mini when I don't want to carry the mini but would like to read magazines while I'm waiting for an appointment.  It's not a tablet, but it is a great iPhone, in my opinion.
Support The Gadgeteer
:
The Gadgeteer is supported by readers like you! If you buy something through the links on our site, we may earn a small affiliate commission. Thank you! Learn more.
Product Information
Price:
Subsidized carrier prices: $299 for 16GB, $399 for 64GB, or $499 for 128GB
Manufacturer:
Apple
Pros:

Big, beautiful, clear screen
Widescreen format for watching movies
Bigger format may allow this phone to function as a tablet replacement for some
Thumbprint reader works very well
Camera takes great still photos and image-stabilized, slo-mo, and time-lapse video
Allows landscape orientation for even the Home screen

Cons:

May be too big for some people's taste
Power button has been moved to the side
Will be too big to carry in some people's pockets