We use affiliate links. If you buy something through the links on this page, we may earn a commission at no cost to you. Learn more.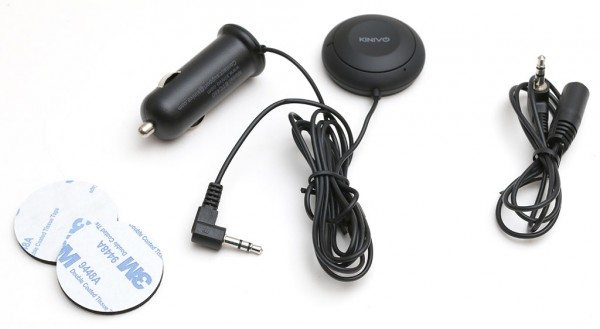 A few weeks ago I posted an article about two of my Cummins co-workers who had integrated a Nexus 7 tablet into their vehicles. I was really impressed by their ingenuity and was inspired to inject a little more tech into my 2013 MINI Cooper. You'd probably think my car would have all the tech bells and whistles that you could ever imagine, but it doesn't because the dealership talked me out of the expensive tech package when I bought my car last year. I ended up just getting Sirius radio and Bluetooth hands-free calling. My free year of Sirius radio expires in just a few days and I've decided not to renew because it's too expensive when I only listen to 4 stations on a regular basis. I figured with all the music streaming apps that I could just use my Android smartphone (Samsung Galaxy Note 2) as an alternative to satellite radio. But unfortunately the Bluetooth in my MINI does not allow for audio streaming. It's strictly for calls only. But did I let that stop me? Heck no, I bought the Kinivo BTC450 Bluetooth Car Kit. So hop in the passenger seat, buckle up and let's take it for a spin.
Note: Images can be clicked to view a larger size.
Package contents
Kinivo BT450
2 3M adhesive pads
3.5mm extension cable
User manual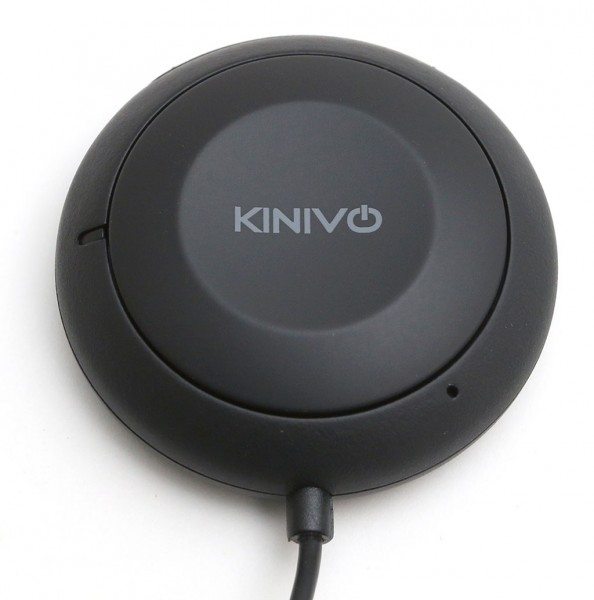 The Kinivo BTC450 is a Bluetooth Car Kit that not only offers hands-free calling features, but also offers audio streaming – a feature missing on my 2013 MINI Cooper. The BTC450 is a small black plastic disc that is about the same diameter as a half dollar coin. The top surface is a large multi-function button with a microphone at the 5'o-clock location and a status LED at the 9'0-clock location.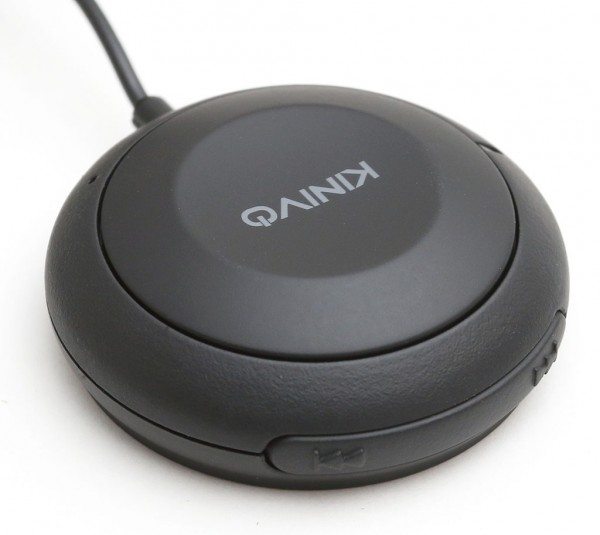 The multi-function button is used to answer/end calls, redial calls, initiate voice command mode (for Siri enabled iPhones) and pause/play music.
The top edge of the device also has a rocker button that controls media navigation for previous and next tracks.
From the BTC450 there's a thin cable that has two leads. One lead goes to a 12V car adapter and the other is a 3.5mm stereo cable.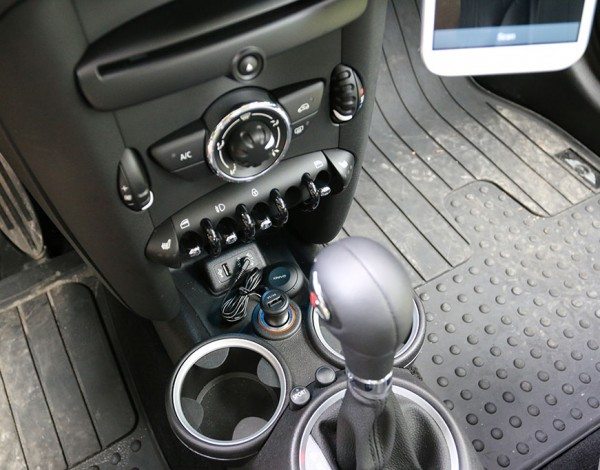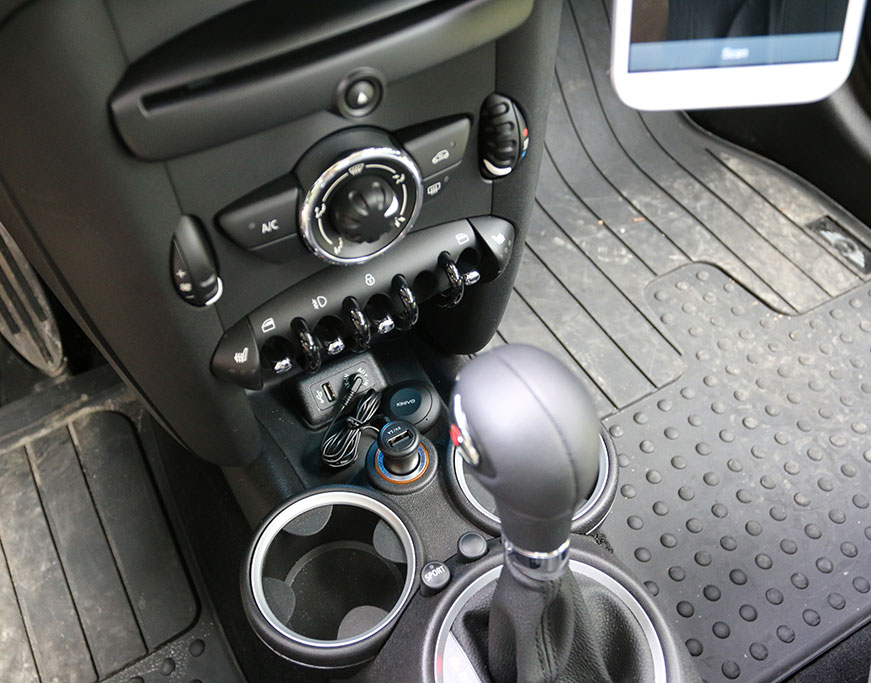 The 12V adapter plugs into an open port in your car and the 3.5mm cable plugs into the AUX Input audio jack in your car's stereo. The 12V adapter has a USB port so you can also use it to charge your phone. The cable is long enough that you can route the BTC450 to a location on your dash and attach it there using the included 3M adhesive stickers. I didn't want to do that for two reasons. First of all I didn't need to use the BTC450's hands-free calling feature because that feature is already built into my car and secondly, I didn't want to stick anything to my MINI's dash. So I was able to locate everything out of the way and pretty much out of sight in the center console.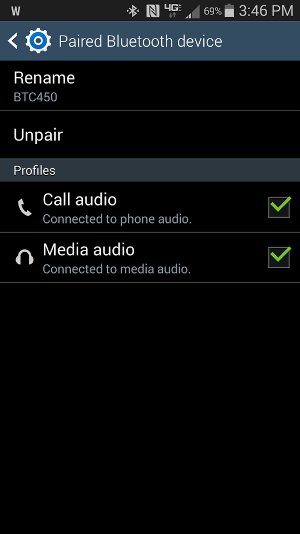 Pairing the BTC450 with my Samsung Galaxy Note 2 was very easy because the BTC450 automatically goes into pairing mode as soon as you start your car. Once paired, I went into the Bluetooth settings for the BTC450 and turned off the call audio feature, leaving just the media audio enabled. That way I could still use my MINI's built in Bluetooth calling feature and steering wheel controls.
I did test the Kinivo's call features though and I'm sorry to say that I was not impressed. It's actually kind of crummy and I've been asked if I fell down a well while using the BTC450 to talk to Jeanne. That said, She sometimes complains about my MINI's stock Bluetooth too.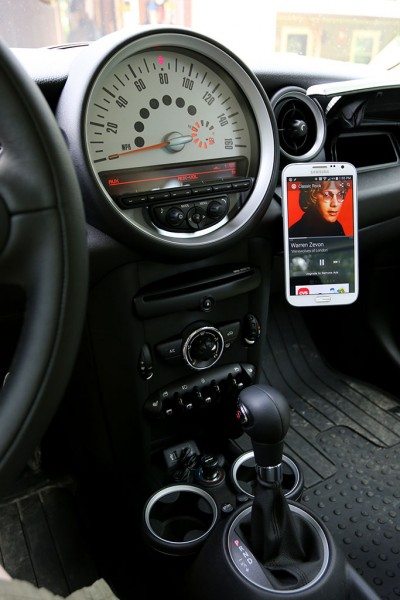 The main reason I bought the Kinivo was for it's audio streaming. The Kinivo BTC450 supports A2DP, HSP, HFP and AVRCP profiles. I was VERY impressed with the audio streaming quality using my phone and apps like Pandora, Slacker Radio (my personal favorite) and others. In my opinion audio quality using the Kinivo sounds noticeably better than the Sirius radio audio quality. I was never all that impressed with my MINI's stereo and Harman Kardon speakers until I started using the Kinivo. Now I'm happy and won't miss Sirius radio at all.
If your vehicle does not have Bluetooth audio streaming but your car's stereo has an AUX input, you should definitely check out the Kinivo BTC450. It's a very affordable way to enjoy music through your smartphone and car stereo without having to install a whole new stereo / head unit.
Updates 03/19/15
I still use this every day in my MINI Cooper paired with my current Android smartphone (right now that's the LG G3). I use this adapter along with some Tasker scripts to control the media on my phone while I drive. You can read about how I did that here.
Updates 05/20/15
I recently switched to a different Bluetooth audio adapter to free up the 12V power port that I needed for a Dashcam. I ended up buying the VicTsing Portable USB Bluetooth Audio Music Streaming Receiver Adapter from Amazon. This little adapter was less than $10 and uses a USB port for power. Since I wasn't using the USB port in my MINI and I didn't use or need the handsfree features of the Kinivo, this adapter is perfect. It sounds just as good as the Kinivo and takes up less space and ports in my car.
Source: I purchased the Kinivo BT450 Bluetooth Car Kit for this review. For more info about this device, visit Kinivo.com.