We use affiliate links. If you buy something through the links on this page, we may earn a commission at no cost to you. Learn more.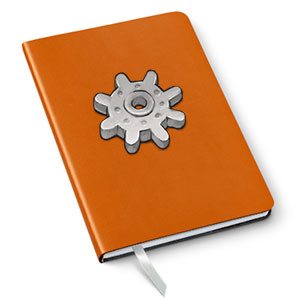 I was at work the other day (Cummins, Inc), when someone walked up to my desk to ask for some help with his laptop. As I was talking to him, he happened to notice the Nexus 7 in the Zagg Auto-fit keyboard case next to me on my desk. He asked me which laptop it was and when I popped out the Nexus he told me he had one too – in his truck. I instantly wanted to know more and started asking Chris a bunch of questions about it. He told me that Mike, a friend of his who also worked at Cummins, had helped him install a Nexus 7 Android tablet in the dash of his truck. He also mentioned that Mike had done the same thing in his Mazda. I asked if they would show me and let me write a story. They were happy to take time out of their busy day to give me a quick demo.
Note: Images can be clicked to view a larger size.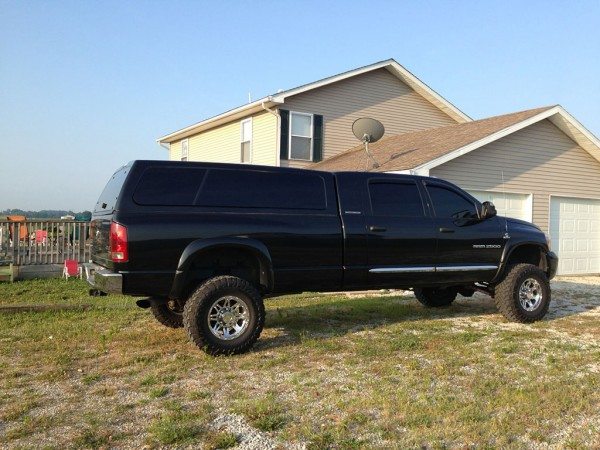 Chris drives a huge Dodge Ram 2500 truck powered by a Cummins diesel engine (of course). I have never sat in one of these trucks and I almost needed a ladder just to get into the passenger seat. Luckily, the truck has automatic retractable running boards.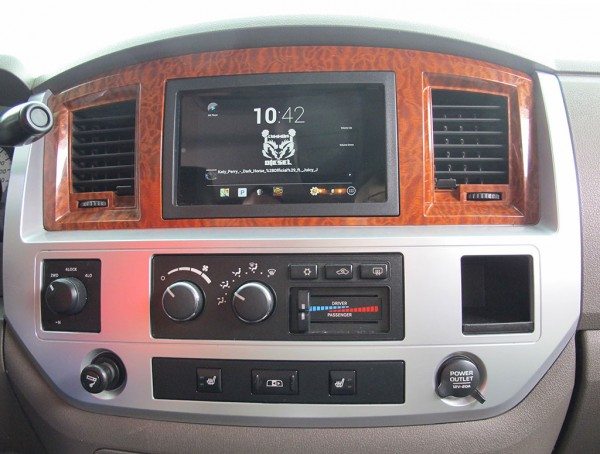 Once seated, I was instantly impressed by how nicely the DIY project had turned out. If I hadn't been any wiser, I would have guessed that this was a factory setup. The screen you see in the image above is a Nexus 7 (2012). Mike tells me that this tablet is almost a perfect fit for a standard double DIN in-dash car stereo opening. "DIN" refers to the size of the in-dash unit. Single DIN stereos are about 7 inches wide by two inches high and double DIN stereos are 7 inches wide by 4 inches high.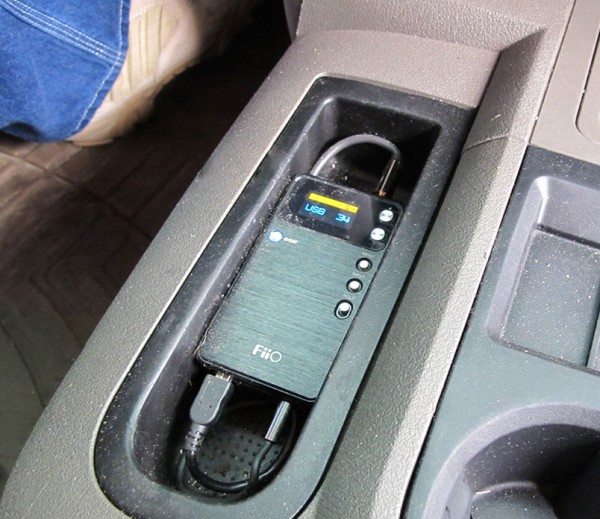 It's not just a matter of pulling out your stock car stereo and shoving a Nexus 7 tablet in the open slot though. There's a matter of getting power to it, routing sound, integrating the existing steering wheel controls and attaching peripherals. Luckily Android devices are OTG (On The Go) capable, which means you can attach almost everything through a USB hub. For example, Chris uses a USB DAC for audio through his speaker system.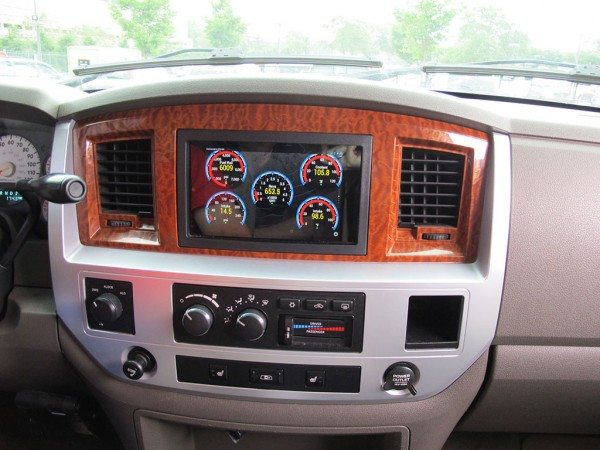 He even has the tablet connected to the OBD port on his truck so that he can use the Nexus display as an instrument panel to monitor his engine in real time using the Torque Pro app.
A very nice setup, I was impressed and starting to feel a little tech envy…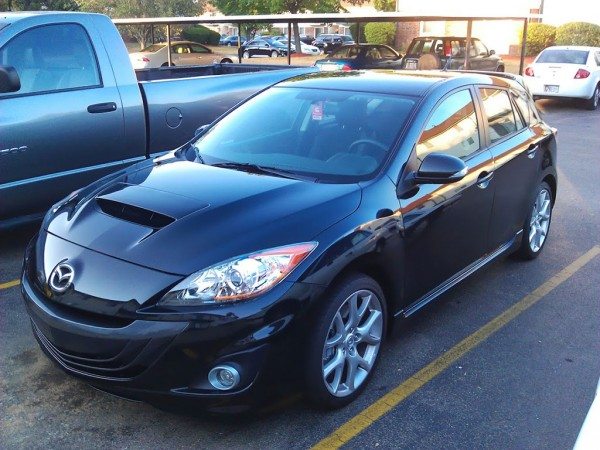 Next up was Mike's Mazda 3. I'm familiar with the Mazda 3 because that is what I drove for 6 years till I sold it and bought my 2013 MINI Cooper.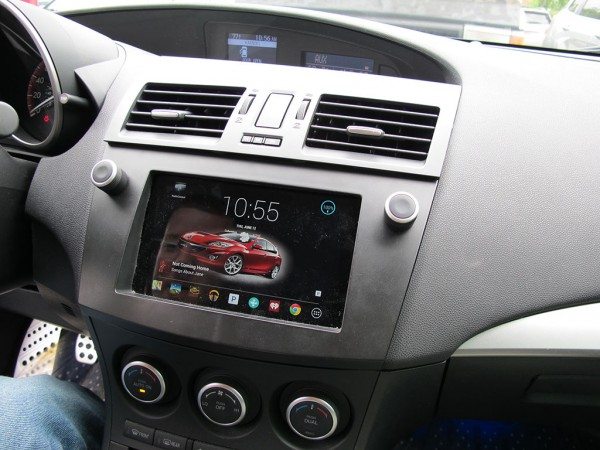 Mike's installation goes a little further by adding a few extra bells and whistles like a physical power button. Just like with Chris's truck, Mike removed the factory radio and replaced it with a double DIN frame that he had purchased from eBay.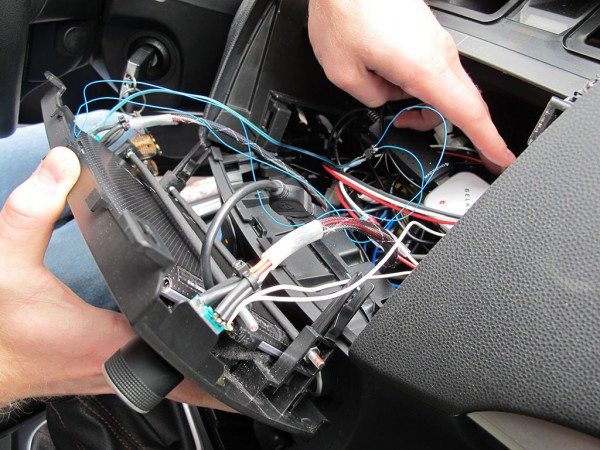 Mike pulled out the frame so I could see the guts and how he had hooked everything up.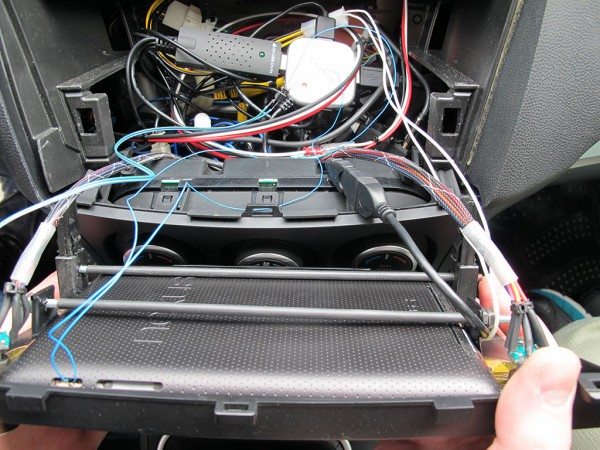 The square device with the rounded corners in the top center of the image above is a small USB hub. Connected to it are all sorts of goodies like a backup camera and USB radio.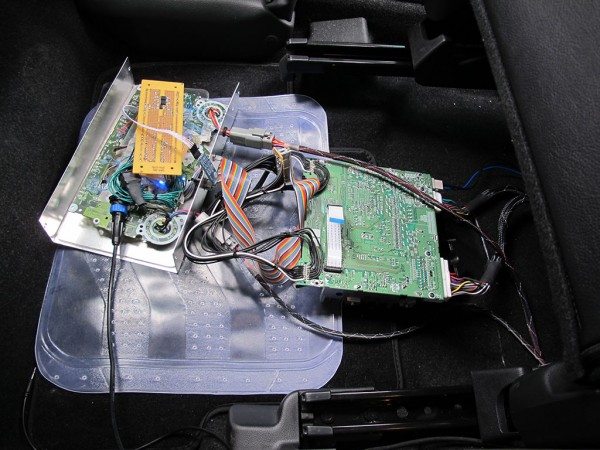 Speaking of radios, Mike didn't want to get rid of his factory stereo, so it's in the floor board of the backseat waiting to be put in a metal box that he fabricated for it. Mike plans to cover the box in carpet and put it under the driver's seat.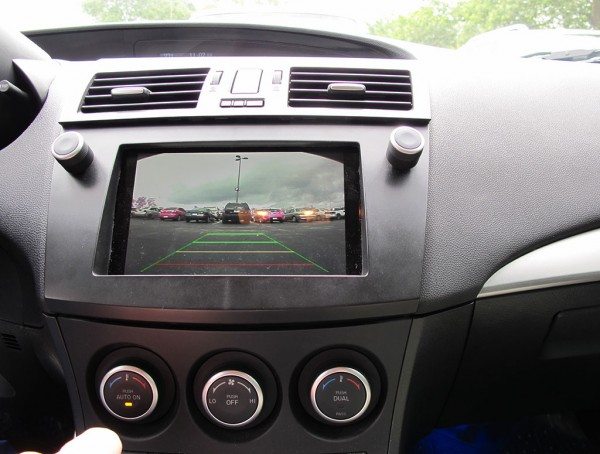 One of my favorite features with Mike's setup is the backup camera. I really want to add something like this to my MINI.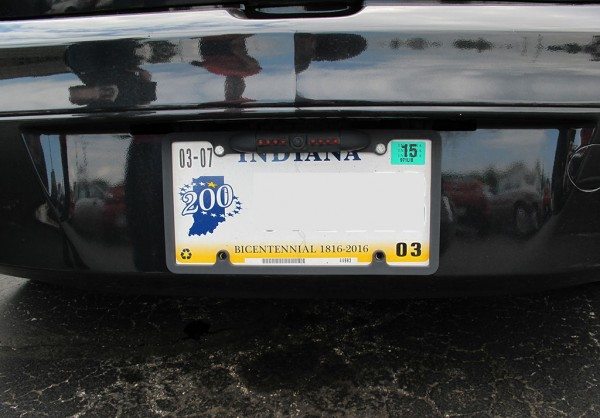 According to Mike any backup camera should work. He chose one because it had IR LEDs for night vision. The camera uses standard RCA (yellow video cable) and is connected into a converter called an EasyCap which plugs into his USB hub.
Mike made sure that all of his mobile entertainment bases were covered. He uses his smartphone as a hotspot so he can listen to TuneIn Radio and Pandora. He also has a USB SDR radio (Software Defined Radio) connected to the Nexus that allows him to listen to regular FM stations and police scanner frequencies through an Android SDR radio app. And for those times when he's "waiting on the girls he drives around", he has a Playstation controller that he can use to play games on the Nexus.
Both Chris and Mike rely on a special 3rd party ROM made specifically for Nexus 7 tablets and car installations. The ROM is called USB ROM and has important features like USB host mode charging, plug&play handler for DAC, Media buttons (volume, play/pause + next track) on nav-bar and much more. Mike has also incorporated Tasker heavily into these setups so that all they have to do is get in their vehicles and Nexus connects to their smartphone's hotspot and is ready to go.
I asked Mike and Chris how much money they had wrapped up in each of their mods and I was surprised when they both said around $300 – $400 including the price of the Nexus 7 tablet. That's a lot less than some double DIN hi-tech car stereos I've seen on Crutchfields and other sites. And a lot more powerful and customizable too.
It's some of the little things that I noticed with their setups that impressed me, like the use of EasyProfiles to change the wallpaper when music is playing and the backup camera display when he puts his car into reverse. All this makes the setup feel like it's factory installed instead of home brew. It makes me want to try to do something similar in my MINI… Well except for hacking up the dash. My first task is to solve a hands free Bluetooth / streaming Bluetooth audio issue that I have. But more on that in my next gadget diary entry.
I'd love to hear from those of you who have done similar projects in your cars and trucks. Share your stories in the comments.