We use affiliate links. If you buy something through the links on this page, we may earn a commission at no cost to you. Learn more.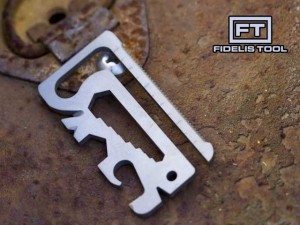 Oh pocket mini tools how do I love thee, let me count the ways. Ok so I may or may not be that bad when it comes to these things, but I have to say I do love a good pocket mini tool. With that in mind I have come across the Fidelis Tool, a Kickstarter project from Jeff Morin. If that name sounds familiar, it should be as we have done reviews and newsies on several of his projects before. The Fidelis Tool is a Titanium multi-tool with 11 plus uses. The 11 function listed on the Kickstarter page are:
Bottle opener
Belt cutter
Wire stripper
Hex wrenches
Can opener
Nail puller
Key chain hole
Ruler
Saw blade
Scraper
Belt loop hanger
This tool is not unlike similar tools of this type with the main exception that it is made of light weight Titanium for a high quality product. The Fidelis Tool is available in a Titanium and Stainless steel versions, a pledge of $38 will get you the Titanium version. The Fidelis Tool is seeking funding until December 10, 2014 and if successfully funded will ship in the February 2015 time frame.