We use affiliate links. If you buy something through the links on this page, we may earn a commission at no cost to you. Learn more.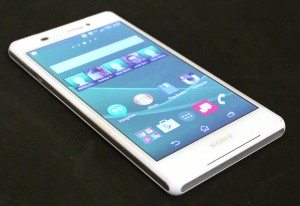 It's been over three years since I've reviewed or even used a Sony smartphone. The last time was back in 2011 when Verizon Wireless sent me the Sony Ericsson Xperia Play Android smartphone. In the three years that have passed, Sony has dropped Ericsson from their name, but the company is still making high end Android smartphones.Last week Verizon sent me the Sony Xperia Z3v Android smartphone. Let's take a look at their latest offering and see if this is a phone that makes other Android smartphones weak in the knees.
Note: Images can be clicked to view a larger size.
In the box
Sony Xperia Z3v Smartphone
Standard 3200 mAH Lithium Ion Battery (Non-Removable)
Pre-installed SIM Card
Wall Adapter
USB Cable
Quick Reference Guide
Hardware specifications and design
Processor: Snapdragon 801 2.5 Ghz, Adreno 330 GPU
Memory: 3 GB RAM, up to 32 GB flash memory
OS: Android 4.4 Kitkat
Camera: 20.7 MP camera with auto focus, 2.2 MP front-facing camera
Weight: 6.02 oz.
Dimensions: 5.85 x 2.89 x 0.35 in
Display: 5.2" 1080p Full HD IPS display (1920×1080 pixels)
Battery: 3200 mAh non-removable Li-Ion
Qi Wireless charging
Bluetooth 4.0
NFC
microSD expansion slot
I had two main thoughts about the Sony Xperia Z3v when I first opened the box. My first thought the design looks very similar to the iPhone 5s. Available in white or black versions, the Z3v has a tempered glass front and back with wide top and bottom bezels that surely makes you think of the Apple iPhone when you see them. Then when I removed the phone from the box my second impression was that wow this phone is a brick. The funny thing is that this phone isn't thicker than my LG G3 and it only weighs 0.2 ounces more than the LG G3. I think the flat edges make this phone feel larger in your hand than what it truly is. The weird thing is that the Sony Xperia Z3 (notice I left off the v), has a sleeker design.
This is a solid phone. It doesn't flex, creak or crack when I performed the Gadgeteer squeeze test on it. It's built like a tank. It's even waterproof and can be kept under 4.9ft of fresh water for up to 30 minutes. Sony's website shows the phone being used under water for taking pictures.
On the back of the Xperia you will find the camera lens and LED flash.

On the left edge of the phone is the SIM card slot and micro USB port for charging and syncing.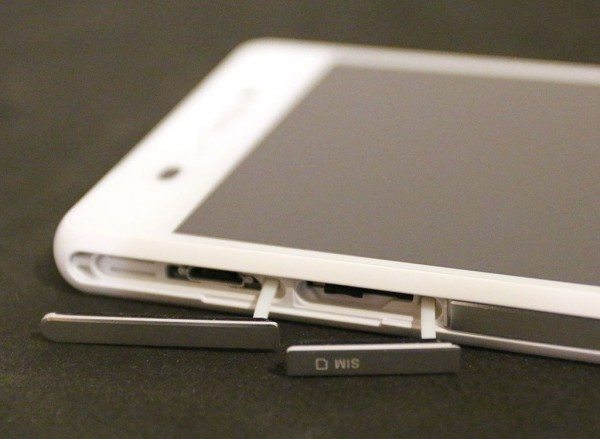 These ports are covered by narrow tethered covers that snap in place.

On the opposite side of the phone is a micro SD card slot, power button, volume button and dedicated camera shutter button. I don't care for the location of the volume button. It doesn't seem comfortable to activate regardless of which hand I am holding the phone in.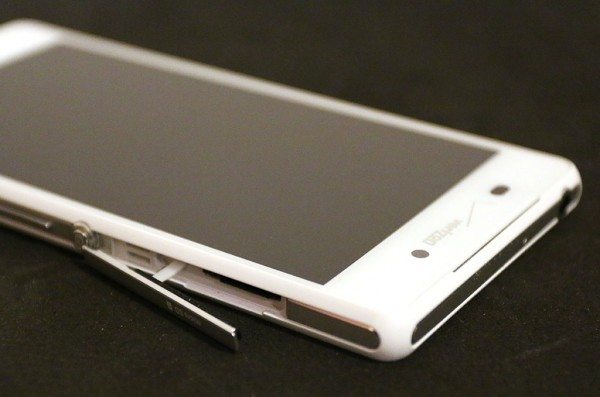 Although the protective covers provide a seamless look to the phone's aluminum sides, I don't really like them. I can deal with the SIM card and micro SD card slot covers since they would not typically be accessed very often. But the cover for the micro USB port annoys me. It feels like a weak point to the phone and something that I'd most likely end up breaking off or wanting to break off at some point. Luckily this phone has Qi wireless charging built in, so I rarely opened the cover while I was using this phone.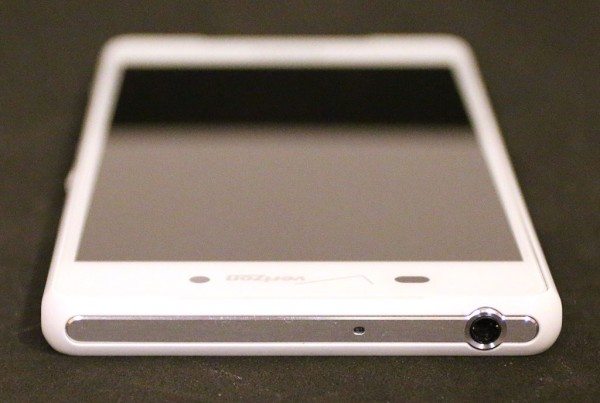 The top edge of the phone has a 3.5mm headphone jack and microphone.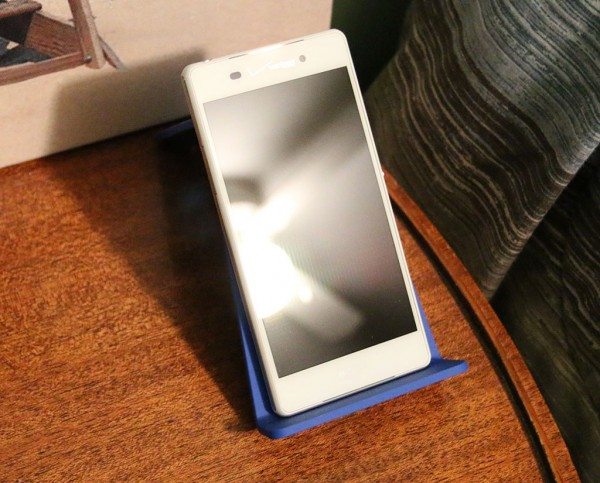 The Xperia Z3v does not have any buttons on the front. There's just the 5.2 inch display with a front firing speaker at the top and bottom edge of the phone. A status LED hides behind the top speaker grill. I wasn't able to get a very good picture of the LED, but in the image above you can see it glowing along the top edge of the phone. This LED is used for battery charging status and notification status. For notifications it's great because it's a bright white LED that blinks every 10 seconds or so. But for charging, the LED shines orange while charging and then green when done charging. I found it to be way too bright at night as it illuminated my whole bedroom. I couldn't find any system settings to let me turn off the LED during certain hours. Although there is an option to turn off the Notification light all together.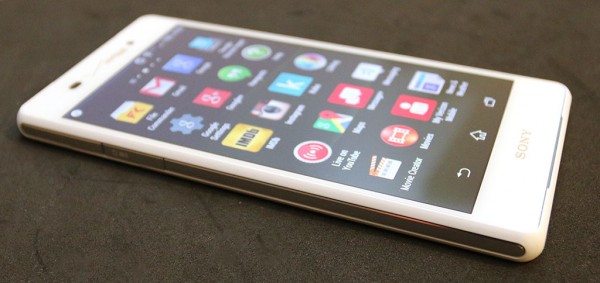 The display is clear, crisp and vibrant. There's a double tap feature to wake up the phone that works reasonably well. There's also a glove mode that allows you to interact with the touch screen when you're wearing gloves. I've used this several times in the past week since it's already feeling like winter here in southern Indiana.
Camera
The Sony Xperia Z3v packs a 21MP camera. That's an impressive number of pixels. Here are a few sample images:
I was most impressed by well lighted outdoor pictures like the mailboxes above on the left. The camera also does a good job with close up flash images.
On the flip side, I wasn't very impressed with low light images like the two you see above. The image on the left used the flash and the one on the right is with the flash turned off. Both are grainy.
I do really like the dedicated camera shutter button on the side of the phone though. Pressing the button will wake up the phone and launch the camera app within a couple of seconds. This is perfect for quick snapshots without having to use the touch screen.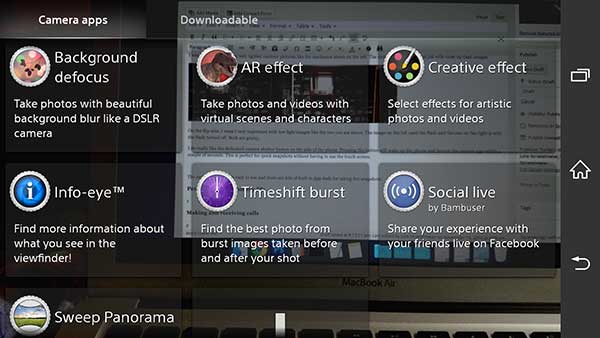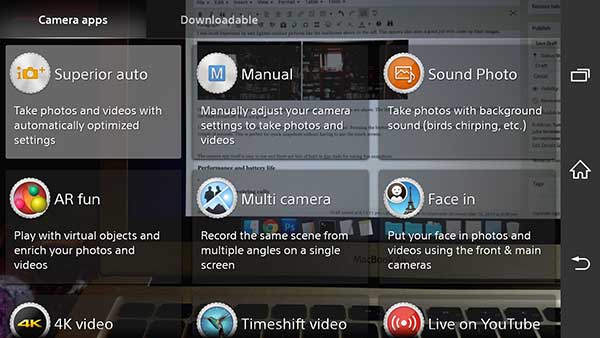 The camera app itself is easy to use and there are lots of built in add-on apps for taking fun snapshots.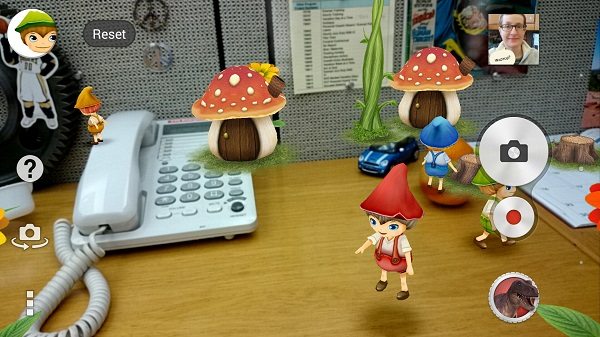 The AR fun apps add virtual objects like fairies, dinosaurs and fish to the live view. You can interact with the objects on the screen by tapping them. Kids will love this…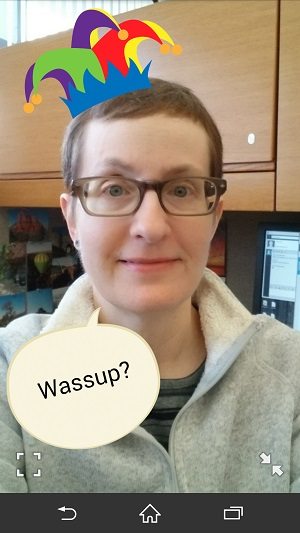 The Sketch app will let you add stickers to your images and then you can share to your favorite social media site.
Performance and battery life
By and large the Sony Xperia Z3v is a snappy phone but not quite as peppy as the Motorola DROID TURBO which I just reviewed. The battery life isn't as excellent as the TURBO either, but in the week that I've been using the Sony, I've had no problems getting a full day of use out of one charge.
Making and receiving calls
I've not had any problems making and receiving calls with this phone. Calls are clear on both sides and I've not had any dropped calls during my review period. The only issue is using that volume button to adjust volume while you're on a call. The location of the button is less than ideal… at least for me.
Added software features
The Sony Xperia Z3v is powered by Android v4.4.4 with the addition of a special Sony software bundle. I'm not going to cover all the extra apps, but here are a few of the stand outs.
My favorite extra is called Lifelog. It keeps track of just about everything you do all day long, from the steps you walk, hours driving, pictures taken, time spent talking on the phone, texting, watching movies, listening to music and more.
There's also a Walkman music player app that you can use to play music on your device, microSD card or in the cloud. To listen to cloud based music you have to sign up for an account, but you do get a free trial to try it out.
If you're a PS4 gamer, the Xperia should really excite you because you can the Remote Play app to play games with your phone and the DUALSHOCK4 controller streamed via WiFi from your PS4 console in another room. There's an optional Game Control Mount phone cradle that will connect the controller and phone together for easier gaming. Unfortunately I don't have a PS4 console, so I was unable to test this feature.
Final thoughts
The Sony Xperia Z3v is the best Sony Android smartphone that Verizon sells…. Actually it's the only Sony Smartphone that Verizon carries right now. This phone has some good things going for it like Qi wireless charging capability, 21MP camera, dedicated camera shutter button, PS4 Remote Play gaming, micro SD card slot and waterproof design. It does everything all the other current Android smartphones can do, but where it falls a little short is in the physical design. It just looks and feels too chunky to me and it also feels every so slightly less snappy compared to the Motorola DROID TURBO. Should you buy one? I guess it just comes down to if you like the look of this phone and the feature set better than the rest of the phones available from Verizon. For me, I found myself missing my sleeker LG G3 the whole time I was using this phone, so that tells you where I stand.
Source: The sample for this review was provided by Verizon Wireless. Please visit their site for more info.
Product Information
Price:
$199.99 w/2y contract, $599.99 w/o contract
Manufacturer:
Sony
Retailer:
Verizon Wireless
Pros:

Dedicated camera shutter button
Waterproof
Very good battery life
Can link to PS4 gaming console via home Wi-Fi

Cons:

Heavy
Brick like
Very bright status LED