The Gadgeteer is supported by readers like you! If you buy something through links on our site, we may earn an affiliate commission at no cost to you. Thank you! Learn more.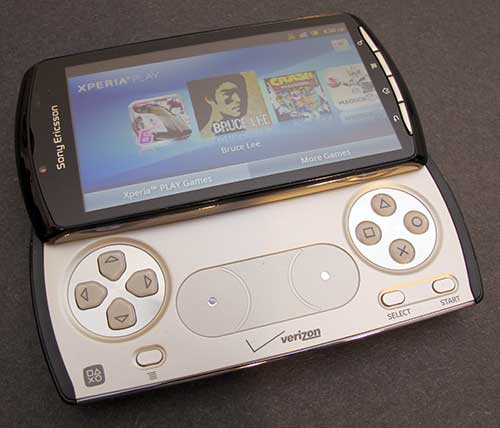 Smartphones with slide out keyboards are not unusual. But the same can't be said about a smartphone with a slide out gaming controller. The Sony Xperia PLAY (aka the Playstation Phone) from Sony Ericsson and Verizon Wireless is an Android powered smartphone for those of you that love to play games but aren't so thrilled with using the touch screen to do so. This phone's Playstation style controller is meant to give you true gaming feel, but let's see if it's just a gimmick or the real thing.
Note: Some of the images in this review can be clicked to view a larger size.
Hardware Specs and Design
Chipset: Qualcomm Snapdragon II 1GHz CPU with Adreno 205 GPU
Networks: CDMA 2000 and EVDOrev0/EVDOrevA
Operating system: Android 2.3.2 (Gingerbread)
Display: 4.0" Capacitive multi–touch screen, 480×854 FWVGA display
Camera: 5.1MP, front facing VGA camera
Memory: 8GB pre–installed memory card (approx 2GB used for pre–loaded games), Up to 32GB microSD support
WLAN: 802.11 b/g/n
Bluetooth: v2.01+ EDR
Battery: 1500 mAh
Dimensions: 4.68" x 2.44" x .63" inches
Weight: 6.17oz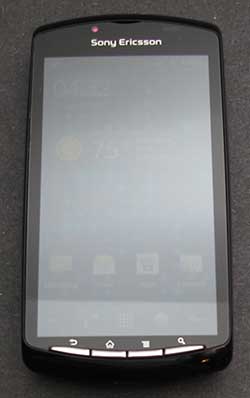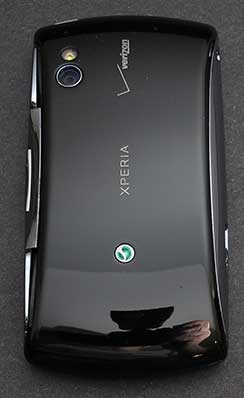 The Xperia PLAY has a very shiny Black plastic shell with chrome buttons and sides. The front of the phone has the display with function buttons below it. The display is crisp and vivid. It's not as bright as other phones I've tried lately though. It has more pixels than other 4″ displays. At 480×854, it gives you a wide screen display which is great for watching videos.
The back of the phone has the camera lens and LED flash.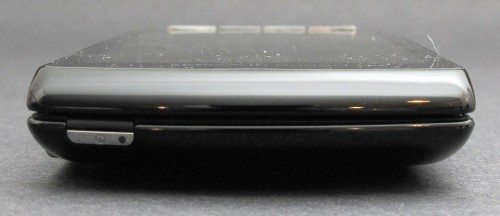 On the top edge of the phone, you'll find the power button with the built in notification LED. The LED will flash Green when you have an email, SMS message, missed call, etc. The location of this status LED seems odd to me since it wouldn't normally be visible to you if you place the phone face up on your desk.

There is a micro USB port for charging and syncing on the Left side, along with the earphone jack.

If we look on the opposite side, we find the gaming controller's shoulder buttons (more about the controller in a sec) and the volume controller in the center. I hate the location of the volume button… It's kind of difficult to press when you're talking on the phone as the screen tends to slide in that direction when you press the volume button while holding the phone in one hand. It's even more difficult to press when you have the gaming controller open and are playing a game.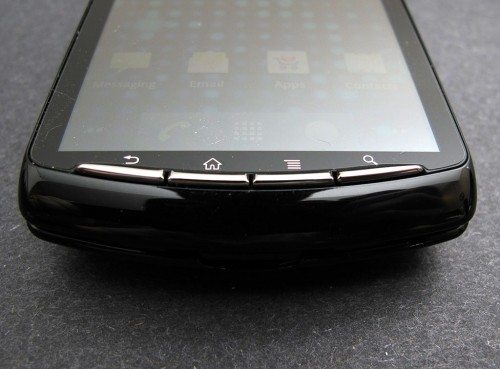 The Xperia PLAY looked very familiar to me when I first removed it from the box. Why? It reminded me of my Motorola Droid X with the four physical buttons below the display. The button layout isn't quite the same though and one small disappointment is that the icons for the buttons do not light up. This makes it slightly difficult to see which button to press when you're in a dim or dark environment.
Let's Play a Game!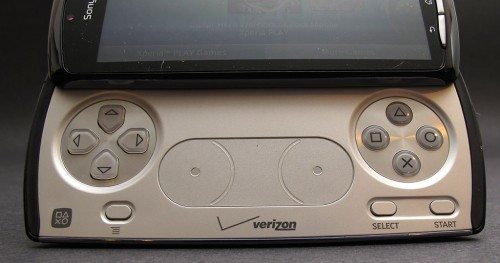 The Xperia PLAY is a normal Android smartphone until you slide over the display and expose the built in gaming controller. I'm not a Playstation person, but even I recognize the Square, Triangle, Circle and X buttons that we see here. Out of the box, there are 7 games installed on the phone that was sent to me for review:
Asphalt 6
Bruce Lee Dragon Warrior
Crash Bandicot
Madden NFL 11
Star Battalion
The Sims 3
Tetris (touch screen mode only)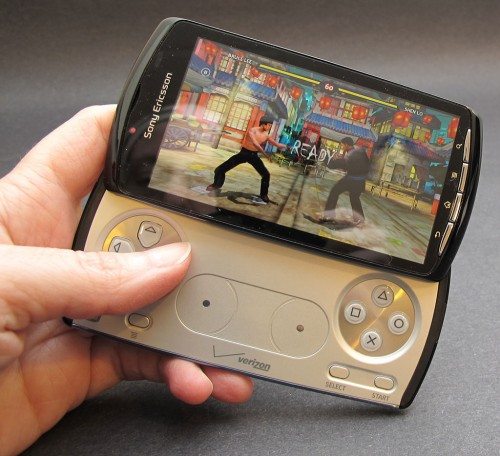 Whenever you slide the display over to reveal the gaming controller, it will automatically launch the phone into gaming mode. This happens even when the phone is idle, so you won't have to unlock it to play games.
I played with all the built in games and found the graphics to be smooth and sharp. The addition of the enhanced graphics processor and the built in controller really make playing games on this phone feel like playing games on a dedicated handheld gaming device.
The controller feels responsive and the touch pad located in the center is a cool feature which can be used instead of the D-pad on the left. The touch pad doesn't work with all games though… The same is true for the controller itself. You can't use it with every game you download. It will work with all the Xperia PLAY games of course, but random generic games through the app market will be hit and miss.
Xperia PLAY games are purchased through the V Cast App store. Prices vary and some offer a monthly rental or can be purchased outright. Every time I check for new games there seem to be one or two additional added since I last looked. Right now there are 31 titles available.
Camera
The 5.1 megapixel camera does an above average job snapping pix. Thumbs up for its macro capability, which is always a feature that's important to me. Here are two sample images. Click to view the full size version.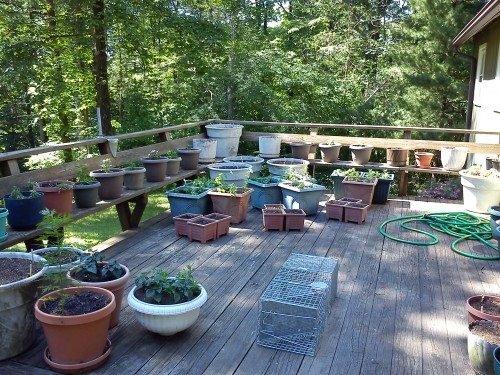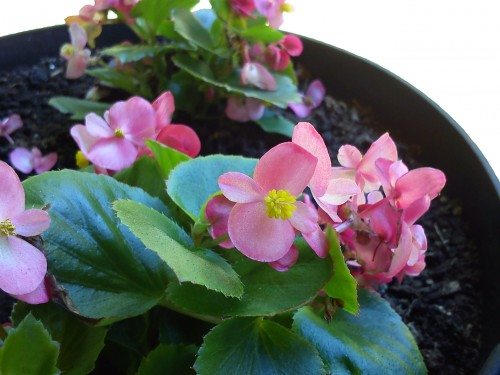 If I had any requests with regards to the camera, it would be to allow the use of one of the controller's shoulder buttons to double as a shutter button.
The Xperia PLAY is great for games, but what about calls?
First and foremost, the Sony Xperia PLAY is a phone. So it has to be able to make and receive calls. No worries, this phone has no problems in that regard. The only thing I've noticed is that it doesn't seem to have quite as strong a signal as my Droid X, when comparing the number of bars. But that said, I've not had it drop any calls. Call audio quality and volume are very good on both sides of calls. So as a phone, I would have no problems recommending it.
Overall Performance
With its 1GHz processor, this phone is as snappy as my Droid X as far as scrolling through apps, launching apps, etc. Battery life seems to be on par with other 1GHz phones I've reviewed. That means you will want to charge it every night if you are a normal user. I guess that's a cross we have to bear until mobile phones start using fuel cells 😉
If you're an Android fan that just happens to be a gamer, the Sony Xperia PLAY is a great choice. It really turns your phone into a handheld gaming device. There aren't a ton of PLAY games available just yet, but with over 30 and more seeming to show up every day, it has a good start. All I can say is that I wish there was a slide out controller like this one for the iPhone. I'm jealous!
Product Information
Price:
$199.99 w/2yr contract, $449.99 Retail
Manufacturer:
Sony Ericsson
Retailer:
Verizon Wireless
Pros:

Controller makes this phone feel like a dedicated gaming device
Nice camera
Great sound quality

Cons:

Volume button placement not optimal
Controller doesn't work with all games
Display could be brighter
Notification LED oddly placed