We use affiliate links. If you buy something through the links on this page, we may earn a commission at no cost to you. Learn more.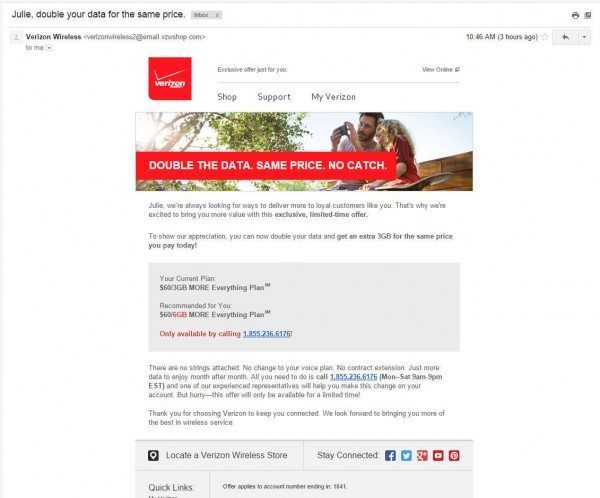 I received an email from Verizon this morning that said I could double my existing data allowance from 3GB to 6GB for FREE just by calling a phone number. I just got off the phone with them and now I have 6GB of data and it didn't cost me a cent. Seems a little too good to be true and I was slightly worried that it might be a scam, but it doesn't appear to be. I asked if the deal was available to everyone and the Verizon guy said yes, but I didn't get details if it's only available for people on the More Everything plan like I have. They didn't pressure me to add any new paid services or switch to the EDGE plan. He did say that the extra data would drop off if / when I change my data plan for any reason. If I decrease or raise my data allowance, the free 3GB will vanish. I just logged into my Verizon account on the Samsung Galaxy Note 4 that I'm reviewing and it does indeed show that I now have 6GB of data. Nice! I love free stuff!
Be sure to check your email inbox and text messages. Apparently they are contacting select Verizon customers using these two methods.