We use affiliate links. If you buy something through the links on this page, we may earn a commission at no cost to you. Learn more.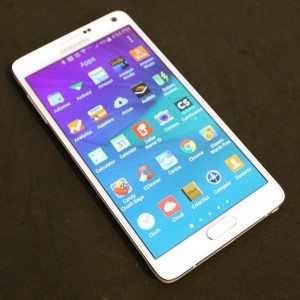 Last year at this time, I took a look at the Samsung Galaxy Note 3 and ended up feeling that the device was too large for me. Funny thing is that not long after that article was posted, I started using a Samsung Galaxy Note 2 as my primary device. After a short adjustment period I got used to the size and didn't mind the whole phablet pocket fit challenge issues.  After using the Note 2 for almost a year, I switched over to an LG G3 in August and it's now my favorite phone. So now the Samsung Galaxy Note 4 is available from Verizon Wireless and they sent me one to try for a week. Should my LG G3 worry that I'll soon be banishing it to my cast off gadget drawer? Keep reading to find out.
Note: Images can be clicked to view a larger size.
In the box
Samsung Galaxy Note 4
Pre-installed SIM Card (3FF)
3220mAh Battery
Wall Adaptor
USB Cable
S Pen
S Pen tip replacement kit (Tweezer & Tips)
Quick Reference Guide
Hardware specifications and design
Processor: 2.7GHz Quad-Core
Operating System: Android 4.4.4 & Touchwiz
Memory: 32GB on board memory + 3GB RAM/Supports up to 128GB microSD Card (sold separately)
Network: LTE Band 13/4 (700/1700 MHz), CDMA/1xEVDO Rev. A (800/1900 MHz); Global Network: EDGE/GSM (850/900/1800/1900), HSPA/UMTS(850/900/1900/2100)
Display: 5.7" Quad HD Super AMOLED®, (2560×1440), 518ppi
Camera (rear): 16MP
Camera (front): 3.7MP
Wi-Fi, Bluetooth 4.1, NFC
Headset: 3.5mm Audio Jack
Battery: 3220mAh (Fast charging removable battery)
Dimensions: 6.04" (H) x 3.09" (W) x 0.33" (D) inches
Weight: 6.21 oz
At first glance the new Samsung Galaxy Note 4 doesn't really look all that much different than the Note 3. It is available in black and white and has the same rounded corner rectangular shape as the previous model. At the top there's a status LED on the left corner, a speaker grill, proximity sensors and the forward facing camera. Below the display is a slightly raised home button / fingerprint scanner. On the left side of the home button is the recent apps soft button and on the right side is the back button. These buttons are visible for a few seconds after interacting with the device.
The 5.7″ quad HD display is very nice. For one thing, it's huge. Colors are bright and vivid, text is crisp and viewing angles are outstanding. I even noticed that I can see the display in full sunlight better than any phone I've tried in a long time.
The back of the phone has a textured plastic removable cover that provides a nice grip. Up top is the camera lens and below that is the LED flash / heart rate & blood oxygen sensor. There's also a backward firing speaker towards the bottom edge of the device.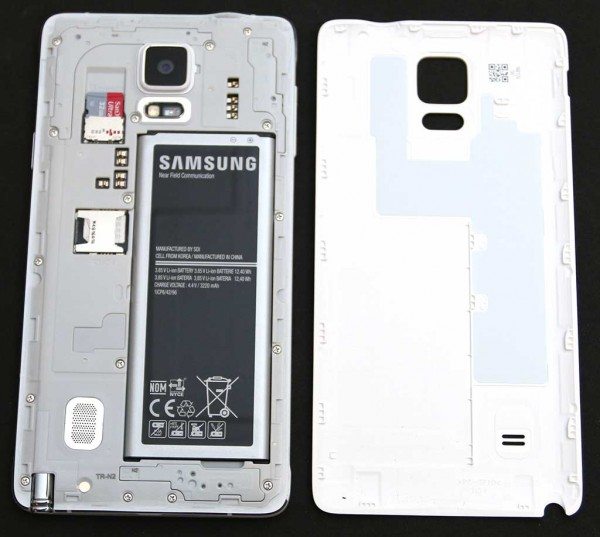 When you remove the back cover, you'll find the removable battery, micro SIM card slot and micro SD card slot. With the cover off you can see the speaker a little better.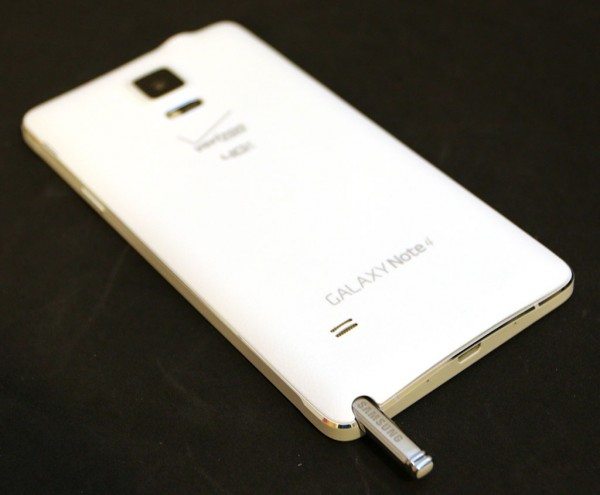 And there's the S Pen in the bottom left corner.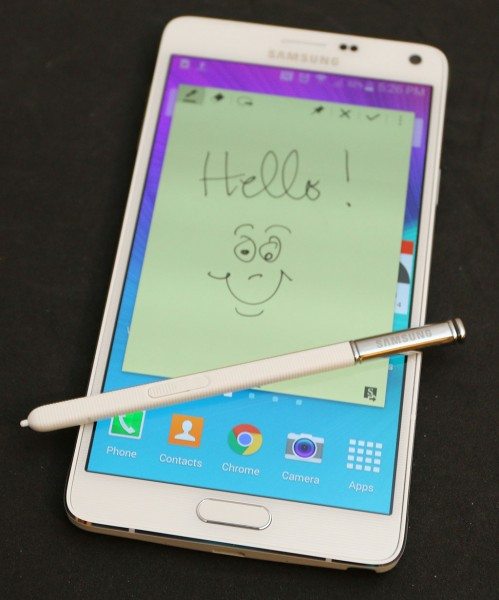 I'm a big fan of the S Pen because it has such a great feel on the screen that is as close to pen on paper as it gets, right down to pressure sensitivity. When the stylus is removed from the built in silo, a special panel pops up on the display that lets you easily take a screenshot that you can draw on, bring up a notepad, and clip parts of the screen to use in a scrapbook app.
I like the S Pen so much that I wish it worked with all Android devices.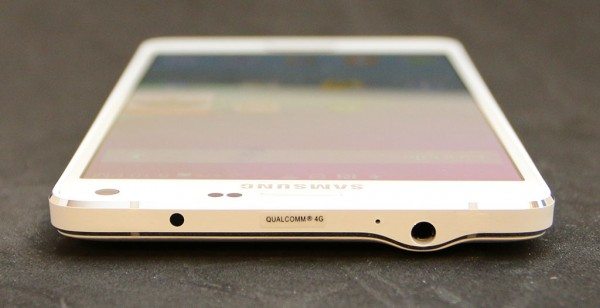 Along the top edge of the phone you'll find a 3.5mm stereo headphone jack, microphone and an IR transmitter so that you can use the Note 4 as a remote control for your TV.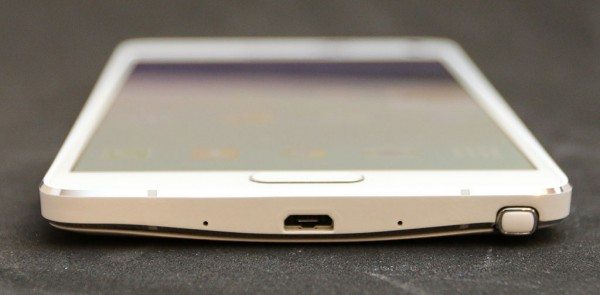 On the bottom edge are two more microphones and a standard sized micro USB 2.0 port. I am happy that Samsung ditched that large USB 3.0 port that they used on the Note 3.
Take a look at the image above. It looks like the phone has a curved back, but it's actually flat. You will also notice the home button which doubles as a fingerprint scanner. My experience with the fingerprint scanner was not very good. After training one of my fingerprints one night before going to bed, I had a heck of a time getting the phone unlocked the next morning. It seemed like no matter how I swiped my finger across the button, it would not accept it. I was finally able to sign in using the PIN number I had setup. After I was able to unlock the phone, I went back into the settings to change from the fingerprint unlock to a basic swipe unlock method. But guess what? It then wanted me to swipe my finger in order to disable the finger swipe lock. ARGH! I was pretty sure I was going to have to completely wipe the phone and start over, but on the last try it worked. I remember having trouble with the Samsung Galaxy S5 too. I'll just say that Apple has Samsung beat by miles and miles when it comes to fingerprint scanning and recognition. My experience with the iPhone 6 was significantly better.

On the left side of the phone is a one piece aluminum volume button.

On the opposite side is the aluminum power button.
Have you noticed the polished beveled edges? This new Note 4 has aluminum sides, which all the plastic haters will cheer for. This might be the first Samsung device to use metal. But only the sides are aluminum though, the rest of the phone is plastic. Even so it feels really solid and comfortable in hand and the phone had no trouble surviving my Gadgeteer squeeze test without any complaints. Of course this is a BIG phone, and the size is something that not everyone will like. I'm so used to large phones that anything with smaller than a 5.5″ display seems tiny to me, so I don't have a problem with it.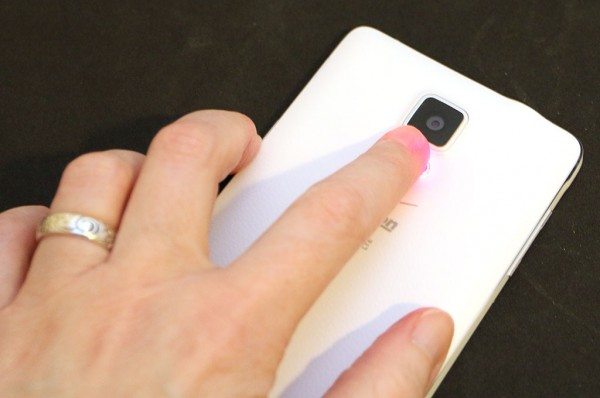 The Note 4 picked up the heart rate and blood oxygen sensor from the Galaxy S5. These sensors are used in the Samsung S Health app that comes pre-loaded on the phone.
With the Note 4, you don't need another activity tracker because it even tracks your steps and can remind you with a tone when you've been inactive for too long. I like that a lot.
Camera
It's great how the cameras built into mobile devices continue to evolve and improve. The Note 4's 16MP camera does a very good job. The camera app is pretty basic, but does have quite a few interesting modes.
One of those modes is shown in the image above on the left. It takes a picture with the front camera and back camera at the same time. You can choose from different frames for the front image and even move it around on the screen.
The camera also does a good job at close up / macro shots. It captures all the nasty dust and dirt in my keyboard. Yucko!
Colors are pretty true to life and aren't over saturated even with the HDR mode turned on like the image on the right. Images are sharp thanks to the optical image stabilization.
Performance and battery life
The Samsung Galaxy Note 4 is snappy launching apps, scrolling through lists and flipping between open apps. I have no issues or complaints about the performance and didn't notice any issues with lag. Battery life is very good too. Although the phone doesn't have Qi wireless built in (sniff), it does charge pretty fast. During the time I was using the phone, I was able to get a 1.5 days of use from one charge when my activities consisted of a few calls, quite a few texts, light surfing, some ebook reading and a few minutes here and there playing Words With Friends.
Making and receiving calls
I didn't have any issues making or receiving calls with the Samsung Galaxy Note 4. I didn't experience any audio problems or dropped calls during the time I carried this phone. Volume on both sides of the conversation was more than adequate.
Added software features
Samsung adds an interface layer over stock Android v4.4.4 that is called TouchWiz. It gives you extra features like an easy mode, multi-tasking resizable app windows, a calendar that actually shows your appointment info instead of just showing bars and more.
Final thoughts
I have no problem saying that this is the nicest Samsung phone that I've ever used. If I were looking to buy an Android smartphone with a large screen, this would be the one I'd recommend. It has a quality build, great screen, good battery life, and extra little features like a micro SD card slot, replaceable battery, heart rate sensor, blood oxygen sensor, S Pen and more. Although this is a very nice phone, I don't feel the need to replace my LG G3 right now, so I'm sticking with it. But if I didn't have the LG G3, I'd definitely be considering the Samsung Galaxy Note 4 as my next phone. Samsung continues to churn out quality smartphones. I like what I see with the Note 4 and am looking forward to seeing what the Note 5 brings us next year.
Source: The sample for this review was a loaner phone provided by Verizon Wireless. Please visit their site for more info.

Product Information
Price:
$299.99 with 2yr contract, $699.99 without contract
Manufacturer:
Samsung
Retailer:
Verizon Wireless
Pros:

Nice display
Replaceable battery
Micro SD card slot
Good battery life
Heart rate sensor
Blood oxygen sensor
S Pen

Cons: