We use affiliate links. If you buy something through the links on this page, we may earn a commission at no cost to you. Learn more.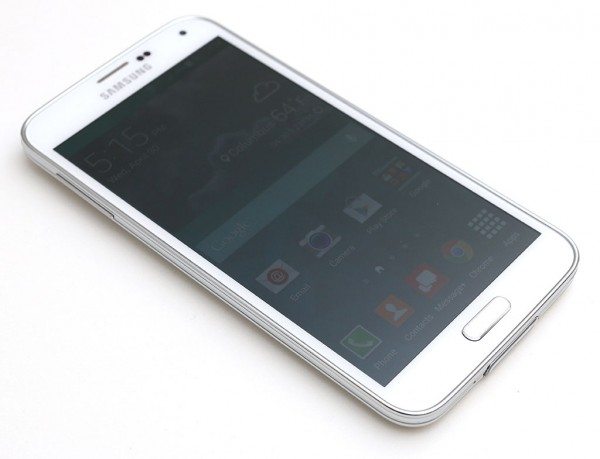 I'm bored with the Samsung Galaxy Note 2 which is the main phone that I use when I'm not in the process of testing other phones. We're right at the beginning of the new phone rollout season and so far Verizon Wireless has sent me the new HTC One M8 and now the Samsung Galaxy S5 Android smartphone to try. The HTC One looked great on the outside, but it didn't have one of my must-have features – wireless charging. The S5 doesn't ship with that feature either, but there will be a wireless charging cover available for it soon, so I was anxious to try this phone to see if it could become my new daily driver. Let's find out if it will be.
Note: Images can be clicked to view a larger size.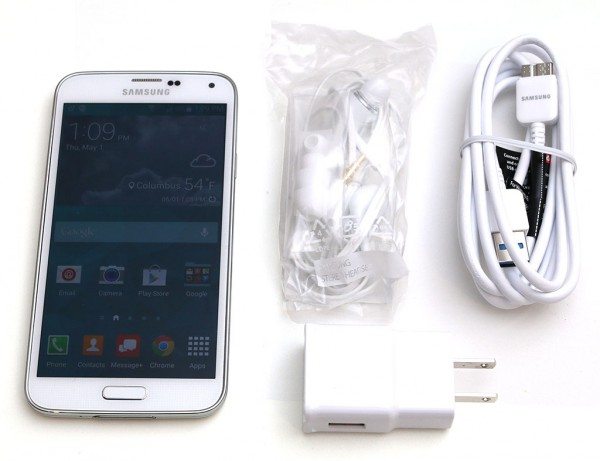 Hardware specs
Processor: 2.5GHz Quad-Core
Operating System: Android 4.4 & Touchwiz
Memory: 16GB on board memory + 2GB RAM/Supports up to 128GB microSD Card (sold separately)
Network: LTE Band 13/4 (700/1700 MHz), CDMA/1xEVDO Rev. A (800/1900 MHz)
Global Network: EDGE/GSM (850/900/1800/1900), HSPA/UMTS(850/900/1900/2100)
Display: 5.1" Full HD Super AMOLED Corning® Gorilla® Glass 3 Touch Screen Display
Camera (rear): 16MP
Camera (front): 2 MP
Wi-Fi, Bluetooth 4.0, NFC
Headset: 3.5mm Audio Jack
Battery: 2800mAh (Removable Battery)
Dimensions: 5.59" (H) x 2.85" (W) x 0.31" (D) inches
Weight: 5.11 oz
Package Contents
Samsung Galaxy S5 Android smartphone
USB AC adapter
micro USB charging cable
Earbuds with extra buds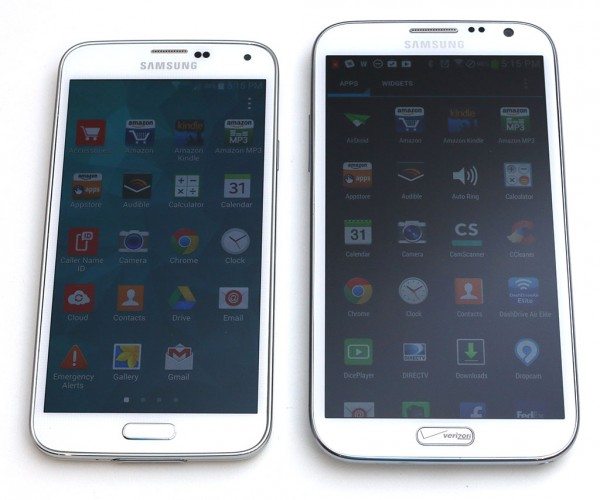 Style and design
Samsung hasn't really departed very much from the styling that they've been using since their first Galaxy phone and the new S5 doesn't look all that different than the Samsung Galaxy S4 from last year. It's a little more rectangular than the S4 and looks really similar to my Samsung Galaxy Note 2 as you can see above. It's still made of plastic with chrome accents that look like metal but aren't.
Never miss one of our posts again. Sent MON, WED, and FRI with the latest gadget reviews and news!
The Samsung Galaxy S5 is available in white or black. As you can see, Verizon sent me the white version to test.
The front of the phone has a 5.1 inch display that is bright, crisp and vivid. It's .1 inches larger than the S4, but the size increase isn't noticeable at all. At least not to my eyes. I have no complaints about the display. It's very easy on the eyes. I enjoy viewing pics, surfing and reading books using the S5.
Above the display is the earphone, front facing camera and ambient light sensor. Below the display is the physical home button with soft touch buttons on either side that light up when activated (not shown). The left soft button brings up the task manager instead of menu and the right soft button serves as a back button.
If you flip the phone over, you'll find the camera lens, LED flash and speaker.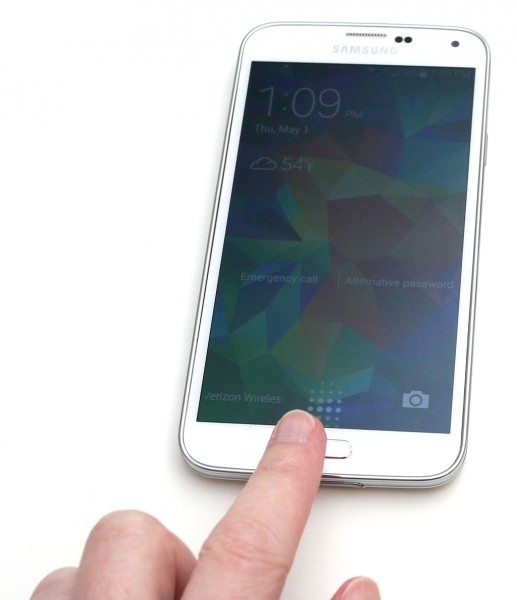 The home button below the display doubles as a fingerprint scanner that can be used to unlock the phone and authorize transactions with PayPal. Setting up this security method requires you to scan your fingerprints, which is just a matter of swiping the pad of your fingertip eight times. You can store up to three fingerprints and also set a text password to use if the phone fails to recognize your fingerprint after several consecutive swipes. I'm not a fan of using fingerprint scanners to unlock my phone. Honestly, I don't use any security to lock my phone. I like to press the home button and be able to immediately do whatever I want with no swiping or typing of passwords. While I was testing the fingerprint unlock feature, I would often end up having to type in the alternative password because the phone would not recognize my swipes. It would often tell me to swipe faster, slower or to swipe the entire pad of my finger. Nine times out of ten it would not take my first, second or even third swipes. I'm sure there's some nuance to swiping that I'm obviously not good at even after trying – A LOT. It became a nuisance after a day or two, so I turned it off.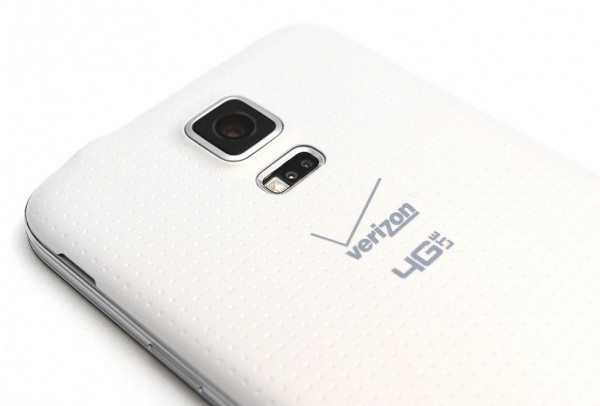 The back of the S5 has a flexible plastic cover that has a dimpled texture with a matte finish that provides some grip to what would otherwise be a slippery phone.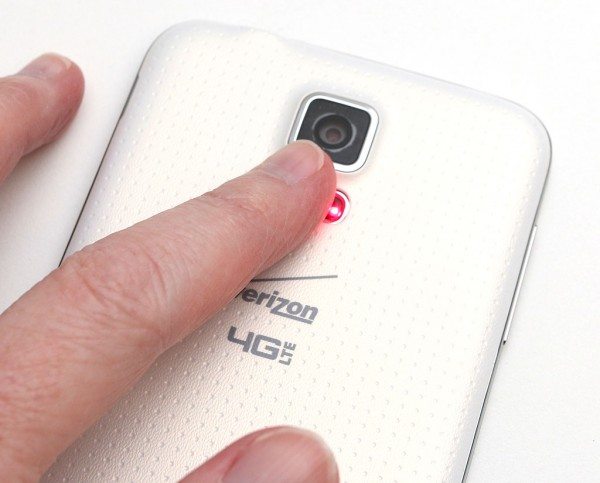 The LED flash below the camera lens doubles as a heart rate sensor. Using the included Samsung S Health app, it will tell you to place your finger on the sensor and wait for a few seconds as it measures your heart rate.
Your heart rate will then be shown on the display and will be recorded into the app for future reference.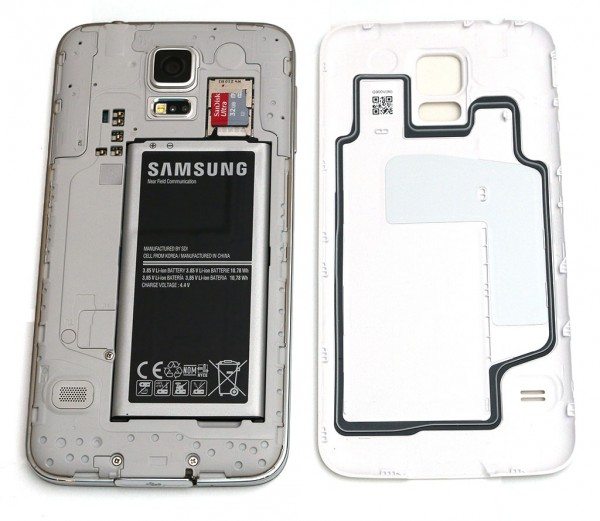 The back cover snaps off to reveal the user replaceable battery, SIM slot and micro SD card slot. I was a little disappointed to learn that Samsung didn't add Qi wireless charging to the S5. But I have heard that the OEM wireless charging covers should be available soon, which is acceptable – although annoying that you have to spend more money for a feature that should be built in to all phones by now.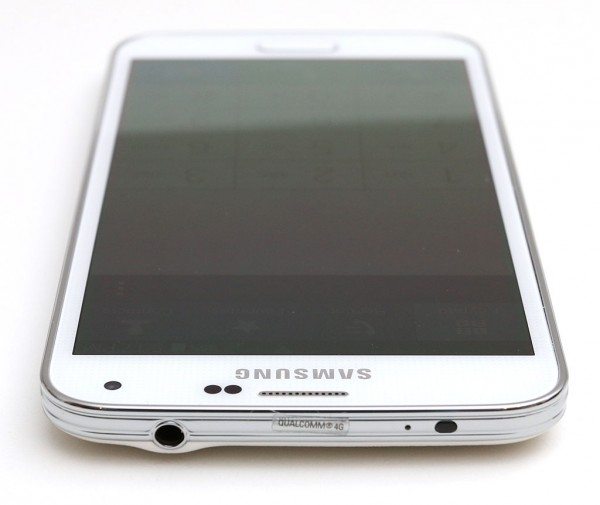 One the top edge of the phone you'll find a 3.5mm headphone jack, microphone and an infrared port that is used with the included Smart Remote app.
I tested the Smart Remote app with my Samsung TV and DirecTV set top box and it worked great.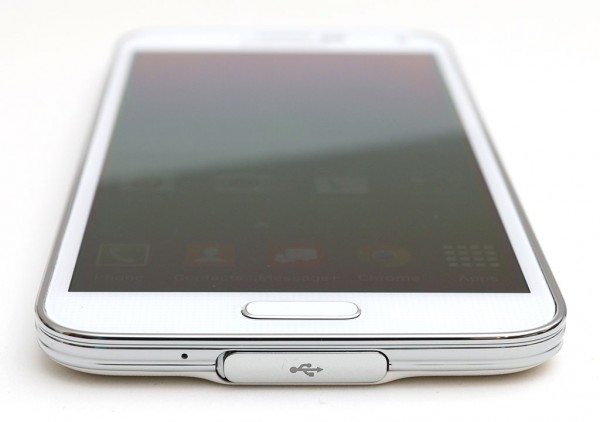 On the bottom edge of the phone you'll find another microphone and the USB charging connector. Notice the cover over the USB port…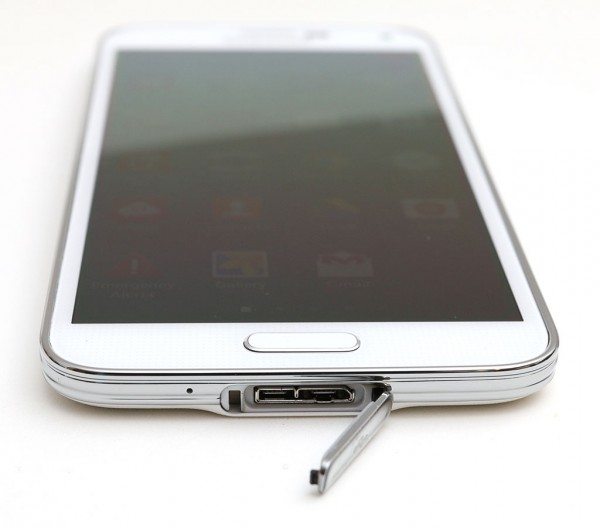 It opens to reveal an elongated USB 3.0 charging port. Don't worry, your old micro USB 2.0 cables will still work fine in the right side of the port. But if you use the USB 3.0 cable included with the S5, it will charge the phone much faster.  But if you use a USB 3.0 cable with the S5, it will charge the phone much faster. The cable included is NOT USB 3.0. It's only USB 2.0.
Why does the USB port have a cover? Because this Samsung Galaxy model is water and dust resistant. According to Samsung:
This device has been tested and received an IP (Ingress Protection) rating of IP67, which tests for dust intrusion and for water submersion up to 1 meter for up to 30 minutes. Not shockproof. Covers must be tightly closed.
This is great for people who often work or play in wet / dirty areas, but for me, I find the USB cover to be a pain in the rump. I hate port covers…
BTW: the phone knows when the USB cover and the back cover aren't completely closed and will alert you to that fact, which is kind of cool.

The volume switch is located on the left side of the phone. The location is perfect for lefties like myself.

The opposite side has the power button.
In hand the Samsung Galaxy S5 smartphone feels comfortable to hold. It's solid and doesn't have any problems passing the Gadgeteer squeeze test without flexing, creaking or cracking. I don't have anything negative to say about the style and design of this phone. It's not flashy, or drab. It's somewhere in between the two. I'm a little disappointed that Samsung didn't update the look of the phone, but I guess if it's not broke, why fix it. Right?
Camera
The camera on the S5 has been updated from 13MP up to to 16MP. The camera does a really good job and I've noticed no problems and have no complaints. Here are a few image samples:
I was impressed by the low light shots (see the bookcase picture above). That part of the room had no lights on and the picture was taken at night. The image is grainy and isn't something I'd want to print, but it does show that the phone is capable of taking decent low light shots without using a flash.
Software
The S5 runs on Android v4.4.2 and Samsung's TouchWiz interface. Besides the normal bundle of apps included with the Android OS, you also get software from Verizon and Samsung.
Google Preloaded Apps: Chrome, Drive, Gmail, Google (Search), Google+ (Photo), Google Settings, Hangouts, Maps, Play Books, Play Games, Play Movies & TV, Play Newsstand, Play Music, Play Store, Voice Search, Youtube
Verizon Preloaded Apps: Accessories, Amazon Suite (Appstore, Audible, IMDb, Kindle, Mobile, MP3), Caller Name ID, Cloud, Emergency Alerts, Isis Mobile Wallet, My Verizon Mobile, NFL Mobile, Slacker, Verizon Messages, Verizon Tones, Visual Voicemail, VZ Navigator, VZ Protect
Samsung Preloaded Apps: Calculator, Calendar, Camera, Clock, Contacts, Email, Flipboard, Gallery, Help, Memo, Messages, Music, My Files, POLARIS Office 5, S Health, S Voice, Settings, Smart Remote, Video, Voice Recorder
Some other little updates include:
The home screen has a Google search box widget that is always listening for you to issue a voice command by saying "Ok Google".
Swipe to the right on the home screen to go into the My Magazine news app which can be customized to show your favorite types of news topics and social media updates.
The settings button layout has changed to be a little more friendly looking. You can have large grid layout or go back to the standard scrolling list.
There's a new option in the notification pulldown menu called S Finder. This will search the calendar, contacts, Chrome browser history, Google Drive, files on the phone, SMS messages and more. The one thing it doesn't seem to search is Hangouts history, which is kind of a bummer.
Call quality
I made and received many calls with the Samsung Galaxy S5 and had no problems whatsoever. I did not experience any dropped calls or signal strength issues. Audio was clear and plenty loud enough on both sides of the conversation.
Performance and battery life
I had no problems with the performance of the S5. It switches between apps quickly, scrolls smoothly and launches apps quickly. I can't tell a difference in performance between the previous and current generation of phones. Yes, I could run benchmark apps and give you some numbers. But honestly, do you really care about numbers? The current crop of phones will do whatever you throw at them and not skip a beat.
In the couple of weeks that I've been using this phone, I found the battery life to be on par with other phones I've recently tested. Nothing to brag about and nothing to complain about. I was able to get more than a full day of light to medium use per charge, which is fine by me. The only complaint I have is that Samsung didn't include Qi wireless charging. Yes, I know I'm a broken record when it comes to wireless charging. But trust me, once you've used it, you'll never want to go back to plugging in a cable…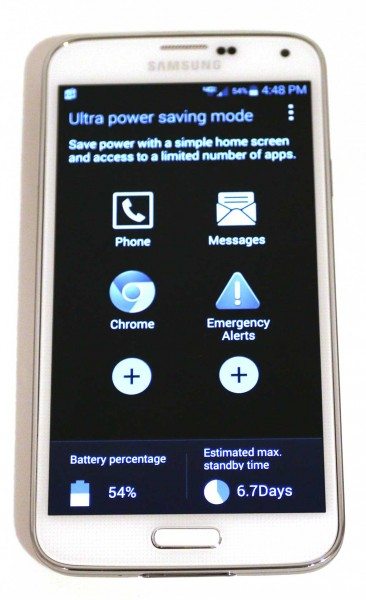 If you do find that you're almost out of juice and no way to recharge, you can switch to Ultra power saving mode. This mode will allow you to conserve power when you need it by switching to a grey scale display and limiting apps to what you see above. The browser works but in grey scale. You can also add two other apps to the list like calculator, memo, voice recorder and a couple others.
Final thoughts
The Samsung Galaxy S5 is Samsung's latest and greatest smartphone – at least for the moment. Although there aren't many changes and updates from last year's model (S4), the S5 does offer a few features that might make it more desirable than other phones if you're in the market for an update. The S5 has a built in heart rate sensor, which goes along with their S Health app that will track your steps and also allow you to keep a food log. This phone also offers water and dust resistance, a replaceable battery and USB 3.0. When the OEM wireless charging back covers become available it will tick all my boxes for the perfect 5 inch display smartphone. But since it isn't majorly different than my almost 2 year old Note 2 phablet, I will continue to wait to update. But this is a solid phone that should serve anyone very well.
For more info about the Samsung Galaxy S5, visit Samsung and Verizon Wireless.
Product Information
Price:
$149.99 with 2yr contract, $599.99 without contract
Manufacturer:
Samsung
Retailer:
Verizon Wireless
Pros:

Replaceable battery
micro SD card slot
Heart rate sensor
Water / dirt resistant

Cons:

Only small improvements and additions from previous model
Qi wireless charging not built in
USB cable included with phone is not USB 3.0