We use affiliate links. If you buy something through the links on this page, we may earn a commission at no cost to you. Learn more.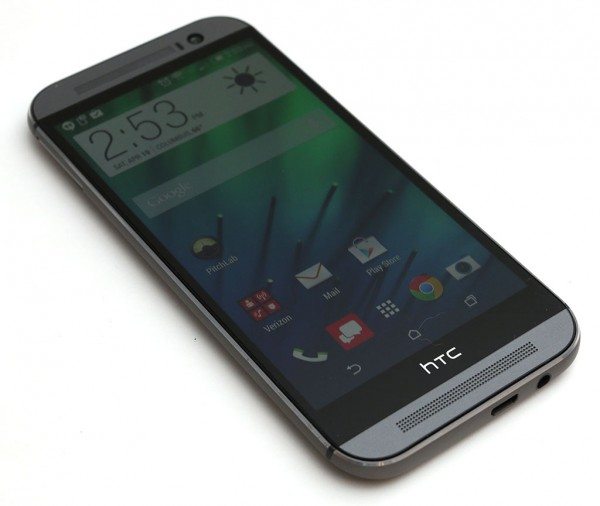 The new HTC One M8 smartphone is one of the sleekest Android smartphones currently on the market. Once again HTC has skipped the slick plastic case that people often tag with the word "cheap" and decided to go with a premium designed metal case that looks good and feels great in your hand. But is this phone all looks and no brain? Let's find out.
Note: Images can be clicked to view a larger size.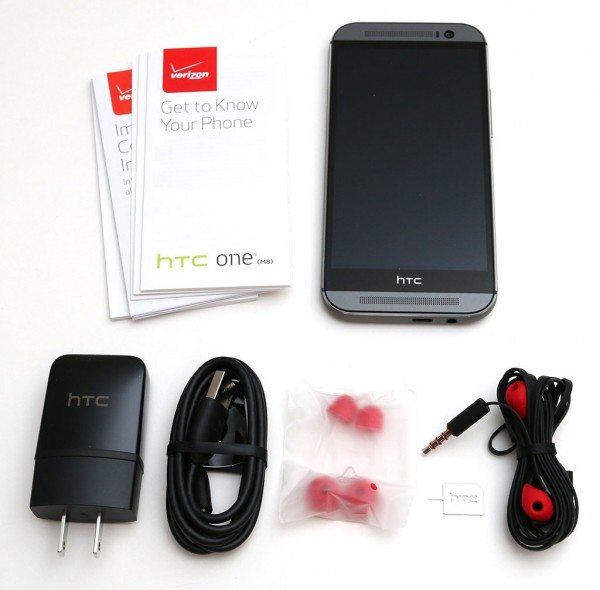 Hardware specs
Processor: 2.3 GHz quad core Snapdragon 801
Operating System: Android 4.4 & Sense 6
Memory: 32GB on board memory + 2GB RAM, Supports up to 128GB microSD Card
Network: LTE Band 13/4 (700/1700 MHz), CDMA/1xEVDO Rev. A (800/1900 MHz)
Global Network: EDGE/GSM (850/900/1800/1900), HSPA/UMTS (850/900/1900/2100)
Display: 5″ Full HD Super LCD3 Corning® Gorilla® Glass 3 Touch Screen Display
Camera (rear): HTC Duo Camera™, f/2.0, 28mm wide angle lens, 2x LED, Smart Flash,
Camera (front): 5 MP
Wi-Fi, Bluetooth 4.0, NFC
Headset: 3.5mm Audio Jack
Battery: 2600mAh (Non–Removable Battery)
Dimensions: 5.76" (H) x 2.78" (W) x .37" (D) inches
Weight: 5.64 oz
Package Contents
HTC One M8 Android smartphone
USB AC adapter
micro USB charging cable
Earbuds with extra buds
SIM removal tool
Info sheets
Style and design
The M8 looks very similar to last year's HTC One which we reviewed back in September. It features the same curved back with a brushed aluminum case that has smooth rounded edges that make the phone feel cool and solid in hand. The phone is available in 3 colors from Verizon Wireless. I was sent the grey version. Silver and gold versions are also available.
The front of the M8 has a 5 inch display with dual front–facing speakers and a 5 megapixel front facing camera. A tiny notification LED is hidden in the top speaker grill. It glows amber while charging and blinks green for notifications like text messages.
The display is very nice. It is eye meltingly bright, crisp and has vivid colors. It has a very wide viewing angle which makes it easy to see info no matter how you hold it. Even though the display is larger than last year's phone, the pixel density is not as high. Does that mean the screen is worse? Nope, it is gorgeous and if you can see individual pixels, you're not human.
One thing to note, the soft navigation buttons aren't located on either side of the HTC logo at the bottom of the display like they were with last year's HTC One M7. They are now located above the logo bar on the screen itself. They appear and disappear as needed.
Just like the previous model, the M8 does not offer a wireless charging option or a user replaceable battery. However it does offer a microSD card slot which is usually only found in Samsung phones.
The back of the M8 has the dual camera lenses and an LED flash.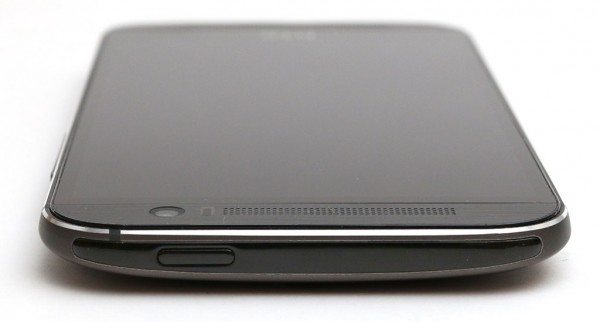 On the top edge of the phone you'll find the power button and the IR lens for controlling devices like your television. I don't like the power button because it's small and almost flush with the case. As a Samsung Galaxy Note 2 user, I found myself wishing the M8 had a physical home button that I could use to wake the device. At least that's how I felt until I tried out the M8's motion features. Some of those motion features include:
Pick up the phone and double tap the display to go to the lock screen
Pick up the phone and swipe left to right to go straight into the BlinkFeed news app
Pick up the phone and swipe right to left to wake the phone at the home screen
Pick up the phone in landscape orientation and press and hold of the volume buttons to launch the camera app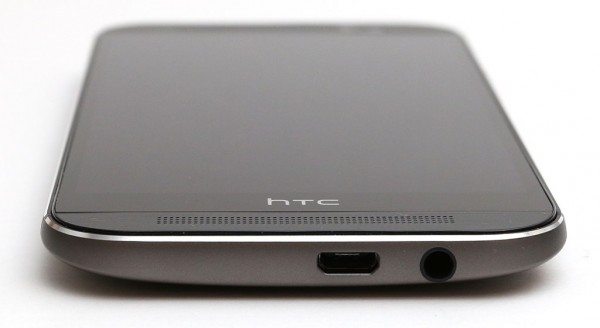 The bottom edge of the phone has the micro USB connector and 3.5mm headphone jack.

On the left side you'll find the nano sized SIM card slot.

On the opposite side you'll find the microSD card slot and volume buttons.
In hand this phone feels very solid. It doesn't complain at all when I put the old Gadgeteer squeeze to it. I didn't notice any flexing, creaking or cracking. It feels like a solid slab of metal and glass. The brushed metal case is pretty slippery, so care should be taken when handling the M8. I have not dropped it, but I've come close.
The style and design of the HTC One M8 is very nice, but I found one thing that annoyed me about it the entire time I was testing it for this review… The narrow screen bezel. Why would a narrow screen bezel annoy me? Because the phone would often not respond to my taps and swipes while I was gripping it my hand. For several days I thought something was actually wrong with the capacitive touch screen. Then I realized that either my finger tips or my pudgy palm was touching the edge of the display when gripped in one hand. This would either cause the screen to freeze and disregard all taps and swipes from my other hand, or it would cause weird behavior while texting or using apps. I can't recall ever having this problem with other phones, so it's just something to be aware of.
Camera
HTC decided to stick with the UltraPixel camera from the previous HTC One model. UltraPixel translates to about 4 megapixels. When most high-end smartphones these days offer at least 12 megapixels, it seems like HTC's choice to stay with their "the number of pixels doesn't matter" stance is starting to catch up with them. The camera is probably the main complaint I've seen when reading about this phone. I don't think the news is as bad as it sounds though. I snapped quite a few pictures and for the most part I wasn't unhappy with the results. The camera actually performs really well and is very fast at focusing and capturing images, letting you concentrate on framing your shots instead of waiting for it to catch up with you so you can take the next one.
Take a look at a few sample images:
The one issue with the camera that I noticed right away was that some images appear to be too dark. This is obvious in the image of the daffodils above on the right. I took this picture on a bright sunny day… but it doesn't look like it in the picture. The weird thing is that I would get different results taking consecutive pictures of the same subject under the same lighting conditions. There's hope that a software update might fix these exposure problems.
Thanks to the unique dual lens configuration, the images are sharp and detailed. The smaller lens on the back of the camera is there just to provide depth info to captured images, allowing you to post process using different focusing filters.
Here you see an example of the Ufocus filter that allows you to refocus the image by clicking different areas of the picture and then saving to create a new image. The first image is normal. The second one has the chick in focus and the third image has the cup in focus.
Another issue I noticed is with the camera app itself. If you tend to stick with default auto settings it's not a problem, but when you want to fiddle with some of the manual settings, it's a pain in the rear to find things. Not only that, the touch controls are tiny and can be frustratingly hard to activate.
Sound
I remember being impressed with the audio experience of last year's HTC One. Beats Audio is history though, the M8 has a new technology called BoomSound. BoomSound is supposed to be 25% louder than last year's HTC One. With its front facing speakers, this phone offers a great audio experience. You won't be selling your stand alone speakers anytime soon, but for listening to tunes, gaming, sharing videos with friends and speaker phone calls, you'll be very happy with the audio quality of this phone.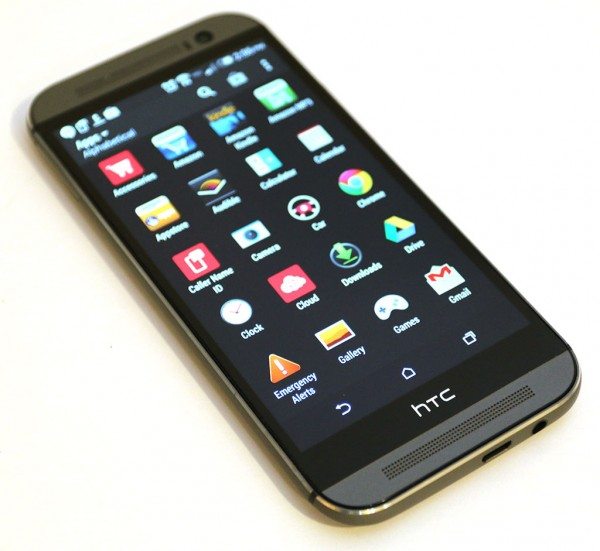 Software
The HTC One M8 runs on Android 4.4 KitKat and Sense 6.0. It comes with a decent software bundle including:
Verizon Preloaded Apps: Accessories, Amazon Suite (Appstore, Audible, IMDb, Kindle, Mobile, MP3), Caller Name ID, Cloud, Emergency Alerts, Isis Mobile Wallet, My Verizon Mobile, NFL Mobile, Slacker, Verizon Messages, Verizon Tones, Visual Voicemail, VZ Navigator, VZ Protect, Game Portal
HTC Preloaded Apps: Calculator, Calendar, Camera, Clock, People, Tasks, Scribble, Car Mode, Messages, Kid Mode, Parent Dashboard, Gallery, Music, Email, Help, Memo, My Files, POLARIS Office 5, Settings, HTC TV, Video, Voice Recorder
I'm not going to go into much detail about this version of Android or HTC's Sense interface. Add-on interfaces like Sense or Touchwiz for Samsung phones customize the stock Android interface to change things like the lock screen, settings interface, home screen, app lists screen, etc.
I prefer Samsung's Touchwiz to HTC's Sense 6.0 interface and their versions of the stock apps like Calendar, phone, etc. In my opinion Touchwiz is more finger friendly, with larger buttons and better layouts. One example of that is with the phone app. You'll notice the narrow ribbon bar in the left most image above. You have to scroll that ribbon left or right to change the contacts view. I don't have large fingers, but I constantly had troubles interacting with that on screen control. Compare that with the Touchwiz version of the phone app in the right most image. See how the buttons are bigger and have a better layout? Just little things like that make a difference.
Update: It was brought to my attention that the phone app's interface can be switched to have larger buttons.
Call quality
I didn't have any problems with the HTC One M8's call quality. Audio on both sides of the conversation were clear and loud. I did have some connectivity issues though. As I've already mentioned more than once, my main phone is a Samsung Galaxy Note 2. I often receive calls in my basement office and the Note 2 does a fine job keeping the connection even when I only have 1 bar of signal strength. The M8 seemed weaker in that regard. On more than one occasion I had experienced dropped called from my basement office. However that's the only location that I noticed this behavior. I had no dropped calls or connection issues elsewhere.
Performance and battery life
The M8 is a snappy phone. It launches apps quickly, smoothly scrolls through long lists and has to problems switching between apps. To be honest, it's really hard to find a sluggish smartphone these days. I can't really say the M8 feels any faster than my older Samsung Galaxy Note 2. But it most assuredly doesn't feel any slower.
During my time with the M8, I was pretty impressed with battery life. With light use I was easily able to get 1 to even 2 days of use from one charge. With heavier use, 1 day seemed to be the limit. I noticed some slightly wonky behavior charging the phone with one of my existing USB AC adapters that I use all the time with other phones. The display kept popping on while charging. I'd turn it off and a few seconds later it would pop back on. This did not happen with the included AC adapter, one of my other existing AC adapters or even just a USB cable plugged into a computer.
One of the features I was looking forward to trying was the extreme power saving mode. Unfortunately, that feature isn't available yet on the Verizon Wireless version of the HTC One M8… grrrrrrrr. (Update 04/23/14 from Verizon: "It's on the roadmap for future updates, date is tbd.") The idea is that the extreme power saver mode turns almost everything off (including data) and only allows you to do basic functions like calling and text messaging. This mode is supposed to give you a substantial boost in run time.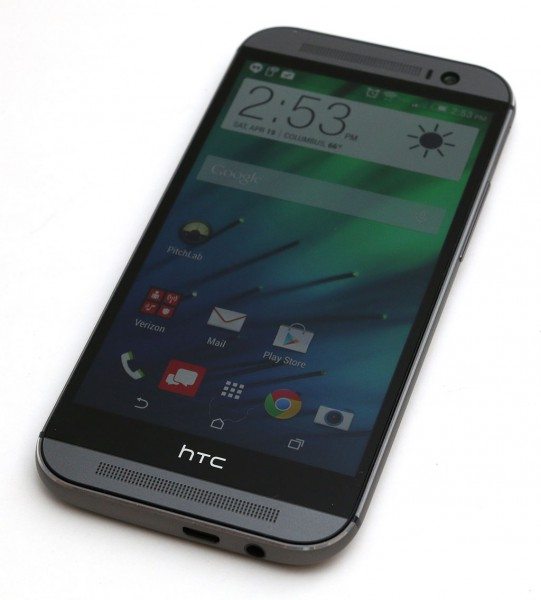 Final thoughts
I keep seeing article after article about the HTC One M8 stating that it's the best android smartphone ever… I agree that it's a very very nice smartphone. I'm not sure I agree that it's the best one ever though. Maybe if the camera were improved, it offered wireless charging and the screen bezel issue I experienced was resolved. As is, this is a great phone with a stellar display, good battery life, great audio quality and a snazzy metal case. I can and will recommend the M8 to anyone currently in the market for a new phone, but I can't say it's the best phone I've ever tried…
For more info about the HTC One M8, visit HTC and Verizon Wireless.
Product Information
Price:
$199.99 with 2yr contract, $599.99 with no contract
Manufacturer:
HTC
Retailer:
Verizon Wireless
Pros:

Attractive metal case
microSD card slot
Motion gestures
Good battery life

Cons:

Exposure issues with camera
Extreme power saving mode not yet available on US versions of this phone
Narrow screen bezel can cause screen freezes when gripped