We use affiliate links. If you buy something through the links on this page, we may earn a commission at no cost to you. Learn more.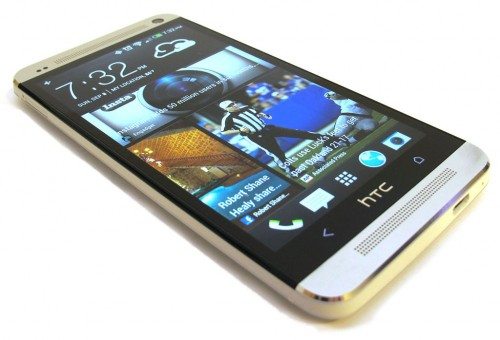 It's that time of year again when gadgeteers like us start checking our wallets and bank accounts to see how much extra money we have available for a potential new phone purchase. There are quite a few new phones coming to Verizon and they have been kind enough to send me some demo units of their latest Android smartphones to try out. Up first is one that I've been looking forward to trying for quite awhile. It's the HTC One, which is a welcome departure (at least style-wise) from most of the other glossy plastic Android smartphones on the market. Does it give me upgrade fever? Let's find out.

Note: Images can be clicked to view a larger size.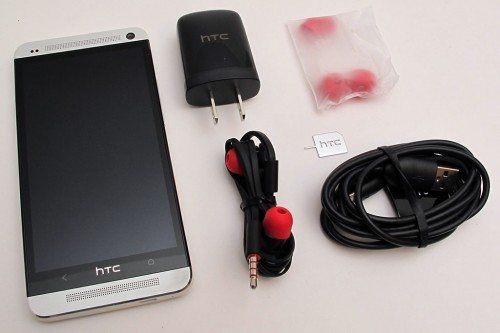 Package contents
HTC One
Pre–Installed SIM Card
Wall/USB charger
3.5mm Headset w/ microphone
SIM Removal Tool
Quick Reference Guide
Hardware specifications
Processor: 1.7 GHz Qualcomm Snapdragon 600 quad-core & 2 GB of RAM
Operating System: Android 4.2, Jelly Bean with HTC Sense 5.0
Memory: 32GB on board memory + 2GB RAM
Network: LTE, CDMA/1xEVDO Rev. A (800/1900 MHz)
Global Network: EDGE/GSM (850/900/1800/1900), HSPA/UMTS(1900/2100) aGPS
Display: 4.7" Super LCD 3 display (1920 x 1080) Full HD
Camera (rear): UltraPixel with HTC Zoe™ Camera, f/2.0, 28mm wide angle lens, 1x LED Smart Flash
Camera (front): 2.1MP Full HD Recording Front Facing Camera
Wi-FI: 802.11 a/b/g/n/ac, 2.4GHz and 5GHz Capable
GPS: Internal GPS antenna + GLONASS
Bluetooth 4.0 class 2
NFC – Tap and Share with other NFC-enabled devices
Headset: 3.5mm Audio Jack / Beats Audio™ – headset, speakerphone, and Bluetooth integration
Battery: 2300mAh Standard Li–Ion; non–removable, usage time up to 11.4hrs, standby time up to 10.8 days
Dimensions: 5.41"(H) x 2.69"(W) x 0.37"(D) inches
Weight: 5.04 oz
Hardware tour
The HTC One has a lot going for it in the style department. Instead of having a glossy plastic shell, it has a matte aluminum body with what HTC calls their zero gap construction. I really like the industrial look and find the fit and finish to be excellent. However, due to aluminum body there is no wireless charging option available for this phone and since the body is sealed, the battery is not replaceable.
The front of the phone has an edge to edge display that will prompt obvious comparisons to the iPhone. But where the iPhone has 90 degree edges, the One has beveled edges and a curved back that makes it feel more comfortable in hand.
You'll find front facing speakers above and below the display, along with a front facing camera and status LEDS. On the back side of the phone, you'll see an LED flash, rear camera lens and a 2nd microphone.

On the top edge of the One, you'll find a 3.5mm headphone jack and the power / wake button. The power button is small and almost flush with the casing, making it semi-difficult to press quickly. I'm so used to being able to press the home button on my Samsung Galaxy S3, that I often cussed the HTC One's tiny wake button. One interesting fact is that there's an IR transmitter built into the power button. The built in Sense TV app will turn the phone into a TV remote.

A micro USB connector is located on the opposite end of the phone along with a microphone.
The side view of the HTC One shows the sandwich construction of the aluminum, glass and some sort of white plastic center. If you take a look at the left side of the phone, you'll see the SIM slot and then on the other side, you'll find the volume rocker. As a lefty, I am not a fan of having the volume buttons located on the right side… but that's just me.
Size wise, the HTC One is about the same physical size as the SGS3 and Motorola Ultra. In hand it feels heavier than both, but not in a bad way. I like the heft, which makes it feel more like a tool than a toy. It's solid and doesn't complain at all when I perform the gadgeteer squeeze test. No flexing or rattles to be felt or heard. My only criticism is that this phone is slippery. I thought my SGS3 was bad, but the HTC One is even worse. The matte aluminum feels smooth in hand, but just make sure you have a firm grip or the phone may go flying…
Display
The 4.7" display might be considered small when compared to the Samsung Galaxy S4's 5.0″ display and the soon to be available Samsung Galaxy Note 3's 5.7″ display. But, the HTC One makes up for the slightly smaller physical screen size with a very crisp and vibrant display that offers 1920 x 1080 resolution – the same resolution offered by the other 2 phones I've mentioned.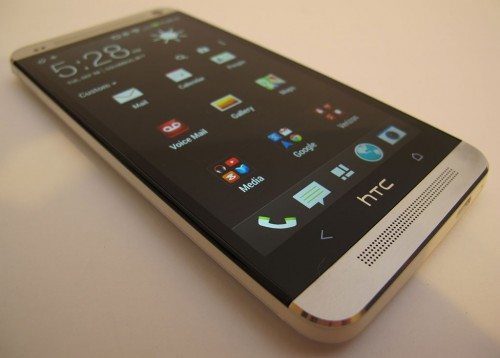 I've noticed that the screen doesn't show smudges or fingerprints, which is a plus. It also seems to work with thin gloves on… or I'm guessing it might, as it works if I wrap my finger in a t-shirt and try to interact with the display.
Below the display are 2 soft touch buttons, one on either side of the HTC logo. The left button is the back button and the right button is the home button. It took me awhile to get used to not having a dedicated menu button and that I could double tap the home button to see recent apps. For the longest time I didn't think these buttons were backlit. They are, but they only light up when you're basically in total darkness.
Camera
When I was adding the hardware specs to this review, I had problems finding the number of megapixels for the rear facing camera. HTC calls the pixels ultrapixels instead of megapixels and doesn't really tell you how many there are because they wants users to stop thinking in terms of megapixels and focus more on the size of the pixels. Size does matter, here's how they explain things:
For years, a misconception among most consumers is that the higher the megapixel count, the better quality of images. Actually, the number of megapixels is only one of many factors that determine picture quality, with sensors and image processors each playing a critical role.

However, year after year manufacturers try to outdo each other with higher megapixels. How? By reducing the size of the pixels to cram more in, which often decreases image quality. That's because the smaller the pixel, the less light each one collects. This results in more visible noise and other defects in both still images and video.

The more light a digital camera can capture, the more information it can record, resulting in better pictures in more varied conditions and lighting environments.

HTC's approach is to offer larger pixels in the new sensor that can capture 300% more light than many of the 13 megapixel cameras on the market. Because larger pixels record more light and data, our photos display more shades and greater color accuracy.
In translation, it means 20 megapixels may sound impressive, but size matters, and the HTC One has Ultrapixels. Here are some sample images: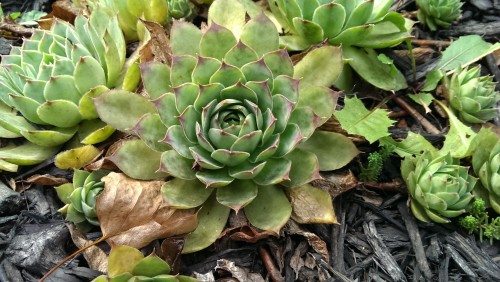 Macro shots are very good. Check.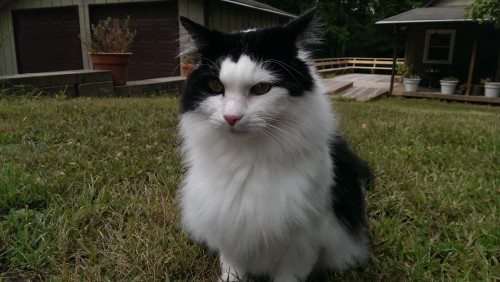 Mandatory cat picture also clear and crisp. Check.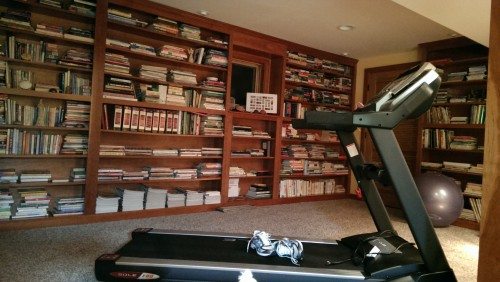 Low light pictures impressed me the most. The image you see above is my basement at night. Taking a picture of that wall of bookcases typically results in a grainy dark mess of a picture. The HTC One pulls it off like a champ without using the flash. Yes, it's still a little nosy when you zoom in, but I still think it does a great job.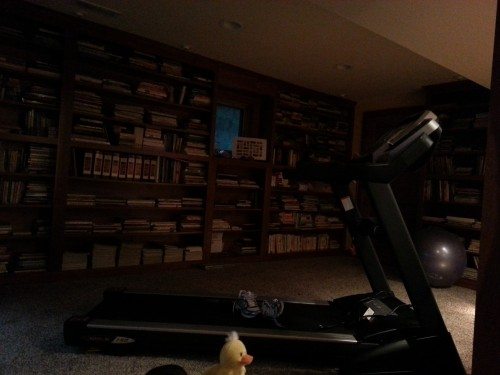 This the same shot with the SGS3 and no flash. Ick…
The HTC One also has a new featured called HTC Zoe, which is a dumb name for a camera feature, but they didn't ask my opinion. What it does is automatically capture up to 20 photos and a 3–second video, which you can easily share with friends and family.
The camera is my favorite feature of this phone. I think it beats my SGS3, especially with low light pictures and its wide angle lens. I'd have to agree that pixel count isn't as important as image quality. BTW, I finally found out that the equivalent megapixel count for the rear camera is 4MP. Don't let that scare you away though, the HTC One's camera is a nice little shooter. It's not a DSLR though, so keep your expectations in line with what it is and you'll be fine.
Audio
HTC has featured Beats Audio in prior phones, but the HTC One has a pair of front–facing stereo speakers powered by built–in amplifiers and Beats Audio. They call it HTC BoomSound and it does sound really good. I'm not sure how many people listen to their music through the speakers that often instead of earphones, but if they do, they will enjoy it with this phone as long as they don't expect a lot of bass. I was surprised at how good it sounded compared to my SGS3. Max volume won't fill be a large room full of people, but it is more than loud enough for a small to medium sized room and the front speakers do make watching videos and movies more enjoyable.
An additional audio feature senses when the phone is in your pocket and increases the volume of the ringer so you'll hear it. Nice touch.
Telephony
No problems here. Calls were perfectly clear and loud enough on both sides of the conversation, with no signal problems or dropped calls in the few days I've been testing the phone.
Software
The HTC One is running Google's latest and greatest version of the Android operating system – v4.2.2 (aka Jelly Bean). On top of that is v5.0 of HTC's Sense interface.
Sense can be an acquired taste if you're used to stock Android or Samsung's Touch Wiz interface. Sense allows you to do nifty things like choosing different style lock screens that can include widgets, a collage of your photos, your notifications, music player and more. The widget option is nice except there are only 3 widgets to choose from, which pretty much makes it pretty useless.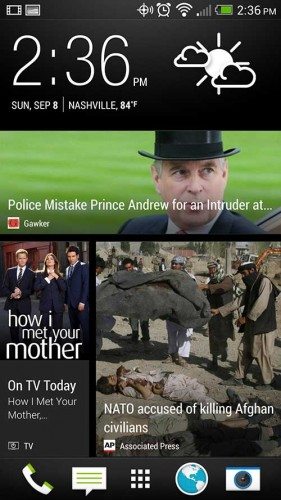 After you unlock the screen, you're greeted with HTC BlinkFeed. This is a tiled view of your social networks, news and any feeds you want to stay updated on as they stream live to your phone. By default this is your home screen and if you don't like it (like me), you really can't get rid of it. You can turn off all the services but it will still show some tips and tricks type tiles. You can move it off to another page to get it out of the way, but it will still use one of your home screens (but you have a total of 5).
Performance and battery life
I was impressed with the overall zippy performance of this phone. I didn't notice any lags or slowdowns of any kind. Apps launched quickly and switching between them was fast and smooth.
Battery life was a surprise for me. I was easily able to use it for a day and a half without having to charge it. I wish my SGS3 was that good!
Final thoughts
The HTC One is a very nice phone and would be at the top of my list if I were ready to upgrade from my current phone. I'm saying this without comparing the new Droids or the Moto X though. I think it's safe to say that it's the best looking of the latest batch of phones. Looks aside, I found this phone enjoyable to use and am not looking forward to sending it back to Verizon. The only things I don't care much for are the flush power button, lack of wireless charging capability, no microSD card slot and slippery body. Those few things are easily countered by the gorgeous display, great audio, wide angle / low light camera features, zippy performance and above average battery life. It's definitely a worthy option for anyone ready to upgrade from an older phone. As for myself, I may not have a raging case of upgrade fever yet, but I'm starting to feel some symptoms.
Product Information
Price:
$199.99 with 2yr contract, $599.99 without contract
Manufacturer:
HTC
Retailer:
Verizon Wireless
Cons:

Power button is too flush with case
No wireless charging option