The Gadgeteer is supported by readers like you! If you buy something through links on our site, we may earn an affiliate commission at no cost to you. Thank you! Learn more.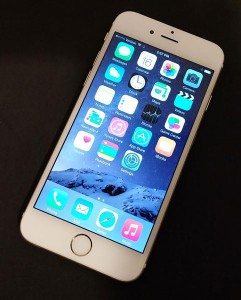 Last week Janet posted a great review of the iPhone 6 Plus. Go check it out of you haven't read it yet. Verizon Wireless was nice enough to send me the smaller iPhone 6 to try out for a few days. Instead of writing a traditional review, I thought I would do something a bit different. I'm going to chronicle my experiences with the iPhone 6 for the next three or four days and report back here daily with a new section.
First of all let me provide a little background regarding my smartphone history. I was a diehard Apple fan for several years starting with the original iPhone all the way through to the iPhone 4S. During what I like to call my Apple years, I flirted here and there with Android but the relationship never worked out until I met the Samsung Galaxy S3. From then on I've shunned iPhones and have been happily using Android smartphones ever since, the latest being an LG G3. That's why this will be an interesting experiment.
Day 1
As I was waiting for the Fedex guy to drop off the package, I thought about how the iPhone 5 didn't tempt me back iOS, neither did the iPhone 5S. But the iPhone 6 and iPhone 6 Plus are at least a little different as far as looks. Gone are the perfectly straight sides in favor of sleek rounded edges that make this phone feel and look super thin.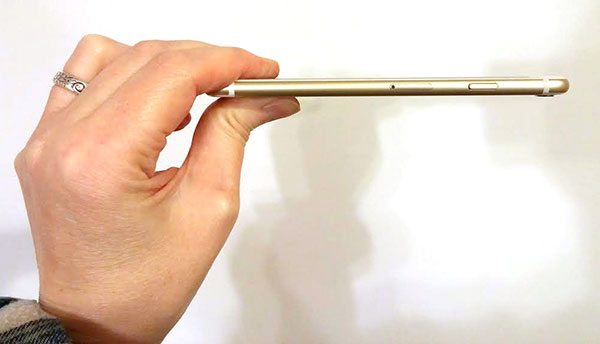 It passes my Gadgeteer squeeze test without any complaints. No, I'm not going to try to bend it… The iPhone 6 is a solid phone that feels good, although slippery in your hand. That said, it is narrower than the phones I've been using for the past 2 years, so it doesn't feel too big in my hand.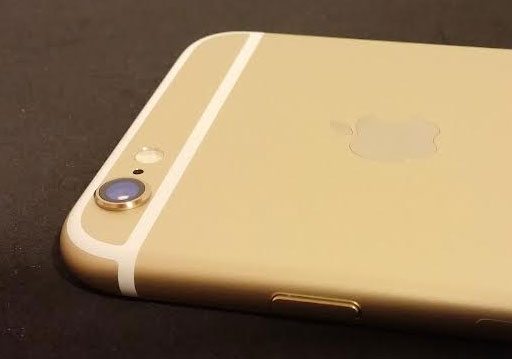 The only thing that detracts from the iPhone's smooth lines is the camera lens that sticks out from the surrounding back case. It really seems like an odd design choice and it makes me nervous with it just sticking out there like that.
After unboxing the phone, I gave it a full charge and then removed the nano SIM card (in an adapter) from my LG G3 and inserted it into the iPhone 6 which is going to be my main phone for the next few days.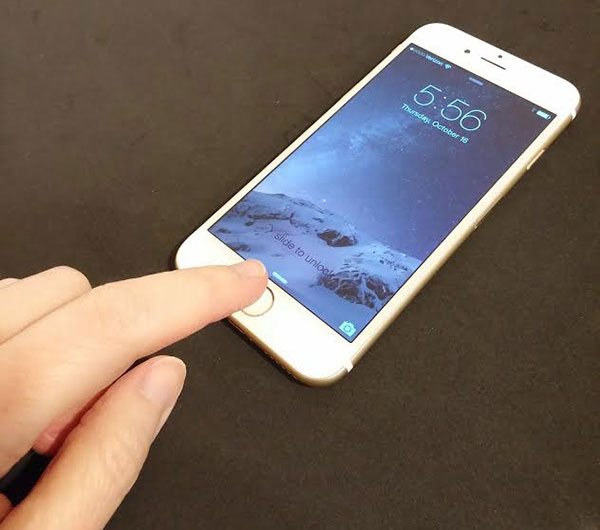 One of the first things you do during setup is configure the Touch ID which is built into the home button below the display. My experience with fingerprint scanners on other devices has not been good. They never seem to work reliably for me and as a result they annoy me so I don't use them. But I went ahead and did as instructed and set up my fingerprint. The first thing I liked was that I didn't have to swipe the sensor to record the print. I was just asked to tap the button several times, moving my finger left, right, up and down so it could capture multiple ways that I might touch the sensor when unlocking the phone. I figured it would suck just like all the other scanners I've tried in the past, but NO, so far it's working flawlessly. I'm both surprised and impressed. I like that I can wake up the phone by pressing the home button and by leaving my finger on the button, it automatically unlocks the phone. No swiping or passcode needed. And you don't even have to pay attention to the angle you press to scan your fingerprint. Nice.
I'm still in the process of setting up the phone. I have it hooked in to my Google account for mail, calendar and contacts and have installed some of my favorite apps like Words With Friends, Gmail, Facebook, Dropcam, Feedly, Speedtest.net, WordPress and DirecTV.
After an iOS hiatus for the last two years, it feels a little weird navigating around on the iPhone. I keep wanting to press the non-existent menu and back buttons. I don't like that I have to get out of some apps and go into the settings dialog in order to configure certain options.  Also is it just me or are all the screen elements like the input fields and buttons really tiny? I guess it's the fact that this phone has a 4.7″ display vs. the 5.5″ display on my LG G3.
End of Day 1: After playing with the iPhone 6 today am I tempted to go back to iOS? No, not yet.
Day 2
I missed not being able to use my TYLT wireless charging dock with the iPhone 6 last night when I went to bed but I still had 60% or more battery life left when I got up this morning. So far the battery life is pretty impressive but I really wish Apple would jump on the Qi bandwagon.
Another thing I missed this morning was the WakeVoice alarm clock app that I use on my LG G3. I love that app because I can just wave my hand in front of the phone and it turns off the alarm. And if I happen to be sleeping with my back to the phone and don't want to turn over, I can just say "turn off alarm". I was very happy to discover that the WakeVoice app is available for iOS too! I've installed the free version and will try it tonight/tomorrow. However, it doesn't appear to have the gesture feature I mentioned above and I'm not sure the premium version does either.
Today I've mainly been installing a few apps, updating to iOS 8.0.2, texting, making a few calls, etc. Nothing too adventurous. I was really missing SwiftKey which I use on all my Android devices. I am happy that Apple is finally allowing for 3rd party keyboards. For some reason I can't get the new keyboard to show up even after following the directions repeatedly. More on that after I do some troubleshooting. Update: I got it working. I had to edit the keyboards list and move Swiftkey to the top of the list.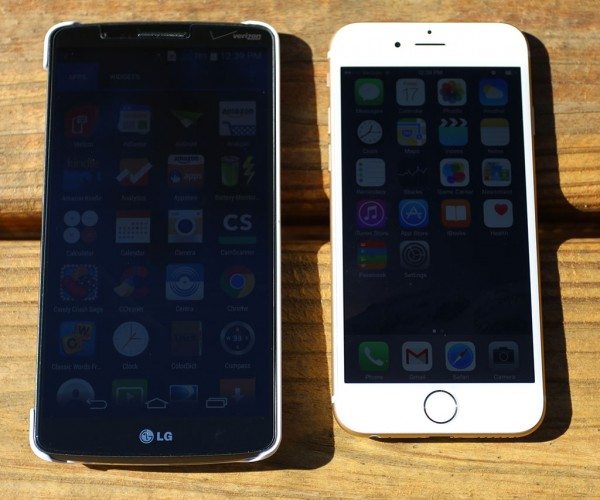 I was asked how the iPhone 6's display looks in direct sunlight. Luckily today was a very sunny day, so I took both the iPhone 6 and my LG G3 outside and snapped the picture you see above.  I had both phones set to max brightness. The image above doesn't really convey how the screen looks though. The image looks darker than real life. Although I wouldn't want to use the iPhone in direct sunlight all the time, it's bright enough to see what you're doing if you have the brightness set to the max. If you use the brightness auto setting, the phone will take care of that for you though.
Tomorrow I will be looking at the new notification center widgets feature and the camera.
Be sure and leave comments and questions for things you would like me to cover.
End of Day 2: After 2 days of using the iPhone 6 am I tempted to ditch my LG G3 and go back to iOS? No, still not tempted.
Day 3
The free version of the WakeVoice app may look similar to the Android version but it doesn't work nearly as well. It would not respond to my voice command to stop the alarm this morning and it did not speak the news, calendar events and weather even though that's an option I had turned on in the settings. Also missing is the gesture feature to turn off the alarm. This is one of my must have apps, so I'm a little disappointed that having found it for iOS, that it doesn't work very well.
I played around with the notification center widgets today. It's really nice that Apple has added this feature as I make use of widgets with Android. My main use of widgets is putting a list of my next month of calendar events on my home screen. While you can't do that with Apple yet, the notification info does let you see some calendar info for today and tomorrow.
As you can see there is now a two page interface for notifications that are accessed by swiping down from the top edge of the display. There is a page for today widgets and one for notifications like missed calls, text messages, app notifications, etc. The Today screen can be customized by adding or removing the today summary, traffic conditions, calendar, reminders stocks and tomorrow's summary. Those are the widgets that come preinstalled. You can rearrange the order of some of the widgets. Why you can't rearrange all of them is a mystery. The calendar widget shows a time line for the day with a red line that moves down the time line as the day progresses. I like this feature, but do wish there was also a way to list the next several scheduled items no matter the date.
A lot of the apps that you already have on your phone can inject info into the Today panel, and the app store has additional 3rd party apps that can do the same. I installed the Weather Underground app and the News 360 app to test this function. I'd probably not use either of these apps through this interface though because it makes the page too long to scroll through. I think it's best used for your most important items.
I think one feature (and maybe you can already do this, but I haven't figured out how yet) that would be great for the Today panel would be a list of often used actions. Like a button to send a specific text message to a specific person or call a certain contact. I find it strange that there's no way to add favorite contacts to the home screen or the Today panel. Yes, I know you can double press the home button to see a ribbon of your favorite and recent calls. But, when you click one of the favorite contacts it then shows all their numbers, so there are 3 steps to call someone. That's hardly what I would consider speed dialing. On Android you can add a contact to your home screen for a specific number. See the image above on the right where I have an icon for Jeanne's work number. When I tap it, it calls the number with no other interaction on my part.
On the notifications page you can view missed calls, missed text messages, app notifications, etc. For text messages you can respond back by swiping the message to the left and pressing reply.  You can delete individual notifications, but there is no way to delete them all at once. The new notification pages are definitely a step in the right direction, but as usual I found myself wanting to do things I couldn't. 🙂
I had planned to test the camera today but the weather has been too rainy to get out and take pics, so I'll finish up this article tomorrow with info on the camera and hopefully info on the handoff feature which looks cool.  I'm downloading Yosemite right now.
End of Day 3: After 3 days of using the iPhone 6 am I tempted to ditch my LG G3 and go back to iOS? At this point I like the iPhone well enough but I'm missing my LG G3.
Day 4
I messed around with the camera today. The iPhone is known for being a great camera but now there are a couple extra cool features built in that usually require 3rd party apps manipulation after the fact. Time lapse and slo-mo video are the two features I tried today and I was impressed by the results. Here are a couple quick examples.
Time lapse video demo:
Time lapse is a lot of fun. The only thing I wish is that you could save the video in non-time lapse too. I'm not sure why it matters, but it would be a nice option.
Slo-Mo video demo:
I couldn't think of what to use for a slo-mo video so this is the best I could come up with. I know it's not exactly that exciting, but it does show what the mode can do.
It looks like low light image capture has been improved too. The image above on the left is with the lights on and on the right the image is with the lights off.
I installed the Yosemite update to OS X this afternoon for the main reason of trying out the new Handoff feature which allows you to begin working in an app on one device and finish your work on another device. It's kind of like starting a movie in Netflix on your phone and then coming home and watching the rest of it on your big screen TV connected to a Roku.
Setting up Handoff is just a matter of logging into iCloud on all the devices, making sure the Handoff feature is enabled on the devices and that Bluetooth is turned on and the devices are paired. I did this between the iPhone 6 and my 2013 MacBook Pro with Retina display.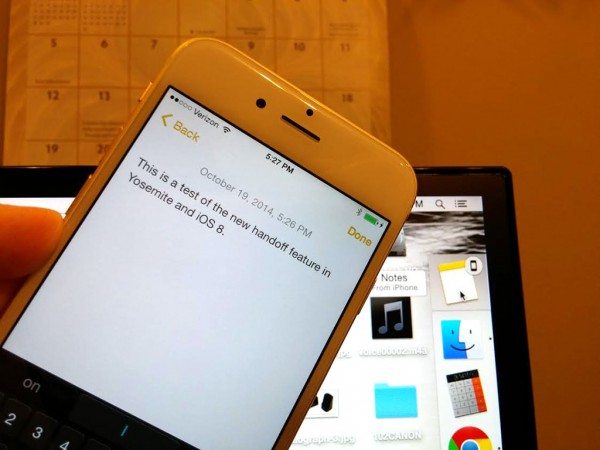 I then started typing a note in the Notes app on the iPhone 6 and as soon as I started typing, a new Notes app icon appeared above the dock on my MacBook Pro. You can see the icon in the image above. Hovering over that icon shows the title of Notes from iPhone. In theory I would then click on that icon and the note would open on my Mac where I could finish it. That's what is supposed to happen, but what actually happens is that the Notes app opens on the Mac but the iPhone note is not in the list at all. Apparently the Handoff feature will not work until the iOS 8.1 update comes out tomorrow. Looks like I'll have to make an update once that happens.
I noticed something else annoying today. When I went go to the app store to download a new app it asked me to type in my password for the app store so that I could then use Touch ID. What the heck? I thought the whole point of Touch ID is so I wouldn't need to type in my password manually anymore…
End of Day 4: After 4 days of using the iPhone 6 am I tempted to ditch my LG G3 and go back to iOS? No, not even close. I'm looking forward to switching back to Android.
Day 5
I downloaded and installed iOS 8.1 so I could try the Handoff feature again. It's still not working though. I'm seeing the same behavior I had before. The MacBook Pro shows that I'm typing on the iPhone, but when I click the notes app on the MBP, it just opens the notes I have on the laptop and not the one I started on the iPhone. Bummer… 🙁
I've tried a few of the apps mentioned by Mike R. in the comments including Contact Center which allows you to setup a screen of buttons for one touch calls and texts. It seems to work just fine but the only problem is that you have launch it to use it. So there are 3 steps to do the desired action: Wake phone, launch app, tap action button. I like having the shortcuts right on my home screen so I don't have to launch anything. It saves one step.
I also looked into the Launch Center Pro app which is supposed to be similar to Tasker for Android. It's a paid app, so I didn't want to buy it, but from what I could gather, it won't let me do this:  Get in my car, start the engine, my phone pairs with the car via Bluetooth, launches Slacker Radio on my phone and starts playing music through my car's stereo. If I wave my hand in front of the front camera Slacker skips to the next song. If someone texts me, the music mutes and the text is read out loud and then automatically sends a text message back to the person telling them that I'm driving and will get back to them soon, then the music starts playing again. When I get to my destination and turn off the engine, the Slacker radio quits and text messages are no longer read out loud.
End of Day 5: I switched back to my LG G3.
Summing it all up
After two years with Android it's been fun playing with an iPhone again, but I'm not the least bit tempted to switch back. Yes, Apple hardware is really really nice, I will not argue that fact. But when it comes down to it. I just like the Android operating system a whole lot more. Here are the things I've missed the last four days:
1. No Qi wireless charging.
2. WakeVoice alarm clock doesn't work as well or have the same features as the Android version.
3. Can add widgets to the home screen.
4. Can't add speed dial phone numbers to the home screen.
5. Can't use NFC to run macros.
6. Can't use Tasker to run macros based on location, Bluetooth connections, etc.
7. Can customize the interface with launcher apps.
8. No microSD card slot.
Here are a few things I'll miss once I sent the iPhone 6 back to Verizon:
1. Gorgeous hardware. No one does hardware better than Apple.
2. Apple Pay – if it takes off.
3. Dedicated mute switch.
4. Always getting the latest OS updates without having to wait for the carrier to test them first.
5. Fingerprint scanner.
In the end it all comes down to what works best for me and right now that is Android and my LG G3. I can't promise it will always be Android. I don't have any allegiance to one platform over another. I could just as easily switch to Windows Phone or some other future operating system. I look forward to trying all sorts of devices and platforms. That's the best part about being a Gadgeteer, there's always something new coming soon.