We use affiliate links. If you buy something through the links on this page, we may earn a commission at no cost to you. Learn more.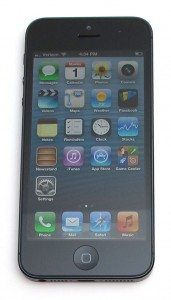 The countdown to the press event where Apple CEO Tim Cook unveiled the new iPhone 5 had Apple fan(atic)s like myself waiting on pins and needles to find out what amazing, revolutionary and insanely great features we would be offered with the new model. I had waited months, saving my Verizon upgrade to use on the new iPhone. If you are regular visitors of this site, you'll already know that I decided not to buy the iPhone 5 and ended up buying a Samsung Galaxy S3 instead. But for the past few days I have been trying out the iPhone 5, as Verizon Wireless sent me a short term loaner. Do I regret using my 2yr upgrade on the SGS3? Keep reading to find out.
Note: Images can be clicked to view a larger size.
Hardware Specifications
Operating iOS 6
Processor: Dual-core A6
Memory: 16GB, 32GB and 64GB versions available
Display: 4-inch (diagonal) widescreen Multi-Touch retina display, 1136-by-640-pixel resolution at 326 ppi, 800:1 contrast ratio (typical)
Wireless:
GSM model: UMTS/HSPA+/DC-HSDPA (850, 900, 1900, 2100 MHz); GSM/EDGE (850, 900, 1800, 1900 MHz); LTE (Bands 4 and 17)
CDMA model: CDMA EV-DO Rev. A and Rev. B (800, 1900, 2100 MHz); UMTS/HSPA+/DC-HSDPA (850, 900, 1900, 2100 MHz); GSM/EDGE (850, 900, 1800, 1900 MHz); LTE (Bands 1, 3, 5, 13, 25)
GSM model: UMTS/HSPA+/DC-HSDPA (850, 900, 1900, 2100 MHz); GSM/EDGE (850, 900, 1800, 1900 MHz); LTE (Bands 1, 3, 5)
802.11a/b/g/n Wi-Fi (802.11n 2.4GHz and 5GHz)
Bluetooth 4.0
Digital Camera: 8.0MP, Video recording, HD (1080p) up to 30 frames per second with audio
Battery: Rechargeable lithium-ion, Talk time: up to 8 hours on 3G, up to 14 hours on 2G, standby time: up to 200 hours
Internet use: Up to 8 hours on 3G, up to 8 hours on LTE, up to 10 hours on Wi-Fi
Video playback: Up to 10 hours
Audio playback: Up to 40 hours
Size: 4.87 x 2.31 x 0.30 in (123.8 x 58.6 x 7.6 mm)
Weight: 3.95 ounces (112 grams)
Package Contents
iPhone 5
Apple Earpods with Remote and Mic
Dock Lightning Connector to USB Cable
USB Power Adapter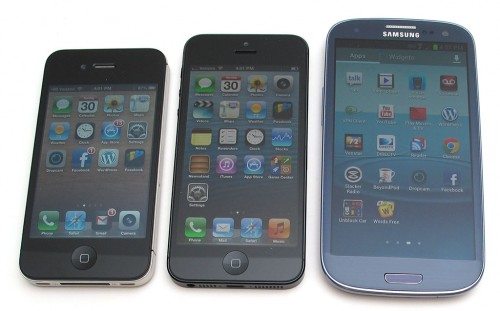 Hardware Tour
At first glance, the iPhone 5 doesn't look remarkably different than the iPhone 4S other than being noticeably longer/taller when you place the phones side by side. In the image above, the iPhone 4S is on the left, my Samsung Galaxy S3 is on the right and the iPhone 5 is sandwiched in between.

Here we see the iPhone 4S on top of the iPhone 5. The left side has the same style mute and individual volume buttons. They are just a little smaller because the iPhone 5 is now thinner. Otherwise, they look, feel and work the same.

The opposite side of the phone hasn't changed either. The SIM card slot remains.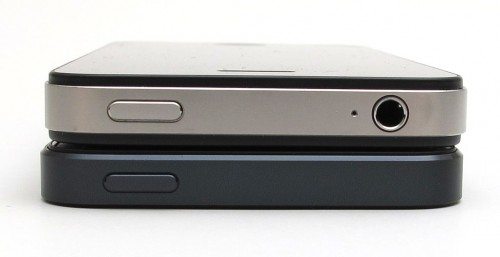 If we navigate to the top edge, we will see some differences. The power button is there, but the earphone jack and microphone are gone.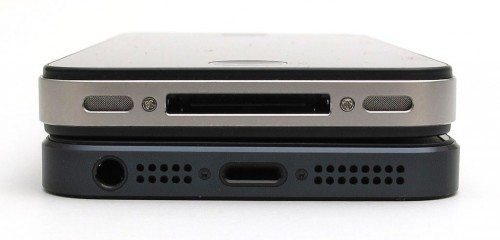 The earphone jack has been moved to the bottom edge of the phone, where we also find the newly designed lightning connector. I'm not sure why a USB connector needs a name like "lightning", but this one has it.
Although this means that existing 30pin cables and existing iPhone accessories will require an adapter, if you plan to use them with the iPhone 5, I think the new connector is a really nice improvement. Mainly because there is no polarity to it now. You can plug it in either way. The only thing that would make the new cable even better would be if it was designed like the Magsafe magnetic connector on my Macbook Air… But as is, I like the new connector. I can't comment on the adapter as one was not included with this loaner phone.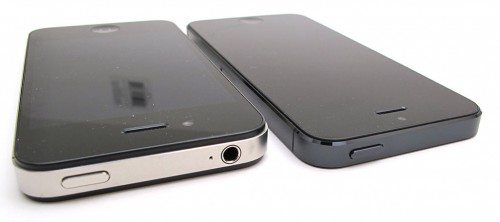 Another difference that I didn't even know about till I opened the box, was the color of the metal band that wraps around the edges of the iPhone. It's no longer silver. Now it's Anodized black (the white version of the iPhone 5 still has silver though). The edges of the band are also beveled. Does this make it feel different than the iPhone 4S in my hand. No, not that I can tell. Like the iPhone 4S, this iPhone 5 feels very solid in hand. No flexing, creaks, cracks or rattles when squeezed or shook. It's Gadgeteer squeeze test approved. Although this new model is longer than the previous model, it's still pocket friendly. At least more so than my SGS3.
The screen still uses a Retina display, which is very pleasing to the eye. Of course this one is bigger. Up .5 inches and a few hundred pixels. It's interesting to note that the resolution is the same width (640) as the previous phone, but has an increased height of 1136 pixels, up from 960. This provides enough extra space for another row of icons. Amazing! Ok, not really.
But the extra height does help while web browsing, email reading and book reading. Here are two screen shots comparing what you see in the iPhone 4 browser (left) to the iPhone 5 browser (right).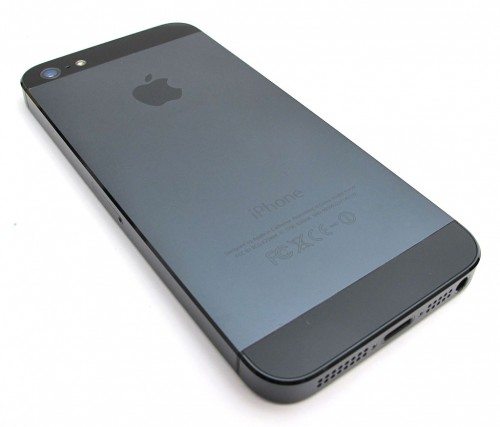 The back of the phone is no longer made of glass. There's a brushed metal plate in its place and I'm reading that it scratches pretty easily. I'm trying to be really careful with this loaner, but I think I can already see tiny scratches in the Apple logo. It also shows finger prints.
The Camera
Other than the back of the phone looking a little different now, the camera lens and LED flash are still located in the same spot as before. The iPhone 5's iSight camera has been updated slightly. Most of the updates seem to be software related though as it's still an 8mp camera. Claims are faster captures, better low light images, and built in panorama mode. Here are a few comparison shots between the iPhone 4S and the iPhone 5.
iPhone 4S on the left, iPhone 5 on the right.
iPhone 4S on the left, iPhone 5 on the right. Both taken in the doorway of my office looking into the living room which has all the lights off.
iPhone 4S on the left, iPhone 5 on the right.
I can't really tell much of a difference… By the way, the new panorama mode is pretty darn cool. It's easier to use than other panorama shooting modes I've tried. It's not an iPhone 5 only feature though. It comes with the iOS 6 update, so you can use it if you also have an iPhone 4S.
Audio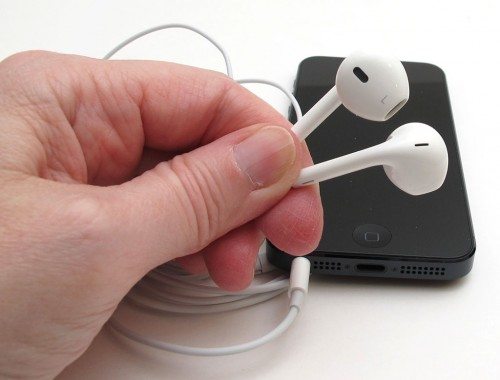 Another update is that the iconic Apple earbuds have been redesigned and renamed. Now called Earpods, they feature unique side slots that are supposed to funnel the sound into your ears better. They actually sound quite good to my ears. Crisp, clear and with just enough bass not to be muddy. Comfort seems improved a bit as well. I probably would not go out and buy a pair of Earpods just to have them, but they do make a better than average free pack in. I like them much more than in-ear style buds.
Performance, Calling, LTE and Battery Life
The iPhone 5 uses an A6 processor and it is noticeably snappy. Apps load eye blink quick and browsing via WiFi and Verizon's 4G with Safari is quite speedy as well. Booting from completely powered off, the 5 beats the 4S by as much as 15 seconds. I have no complaints at all with system speed.
Now that the iPhone finally has 4G, it just feels faster at anything that requires data too.
And of course, the phone works well as a … phone. Who knew? Calls are clear on the caller and receiver's end and I have no complaints about call audio volume.
I can't comment on battery life because I haven't had the phone long enough to really get a good grasp on how well or not well it's doing. It feels similar to the 4S and my SGS3. 1-1.5 days per charge depending of course how many calls, surfing, wifi, music you listen to.
Bottom Line
Everyone seemed very surprised when I decided not to upgrade from my Apple iPhone 4S to the new iPhone 5. It's not that I think the iPhone 5 is a bad phone. Not at all. It's an Apple product. So it's sexy and well built with apps and accessories galore. The problem for me is that this model isn't really that much different than the previous model. 4G, thinner, lighter, a littler faster, bigger display, new dock connector and new style earbuds are the updates. Yes, there's a new version of iOS, but you can get that on the iPhone 4/4S too. So the desire for the new phone wasn't there for me and for that reason, I decide to skip it. At least for now. Maybe I'll get the iPhone 5S next year. Or maybe I'm sticking with Android for awhile. It's hard to say as I change my mind as often as I change my socks 🙂
My advice to those of you thinking about buying an iPhone 5 is to go for it if you don't already have an iPhone 4S. If you do, I'd suggest waiting till the next model bump.
Lens flare issue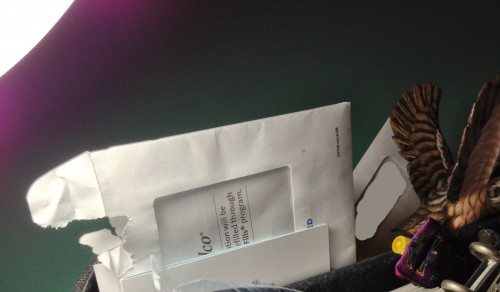 In response to a reader's question, Julie asked me if I had experienced the purple haze in photos taken by my iPhone 5 when the light source was near the edge of the image.  I hadn't been able to get a good picture outside because of our cloudy skies, but I took a photo using my desk lamp as the source.  As you can see, I get a definite purple glow from the lamp in this photo taken about 3 feet away from the light source.  Lens flare is pretty common in lenses though, so it's definitely not just an iPhone 5 problem.  Janet
Product Information
Price:
$199 - $399
Manufacturer:
Apple
Retailer:
Verizon Wireless
Pros:

4G LTE
Larger display
Faster
Thinner

Cons:

Back surface easily scuffed