We use affiliate links. If you buy something through the links on this page, we may earn a commission at no cost to you. Learn more.
I've been a fan of Apple products since I purchased my first iPod back in 2003. Yes, I waited until the 3rd generation of the world's most popular audio player was on the market before I drank the kool-aid. Two years later, I took another gulp of that kool-aid and ditched my Windows PC, for an iMac and haven't looked back. It did take me 3 tries before I finally made that switch though, as I always found some reason why the Mac OS didn't quite do it for me. And now, I find myself standing at yet another Apple crossroads in my gadget life. This time, it's with the world's most hyped mobile phone: the
Apple iPhone.
After Apple broke the news that they were NOT going to allow developers to create installable 3rd party applications for the iPhone,
I was pretty sure that this device would be a disappointment to me. Their
consolation prize of web applications just sounded lame and equally
disappointing. I've been using a Treo 680 (and previously the Treo 650) for a long while now, so not having access to great 3rd party applications is almost unthinkable, when it comes to a feature on my phone. Of course, the fear of disappointment did not keep me from standing in line on 6/29/07 to buy my 8gb Apple iPhone. But after having used this phone for a little over a week, I am to the point where I have to ask myself if this is the right device for me. Before I let you in on my decision, let's actually take a look at a phone that may have garnered more attention than Alexander Graham Bell's original invention.
Hardware Specifications
Operating System: OS X
Memory: 4gb or 8gb versions available
Processor: (unknown)
Display: 3.5 inch 480-by-320-pixel resolution at 160 dpi
Wireless: Quad-band (850, 900, 1800, 1900 MHz), WiFi (802.11b/g), EDGE, Bluetooth 2.0+EDR
Digital Camera: 2.0 mega pixels with 1200×1600 resolution
Battery: (unknown capacity) Rechargeable lithium-ion, Talk time: up to 8 hours, Standby time: up to 250 hours, Internet use: up to 6 hours, Video playback: up to 7 hours, Audio playback:5up to 24 hours
Size: 4.5 x 2.4 x 0.46 in (115 x 61 x 11.6 mm)
Weight: 4.8 ounces (135 grams)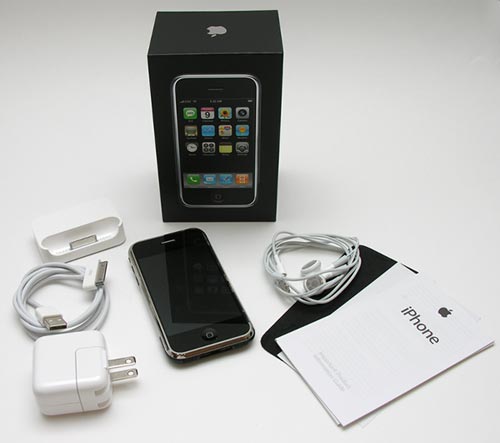 Package Contents
Apple iPhone
Small folding prong AC adapter with USB input
USB docking / charging cable
Docking cradle
Earbuds / microphone
Polishing cloth
Apple stickers
Warranty info
"Finger Tips" User guide
After waiting for months and months to finally get my hands on an iPhone, unboxing it and holding it my hand for the first time was a real gadget lovers moment. I found the iPhone to be even sexier in person. The size, shape and feel of the iPhone in your hand makes you appreciate all of the engineers at Apple. There is no doubt that they are masters at creating wonderful consumer electronics. Let's take a hardware tour…
Hardware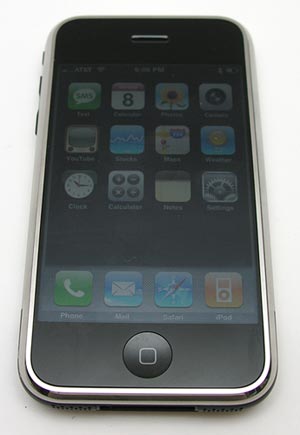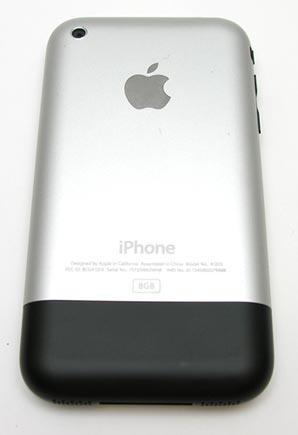 The entire front surface of the phone is a color display made of completely flat glossy glass. Yes, it's a fingerprint and smudge magnet. Did you think otherwise? ;o) The color display is beyond gorgeous. I think it might be the best display I've seen on any handheld device to date. It's so crisp and sharp that at first it looks like it's not even real. You know how they have demo devices in stores with fake screens? That's what the iPhone looks like. It's just too good to be a real display. But it is real… the colors are great and the resolution is tight. I also found the display to be viewable in full sunlight. It does get dark, but it is readable.
What I love best about the iPhone display is the fact that it's glass. Unlike other handheld displays that we've all been used to for years, this one seems almost impervious to scratching. It's also completely rigid and does not indent when you touch it. Speaking of touching the screen, I wasn't sure how long it would take me to feel comfortable tapping, swiping, pinching, etc. the screen with my fingers. I come from the PDA world, where doing so
is a no-no. I will say that after a very short acclimation period, I've found that I really enjoy tapping away with my fingers. Stylus? What's a stylus? BTW: if you think you'll just be 'safe' and use a stylus with the iPhone, instead of your fingers… you can't. It won't work. So just give
in and touch it!
All of the finger gestures of pinching a screen to make text / images smaller or
spreading your fingers to make it larger, work just like the videos you see on
Apple's site. The actions feel natural and the results are smooth and fast. This
feature in itself will change handheld devices forever. Yay!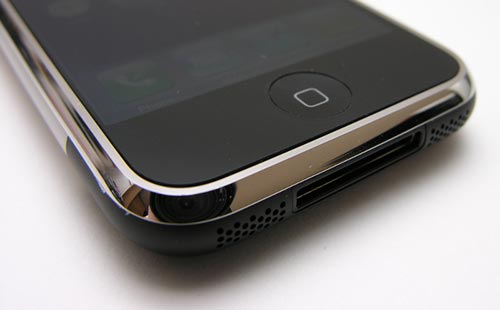 There is only one button on the face of this device. It is located in the center bottom edge.
The Wake / Home button brings the iPhone out of idle and gets you back to the
main menu whenever you press it.
Surrounding the display is a ring of chrome and if you flip the phone over,
you'll see that the back shell of the phone is constructed of brushed aluminum and Black plastic. The iPhone is sealed, you can not open it to swap batteries when needed. If / when you need to have the battery replaced, you have to send it to Apple along with $86 to have them do the switch. Can you say grrrrrr?

On the Left side of the iPhone, you'll find a small switch at the top that toggles the speaker On/Off. I have always appreciated a similar switch on my Treo, so I love that Apple also included it on the iPhone. Below this switch is the volume up / down rocker switch.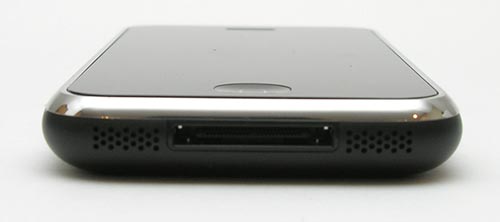 On the bottom edge, you'll notice the speaker / microphone grills. The iPhone has good sound through the built in speakers. I actually did a double take when I hit Play in iPod mode and heard music playing through the speakers. It surprised me to hear an iPod playing music without earbuds plugged in. Volume levels are
very good as well. I can totally use the iPhone as an alarm clock.
Between the speaker grills is a standard iPod docking connector. Even though this is a standard 30pin iPod connector, that doesn't mean that you'll be able to use ALL of your old iPod accessories with the iPhone.
Some accessories work, some don't.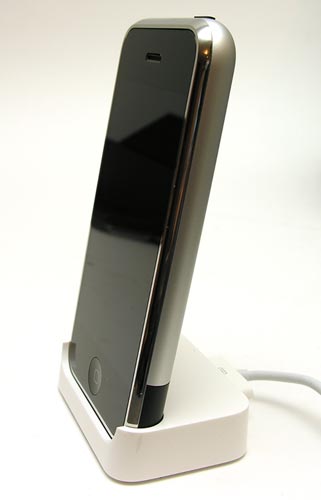 Apple was nice enough to include a small dock with the iPhone. You can use it or just plug the included cable directly into the phone to charge and sync with a computer.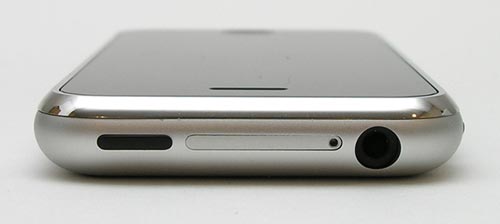 On the opposite end, you'll find the power switch. To power the iPhone off completely, you hold down the power button and then confirm that you want to power down by swiping the screen.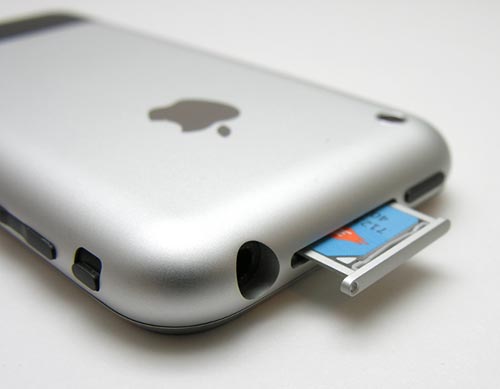 Next to the power switch is the GSM SIM card slot and earphone jack. To open the card slot, you have to use a paperclip or push pin to 'eject' it.
Regarding the earphone jack, it's a standard 3.5mm jack, but there's an issue with the fact that it is recessed
into the case. Depending on thickness of  the plastic around your favorite earbuds, the connector might not make good contact in the jack. I tried several pairs of non-Apple earbuds with the iPhone and none of them fit correctly. Quite annoying! And if you are thinking of using a pair of external speakers with your iPhone, well… I wish you good luck. I've sure not had any.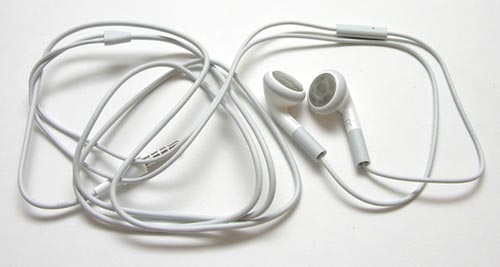 Of course the earbuds included with the iPhone work just fine. They actually aren't your typical Apple earbuds
though. There's a tiny microphone and switch built into the Right ear cable. The
switch will pause and play music and will allow you to answer / end calls. These earbuds work remarkably well and I really liked being able to listen to a phone call with sound coming into both of my ears.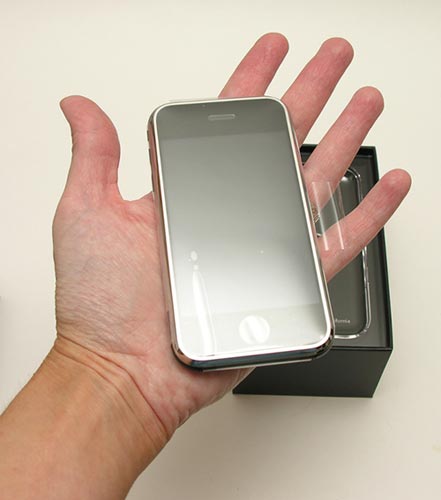 In hand, the iPhone feels extremely solid and comfortable to hold. My Gadgeteer squeeze test yielded no flexing, creaking or cracking and shaking the phone produced no rattles. I
also have to say that after using this phone for the past week with no case or screen protection, it looks as perfect as the day I unboxed it.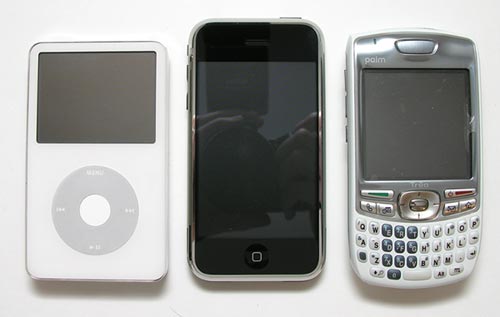 To give you an idea of how the iPhone compares in size to other popular devices, I've photographed it with my 60gb iPod Video and the Treo 680.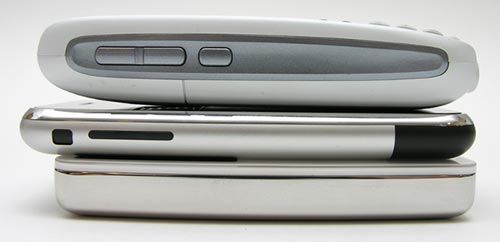 The iPhone is quite thin and definitely pocketable (either in your back pants pocket, jacket pocket or cargo pants pocket.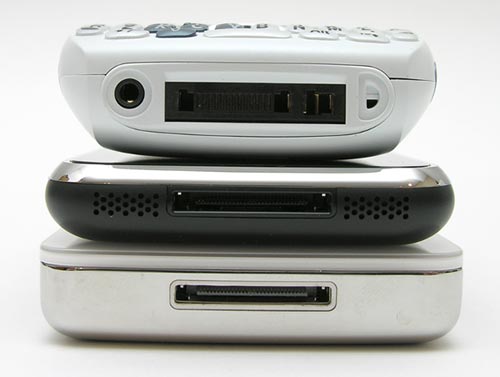 Another stack up view. Treo on top, iPhone in the center and iPod on the bottom.
Activation
So, you've just purchased an iPhone and you want instant gratification. Guess
what? You can't just start using it as soon as you walk out of the store or open the box. Unlike all the other GSM phones I've used in the past, you can't pop in your existing AT&T SIM card and skip away into new phone bliss. Nope, you have to back home, make sure you have the latest version of iTunes installed on your Mac or PC, pop the iPhone in the cradle and activate it through the iTunes. This means you will need an active internet connection as well.
Once you're connected and start the activation process, you'll have to commit to a 2yr plan. Plans start out at $59.99/mo., which includes 450 minutes, 200 SMS messages and the $20.00 unlimited data plan. My monthly rate stayed the same, so I was a happy camper.
Set up continues with iTunes configuring your email accounts, what music, video, photos to sync, etc. Everything is very easy to setup and understand. In no time at all, I was activated and ready to explore my new device…
WiFi and Bluetooth
Transitioning between using WiFi and EDGE is seamless. It just happens on the fly with no intervention from you. Surfing via WiFi on this device is a joy. EDGE, not so much. Ok, it's not horrible… But it is slow.
As is, Bluetooth on the iPhone isn't all that feature rich. It's only good for using headsets right now. No tethering and no A2DP profile for wireless audio
earphones.
I have been very pleased with overall system performance and battery life on the iPhone. The built in applications load almost instantly. If only there were 3rd party apps… You would think with such a gorgeous screen, WiFi and playing music through the speaker would be a real drain on the battery. But, Apple has done a great job cramming lots of juice in what must be a tiny battery package. I've gone a couple of days without charging. Very Nice!
Ok, time to talk about the software…
Software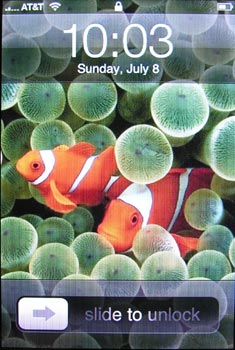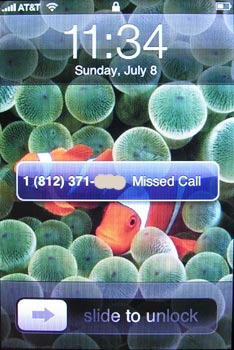 When the iPhone is idle and the screen is Black, pressing the center 'home' button
on the face of the device will turn on the display and prompt you to unlock by swiping the screen. Any missed calls, voice-mails, etc. will be shown in a list on this home screen when you press the home button. You can change the wallpaper on this screen, but you
will only see it when the phone wakes up from idle state.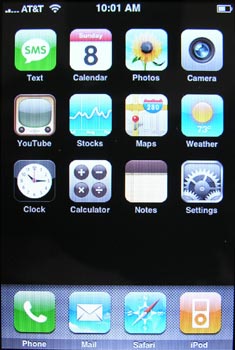 Here we see the main menu. The top line of the display gives you your signal strength, carrier name, EDGE / WiFi signal indicator, time of day, and battery level indicator. Below the status line, is a bank of 12 icons for all the main applications. Then along the bottom is a row of the 4 main apps (Phone, Mail, Safari and iPod).
Unfortunately, you can not customize this menu in anyway.
I'm going to give a quick look at each app in order of appearance in the menu.
SMS (Text Messaging)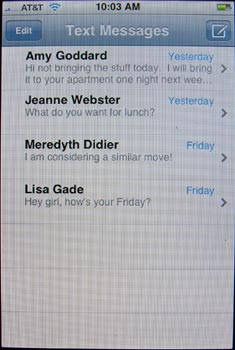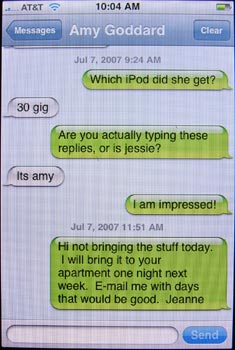 Although MMS (Multimedia messaging) is not a feature on the iPhone, good old SMS messaging is. This is an easy to use application that keeps a list of the people you're texting, and your threaded conversation.
Those of you that are expert thumb typists may find the hunt and peck finger
keyboard a little hard to get used to, but after a short while, I was able to
use my thumbs for quick typing. I have found that the auto word correction when
you mistype a word works great too!
Calendar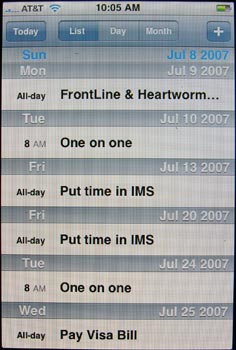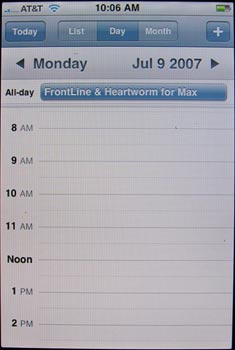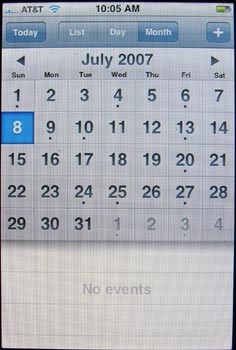 Nice calendar application that has an agenda (list), day and monthly views. New events can be added on the device itself, including repeating and multi-day events with notes.
Your calendar info will sync with iCal or Entourage on the Mac, or Outlook on a PC.
Photos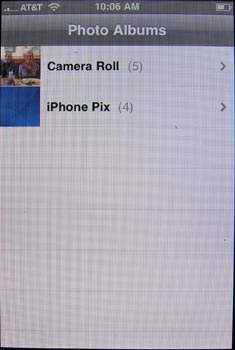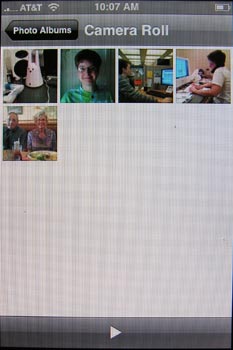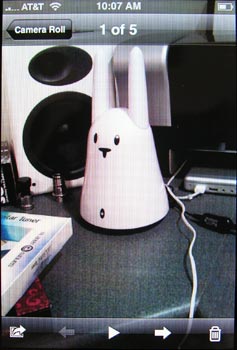 The iPhone has a mini version of iPhoto. Your images can be organized in rolls and albums. You can use your finger to flip through images, or go to slideshow mode, complete with cool transition effects.
From this viewer, you can email pictures to your friends, assign pictures to your friend's contact record or set as a wallpaper to the power on screen.
Camera
The iPhone has a 2mp camera built in that takes snaps that are actually really good. Cameras built into mobile phones tend to be pretty lame, but I was really surprised how well the iPhone camera does.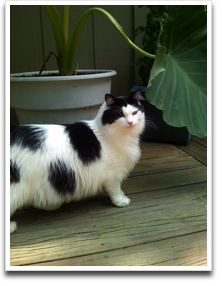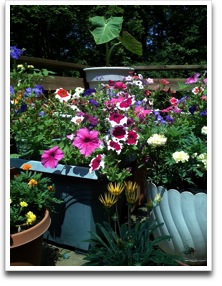 Click on thumbnails to see full size images
The camera app is dirt simple. It just has one on screen button to take the picture. That's it, no user changeable settings or nothing… Just a shutter button. Unfortunately, you can't capture video… Just images.
YouTube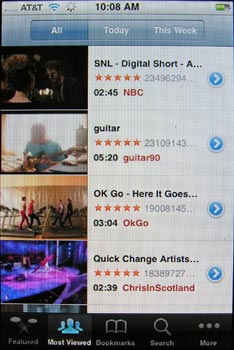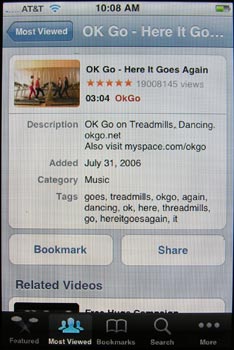 Can't get enough of watching YouTube videos? Then this app is for you. It lets you see the most viewed videos for the day, week or all time. You can bookmark them, email them and search for them.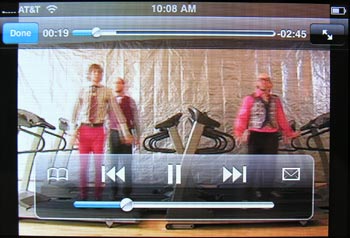 Watching to videos using WiFi is great. EDGE, not so great…
Stocks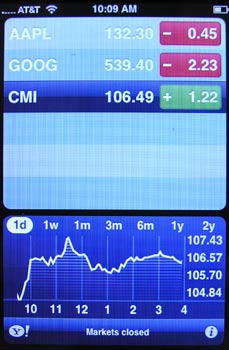 Keep an eye on your family fortune with this stock ticker.
Google Maps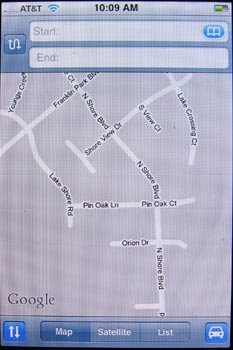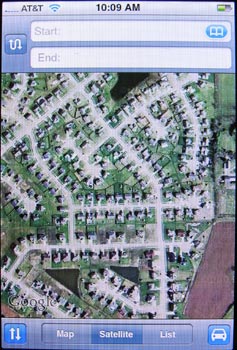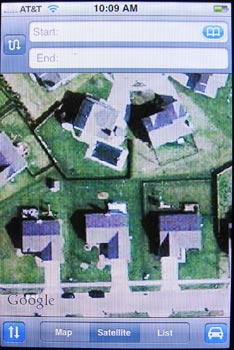 Everyone's fave map app is on your iPhone. Use your fingers to zoom in and out, view in map, satellite or list (directions) mode. In list mode you specify starting and ending addresses, and you are presented with turn-by-turn directions.
Weather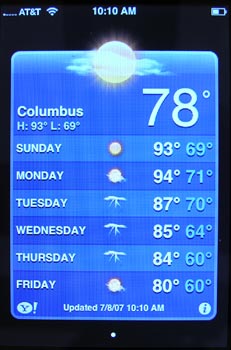 See if it's going to rain tomorrow. No radar / satellite images though…
Clock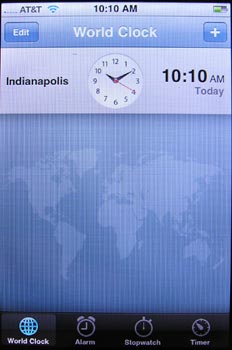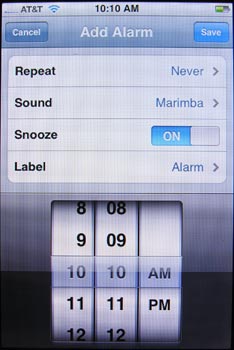 The included clock application is very nice. You get a world clock that you can use to see the current time in 4 locations. You also get a nice alarm clock with snooze and repeating features.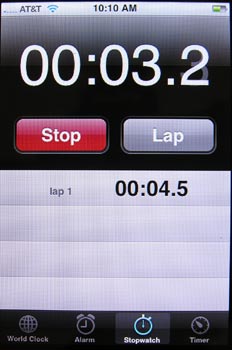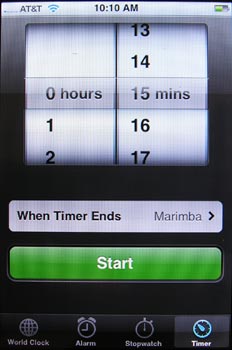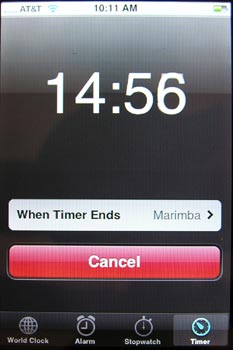 But wait, there's more… You get a stop watch with laps and a timer feature. Nifty huh?
Calculator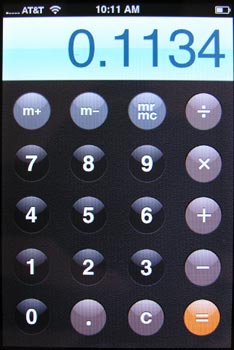 A generic calculator…
Notes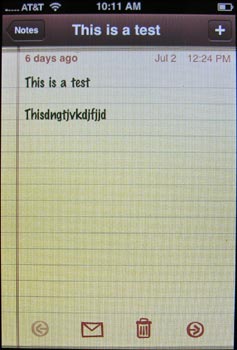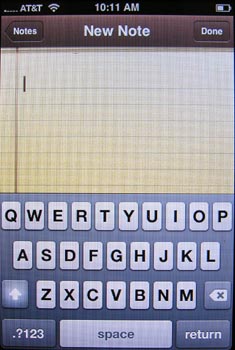 Keep all your bits of info in this application. The only problem is that it doesn't sync to your computer! That also means that you can't import text into it. No searching, cutting and pasting either. Can you hear me groaning over here? If I had to pick one of
the main things I use my phone / PDA for, it's looking up info in my notes / memos. The lack of this feature a really big deal for me. I'd trade the YouTube app and even Google Maps for a full featured memo app in a heart beat. :o(
Settings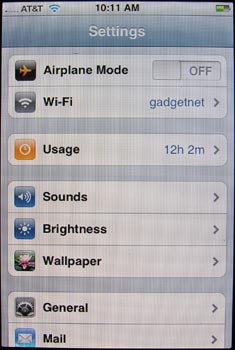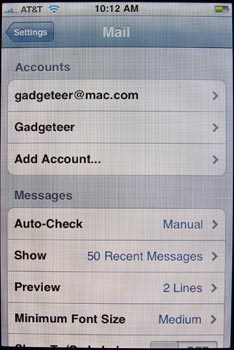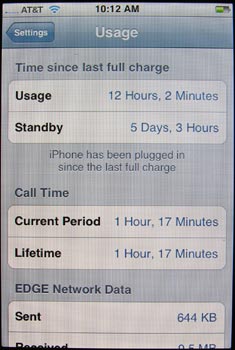 Settings for each application / feature are all found in one place, instead of inside each individual application. I've included just a few of the screens here, so you get the idea.
Phone
Above all else, the iPhone is a phone. So it has to have a great phone interface in my opinion. It does a good job, but there are a few noticeable omissions.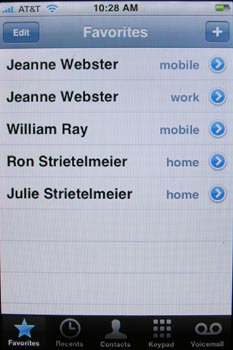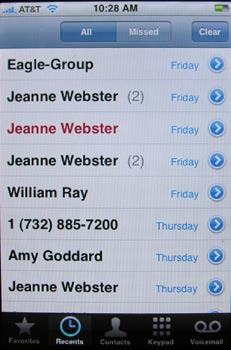 The iPhone's version of speed dialing is the Favorites screen. This is where you list all of your frequently dialed numbers. The issue I have with this method of making a call is, that it  requires me to do the following steps to make a call:
1. Press 'home' button to wake up iPhone from idle state
2. Swipe finger to unlock iPhone
3. Press Phone icon
4. Press Favorites icon (if not already on that screen)
5. Tap number to dial
Ugh… too many key presses. Not to mention the fact that it's not really safe to have to interact with the phone that much if you happen to be driving. Incase you're wondering, No, there isn't a voice dialing feature on the iPhone.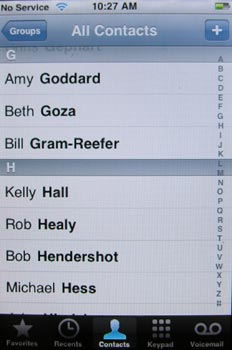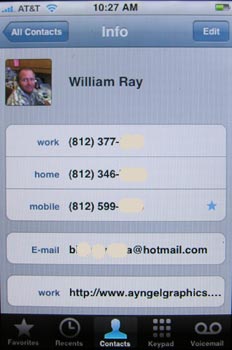 The contacts view allows you to search your address book for people to call. Scrolling is done by flicking your finger up and down on the screen, or by pressing a letter on the right sidebar to narrow the search.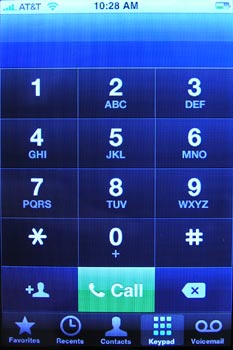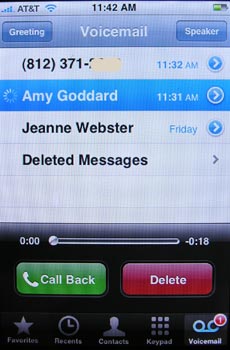 There's always the good old standby dial pad… One of the great features of the iPhone is
Visual Voicemail. Instead of just getting a number of voice mails you have waiting, you can see
a list of exactly who each voice mail is from and when it was recorded. You have the ability to listen to them in whichever order you desire. You can also view / listen to deleted messages.
Another feature I appreciate is that you can easily change your greeting whenever you wish by tapping the greeting button and recording a new one.
During my week of using the iPhone, I've not had any issues with dropped calls or bad reception. I've noticed a few instances with low volume level calls though… A boost in
the earphone volume would be a nice addition in the first software update.
Mail
For the most part, I love the mail application. It beats the pants off of anything I've ever used on Palm and Windows Mobile smart-phones.
It supports MAP and POP3 (compatible with the most popular email systems � including Yahoo! Mail, Gmail, AOL, and .Mac Mail) and renders messages in full HTML with inline
images. It was dead simple to setup (iTunes imported my Apple mail settings for all my accounts).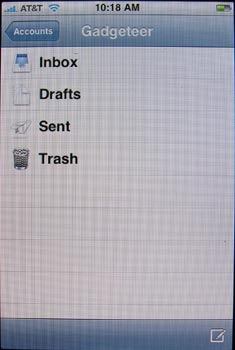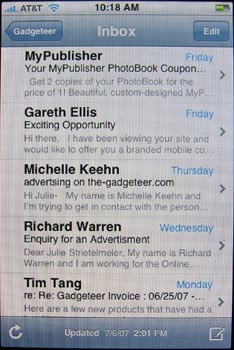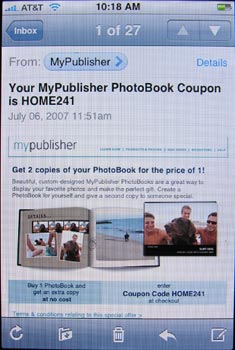 The iPhone can also view PDF, Microsoft Word, and Microsoft Excel email
attachments. One thing missing is Apple's great junk mail filtering though…
Safari
The Safari web browser is wonderful. Again, it's the best browser that I've used on a mobile device
so far. I don't normally surf all that much on my phones, but surfing on the iPhone is much more enjoyable than any other phone/pda surfing experience that I've had.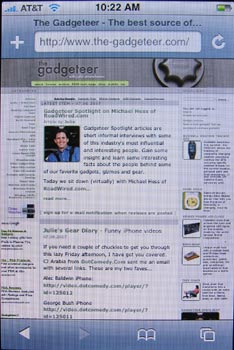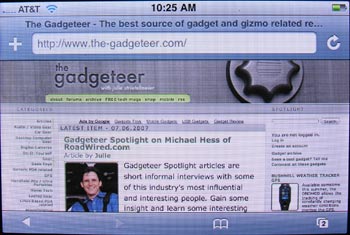 You see the entire page the way it's meant to be seen, then you use the pinch and spread finger gestures to zoom in on what you want to read. It's really very intuitive and easy to do. I didn't find it annoying to scroll around to read articles at all. And of course, you can rotate the display
horizontally to see more text.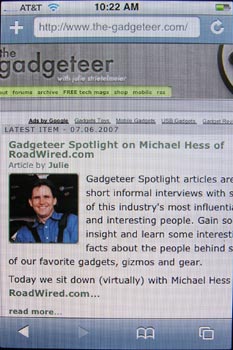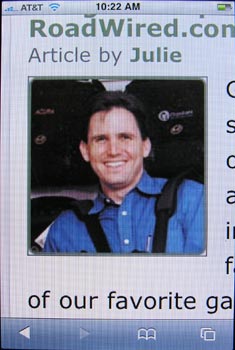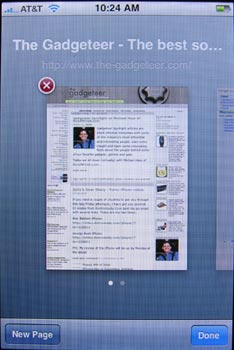 Double tapping on an image will zoom in on the image to fill the screen. Double tapping again will zoom back out.
Safari's version of tabbed browsing is paged browsing. You can have multiple pages open at once and scroll through a thumbnail view with a swipe of your finger.
Of course the iPhone is not 3G capable. It's just EDGE. And as such, surfing via your data plan is much slower than when using WiFi.
Another gotcha is the fact that the browser is not Flash capable right now. I
guess I don't surf very many sites that use Flash, because I didn't notice the
lack of this feature… but I know a lot of people are complaining about it.
iPod
The iPhone is Apple's first widescreen / touch-screen iPod. The finger scrolling features really lend
themselves to the iPod interface. At first I missed the wheel scroll feature, but not for long.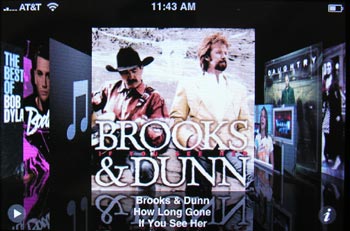 Cover flow is another cool feature. It's more of a gee whiz, look at what I can do feature though… I don't use it normally, just when demoing the phone to other people. I prefer good old scrolling through artists and albums
lists.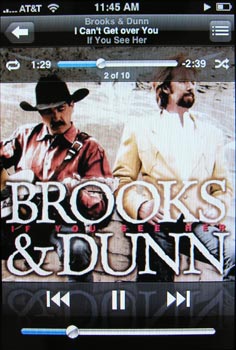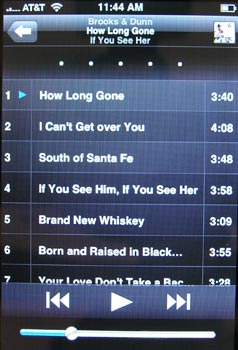 Sound quality through the included earbuds is on par with other iPods that I own. No complaints there. My question is, when will there be an 80gb iPhone? ;o) I want ALL my music on my phone, not just a small subset.
Watching video on the iPhone is wonderful. You will fall in love with the widescreen
format, that's for sure! I know I have.
What's Missing?
All the built in apps are very nice (with the exception of the Notes app…). But I'm greedy and want more! I want 1000's of cool 3rd party apps that I can install on the phone like I can on my Treo. Web apps are… well… lame if you ask me. I don't want a crappy web app! I want a real application that works when I'm
out of my coverage area, or while I'm in my basement where the signal is weak.
It only took me about 24hrs to start missing the following things:
No 3rd party apps (what I'm missing most is a date calculator, gas mileage app, unit converter and
e-book reader, telnet, ssh client)
No note / memo syncing
No task / to-do syncing
No text search
No cut and paste
No file manager
Can't use as external storage / flash drive
No external storage card for expansion
No voice recorder
No games included! What's up with that?
No way to add my own ring tones
Can't sync via Bluetooth
After reading all the things I'm missing with the iPhone over my Treo 680, it
drives home the fact that the iPhone is not a smart phone. It's a feature phone.
I think that's where a lot of us so called power users will find fault with this
device. We're just expecting too much out of it. I know I was. When I first saw
/ heard about the iPhone, my ears perked up and I started dreaming of the new
and improved Newton Message Pad. Well, it's time to realize that the iPhone is
not the new Newton, the new Palm, new Windows mobile or Symbian phone. It's just
a very cool feature phone.
Bottom Line
I'm not going to lie to you, I do love the iPhone. Even though it's crazy expensive for a phone, I love the display, love the widescreen iPod, love Safari, love Mail, really like the camera, appreciate automatic syncing through iTunes whenever I plug the iPhone into the computer (think Windows Mobile ActiveSync, only this sync actually works…) and have grown to enjoy the touch keyboard.
I also share the excitement with all the hackers out there that are trying to
open this device to make it better than it currently is. It feels like the early
days of the Palm Pilot, when every other week brought us some cool new
application or accessory. But all that said, it's difficult to imagine myself
using the iPhone as my main device much longer. Unless I want to continue to carry my Treo with me to use for all the functions that the iPhone lacks… But that would mean that I would have to swap the SIM in and out whenever I need to telnet or SSH into my
web server. That's just too much of a pain.
The biggest issues keeping me from switching to the iPhone right now (in order
of importance to me) is the fact that I can't have all my text files on the
device, can't search those text files for info, and that the phone is closed to
installable 3rd party apps. I'm hopeful that these things will change in the near future
and that the iPhone will eventually become the smart-phone that I want it to be. I am keeping my iPhone close at hand.
But it just won't be in my pocket 24/7. At least not for now…
Product Information
Price:
599.0
Manufacturer:
Apple
Requirements:

PC or Mac
Latest version of iTunes for PC or Mac
An account on iTunes

Pros:

Gorgeous display
Widescreen iPod
Excellent battery life
Cool multi-touch finger gestures to zoom in and out
Great mail application
Great browser application

Cons:

Closed to installable 3rd party apps
No user replaceable battery
Tasks / to-dos don't sync
Notes don't sync
No cut and paste
No search feature
Can't use as external storage