The Gadgeteer is supported by readers like you! If you buy something through links on our site, we may earn an affiliate commission at no cost to you. Thank you! Learn more.
Here are 2 products from B2's mi Jam series of sound making toys:
mi Jam Guitar
Are you a wannabe guitar god that can't even play a C chord to save your life? Or do you have a child that keeps touching your shiny new Fender Strat with their little peanut butter and jelly encrusted fingers? Then I have an inexpensive 'guitar' for you or them to check out. It's the mi Jam Guitar from B2.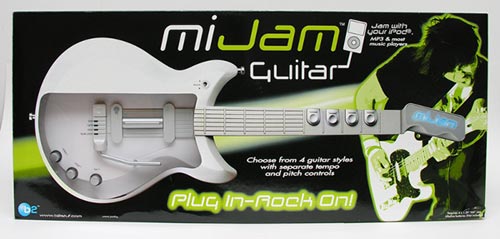 Ok, before you get all oooh and ahhhy, the mi Jam guitar is not a real guitar by any stretch of the imagination. It doesn't even have strings. It's pretty much identical to the small game controllers used for the Guitar Hero games on the PlayStation and Xbox.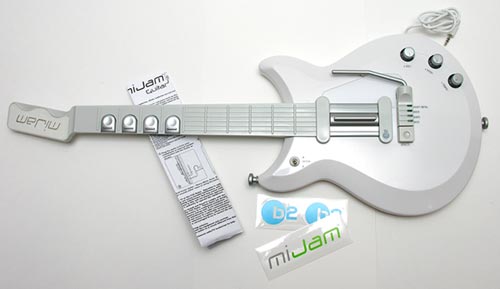 Just like those controllers, this little (22 inch long) plastic guitar has 4 buttons on the neck instead of actual strings, and a strum bar.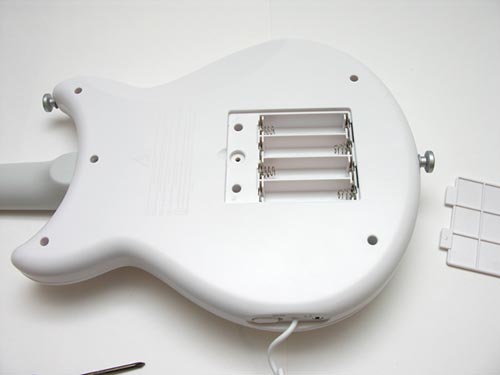 Before you can play music for all of your adoring fans, you have to open the battery compartment on the back and insert 4 AA batteries that they didn't see fit to include with the device. The instructions say not to use rechargeable batteries… not sure why though as they worked just fine when I disregarded the instructions and installed them in the back of the guitar.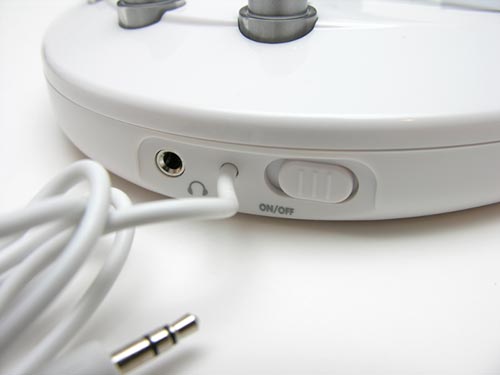 After the batteries are installed, just flip the On/Off switch on the side to On, plug in a set of headphones and get to wailing. Well wait a minute, there is something else you should know about this product. You can actually use it play along with songs on your iPod or other audio device. You'll notice that there is a cable with a 3.5mm stereo connector sticking out of the guitar body. Just plug this connector into the earphone jack of your audio player, queue up a song and then start playing. Both the guitar music and audio player music will be heard through your earphones.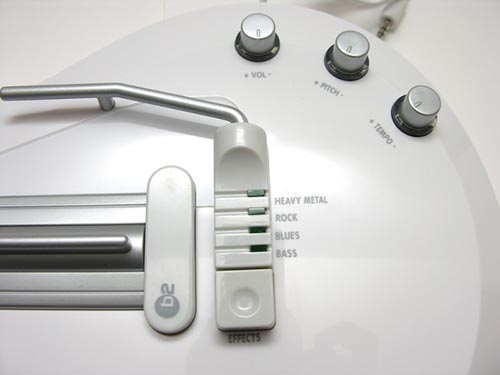 Besides the On/Off switch, we also have a volume control knob, pitch control knob and a tempo control knob on the face of the guitar. The function of the volume knob should be self explanatory, while the other two knobs help you match the pitch and tempo of the music coming out of the guitar to that of the music coming out of the attached iPod.
There are two other buttons on the face of the guitar. One is labeled 'Effects' and when pressed, it cycles through 4 different music styles: Heavy Metal, Rock, Blues and Bass. The other button is disguised as a whammy bar. When you press or wiggle it, it changes the pitch of the sound to mimic a real whammy bar.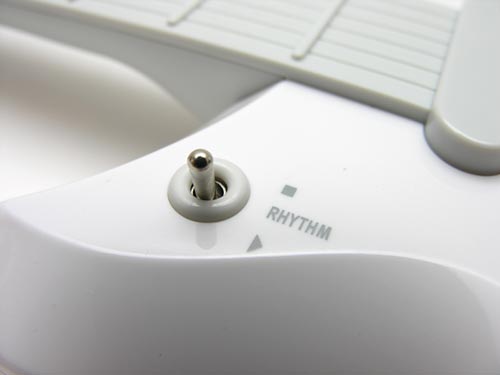 There is also a rhythm switch that you can use to toggle the background drum tracks.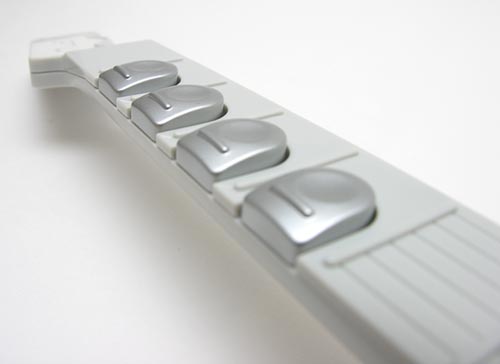 When you press one of the buttons on the neck, you'll hear a chord strum sound when you move the strum bar down, and you'll hear a progression of notes if you move the strum bar up. The trick is to mix and match these two actions to make a 'song'. Each effects style has different chord and note sounds associated to them.
I recorded all the different sounds the mi Jam Guitar can produce and saved it as a 4.9mb .MP3 file. You can listen to it here.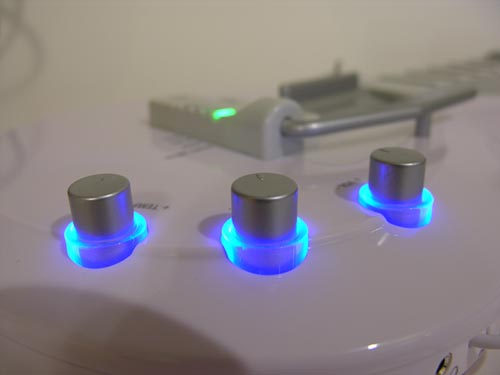 When the guitar is powered on, it has pretty Blue and Green LEDs. You can ooh and ahh now if you like.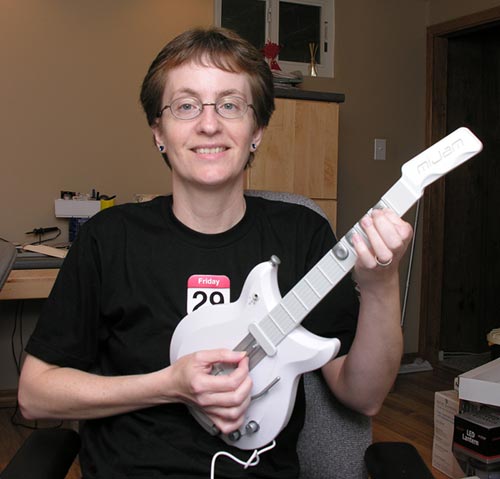 Looks more like a ukulele than a guitar doesn't it? You can't expect too much from something that is made of plastic and costs less than $40. 8-10yr. olds will probably have fun with it and at least it has a head phone jack so that you don't have to listen to all the noise they'll be making ;o) I actually had fun playing around with this product. It doesn't take much to entertain me though.
mi Jam Mini Mixer
Guitar not your thing? Well B2 has other noise makers that you / your kids might like better. The Mini Mix is another such device.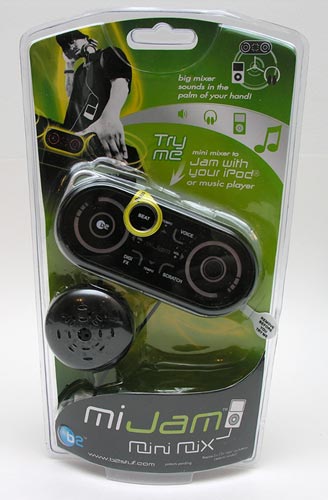 Like the guitar, this little device will allow you to play along with music on your iPod (or other audio devices with an audio out / earphone jack) or just play with it by itself.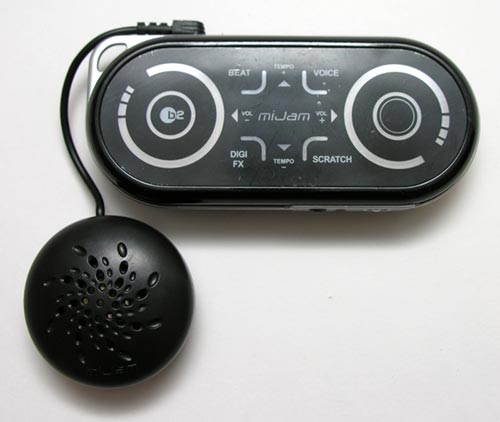 It's a small plastic oval shaped device that runs on 2 AA batteries (included). The top surface is a touch panel…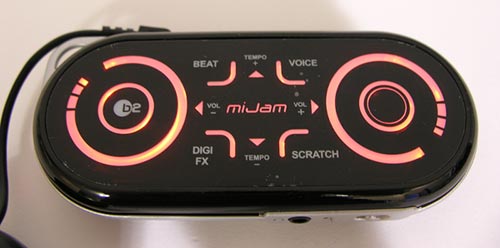 … that lights up when powered on.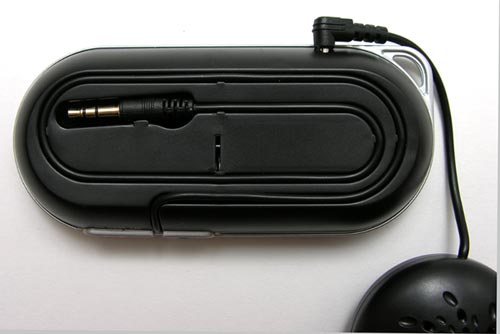 Flip the Mini Mix over and you'll see that it has a 3.5mm stereo cable stowed in the shell. Use this cable to connect your iPod if you wish to play along with your favorite tunes.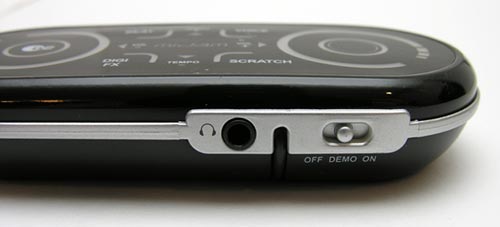 On the side there is an earphone jack and the On/Off switch. The Mini Mix also comes with a small round external speaker that is used for the demo mode while it's in the store. But you can leave it attached and play the miJam sound effects through it if you like.
Here's how it works. Turn it on and press the Beat button to select one of three background drum beat rhythms. The Digi Fx button will play one of 2 digital effects noises and the voice and scratch buttons will change the noises that occur when you rub your fingers on the effects discs. It's supposed to simulate mixing and scratching records I guess. In reality this doesn't work very well at all and the mixing sounds that this device generates can get annoying (I like the background beats, but that's about all I like). If you get this for your kids, hide the little round external speaker. Trust me! ;o)
I recorded all the different sounds the mi Jam Mini Mix can produce and saved it as a 2.3mb .MP3 file. You can listen to it here.
The mi Jam Mini Mix costs less than $20 and is available through Amazon.com, Target, Best Buy and other retail stores. I didn't find it to be all that fun, but maybe an 8yr.. old would love it.
Product Information
Price:
39.98
Manufacturer:
B2
Pros:

Easy to figure out
Inexpensive
Guitar is fun
Both devices allow you to play along with your iPod

Cons:

Mini Mix touch pad doesn't seem sensitive enough
Sounds can become annoying