The Gadgeteer is supported by readers like you! If you buy something through links on our site, we may earn an affiliate commission at no cost to you. Thank you! Learn more.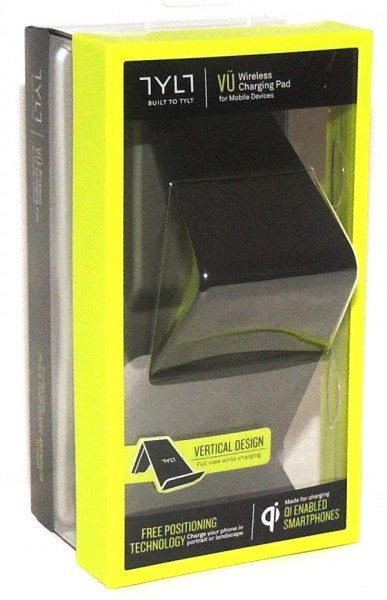 I have had the opportunity to try many of the variety of Qi charging stands currently available – from the no-name flat plastic slab to the Brando stand to the Nokia 901 Fatboy pillow. While all get the job done and are nice enough, they are not very polished. The engineers at TYLT have taken the VÜ wireless charging stand to the next level of quality, workmanship, and design. TYLT started the VÜ as a well received Kickstarter project back in 2013. They reached their funding goal, and it is now available through their website and most of the usual internet resellers like Amazon and the like.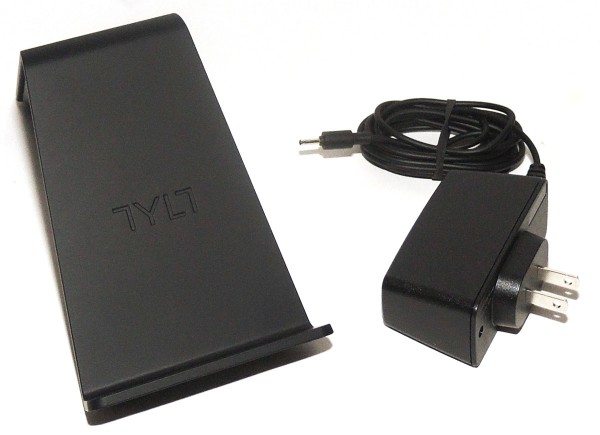 Package Contents:
VÜ Wireless Charger
AC Wall Charger
User Manual
1 Year Limited Warranty
Features:
Qi Compatible
Charging Indicator Light
Soft Touch Surface
Cable Management
45 Degree Viewing Angle
AC Wall Charger included
Tech Specs:
Input: 12V / 750mA
Output: 5W
Length: 7.5 inches
Width: 3.5 inches
Thickness: 1/2 inches
Weight: 5.7 ounce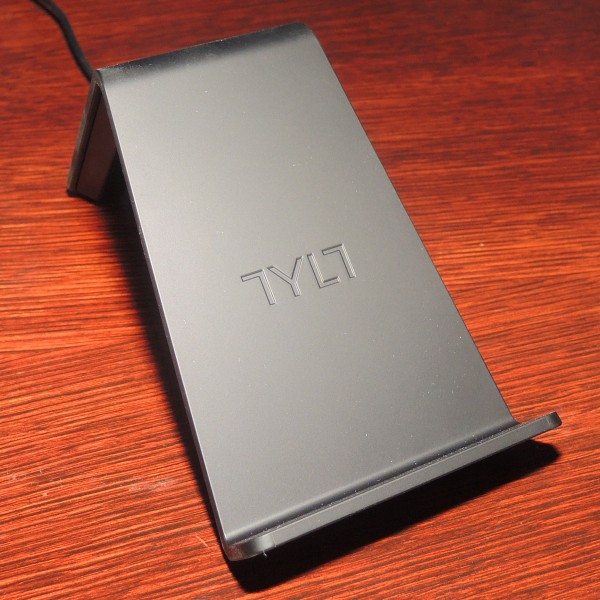 The TYLT VÜ is an inductive wireless charger for Qi-enabled devices. It has a three coil system, which means it can charge both vertically/horizontally and is engineered to accommodate and charge larger devices like my Galaxy Note 3 or even the Nexus 7 2013. The TYLT VÜ has a very nice rubbery feel (soft touch surface) which should never mar your device.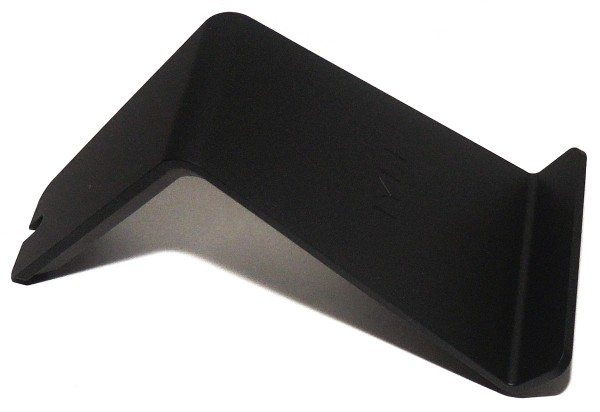 The VÜ is designed to hold your smartphone or tablet at a 45 degree angle, making your device more useable than laying it horizontally while powering up.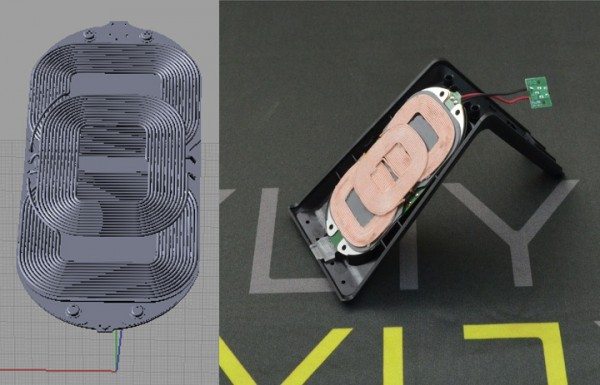 According to their Kickstarter page, the TYLT engineering team worked with chipset maker IDT to perfect a "Free Positioning System" enabling you to place your Qi-enabled device with less chance of missing the sweet-spot for charging.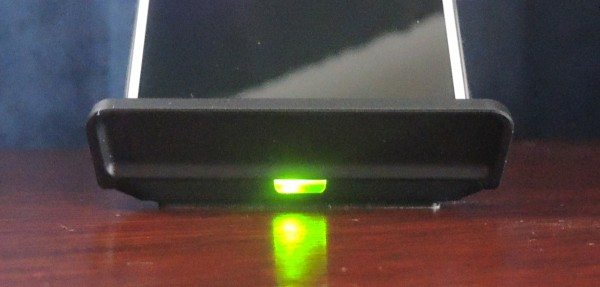 The charging indicator light illuminates green when your Qi-enabled device is properly set on the VÜ and is charging. It also lights up red when there is an error. This is a great feature; the Vu is the first Qi charger that gives you visible feedback if there is a problem and your device is not charging. I have set my Note on other Qi devices, where I believed all was well, only to realize that my smartphone was totally discharged instead of being charged and ready to go.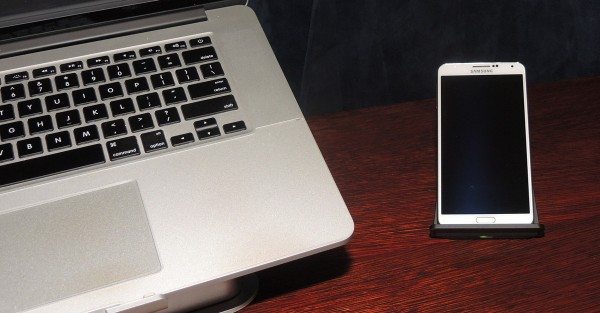 I was surprised how fast the VÜ charged my Note 3 – approximately the same as with the stock microUSB cable. It takes approximately 30 minutes to go from 75% to 100% power and just under 2 hours to go from 25% to 100%. I find myself always placing my Note on the VÜ as the perfect place to keep my smartphone while working at my desk with the benefit of its battery always being topped off.

As with the Nokia series of Qi chargers, the VÜ uses a proprietary power cable connector with large power plug. This is crazy in these days when everything has gone to using microUSB cables. But to be fair, as long as this lives solely on your desk, it does not matter all that much.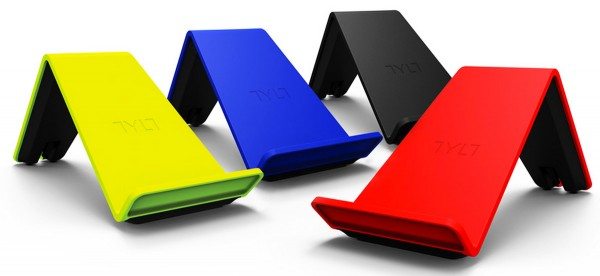 The TYLT VÜ is available in black/gray, red, blue, and lime green. Here is the current list of compatible devices. There are many, many wireless chargers currently on the market with, I am sure, many more on the way. That said, the TYLT VÜ is without a doubt the best design and build quality I have seen to date. It is very well made and engineered to allow you to view and/or use your smart device while charging. At $70, it is more expensive than the competition, but many will find its good looks, ease of use, and nearly foolproof charging worth the cost.  In this case, you're getting what you pay for.
Update 02/05/15
Julie: I know Dave wrote this review, but I'm adding an update because I ended up buying two of these docks based on his review. I went with the blue version and use one on my night stand and one on the kitchen table for Jeanne's Samsung Galaxy Note 2. I've never had a problem with these docks. They work great.
Update 02/26/15
Dave: The TYLT VÜ wireless inductive charger continues to be my favorite Qi enabled device. So much so, I have ordered several additional ones for key locations throughout my world.
Update 12/9/16
Julie: I'm still using the two that I purchased. Jeanne continues to use the one on the kitchen table with her Samsung Galaxy Note 2 (we really need to get her a new phone!) and the one on my night stand is now used as a stand for my Nexus 6P since it does not have wireless charging built in. Wish it did!
Source: The sample for this review was provided by TYLT. Please visit their site for more info.
Product Information
Price:
$69.99
Manufacturer:
TYLT
Requirements:
Pros:

Excellent build quality
Triple coil charging matrix
Soft touch surface
Can use your smart device while charging
Lets you know if there is an error while charging

Cons:

A bit expensive
Proprietary power cable