We use affiliate links. If you buy something through the links on this page, we may earn a commission at no cost to you. Learn more.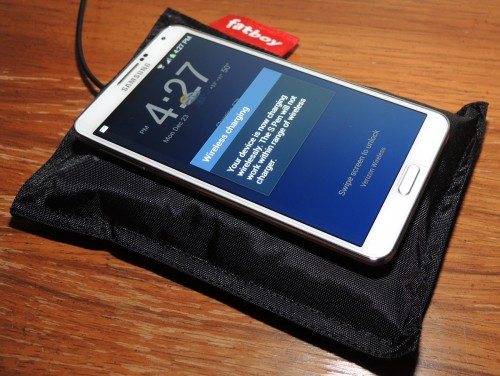 I recently purchased a Samsung Galaxy Note 3 to see how the other side lived. I was a bit bored and tired of my iPhone 5, and after reading Julie's review of the Note 3, I decided I wanted more screen real estate and to give Android a try. One of the features the iOS world does not have is wireless charging, a capability I believe and hope all high-end smartphones will have in the not so distant future. The Nokia Wireless Charging Pillow by Fatboy is not the classic wireless Qi charger currently on the market today. Instead of a hard plastic slab, the Nokia DT-901 is a beanbag with an embedded charging plate sewn into it.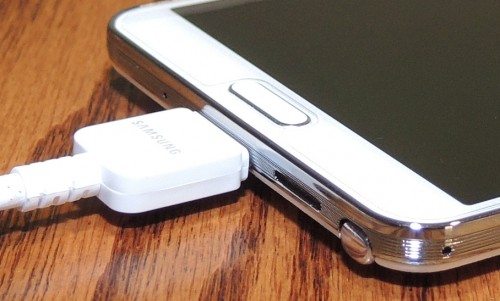 I love the concept of wireless charging. In my opinion, plugging cables into ports (microUSB, Lightning, earbuds) is definitely a weak/failure point of smart devices. Even more so with the Note 3 being so big and cumbersome… I can totally see the microUSB accidentally snapping off inside or damaging the port itself. I have been a little concerned that while plugged into charge overnight, the cable could get snagged or yanked, and potentially damage my new tech-toy.
Package Contents: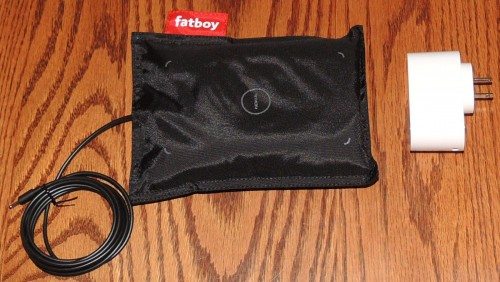 Nokia/Fatboy DT-901 Wireless Charging Pillow
Power plug
Specifications:
Dimensions

Height: 7.5″
Width: 5.5″
Thickness: 1.2″
Weight: 4 ounces
Volume: 48.7 in³
Cable length: 5.9 feet

Environmental features

Materials: Free of PVC, Free of nickel on the product surface, Free of BFR, rFR as in Nokia Substance List
Energy efficiency: Energy efficient charger
Packaging: Made of renewable materials, Containing up to 60% recycled materials, Packaging is 100 % recyclable
Recycling: 100% recoverable as materials and energy
User guide: Small printed guide, full on nokia.com

Connectivity

Wireless connectivity: Wireless charging
Connectors: 2.5 mm Charging Connector
Wireless charger: Yes

Power

Charger standby consumption: Less than 30 mW
Charger output current: 750 mA
Charger input voltage: 100 – 240 V AC, 50-60 Hz
Charger output voltage: 12 V
Operating temperature: -5 – +45 C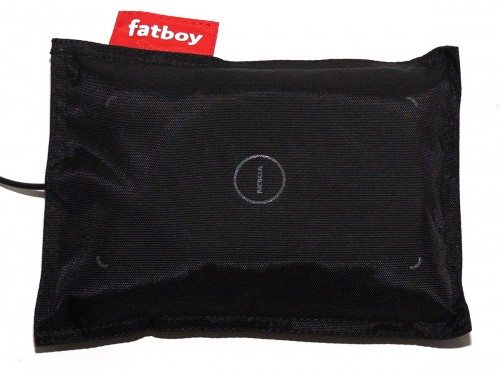 Best I can tell from feeling through the material, the Fatboy wireless pillow charger is no more than a Nokia DT-900 sewn into a nylon pouch with beads surrounding it. You can almost see its outline in the picture above. I was expecting the DT-901 to be more pillow- or beanbag-like, softer and a little less slick. That said, it works well on my bedside table for overnight charging.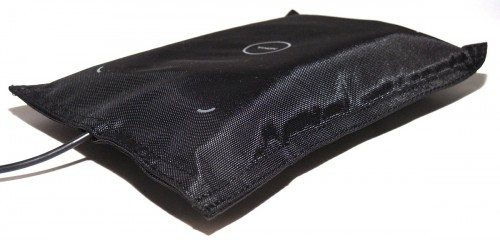 The material and build quality is good. Nothing spectacular, but definitely more than adequate to get the job done. The nylon is thick, and the edges are double stitched.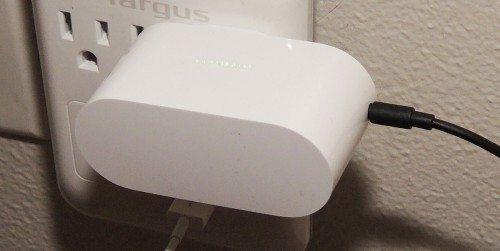 The primary design flaw I have found with the Fatboy is Nokia's choice to use a non-replaceable, proprietary 2.5mm connector that powers the pillow.

Nokia really should have used USB / microUSB connections that are very much the standard these days. Plus the power plug is gigantic…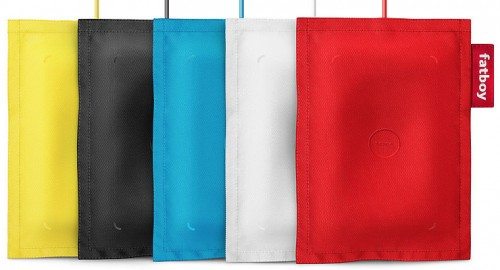 The Fatboy is available in yellow, black, cyan, white, and red – obviously colored to match the current batch of Nokia Windows phones.
This being my first wireless charging experience, I was a bit worried that the Fatboy would overheat or fail to fully charge my Note. I had read that both were possibilities with the Qi wireless charging technology. The Nokia pillow had neither issue; my smartphone did not become overly warm, and the pillow fully charged its 3200mAh battery overnight. Overall, I am pleased with the perks of wireless Qi charging. The Nokia Wireless Charging Pillow (DT-901) by Fatboy is a unique alternative to the standard flat, plastic Qi chargers that are prevalent on the market today.
Product Information
Price:
MSRP: $79.99
Manufacturer:
Nokia
Requirements:
Pros:

Solid construction
Wireless charging
Simple to setup and use

Cons: