We use affiliate links. If you buy something through the links on this page, we may earn a commission at no cost to you. Learn more.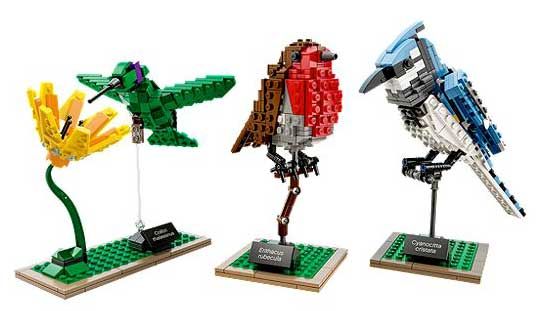 I love LEGO but have never really gotten into collecting all of the specialized sets based off of characters from TV and movies like The Simpsons, The Hobbit, Star Wars, etc. I prefer generic LEGO sets best because they inspire more creativity. That said, I have to admit that this new Birds set looks very cool! Created by bird enthusiast Thomas Poulsom for the LEGO Ideas series of models, this set features bricks and instructions to build a Blue Jay, Hummingbird and a Robin. The models stand between 5-6 inches tall and the set also includes 3 booklets which contain information about each bird and info about Thomas Poulsom, the creator of these models. The Birds set is part of the LEGO Ideas models which were nominated and received over 10,000 votes from LEGO Ideas members. This is the same group that is going to bring us the official Big Bang Theory LEGO set that we told you about a couple weeks ago.
The LEGO Ideas Birds set is priced at $44.99 and will be available starting January 1st, 2015. You can find more info at the LEGO's shop.