We use affiliate links. If you buy something through the links on this page, we may earn a commission at no cost to you. Learn more.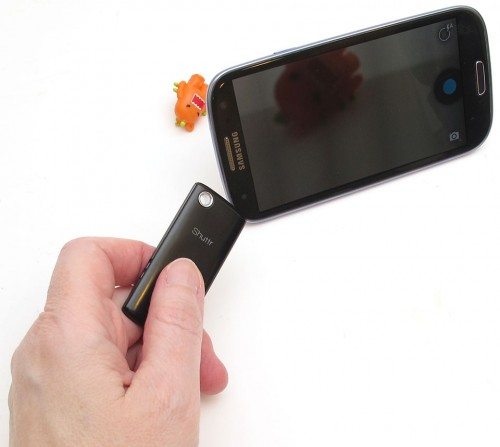 Muku means "passion" in Croatian and "clean" and "simple" in Japanese. That name fits the Muku Shuttr very well. What is it? It's a small keychain sized fob which uses Bluetooth to pair with iPhones and a variety of Android smartphones to provide a remote shutter release for the built-in camera app. It offers an easier way to snap selfies and get into group shots. The Muku Shuttr is a Kickstarter project seeking $10,000 funding. They offered to send me one of their prototypes for review. Let's see if it's worth your $29 pledge.
Note: Images can be clicked to view a larger size.
From Hong Kong based Muku Labs owner Kevin Leung:
There's a story behind muku shuttr which I would like to share with you.  It's a story about a young dad who quit his job to build a remote shutter to take selfies with his daughter.

In my childhood, camera is a luxury item.  I don't even have family photo together with my dad and mom before the age of 3.  That's why I have been so obsessive in taking photos with my wife and daugther since my girl was born.

But I was so frustrated that I couldn't take selfies easily with my iPhone.  After chatting with friends and colleagues, I found that it's indeed a very common problem among my peer group. So I decided to quit my job, sold my apartment for the money to build a remote shutter release for iPhone and Android.

After one year of design, R&D, production preparation and depleting all his money from the sales of his apartment, Muku Shuttr, the world's slimmest Remote Camera Control for smartphone, is more than 90% ready for mass production.  There is only a $10000 gap to get the final injection moulding ready.  This kickstarter campaign is the last miles to bring this product to reality.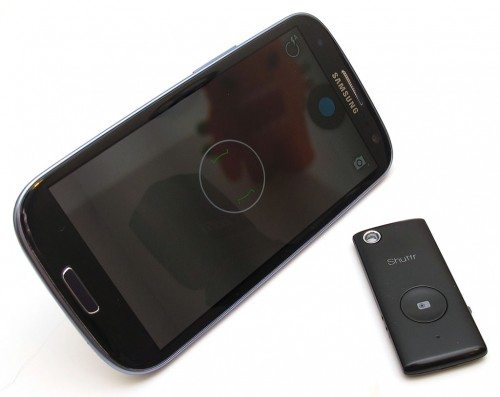 Hardware Specs
Dimension: 61 x 26 x 6mm
Weight: 10g
Connectivity: Bluetooth 3.0
Working range: 10 meter
Power Source: Replaceable RC2025 battery
Battery life: Up to 2 years if switched off each time after use
Device Compatibility List:
iPhone 3GS or above, iPod touch 5th Generation or above iPad 2 or above, iPad Mini, Samsung Galaxy S4, S3, Note 2, Note 8, Note 10.1, LG Nexus 4
App needed for HTC One X+ Sony Expedia S / Z

The Shuttr is a well made little gadget that is available in black and white versions. It is made of smooth plastic and has a metal eyelet to attach to your keychain. There is a switch on each edge. One side is an iOS / Android selector switch.

The other side has the On / Off switch. Then on the top is the shutter release button with a tiny green LED below it that shows pairing and power status when the Shuttr power switch is in the On position.
The Muku Shuttr is a very simple product. Once paired with your compatible iOS or Android device, it will automatically snap a picture when the camera application has been launched. I tested the Shuttr with my Samsung Galaxy S3, Samsung Galaxy Note 2 and an iPad mini all using the stock camera apps.
With the S3, I would need to launch the camera app, turn on the Shuttr, press the shutter button once to "wake up" the connection between the two devices and once again to take the shot. As long as I didn't turn off the phone or go into another app, single presses of the shutter button would snap images. Otherwise it would require an initial press of the shutter button to establish a connection before further presses would snap an image. I can't say that all S3's will have this behavior because I have a custom rom (Carbon rom) flashed to my phone.
I did not have this same issue with the Note 2. The way the Shuttr worked with the Note 2 was actually pretty cool. Even if the phone was off/idle, pressing the shutter button once would wake up the phone, pressing again would unlock it and if the camera app was the last active app, a 3rd click of the shutter button would snap a picture.
I had similar luck with the iPad mini. After pairing, pressing the Shuttr shutter button would wake up the tablet and if the camera app was the last active app, a 2nd click would snap a picture. If there was another app or the home screen was up, pressing the shutter button would raise the volume level one notch. Too bad there wasn't a way to then lower it back down if you wanted to…
If you have multiple devices that you want to pair with the Shuttr, you might be a little disappointed because you have to re-pair with each device when you switch between them or flip  between iOS and Android pairings.
I like the Muku Shuttr because it doesn't require other dongles or doodads to be attached to the phone itself. Just pair the Shuttr with the device and you're done. It's a well made little accessory that doesn't take up much room in your pocket or keychain. It offers long battery life (up to a year if you remember to switch it off after use) and will let take easier shots when you don't want to hold the camera or you want to get into a group shot.
Product Information
Price:
$29
Manufacturer:
Mukulabs
Pros:

Simple and easy to use
Includes a suction stand
Long lasting battery

Cons:

Can only be paired with one device at a time
Sometimes takes 2 clicks to snap a picture (could be an issue with my custom rom on my S3)