We use affiliate links. If you buy something through the links on this page, we may earn a commission at no cost to you. Learn more.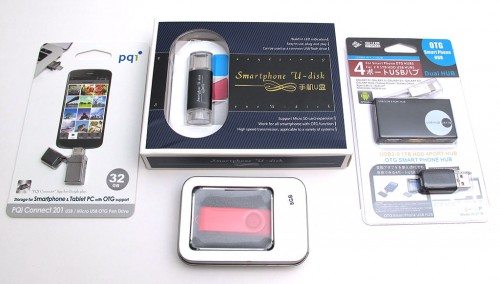 If you own an Android device with OS version 3.1 or higher and haven't heard of USB On-The-Go, then you have been missing out on a very useful feature. USB On-The-Go (often abbreviated to OTG) enables you to attach flash storage, mice and keyboards to your Android device through the micro USB port on the device. Brando sells quite a few OTG goodies and sent me several to try so I could tell you all about them. Ready? Let's go.
Note: Images can be clicked to view a larger size.
2-in-1 micro USB Flash Drive
Available in red or black with silver, the 2-in-1 micro USB Flash Drive looks like a standard run of the mill flash drive. But a closer look reveals a full sized USB connector for your computer on one end and a micro USB connector for your Android phone on the opposite end.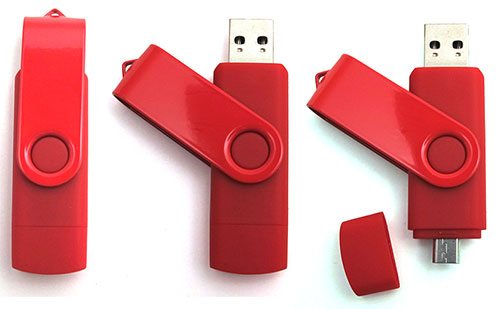 The 2-in-1 comes in 3 capacities, 8GB, 16GB and 32GB.  I was sent the 8GB version and was surprised and happy to find that the drive has 8.43 GB free and doesn't include any unnecessary files. It's empty and ready to fill.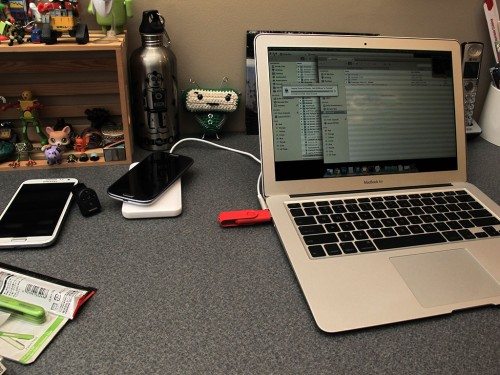 This drive can be used to transfer files to and from your computer to your smartphone. Just plug it in and copy files to it like you would any ordinary flash drive. Then remove it from your computer and plug it into your Android phone's micro USB port.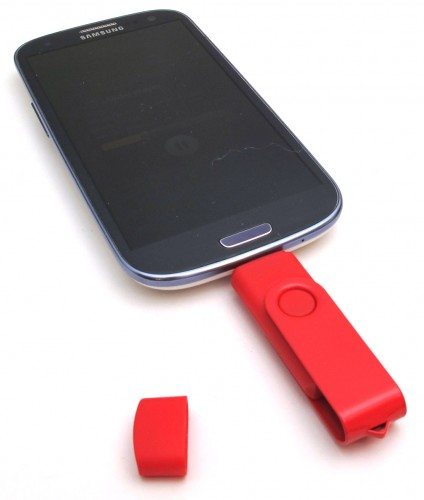 Using your favorite Android file explorer app (I like X-plore), you can view, copy and delete the files from the drive. You can even play audio and video files directly from the 2-in-1 drive without any hiccups.
It's easy to use and works great. The only "issue" I noticed is that it blinks while files are being accessed or transferred. This isn't a big deal, but can be annoying and distracting if you have it plugged into your phone or tablet and are trying to watch a video. Seeing a blinking red LED out of the corner of your eye while trying to concentrate on watching a video can be a problem.
Price: $17- $34
8GB – Red US$17.00
8GB – Black US$17.00
16GB – Red US$23.00
16GB – Black US$23.00
32GB – Red US$34.00
32GB – Black US$34.00
USB 3-in-1 Flash Drive
The USB 3-in-1 Flash Drive is very similar to the 2-in-1 Flash Drive, but it adds an additional useful feature – a micro SD slot.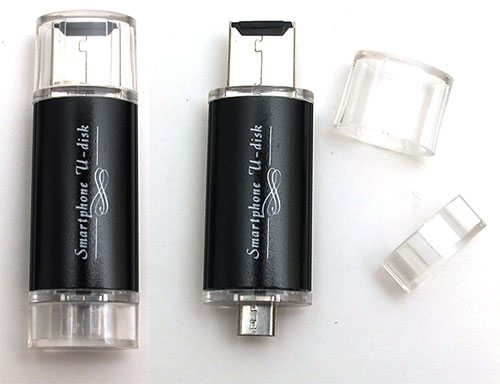 The drive has both a full sized USB connector on one end and a micro USB connector on the opposite end. It only comes in a 4GB capacity which offers 3.95 GB free.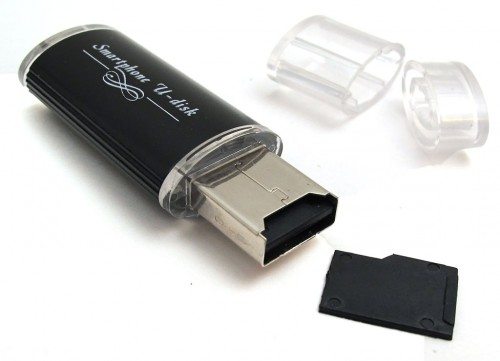 4GB doesn't really give you much space if you intend to use the flash drive for music and/or video. Luckily there's a micro SD card slot built into the full sized USB connector.
I tried this drive with my Macbook Air, Samsung Galaxy S3 and my Samsung Galaxy Note 2. Both the 4GB of flash memory and the micro SD card mounted as separate drives and I had no trouble copying files to and from it. But for some reason, it wouldn't work correctly with the SGS3. The phone could see and access the 4GB of built in storage, but it could not see the micro SD card. However, both the built in storage and the micro SD card were visible and accessible on the SGN2. I should mention that my SGS3 has a 3rd party ROM installed, so it's possible that could be causing an issue with reading both storage locations.
Since the drive worked reliably with my SGN2, I would recommend it.
Price: $25
PQI Connect 201 2-in-1 USB Flash Drive
The PQI Connect 201 2-in-1 USB Flash Drive packs a lot of functionality into a package that is not much bigger than a standard sized USB connector.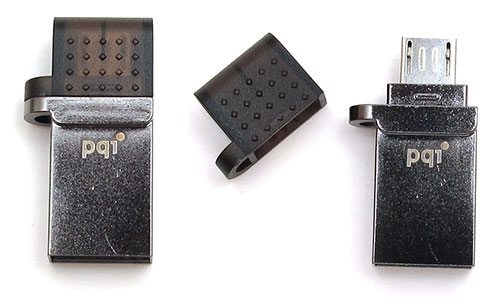 The PQI comes in 16 and 32GB capacities. I'm not sure how they cram the flash memory in that tiny metal package.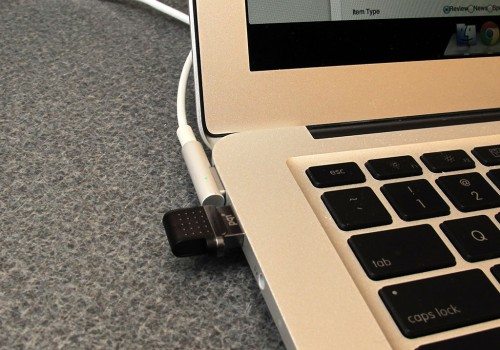 This flash drive works like the other two we've already talked about. Plug it into your PC, Mac or Linux machine and it will mount as an external drive.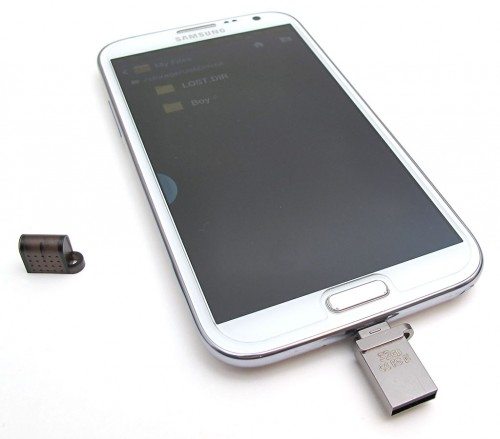 Remove the cap to expose the micro USB connector and plug it into your Android device. Boom, you now have an extra 32GB of flash storage. You can play music and video right from the PQI. Of the 3 OTG flash drives, this one is my favorite because of physical size and built in memory. I'd love a 64 or 128GB version of the PQI. If I had one that size, it would replace my iPod Classic.
Price: 16GB $32, 32GB $45
MicroUSB OTG 4-Port Hub
The MicroUSB OTG 4-Port Hub is a must have gadget for any Android fan. This little device is an improved version of the 3 port OTG Hub that I reviewed back in July.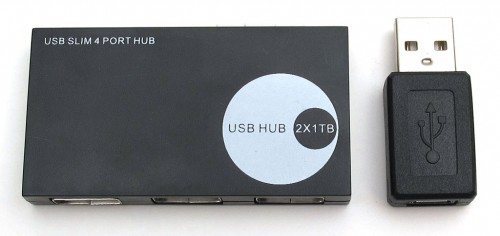 First of all, it's smaller. It's about the size of a box of Tic Tacs but packs in 4 USB ports.

The micro USB cable tucks neatly into a groove along the edge.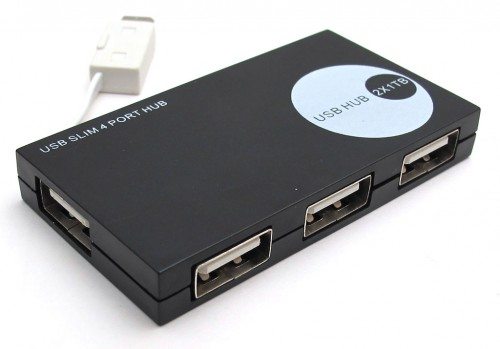 There are 4 USB 2.0 ports built into the hub. Three on the front and one on the side.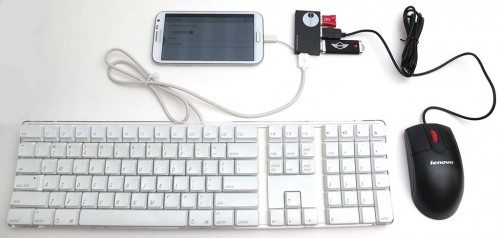 I tested the hub with a Samsung Galaxy Note 2, an Apple keyboard, Lenovo mouse and two USB flash drives all connected together at the same time. Everything worked flawlessly. I was really surprised that wireless mouse that uses a USB dongle worked with this hub too.
This is a very easy and inexpensive way to add more capability to your existing Android device. It almost turns your smartphone or tablet into a laptop.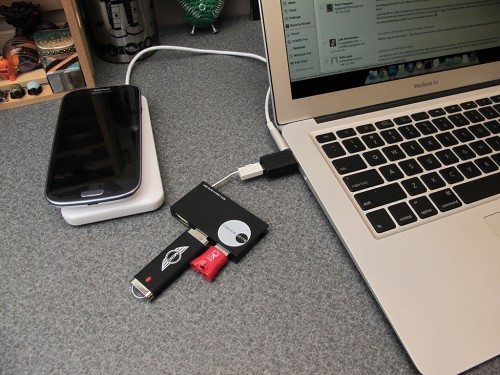 But wait, that's not all… It can also double as a USB hub that works with your PC or Mac. Just attach the included adapter and plug it in.
If you are an Android user, I definitely recommend adding the MicroUSB OTG 4-Port Hub to your gear bag. It's incredibly useful and very affordable.
Price: $11
Are you a fan of USB On-The-Go? How do you use it?

Product Information
Price:
See review text
Retailer:
Brando
Requirements:

Android device with OS version 3.1 or higher

Pros:

Flash drives are an easy way to add extra storage to devices that don't have other expansion options
Hub is has 4 ports

Cons: