We use affiliate links. If you buy something through the links on this page, we may earn a commission at no cost to you. Learn more.
Right now, all I want to say is "Nyah Nyah Nyah, my USB flash drive is bigger than your USB flash drive!". Don't believe me? Then check out my 32GB DataTraveler 150 from Kingston. Yes, you read that right, a 32GB USB thumbdrive. Whoo hoo!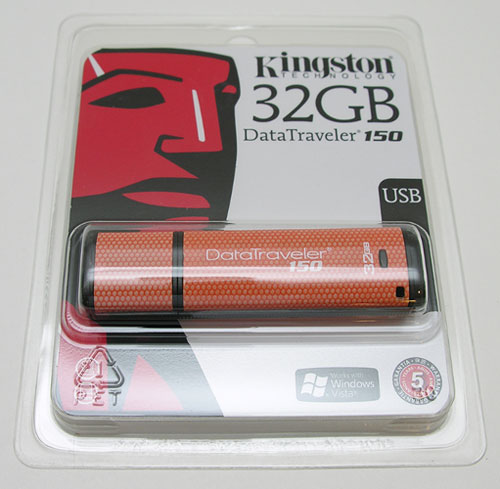 I've reviewed Kingston DataTraveler flash drives before, but they were only in 2 and 4GB capacities.

This drive has a plastic body and comes in one color – Orange. It has a cap on one end, that can fit on the opposite end when it's in use. There's a small Blue LED on the end that blinks when data is being read or written. There's also a small eyelet that you can use to attach the included thread loop that you can use to connect the drive to a keychain.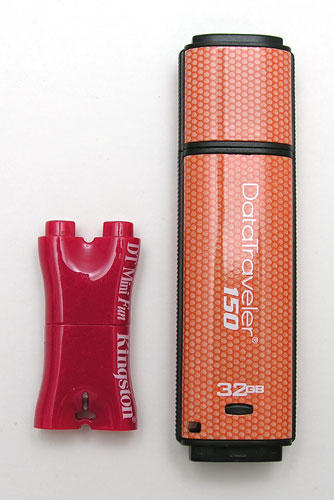 The 150 is a full sized USB flash drive. It's not tiny like the Kingston Mini Fun that I reviewed a year or so ago. It's actually probably the largest (physically) USB flash drive that I have right now. It measures in at 3.06″ x 0.9″ x 0.47″ (77.9mm x 22mm x 12.05mm). That said, it's not huge and will fit in any pocket, purse, gear bag, etc., with no problem at all.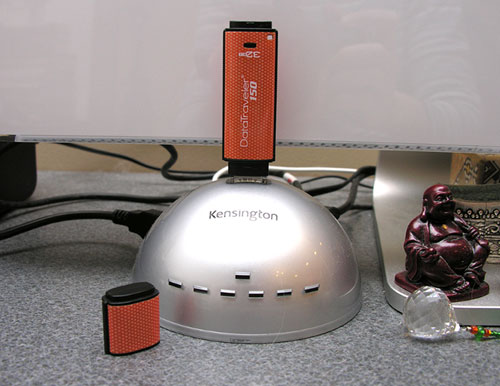 Here is the drive plugged into my Kensington USB hub.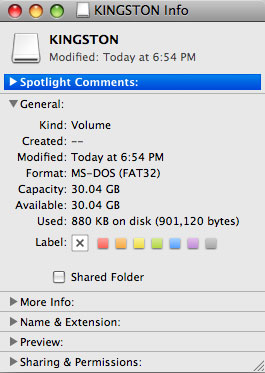 It was immediately recognized by my iMac. As you can see, out of the box, the DataTraveler 150 has 30GB free. I like the fact that this drive doesn't come with pre-installed 'junk' on it. I don't know about you, but I always delete those freebie backup, security, etc. apps that some manufactures like to include on flash drives.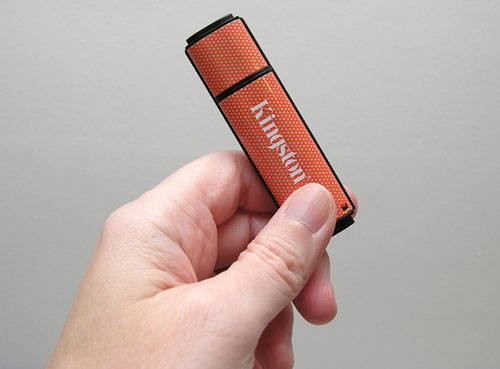 Here are a few timed file copy tests to and from the DataTraveler and my iMac.
1 min 32 sec – to copy a 920mb iMovie project file from my iMac to the DataTraveler 150
1 min 13 sec – to copy a 920mb iMovie project file from the DataTraveler 150 to my iMac
53 sec – to copy a 505mb folder of .jpgs from my iMac to the DataTraveler 150
40 sec – to copy a 505mb folder of .jpgs from the DataTraveler 150 to my iMac
I didn't have any issues copying files or accessing files with this flash drive. For most people, 32GB should have way more than enough room for their every day file transport. But, if 32GB isn't enough for you, you can get 2x the capacity (64GB) for an additional $61. That's enough room for some people to carry their entire collection of data (email, music, documents, etc.). Amazing huh? I sure think so. :o)
Product Information
| | |
| --- | --- |
| Price: | 116.0 |
| Manufacturer: | Kingston |
| Pros: | Available in 32 and 64GB capacities |
| Cons: | |