We use affiliate links. If you buy something through the links on this page, we may earn a commission at no cost to you. Learn more.
If you own an Apple iPod, chances are that you have also amassed a nice collection of iPod accessories to go along with the most popular digital music player on the planet. Things like an iTrip, iTalk, retractable sync / charge cables and extra earbuds are all useful items to have with you at all times, but just throwing them willy nilly into your gear bag is just not the way a Gadgeteer should do things. A much more elegant solution are the Waterfield iPod Gear Pouches. Available in large and small sizes, these Ballistic Nylon zippered pouches are large enough to hold all your iPod necessities and then some.
Large
Available with White, Blue, Red and Lead colored herringbone style sides, this mostly black pouch is 10″ x 5.3″ x 1″. I was sent the Lead version which is just a fancy way of saying that the sides are grey.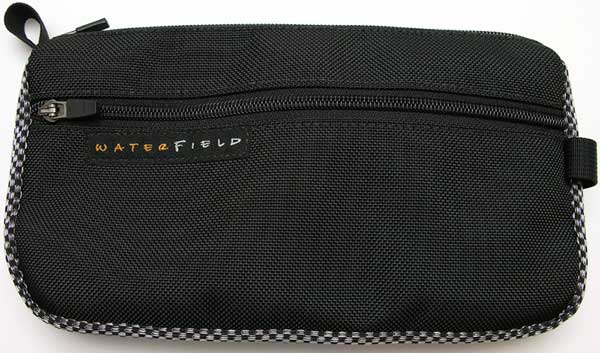 With the main zipper along the top edge, a second zipper across the front and an understated logo, this pouch has a pleasingly simple design that can fit into any setting.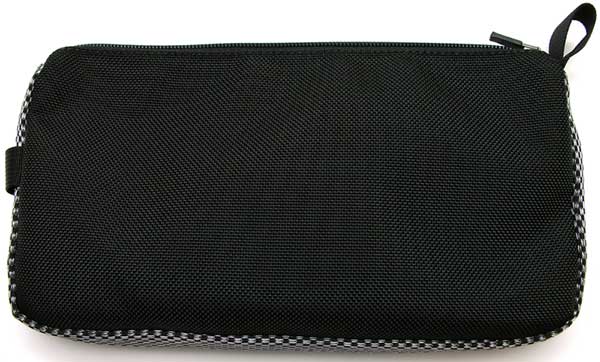 The back of the pouch is completely plain. Two wide grip loops are sewn into the top left corner and mid right side.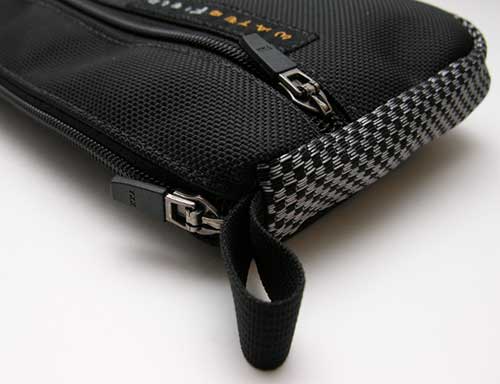 The front interior wall of the main zippered area has 3 soft Neoprene sleeves sewn into it. I say sleeves because the bottoms are open and not attached to the bottom of the pouch. This is probably my one and only complaint about this gear pouch.

The sleeves are different sizes. The outer ones are are large enough to hold an iPod in a case and the middle one is fine for smaller accessories. Of course, there's lots of room left over in the area outside the sleeves for more stuff. The back wall of the pouch is orange, which allows you to more easily see the contents.

There's even more storage in the zippered area on the front of the pouch. Behind this zipper are two mesh pockets that are great for earbuds and other cabled items.
It should be obvious that you don't HAVE to use this gear pouch just for iPod gear. Actually the reason why I asked to review it was because Judie mentioned it might work as a lunchtime carryall (I'm not going to call it a purse) for me. I don't carry a purse to work or at all. I have all my junk in my current gear bag. The problem is that when I want to go out for lunch that I need something that can hold my billfold, sunglasses, car keys, cell phone, chapstick and card key to get back into work. It goes without saying that I'm not going to stuff all that stuff into my jeans pockets! Yes, I could just use a purse, but I've yet to find one that didn't look too froo-froo for me ;o) Anyway, this pouch didn't really work out for me as a carryall. Besides the fact that I looked like I was carrying around a guys shaving kit, I found it a bit annoying to carry it crammed into my arm pit when I needed to have both hands available. So it's back to the drawing board for me…
For its intended use, the Waterfield iPod Gear Pouch has worked great at holding all of my iPod gear and other gear in my main gear bag. The workmanship is great and the pockets / sleeves allow for easy separation of my stuff. The only thing I would change would be to sew the main pockets into the bottom of the pouch. That said, this pouch is going to be a permanent resident in my gear bag.
Price: $35.00
Pros:
Holds a lot of gear
Cons:
Pockets in main compartment are open at the bottom
Small
The smaller sized (7.75 x 3.75 x 1.2 in.) iPod pouch is available in 5 colors: Blue, Celeste (green), Lead, Checkers (red) and Taxi (yellow). I received the case in Blue.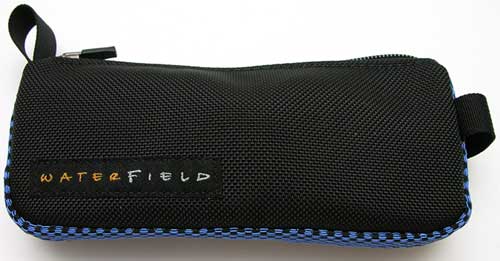 Like the larger version of this pouch, the small pouch has a zipper that runs along the top edge. The zipper has a plastic pull and has smooth action.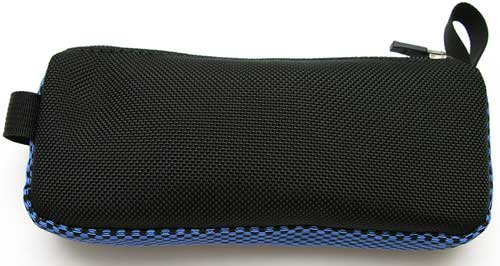 The back of the pouch is completely plain. Two wide finger grip loops are sewn into the top left corner and mid right side.

Inside the pouch there are four separate soft neoprene pockets that can hold various accessories such as ear buds, sync / charge cables, AC adapter, etc. Of course, there is room to hold the iPod too.

Unlike the larger version of this pouch, the pockets are totally sewn into the interior. No open bottoms. Yay!
Price: $29.00
Pros:
Holds a lot of gear for such a small pouch
Cons:
None
Updates 09/12/17
Wow, I've had this small pouch for 12 years. I use it every day in my gear bag (Timbuk 2 Messenger). Even though this pouch was originally intended for iPod gear, I use it to organize little items like cables and USB flash drives. It also holds an Altoids tin full of even smaller items.
The small pouch still looks as good as new, which means I'll probably still be using it for another 12 years 🙂
Source: The sample for this review was provided by Waterfield. Please visit their site for more info.

Product Information
| | |
| --- | --- |
| Price: | |
| Manufacturer: | Waterfield |
| Requirements: | |
| Pros: | |
| Cons: | (Large size)Pockets in main compartment are open at the bottom |