We use affiliate links. If you buy something through the links on this page, we may earn a commission at no cost to you. Learn more.
If you have purchased an Apple iPod nano, you know that it is almost impossible to avoid scratching this digital audio player. I speak from experience, as after having mine for only one day, the clear plastic layer covering the display had scuffs and the chrome back plate had thin scratches all over it. Being an iPod owner for several years now, I wasn't surprised to see these scratches, but I was very surprised at how quickly they appeared. I was also annoyed that Apple failed to include even the cheesiest of slip covers to help avoid this situation. So, when our friends at WaterField Designs asked if I would take a look at their new nano case, I didn't hesitate.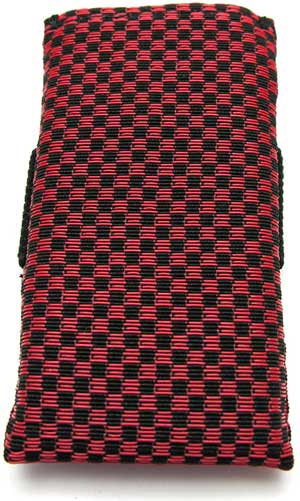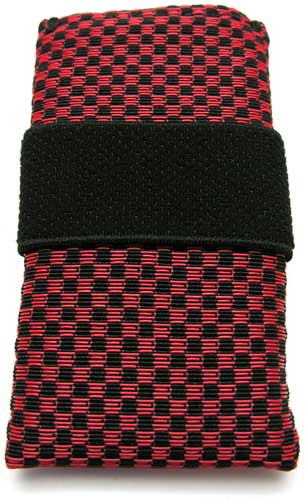 Made of Indium nylon, this case is available in 5 colors: Blue, Celeste (green), Lead, Checkers (red) and Taxi (yellow). I received the case in Checkers, which has a red and black (like a checkerboard) pattern. The case itself is more of a snug slip cover, than a case. Constructed of three layers, this case/cover will protect your nano from everyday wear and tear. The outside is made of nylon, while the inside layer is a soft neoprene. In between the nylon and neoprene is a layer of flexible plastic to help protect against impact due to drops.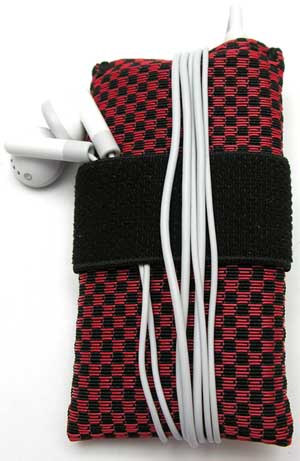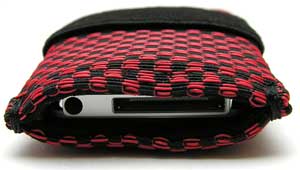 An elastic strap on one side of the case can be used as a belt loop or as a holder for your earbud cables.
The nano slides into the case head first so that the earphone jack is left exposed. Unfortunately, that is the only part of the nano left exposed. This isn't a play through case, which may or may not be a concern as you will not be able to easily interact with the player while it is inserted. The fit is also pretty snug, so removing the nano takes a little effort. You have to sort of squeeze the case from the bottom to shimmy the nano up far enough so that you can grab it with your fingers to extract it. Think toothpaste tube…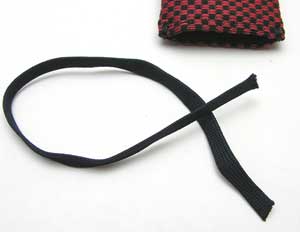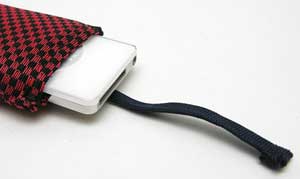 This annoyed me, so I took it into my own hands to modify the case. I found a thin piece of ribbon, sewed one end to the inside top edge of the case and then slid the nano into the case so that the ribbon formed a sling under the nano, coming out on the opposite side. Now all I have to do is just pull up on the end of the ribbon, and the nano magically slides up and out of the case. Yes, I know I'm brilliant ;o)
This case is a simple no fuss, no muss way to protect the scratch magnet otherwise known as the Apple iPod nano.
Product Information
Price:
22.0
Manufacturer:
Waterfield
Requirements:
Pros:

Simple to use
Protects from scratches

Cons:

Not play-through
Difficult to extract the nano from case