We use affiliate links. If you buy something through the links on this page, we may earn a commission at no cost to you. Learn more.

EiMIM, which is pronounced with a hard "I", I-mim or eye-mim, stands for Everything in Moderation, Including Moderation. That is the philosophy of EiMIM's founder Will Hodges, who says "Basically, I like to keep things simple, but every once in a while you have to let loose and splurge". Will is based in Texas and loves his job because he gets to create cool machined pens like the ones you see above. These latest pens are a follow up to his first successful Kickstarter project earlier this year. Now he's back with a new project for his X, Y and Z Pens, which is seeking $20,000 in funding. He sent me one of each pen plus an extra to show off each color that will be offered.
Note: Images can be clicked to view a larger size.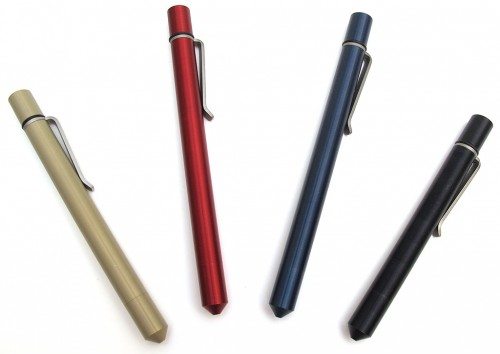 As you have probably guessed, there are three pens being offered. The X, the Y and the Z pens are all made from hard anodized 7075 aluminum with a Grade 5 (Ti6Al4V) titanium pocket clip. Hard anodized 7075 aluminum ends up having a higher density than Titanium, so these pens should survive longer than you will.
They will be offered in 4 different anodized colors: desert sand, dark red, dark blue and black. What is different between the X, Y and Z versions of the pen? Two things. First the X is shorter than the other two, and they are each made to accommodate different types of pen refills.
EiMIM X Pen – 4.5″ (11.2cm) long closed 4.8″ long when open, 0.437″ (1.11cm) in diameter, 24 grams includes a G2 Mini (0.5mm, black ink) Refill
EiMIM Y Pen – 5.2″ (13.0 cm) long closed 5.5″ long when open, 0.437″ (1.11cm) diameter, 30 grams includes a Fisher Space Pen (fine point, black ink) Refill
EiMIM Z Pen – 5.6″  (14.2 cm) long closed 5.9″ long when open, 0.437″ (1.11cm) diameter, 32 grams includes a Pilot G2 (0.38mm, black ink) Refill
The amazing thing about the Y and Z pens is that they can be used with about 40 other pen refills with no modifications. You can see a list of compatible pen refills on the Kickstarter project page. I would be surprised if your favorite pen refill was not included on this list…

The pens have a wonderful weight and balance that lets you know you have a quality writing instrument in your hand. I was impressed with these pens from the moment I removed them from the package. But impressed went to wow when I unscrewed the cap and figured out by accident that magnets held it on the top.

The neodymium magnets in the cap and top provide a great tactile "click" when you place the cap upside down on the top of the pen. Every time I do it, it makes me smile.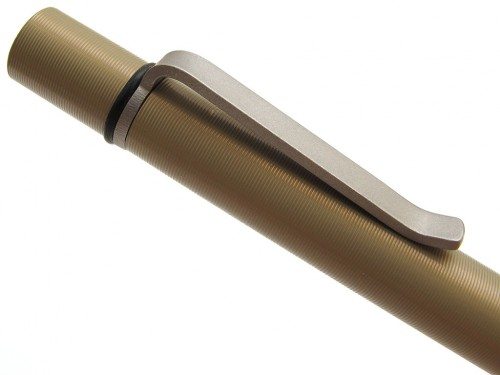 The Grade 5 Titanium pocket clips have been cut with a waterjet cutting machine, then bent, then glass bead blasted to give them a beautiful matte look.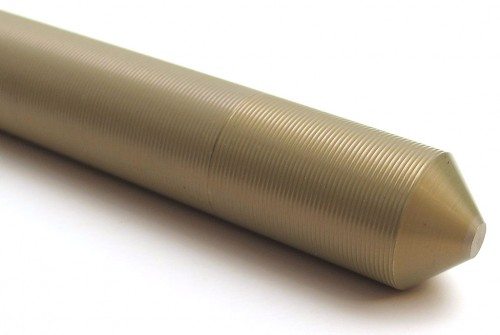 But the real feature that let's you know right away that the EiMIM X, Y and Z Pens are quality machined pens is the "lay" pattern on the barrel.
These pens are a mix of new world and old world. The parts are started out on my CNC lathe, then the last process is done on my beautiful 1953 Warner & Swasey #3 turret lathe. They have heart put into them. I design for simplicity and carefully weigh every design choice. Adding in things because I can and not because something needs it is not my style. Functionality is paramount. I machine all of the aluminum parts. The clips are waterjet cut by a friend and neighbor about 100 feet from my shop, then manually bent by me.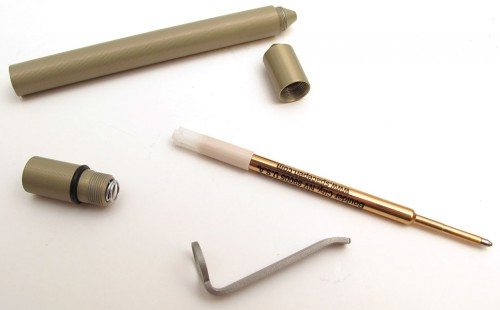 Except for the pen refills, all the components of these pens are sourced and / or manufactured in the US, right down to the magnets and the springs in the caps.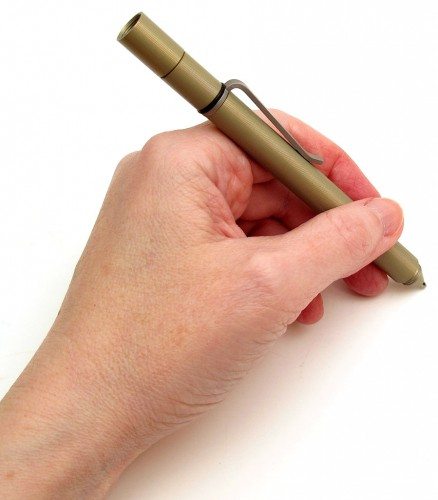 To be honest, when Will first showed me images of his pens and I saw the ridges, I wasn't that thrilled. I've had tools and pens with ridges like that before and I didn't really like them. But once I got these pens in my hands, that feeling was history. The ridges in the EiMIM pens give it a great grip, while remaining smooth and comfortable in your hand.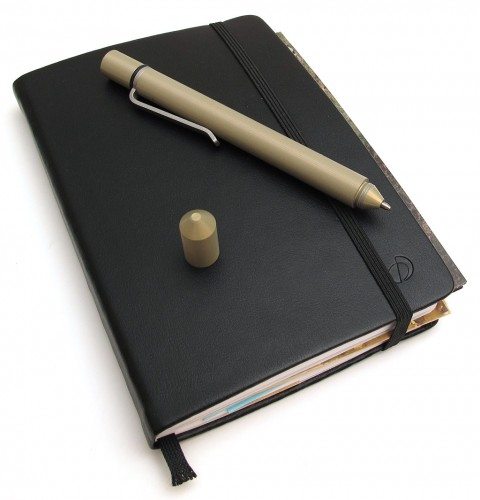 I've been using these pens for a couple of weeks and have no complaints except for one tiny thing… sometimes when you are unscrewing the cap from the tip, it makes squeaking noise that is akin to scratching your fingernails on a chalkboard. This only happens with 2 of the prototype pens that were sent to me. It's definitely not a deal breaker.
If you want a unique handmade writing instrument that can accommodate almost any pen refill on the market, the EiMIM X, Y and Z Pens will impress you with their looks and functionality. The price isn't too bad either considering all the work that goes into making these pens. A minimum pledge of $55 will get you your choice of pen.
Updates 10/12/2015
I've continued to use the red EiMIM pen that was sent to me for review. I love the weight and feel of the pen and really like Pilot G2 refill. As I had mentioned in my review, my only complaint has been the screw cap. I usually leave it off. This would be my perfect pen if it the cap didn't need to be threaded and/or it was a clicky pen. But even with that complaint, I always reach for this pen when I want to write in my journal. At least until I find my next favorite pen.
Product Information
Price:
$55 is the minimum pledge for one pen
Manufacturer:
EiMIM
Retailer:
Kickstarter
Pros:

Unique
Great feel and weight
Compatible with a huge variety of ink refills
Magnetic cap

Cons:

Screw on cap sometimes squeaks when unscrewed