We use affiliate links. If you buy something through the links on this page, we may earn a commission at no cost to you. Learn more.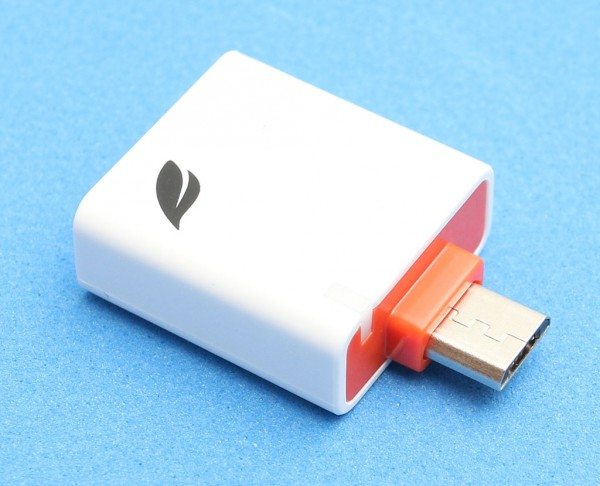 If you're an Android user with a device that lacks a microSD card slot, you need to pay attention to this review. Don't worry, I won't take much of your time because there's not a whole lot I can say about the Leef Access microSD card reader for Android, other than it's tiny and only does just one thing very well. It adds a microSD expansion slot to your Android phone or tablet. Let me show you.
Note: Images can be clicked to view a larger size.
First of all, you're going to need an Android device that is running Jelly Bean OS 4.1 or higher. I tested the Leef Access with a Samsung Galaxy Note 3 and a Nexus 7 (2013) tablet.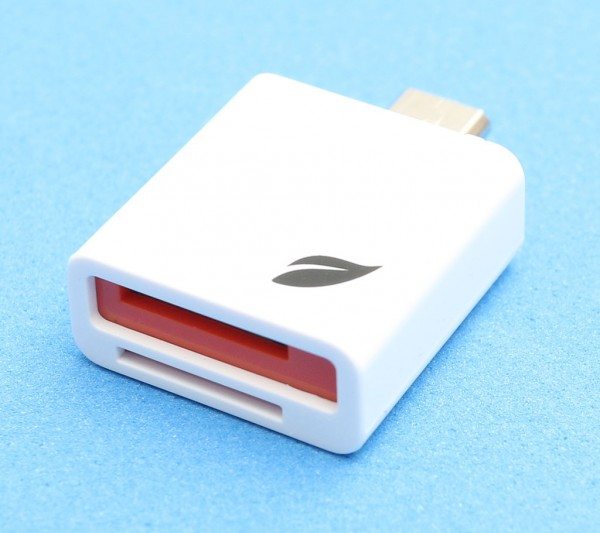 The Leef Access is a tiny microSD card reader that is made of white and orange plastic. One end of the Leef has a micro USB connector that plugs into the micro USB port on  your Android device. There's also a white status LED on that end of the Access that blinks when the reader is accessing data on the inserted card.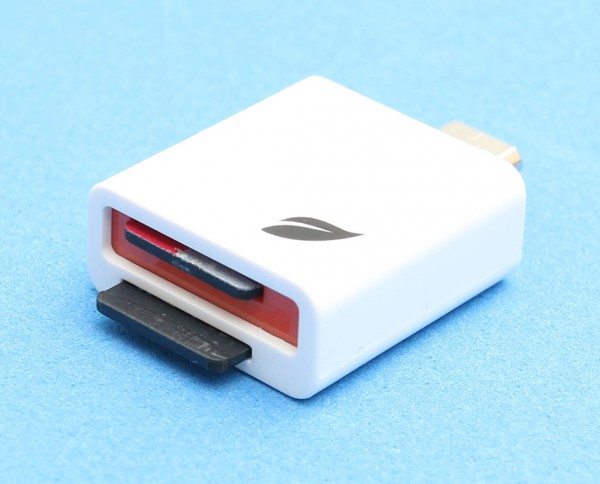 The opposite end of the Access has two microSD card slots. The upper spring-loaded slot is the card reader and the lower slot is for storage only. It's just a convenient way to hold an extra microSD card.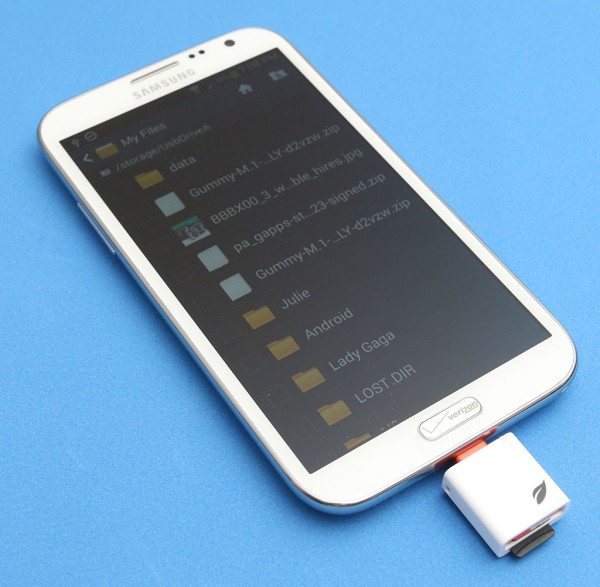 To get started, grab a microSD card and fill it with music, pictures, video or other files. Be aware that since this card reader has been designed just for your Android device, you'll either need an adapter to plug the Leef Access into your PC or Mac, or a separate full sized USB card reader.
Once you have files on the card, plug it into the top slot of the Leef Access card reader and then plug the reader into the micro USB port on your Android device. When tested with my Samsung Galaxy Note 2, plugging in the Leef automatically mounted the card as a USB drive on the phone and launched the stock Android file manager. From there you can play, view and copy files to and from the microSD card to and from the Android device. I experienced zero problems listening to music and watching videos from the mounted microSD card.
The only issue I had during my testing, was with the Nexus 7 (2013) tablet, which by default does NOT have OTG (On-The-Go) enabled. In order to use OTG, which enables you to use USB flash drives (such as the Leef) and keyboards/mice, you either have to root the tablet or install a 3rd party app like Nexus Media Importer. I have no idea why Google decided to cripple this tablet like they did… Once the app is installed, the Leef Access card reader worked just as well with the Nexus as it did with the Samsung Galaxy Note 2.
Although I've seen other products similar to this one, The Leef Access microSD card reader for Android is the smallest one I've seen so far, and the only one that offers a second storage slot. It's a great little tool that allows you to expand the memory of your Android device without spending a lot of money or adding bulk to the device. The only way this little card reader could be even better would be if it included a full sized USB adapter so it could also be used with a PC/Mac.
For more info on the Access microSD card reader visit Leef.com

Product Information
Price:
$9.99
Manufacturer:
Leef
Requirements:

Android Jelly Bean OS 4.1 or higher

Pros:

Very portable
Expands device with more file space
Includes 2nd slot to store an extra microSD card
Waterproof and dustproof

Cons: