We use affiliate links. If you buy something through the links on this page, we may earn a commission at no cost to you. Learn more.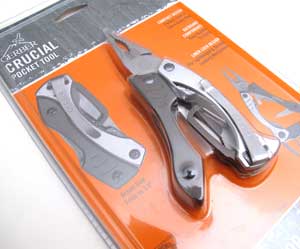 There are a couple of brands I think of when it comes to multi-tools. Leatherman, SOG and Gerber. Today I want to show you the Gerber Crucial pocket tool multi-plier that was sent to be from OutdoorPros. It has been given the name Crucial because instead of having a bazillion knife blades, screw drivers, files, saws and various other assorted tools, it only gives you the tools you really need.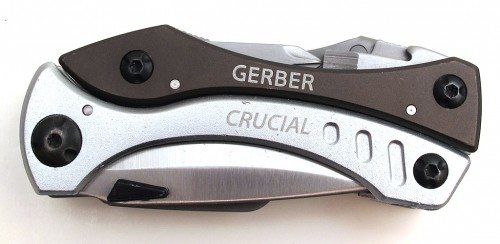 This is compact folding multi-tool with an overall length of 5.5″ inches when open and just 3.6″ when close. It's made of stainless steel and has a weight of 5.0 oz.
The included tools are:
* Carbiner type clip that doubles as a bottle opener
* Pocket knife
* Needle nose pliers
* V-cut wire cutters
* Flat head screw driver
* Phillips head screw driver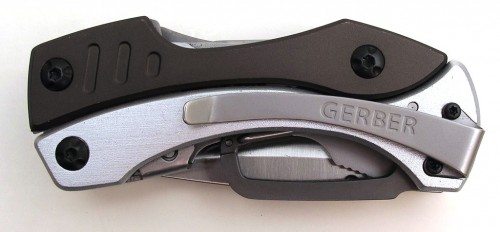 There are no plastic parts to this tool. The handles are steel. There's also a steel pocket clip attached to one side.

Edge view.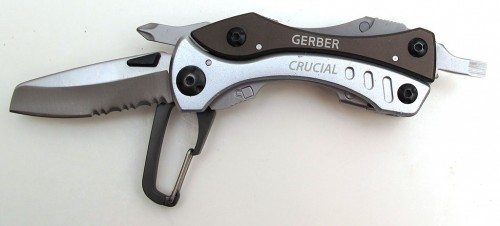 Here we see the three blade type tools extended. The spring style carabiner clip can double as a bottle opener.

The blade tools lock into place when they are fully extended. They can be unlocked and folded back into the handles by pressing the liner locks shown here. They are thin pieces of steel with the notches on the edge.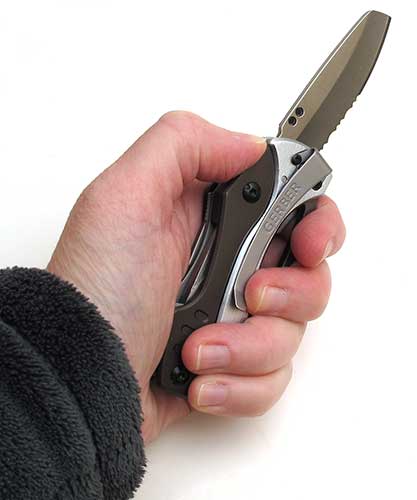 The 2.25″ long blade feels pretty robust. The thickest part of the blade is 3/16th's thick and at the base there is an attached knob that you can use for one-handed opening. It has both a serrated section and a smooth section, with a blunt tip.
Using this tool with the knife bladed extended feels comfortable in my hand. I wasn't sure about the location of the carbiner clip, but it actually helps me keep a good grip on the handle by providing a place for my index and middle finger to curl around. The handle doesn't dig into my palm either. The same goes for using the flat and Phillips screw drivers. Both are comfortable to use.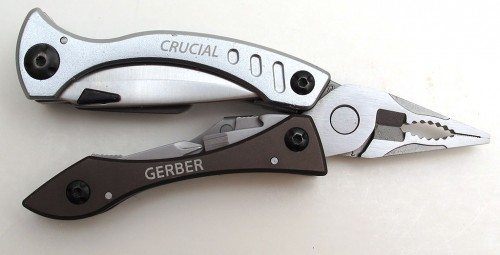 The handles of this tool unfold to reveal a pair of narrow nosed pliers with a wire cutter.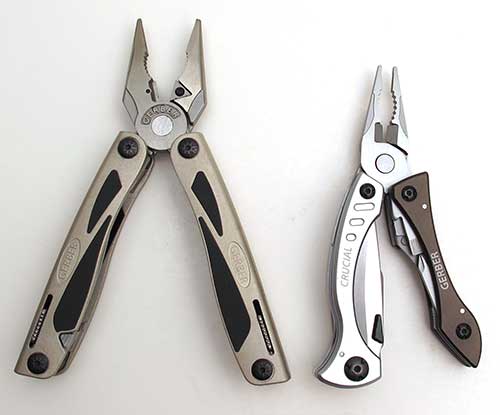 I have another Gerber multi-tool that I keep in the house for various tasks. To give you an idea of the size of the Crucial, here it is next to the full sized Gerber MP800.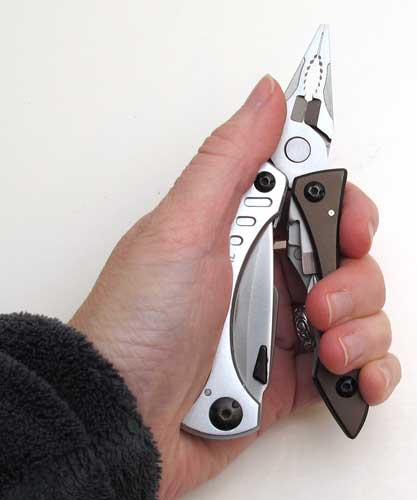 Using this tool as a pair of pliers is not nearly as comfortable as using the knife blade or screw driver blades. This is true for two reasons. Number one, the pointy part of of the silver handle digs into the palm of my hand along with the pocket clip. Holding it the opposite way feels a little better, but not by a lot. The other thing I don't like about using the plier tool is that it's not spring loaded. I guess I've been spoiled by the Gerber MP800, which is spring loaded. Using the Crucial is fine for small jobs, but I wouldn't want to use the pliers all day long. Maybe my hands are just too soft though 😉
Gerber knives are well made and I like the fact that is compact and doesn't have a bunch of unneccessary tools that rarely get used and just make the tool bulky. The knife blade is rugged and comfortable to use, as are the screw drivers. The pliers are adequate but I wouldn't care to use them for any extended period of time. I think this tool would be a nice addition to a car glove box or a gear bag because it doesn't take up a lot of space and doesn't add a lot of weight.
What is your favorite compact multi-tool with pliers?
Product Information
Price:
$32.40
Manufacturer:
Gerber
Retailer:
OutdoorPros
Pros:

Rugged knife blade
Compact
Steel construction

Cons:

Pliers aren't spring loaded
Not comfortable to use as pliers