We use affiliate links. If you buy something through the links on this page, we may earn a commission at no cost to you. Learn more.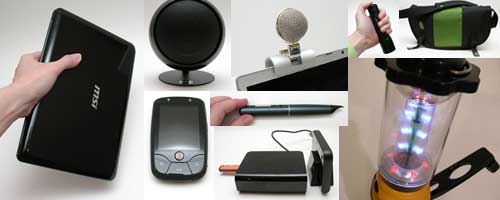 It's New Year's Eve, which means it's time for me to reflect on all the gadgets that passed through my hands during 2008. During this past year, I wrote over 100 reviews. That's a lot of products that were either really cool, or really lame. I'd like to share some of my favorites with you. These are gadgets that I have continued to use once the review period was completed.
Timbuk2 Laptop Messenger Bag – This remains my everyday gear bag even almost one year later. It has my must have requirements for every gear bag: a grab handle and a flat bottom so that it doesn't fall over. Yeah I'm not hard to please 😉 I also love the colors and simple design.
iWave Cube Microwave – I have this tiny microwave sitting on my desk at work. I like that it doesn't take up much space and is quiet. Although this particular model is underpowered, it works great for heating up a cup of tea. I may buy one of their newer models that have more wattage so that it doesn't take 25 minutes to fix my steel cut oats.
HP2133 Mini-Note – This was my first taste of using a netbook and I loved it! The metal case, keyboard and screen on the Mini-note were wonderful. I really hated sending this little guy back to HP. I considered buying one, but wasn't super happy with the processor performance. The mini came out before everyone started using the Atom processor.
LifeGear LifeLite Lantern – I still use this little crank-style lantern when we lose power here. I like that I never have to worry if the batteries inside it are charged. The fact that it has both a light and a radio built in is great too. At one point this summer, it was my only entertainment for a whole day.
LED Lenser P7 LED Flashlight – This powerful flashlight is my current favorite. It throws a really bright beam that can illuminate an entire room.
Hammer Storage morespace External USB Drive – This remains my main backup drive for my iMac. I've tried other drives, but the Hammer is the quietest, which is important to me.
Orb Audio Mod2 Home Theater Speaker System – I love these speakers! They provide wonderful sound and it's great that you can start with a small set and build on a little at a time. They look pretty cool too.
Slacker Portable Radio – I started out with their original player and fell in love with it. Then they came out with the Slacker G2 which was smaller. These are great little players with a cool service. If you're bored with an iPod, try a Slacker.
Livescribe Pulse Smartpen – This is a great tool for students and people that take a lot of notes in meetings. I'll admit that I haven't used this much once I finished the review, but I can't help but love the tech involved with this product.
MSI Wind Netbook – The HP mini-book review had me wanting a netbook, so I bought the MSI Wind. I even put OS X on it for awhile. I love the size of this notebook, but don't like the keyboard layout. Even though I continue to it, I'm sure I'll replace it sooner more than later.
BlueMic Snowflake USB Microphone – This isn't a wow-wee kind of product, but it is easy to use and does a great job of recording audio. I've been using it more and more lately and like it way better than my Zoom H2.
Belkin Conserve Power Strip – Great device for saving power and money on your electric bill. Two things we probably all wouldn't mind doing.
WD TV HD Media Player – Of all the reviews listed here, I have to say that this one is probably my favorite of 2008. So far it's played almost every video file that I've thrown at it. It's easy to use and is getting way more action than my AppleTV these days.
There you have it! Those were some of my favorite gadgets of 2008, what were yours?