We use affiliate links. If you buy something through the links on this page, we may earn a commission at no cost to you. Learn more.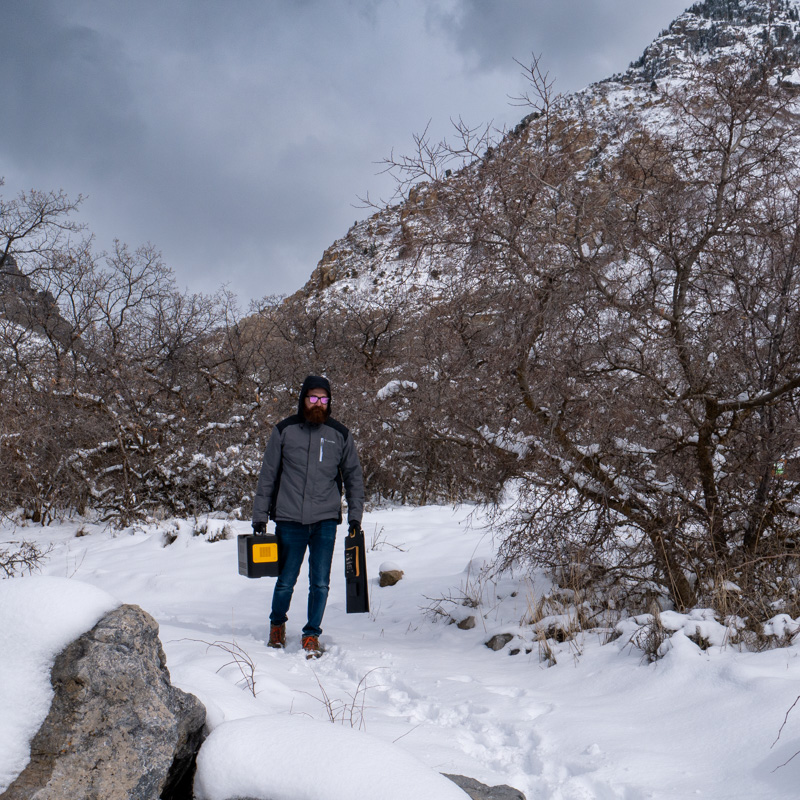 REVIEW – Another month, another portable power station to review! This one is the Powerness Hiker U1500 power station, and Powerness also included the SolarX S200 solar panel to check out as well. We have a couple of power outages every year, and often go on camping or boating trips (where we use inflatable kayaks and paddle boards frequently), so a good portable power station is great, and combined with a solar panel it's even better.
What is it?
The Powerness Hiker U1500 power station is a portable (more on that later) power station capable of powering all sorts of AC or DC electrical devices for extended periods of time. How extended, you may ask? This handy chart from Powerness' website can give you an idea of runtimes for different devices: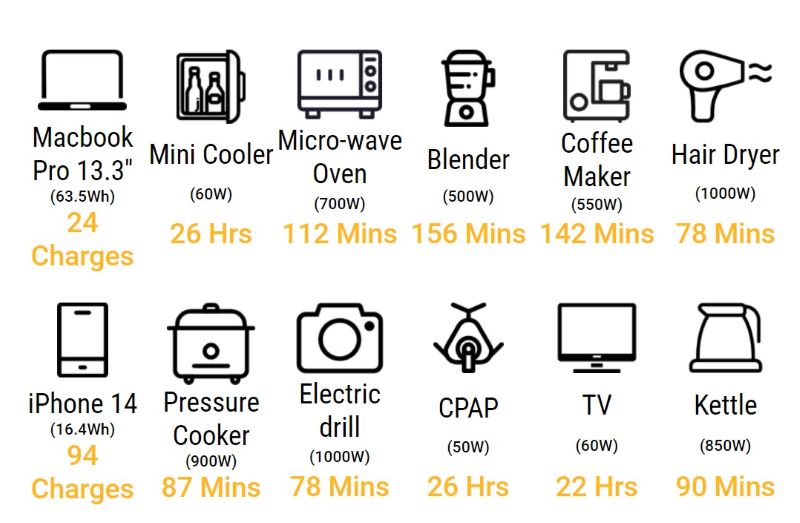 Powerness also sent over their SolarX S200 solar panel which is often paired with this power station to create a portable solar power generator. Standalone you can power various DC electrical devices straight from the solar panel, but when combined with the Hiker U1500, you get a system that is charged during the day and can provide power 24/7 (provided you don't exceed the day's generated solar power). This type of system is ideal for running some critical things during power outages, or while camping (tent, RV, etc.).
What's in the box?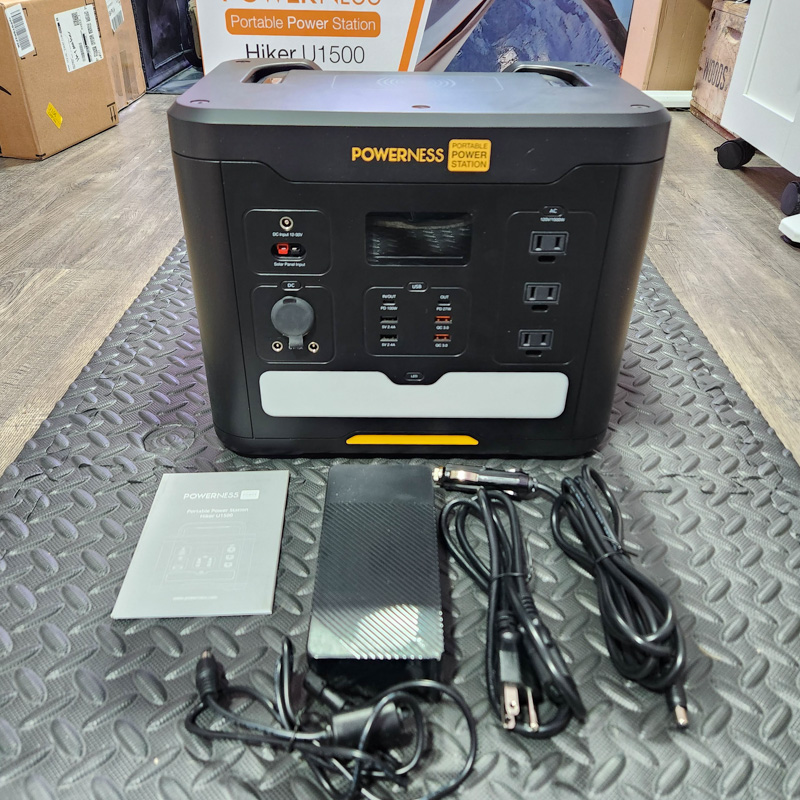 Powerness Hiker U1500 power station
SolarX S200 solar panel (sold separately or as a combo)
User Manuals
AC Charger Cable
Car (DC) Charger Cable
Hardware specs Power Station
Inverter: Pure sine wave
Weight: 17 kg
Battery Capacity: 1536 Wh/60Ah 25.6V
Battery Chemistry: LiFePO4
Rated Life Cycles: 3000 cycles to 80% capacity
DC Input (solar or charging): 30V/6.66A
Type-C Input/output: 100W Port 1, 27W Port 2
Anderson Input: Yes
Maximum total input: 200W DC + 100W PD (USB-C)
Charging time to 80%: 5.5 hours with AC + USB-C PD
AC Output: 1500W, 120V, 60Hz (x3)
DC Output: 12V/5A (x2)
USB-A Output: QuickCharge 3.0 (x2), 5V/2.4A (x2)
Wireless charging: 15W
Car DC Output: 12V/10A
Recharge Temp Range: 0° to 45°C (32° to 113°F)
Discharge Temp Range: -20° to 45° C (-4° to 113° F)
Pass-through Charging: Yes (with auto-off if no activity over several hours)
Warranty: 24 Months
Battery Management Systems: Over Voltage Protection, Overload Protection, Over Temperature Protection, Short Circuit Protection, Low Temperature Protection, Surge Protection, Overcurrent Protection
Certifications: CE, UKCA, ROHS,CB, UL, UN38.3 ,MSDS, Air Transport Report, Ocean Shipping Report, PSE,WEEE, EPR, LVD,FCC
Hardware specs Solar Panel
Operating Temperature: -10 – 65°C
Dimensions Unfolded: 2165 x 542 x 7 mm
Dimensions Folded: 595 x 542 x 40 mm
Weight: 7.1 Kg (15.7 Lbs)
Power: Up to 200W, 29V, 6.9A
Cell Efficiency: 23%
Open Circuit Voltage: 32V
Connectors: DC 3-in-1 connector: 4mm, 6.3mm, 8mm. USB-A Port, USB-C cable
Cable length: 2M
Warranty: 24 Months
Certifications: CE,FCC,RHOS,UKCA
Design and features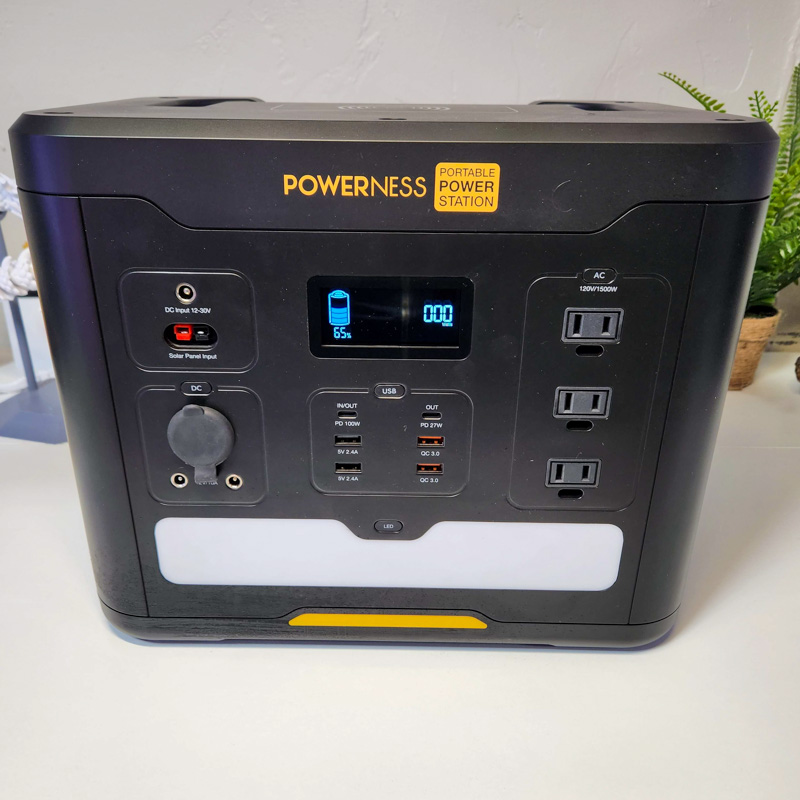 The Powerness Hiker U1500 power station and SolarX S200 solar panel is a familiar car-battery shaped block of a device. All the interesting bits are at the front, except for the handle and wireless charger (those are on top). It has a rugged plastic build with a black and yellow colorway. An LCD info panel is surrounded by various inputs and outputs which I'll dig into more below, and at the bottom is an LED light.
On the left side are the DC inputs and outputs. There's a DC input port, Anderson DC input port (labeled Solar Panel Input), and three DC output ports including a car style (formerly known as cigarette lighter) port. For details on voltages/amps on all of these see the Hardware Specifications section, though many are also printed right next to the ports, which is handy.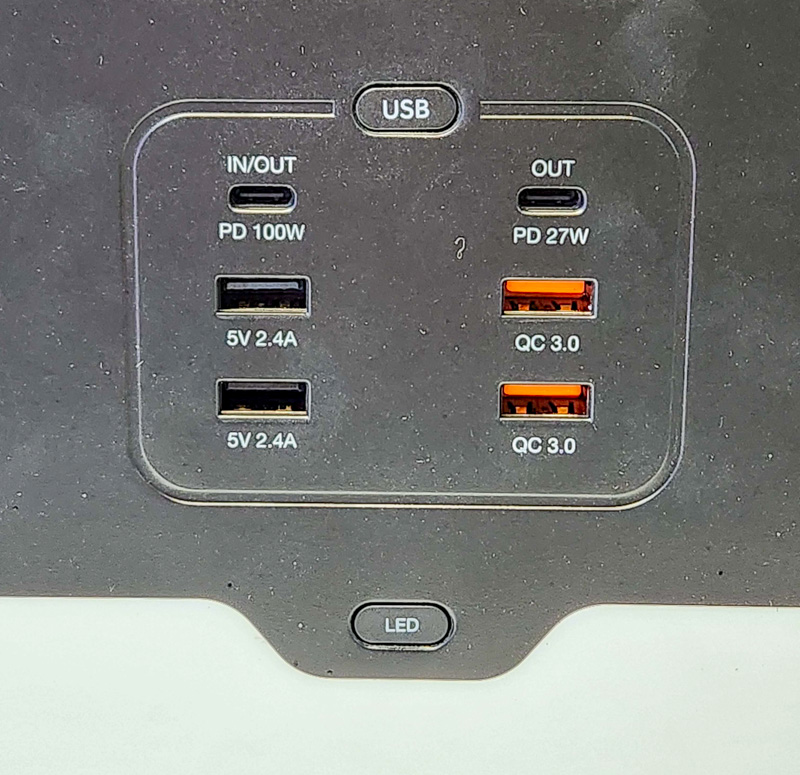 In the center below the screen is a cluster of USB A and C inputs and outputs. Each is labeled, and there are four USB-A ports (two higher power Quick Charge 3.0 and two standard 5V/2.4A), and two USB-C ports. One of these is a 100W PD (Power Delivery) port that can be used for both input and output, which I love. You can even use this while also using the normal 200W AC input for a total of 300W "fast charging".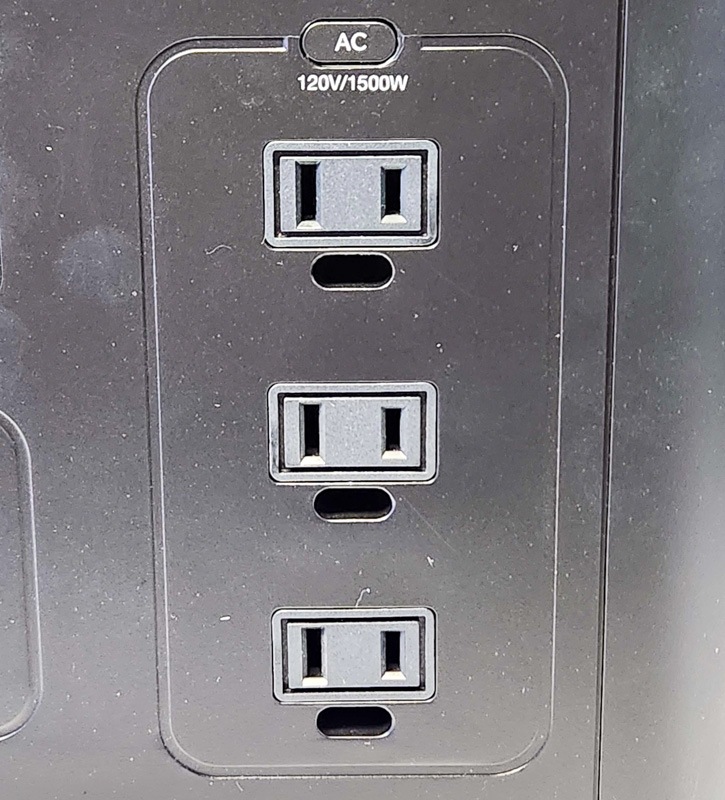 On the right is the AC output section with three outlets. You can use two or three-prong plugs, but they're not grounded so use caution with devices that should be grounded. A combined total of 1500 Watts can be output from these three ports.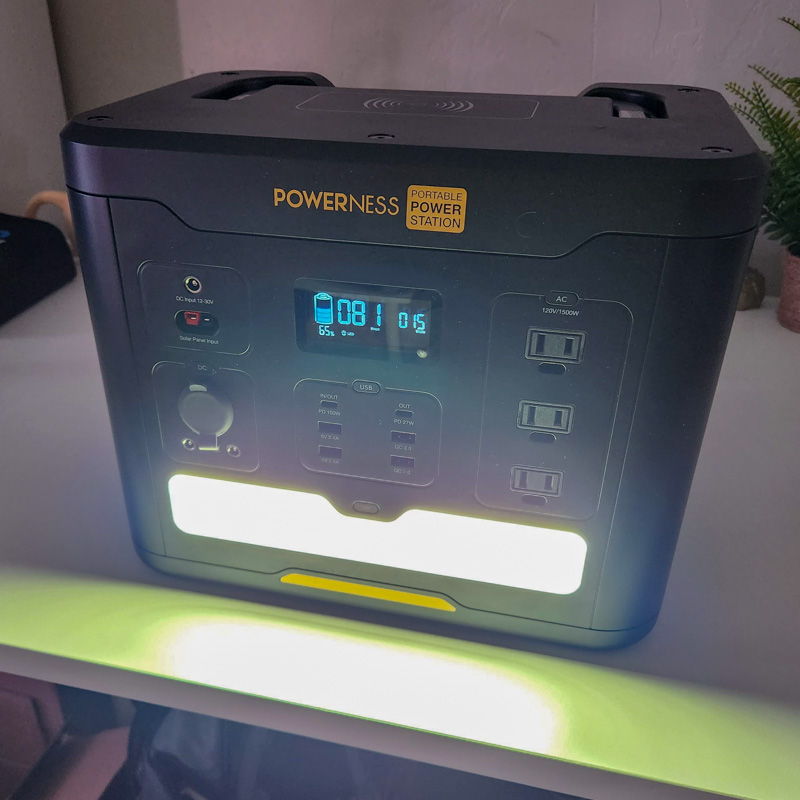 At the bottom of the Powerness Hiker U1500 power station is the LED light, which can be set to low/high/SOS settings. Each clustered section can be turned on and off with a single button press (so you don't have to be wasting power on DC output if you're only using AC, and vice versa).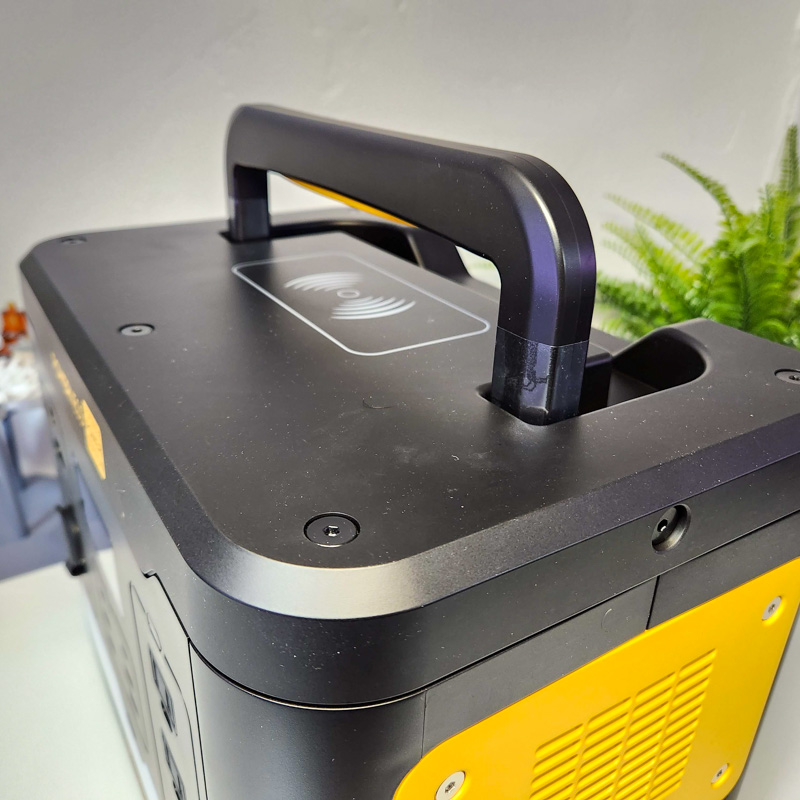 The fold out handle feels strong and is ergonomic, no complaints here. Also on top is the 15W wireless charging, which would be great while camping or at the beach or lake. Also notice the side vent and yellow sides, fans kick on when needed and sound like loud laptop fans.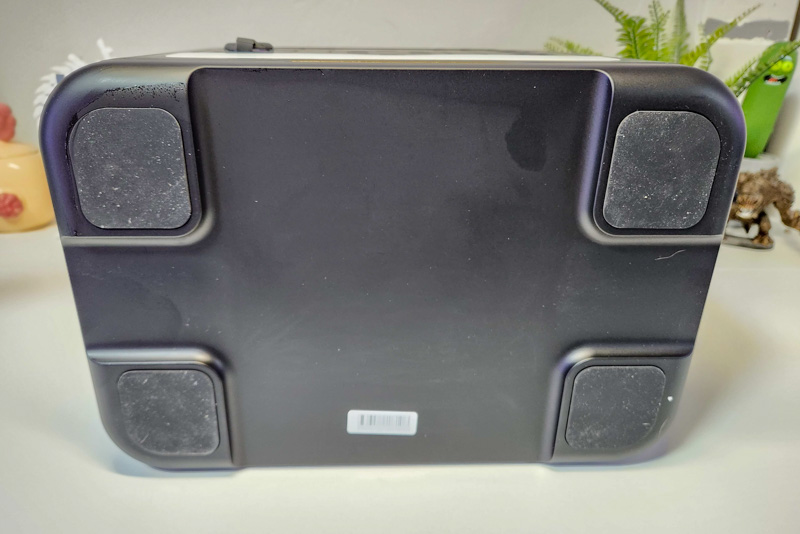 Large rubber feet keep the Powerness Hiker U1500 power station firmly in place on flat surfaces.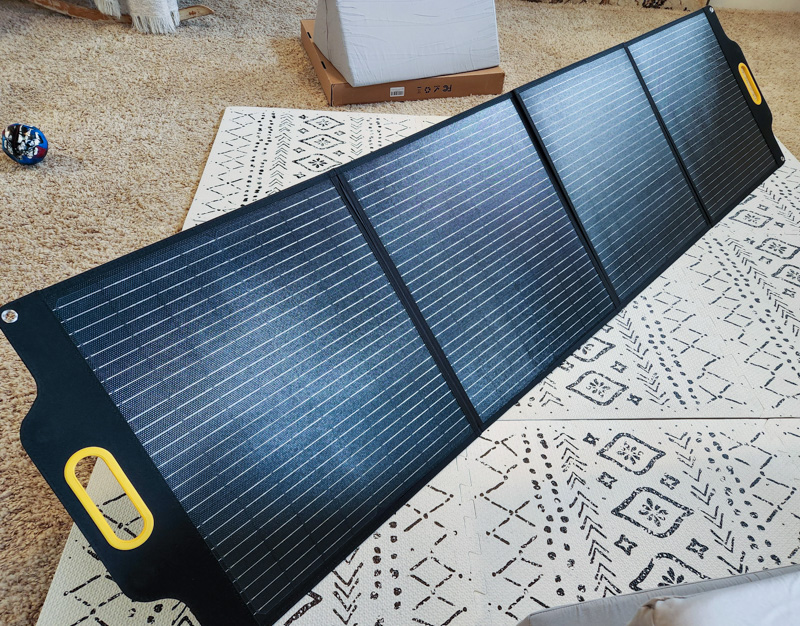 The picture above shows the  SolarX S200 solar panel fully extended.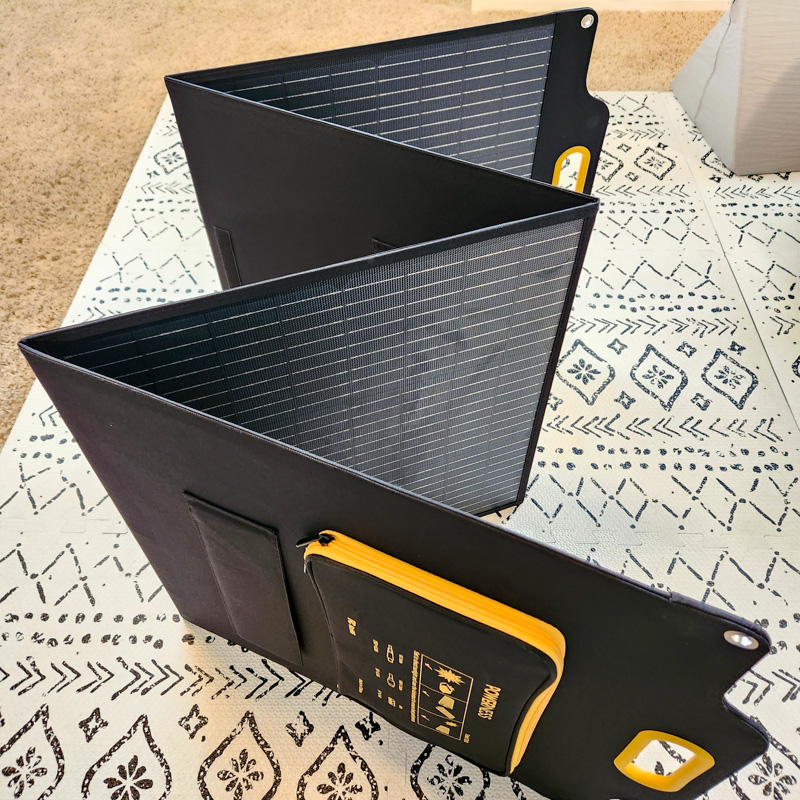 It folds up nicely and is compact.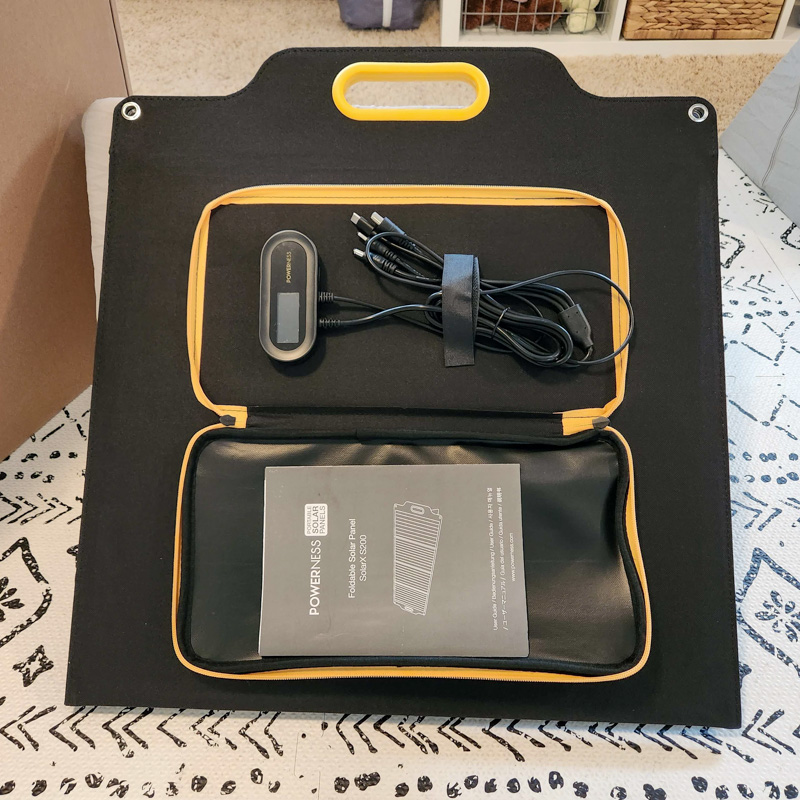 The LCD display and cords and manual are all stored in a zipper pouch.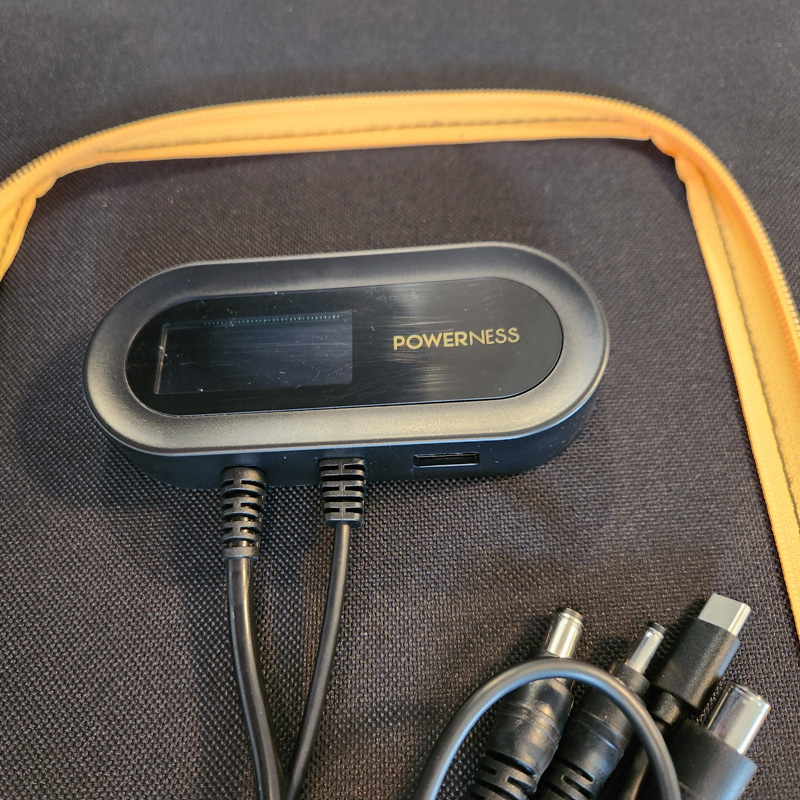 Above is a closer shot of the LCD screen and output jacks (including USB-C).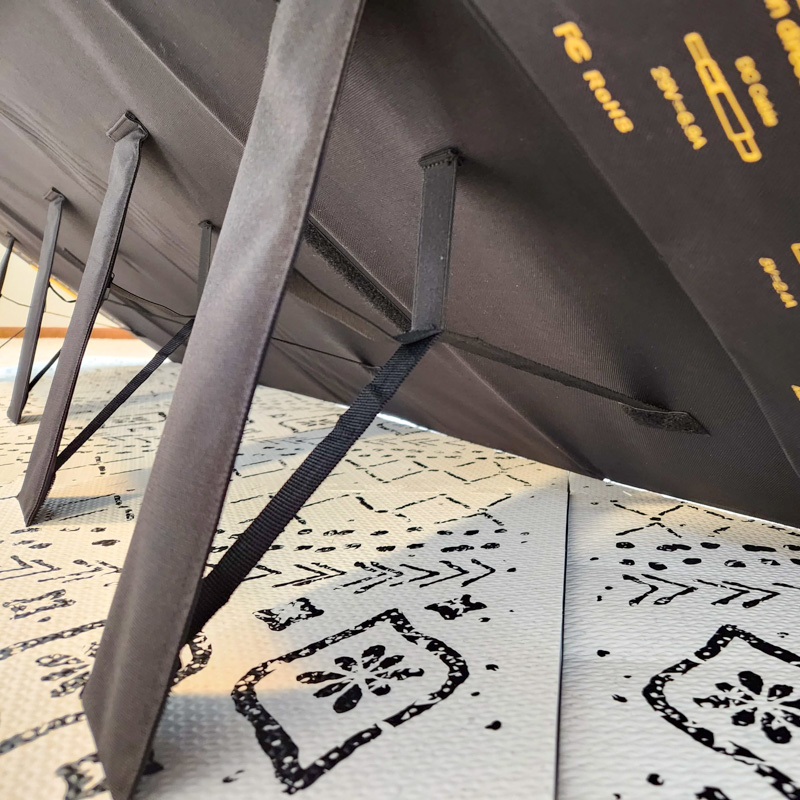 The fold-out legs are easily deployed and adjustable to get the best angle to face the sun. They attach with velcro to the back of the panel for storage.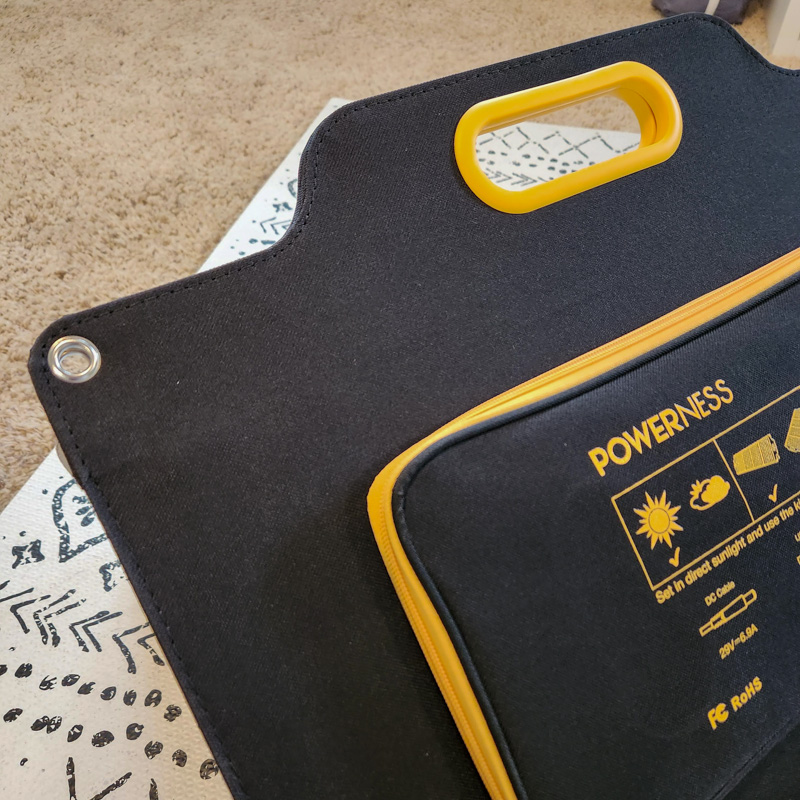 Above is the handle and one of the corner grommets, you can use these to mount the panel on a wall/roof/tree/etc.
Setup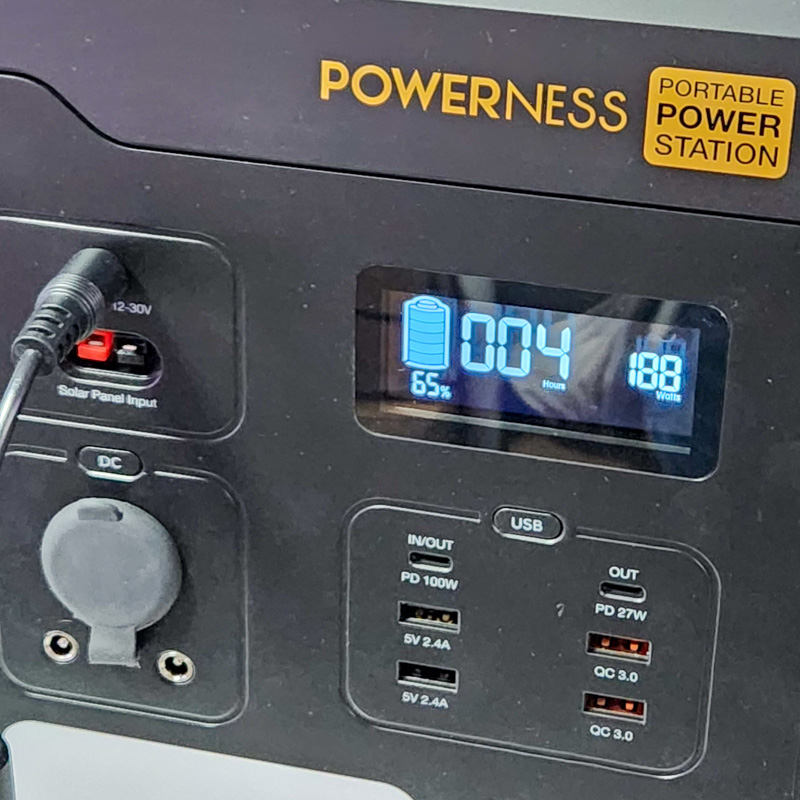 The setup for the Powerness Hiker U1500 power station is very simple. Plug in the charging method of choice (solar, DC, AC wall charger, or USB-C PD, or even a combo of PD and wall AC), then wait for it to charge. With the SolarX S200 solar panel, you simply unfold it and deploy the legs, then plug it into whatever you want to power with it.
Performance
First of all, I'm not sure where they get the "Hiker" model name, maybe it's inspired by hiking? As you can see below, it's not a great solution for actual hiking (51 pounds is a lot even in a backpack for hiking):
Jokes aside, the Powerness Hiker U1500 power station is a heavy hitter. In my usual torture test, where I play a projector, max out a gaming laptop, charge a work laptop, and tablets/phones, it was estimating a solid 4 hours of runtime at around 450 watts average. While it's capable of running devices up to 1500 watts, I love how long you can run lower draw devices, like a CPAC machine for 3 nights straight without recharging!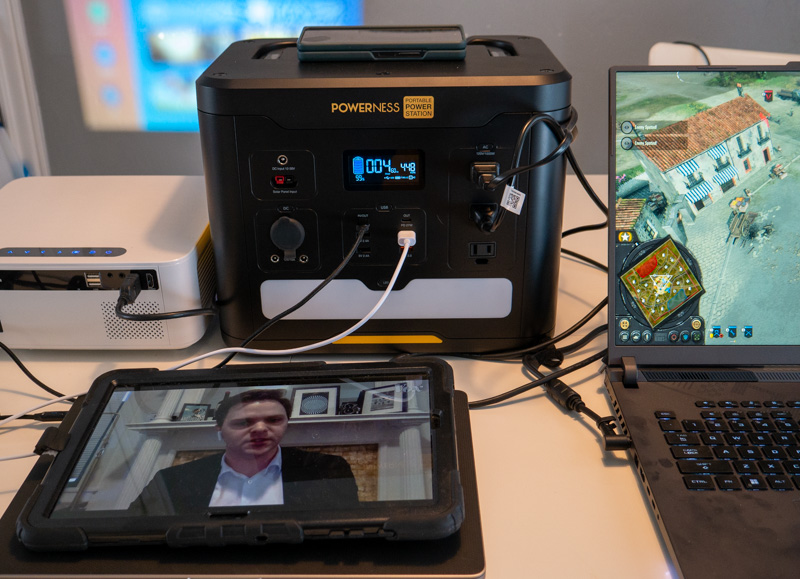 I even tested with a space heater that uses 1000 watts, and it worked (with the estimated run time of 79 minutes showing while in use). The Powerness Hiker U1500 power station is about the largest and heaviest power station I'd be OK with carrying for more than a few steps (though definitely not on an uphill hike), and could charge or power all sorts of things for us.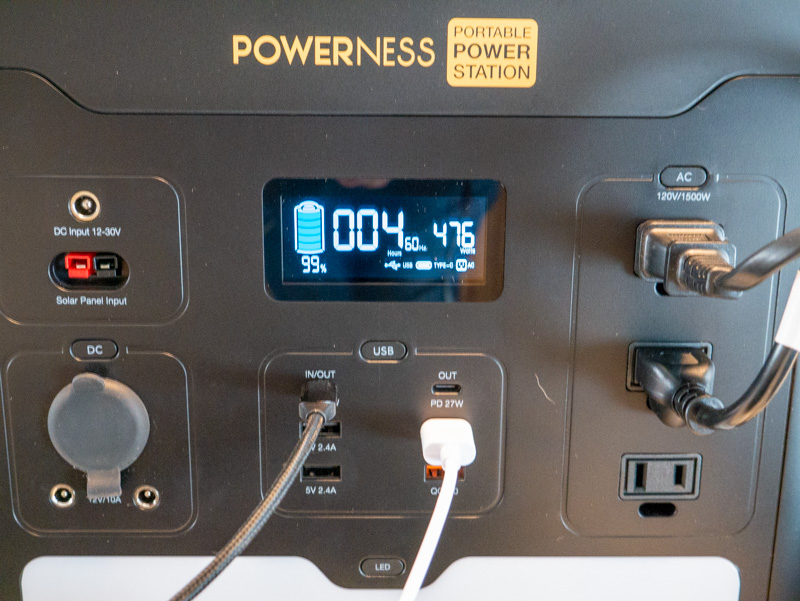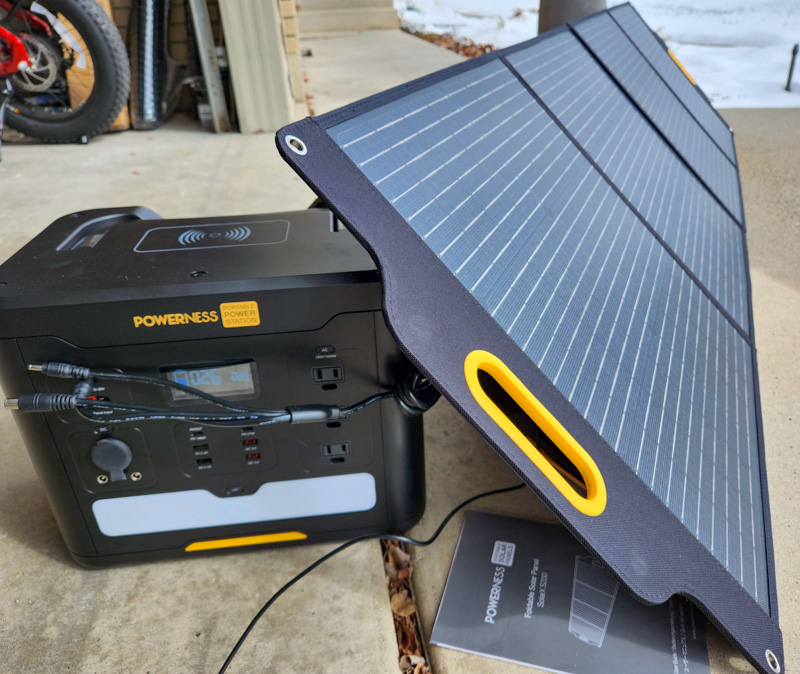 After the stress tests, I tried out the SolarX S200 200W Solar Panel. The 3-in-1 long DC cable is nice so you can also use this solar panel to charge power stations or devices with other types of inputs (though I wish they'd included an Anderson output as well, these are always nice). On a fully cloudy day, I was getting between 25 and 50 watts at optimum angles, but this review testing period was all early spring so you can expect a lot better performance in sunny/summer conditions. The SolarX S200 200W Solar Panel is very compact when folded up, and much easier to transport – this one should have been called the Hiker over the power station. The large plastic lined handles are comfortable, and metal grommets allow for mounting on walls/roofs/vehicles/trees/etc. The fold out legs are also easy to deploy and position, it's a good solar panel.
What I like
Large battery capacity and port selection while remaining somewhat portable
ETA to charged/empty clearly shown on screen (I hate it when power stations don't show this)
LiFePO4 battery chemisty: should last longer with less battery degradation, hold charge during storage better, and is safer.
Pass-through charging – some similar size/priced units on the market explicitly warn against this and it's nice to have for in-home outage protection.
What I'd change
The model name?  I recommend "Slow Walker Over Short Distances"
Final thoughts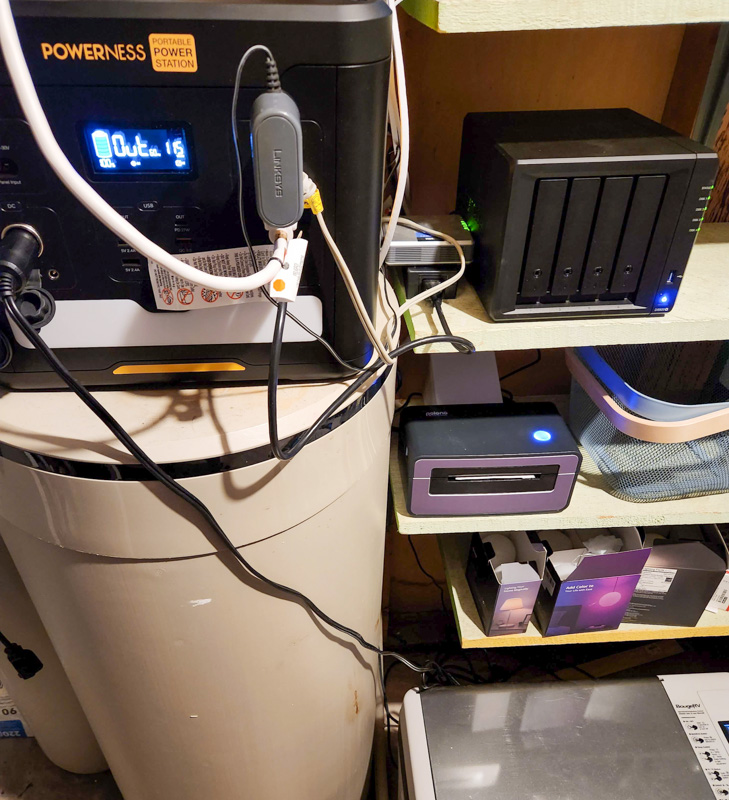 As you can see in the image above, the Powerness Hiker U1500 power station has earned the spot of "core internet outage protection power station". I have our router, modem, a switch, and our NAS all connected to it permanently now, so that if power goes out the internet is uninterrupted (and the NAS doesn't get unexpected power loss). I also have a soda/beer fridge connected: priorities. At a good price-to-performance ratio and a full feature set (and a difficult job for me finding anything to put on the "Con" list), I recommend the Powerness Hiker U1500 power station for anyone looking for something in this power range. The SolarX S200 200W Solar Panel is a great complement as well if you need a full solar power generator setup.
Price: Hiker U1500 Power Station: $1099.99, SolarX S200 200W Solar Panel $359.99
Where to buy: Hiker U1500 Power station: Powerness, SolarX S200 200W Solar Panel: Powerness and you can find their products on Amazon
Source: The samples for this review were provided by Powerness.