We use affiliate links. If you buy something through the links on this page, we may earn a commission at no cost to you. Learn more.
I have a confession to make… Even though I love my iPod classic, I really don't listen to it as much in the car as I listen to… the radio. Yes, it's true. I find myself listening to regular FM radio way more than my iPod. The radio is on when I drive into work in the morning and again in the afternoon on my way home. Why do I prefer listening to radio? One of the main reasons is that I never know what the next song will be and I like variety and finding new artists. Over the years I've tried XM and Sirius satellite radios and enjoyed them, but in the end, I got tired of the ads and mediocre audio quality. Now I think I have found the perfect radio gadget for me. It's the Slacker Portable Radio.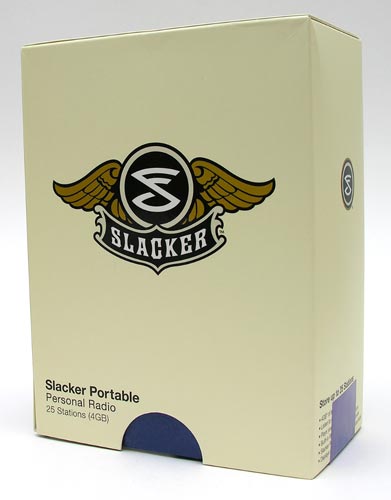 This device isn't a radio in the sense that it doesn't tune into a frequency in order to listen to a broadcast. Instead it uses WiFi or USB to pull down music from various stations (musical categories) that you can customize for yourself. The cool thing is that once you buy the player, the service is free if you don't mind a few small limitations. If these limitations bother you, you can subscribe to Slacker's premium service. More about all that later.
Hardware Specifications
Display: 4″ diagonal 480 x 272 TFT-LCD (16 x 9 aspect ratio)
Capacity: 2GB, 4GB or 8GB
Audio Formats: MP3, WMA (personal content)
WiFi: 802.11b/g
Battery type: Li-Polymer, up to 10hrs play time, 3hr charge time
Dimensions: 2.76 x .67 x 4.2″ (70mm x 16.5mm x 109mm)
Weight: 4.6 oz (130g)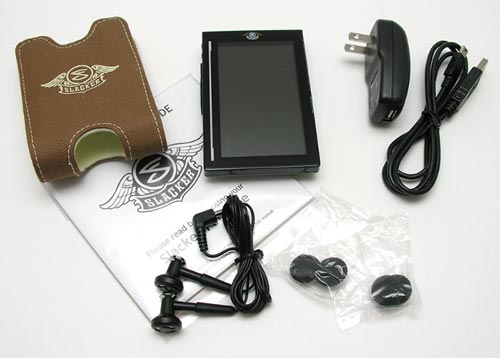 Package Contents
Portable player
Sleeve case
USB cable
AC Adapter
Earbuds with 2 sets of pads
Quick Start Guide

The Slacker Portable is made of shiny Black plastic and as you would expect, it is a magnet for smudges and fingerprints.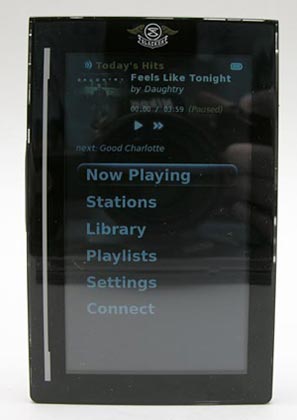 The entire face of the device is a color display, with a touch strip on the Left side. The screen is bright, crisp and easy to read.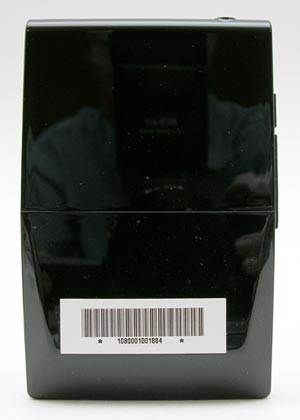 On the back side, there is a battery door which I haven't been able to remove. I am afraid of damaging it, so I gave up.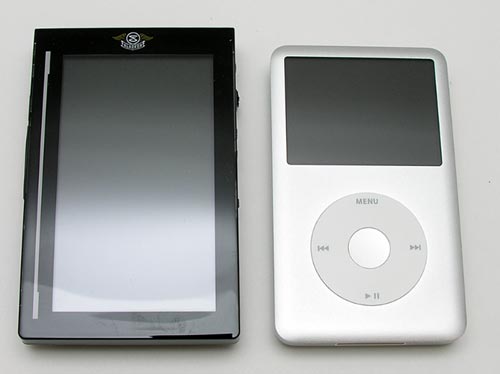 As you can see, the Slacker device is close in size to my 160GB iPod classic.

In hand, the Slacker Portable feels pretty solid. It was able to pass my patented Gadgeteer squeeze test with flying colors. Shaking it does yield some rattling from the buttons. Most people don't go around shaking their gadgets like a tambourine, so I won't hold this against the Slacker ;o)


On the Left side, there are two buttons and two ports. The top heart shaped button allows you to mark sounds as your favorites. If you use the free service, it will cause those marked songs to play more often. If you have the premium service, pressing the heart button will copy that track into your library so that you can play it whenever you like.
Both ports are protected by removable rubber covers that are easy to lose. I've already done that with the top cover, which protects a mini USB port that is used for charging and syncing. The other port is for a as yet to be available docking cradle.
On the Right side of the portable, you'll find a Home button that returns you to the main menu. Below it is a scroll wheel that you use to move up and down in lists. Pressing the scroll wheel selects an item. Next in line is the track skip button. Below it is the Pause toggle button and then the last button is actually a spring loaded slider switch that is used to toggle power and set to hold mode.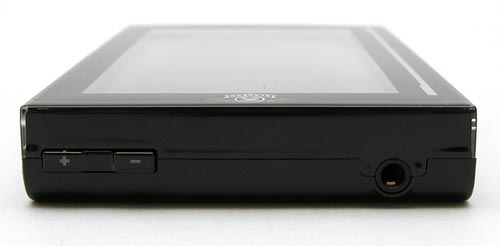 On the top of the player there are volume adjustment buttons and a 3.5mm stereo headphone jack.
The Slacker Portable radio works with the Slacker web radio service. When you order a portable, you choose the model based on the number of radio stations that you want to add to the player. The $199.99 entry level portable has 2GB of storage and allows you to pick up to 15 stations, giving you approximately 1500 radio songs and 500MB of space for your own MP3s. The $249.99 middle level player has 4GB of storage, gives you 25 stations, 2500 radio songs and 1.5GB for your own music. The high end player will set you back $299.99 and has 8GB of storage, will give you 40 stations with 4000 songs and 4GB of space for your own songs. If you spring for the high end player, they will also throw in an FM transmitter. I picked the middle player…
The cool thing is that when you place an order for the player, it will let you select your allotment of stations from over 100 available stations that include such genres as Blues, Country, Classical, Alternative, Rock, Electronic, Jazz, International, Latin, Rock, Spiritual, Comedy, Youth, Standards/Big Band, Hip Hop/R&B and others. Each genre has quite a few specific stations to choose from. It would be nice if they include talk radio stations at some point.
A very nice feature is the ability to create your own custom stations. You do this through the web interface. You search for artists and bands and add them to a list to create a station. If you don't add at least 15 different artists, the remainder will be added with similar bands. I really love this feature because I create stations that only play people that I like. You can also fine tune all the stations, which allows you to change settings such as Artist Discovery, Popularity, Favorites, Year and DJ commentary.
The Interface
After you receive the portable and charge it up, you can turn it on and start enjoying music right away. The user interface is easy to navigate using the scroll wheel. As I mentioned earlier, there is a touch strip on left side of the display. If you enable this feature, you can use your finger to scroll through stations and text. I found this feature to be very erratic and hard to control, so I turned it off about 1 minute after trying it. The scroll wheel works a lot better.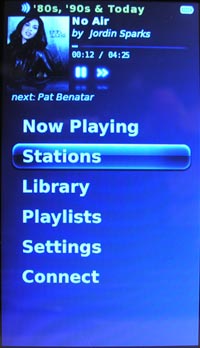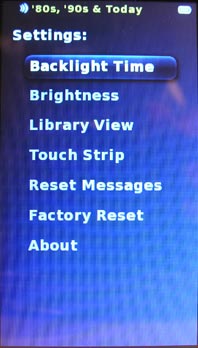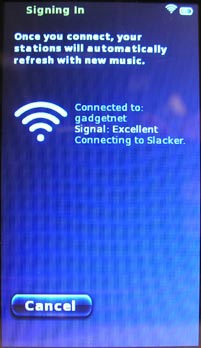 The main menu or home screen has a thumbnail in the upper Left corner of the currently playing song, next artist and options to bring up the station listing, your library, playlists, settings and connect screens.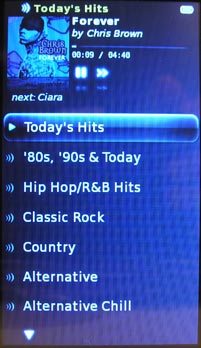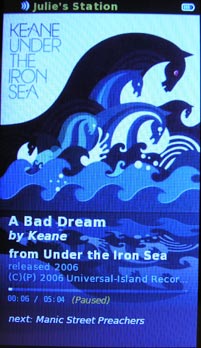 The stations screen is just a long scrollable list of station names with the currently playing song info at the top. To change stations, just turn the scroll wheel till you highlight the one you would like to listen to. Then press the wheel to select it. A few seconds later a new song will start playing from that station. What I'd really like to see in the station list is the next song to play in each one. That way, if I'm bored with what I'm listening to, I can easily find another station to switch to based on what the next artist might be.
If you scroll to the album thumbnail and select it, you'll go into the Now Playing screen. This shows the song name, band or artist name, release date, play progress bar and the next artist.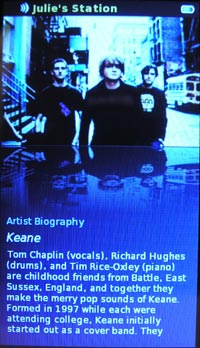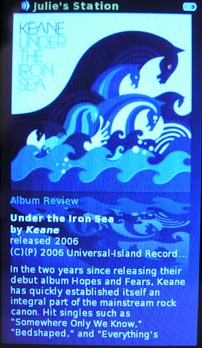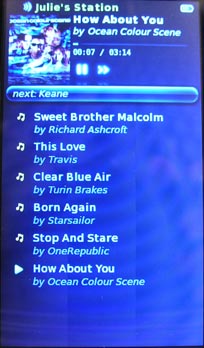 Pressing the scroll wheel will cycle through other screens for the currently playing song. They include an artist biography, album review and another screen that shows a list of songs that you've listened to so far from a particular station. I love the artist biography feature because it shows a picture of the artist or band and gives quite a bit of information about them. Scrolling through the info with the scroll wheel is a bit tedious though as it only scrolls a line at a time. It would be nice if it would scroll a whole page at a time. It's also annoying when you're in the middle of reading about an artist and the song changes as the artist info will change too.
So far, I've been pretty happy with the song selection that the different stations provide. I've found several new artists that I like well enough to buy their complete albums. I like being able to listen to types of music that I normally do not buy as it is helping me find new styles that I enjoy.
Audio quality is very good. It's definitely better than FM radio and is easily better than XM or Sirius too. The only audio issue that I ran into is that every so often when a song starts playing, it will hiccup or stutter. Hopefully this will be fixed with the next firmware update.
If you pause a song and power down the player, the song will commence playing once you power up and press the pause button toggle to play. If you pull out the headphone jack, it will automatically pause the player. Putting it back in will resume play.
Do you need a computer to use the Slacker Portable?
Yes and no… An actual Windows PC is required for syncing new music via USB and transferring your own MP3s or WMA song files into the portable's library. A Mac or PC is needed for charging via USB. Any type of computer with an internet connection will allow you to add, remove, or make your own custom stations, by using the Slacker radio web interface. You won't need a computer at all if you are content to listen to the same stations that shipped with your portable and have access to free WiFi that you can use to sync new music.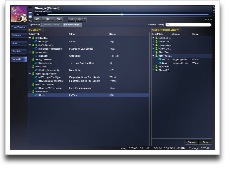 Click on thumbnail to see full-size image
It's important to note that Mac users will not be able to copy their own music files to the player. This requires a special software player to be installed. Right now, there's only a version for Windows. Mac users can do everything else through the web interface.
Basic (Free) or Premium (Pay) Service?
The Slacker Portable comes with the free service by default. This service has a few limitations that may or may not bother you. You can only skip 6 songs an hour per station and you may hear or see up to 2 ads per hour. The ads that I've heard so far are about 15 – 30 seconds long and just talk about the Slacker radio. I've not seen any visual ads yet. Occasionally you'll also hear DJ commentary about a song or artist. These little spots are also quite short. If any of that bothers you, you can upgrade to Premium service. It costs as low as $7.50 a month if you go with the 1yr option. With the upgrade to Premium, you get unlimited skips, the ability to save tracks to your library with the favorite (heart) button, no ads, no DJ commentary if you desire and unlimited song requests. Requesting songs will let you specify songs by name and artist that you definitely want to hear in each station.
When you buy the portable, you can try a free 7 day eval of the premium service. For me, the ads really don't bother me and 6 skips an hour doesn't seem that bad. But, I do like the ability to save tracks to my library so that I can listen to them again whenever I want.
Conclusion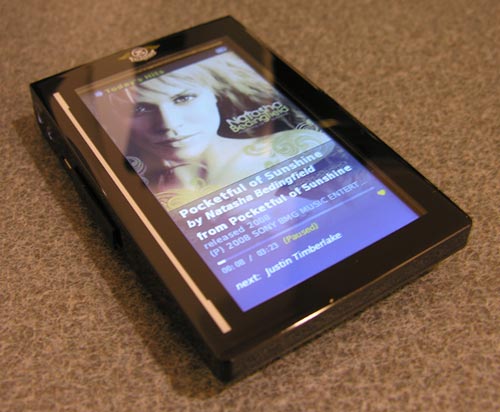 I've been playing with the Slacker Portable for a couple weeks now and I just love this thing. It's easy to use and the sound quality is great. It's like having a magic iPod that always has new music for you to listen to. I also really like being able to create my own stations. I was amazed at the depth of the Slacker catalog. I made a station that included the following artists: William Shatner, Leonard Nimoy, Regis Philbin and David Hasselhoff. Right now I'm listening to Spock sing "If I Was a Carpenter". Yes, I'm twisted. If Slacker adds talk radio and podcasts to their selection of stations, my iPod might start taking up permanent residence in my gadget drawer…
Product Information
Price:
249.99
Manufacturer:
Slacker
Pros:

Easy to use
Updates via WiFi or USB
Can create your own custom stations
Can save songs into your library - Premium service

Cons:

Mac users can't copy their own music to the player
Songs sometimes stutter at the beginning