We use affiliate links. If you buy something through the links on this page, we may earn a commission at no cost to you. Learn more.
The Palm Treo 800w smartphone is Sprint's latest Treo with Windows Mobile 6.1 Professional. It's been designed for business users and operates on the Sprint Mobile Broadband Network, with support for EvDO Rev. A data speeds. It's also the first Treo with built in WiFi.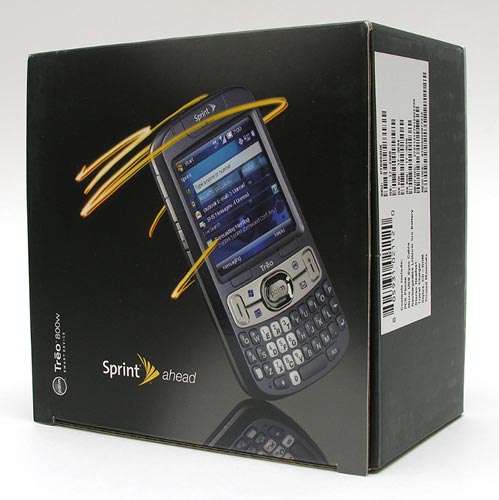 Unfortunately for me, I don't live in the EvDO Rev. A coverage area, so I wasn't be able to test how well this device performs with broadband speeds. I will tell you that Sprint claims that the 800w provides users in the EvDO Rev. A coverage area with expected average upload speeds of 350-500 kbps (versus 50 –70 kbps with EV-DO Rev. 0) and download speeds of between 600kbps and 14mbps (from 400-700kbps). Peak download data rates increase to 3.1 Mbps (from 2.4 Mbps), and peak upload data rates increase to 1.8 Mbps (from 153 kbps).
Hardware Specifications
Operating System: Windows Mobile 6.1 Professional Edition
Processor: +TI OMAP 2431
Memory: 256MB user memory (~ 170MB user storage), 128MB program memory
Display: 320 x 320 pixel transfective color TFT touchscreen, supports 16-bit color (65k colors)
Radio: Qualcomm MSM6800A chipset supporting EvDO Rev A and mobile receive diversity
Digital Dual-band: CDMA (1900mHz and 800MHz)
WiFi: 802.11b/g
GPS: Built-in GPS (standalone and assisted); Sprint Navigation
Bluetooth: Bluetooth 2.0+ A2DP
Digital Camera: 2.0 megapixels with 1280×1024 resolution and 2x zoom
Expansion Slot: microSD card
Battery: 1150 mAh Rechargeable lithium-ion, Talk time: up to 4.0 hours, Standby time: up to 200 hours
Size: 2.28 x 4.41 x 0.73 in
Weight: 5.0 ounces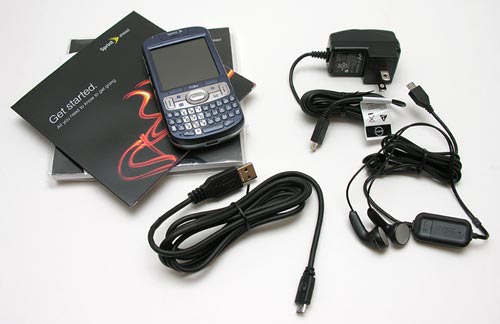 Package Contents
Palm Treo 800w smartphone
Rechargeable battery
AC power charger
Micro USB sync / charge cable
Headset
Stylus
ActiveSync Software installation CD
Basics Guide
Get Started Guide
Design and Style
As soon as I took the 800w out of the box, I was struck by its small size. It's shape and size is similar to the Centro which I like quite a bit more than the previous design of past Treos.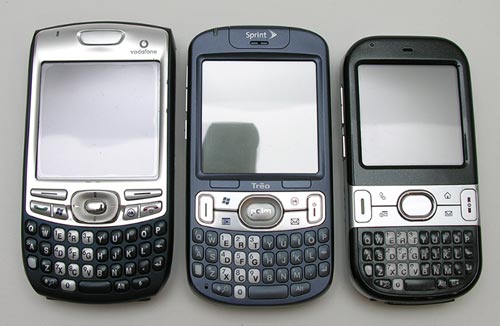 Left to Right: Palm Treo 750, Palm Treo 800w, Palm Centro
Although the 800w doesn't look like it's much smaller in than the Treo 750 in the image above, it is noticeably so in hand. It's both thinner and flatter and feels very comfortable in your hand.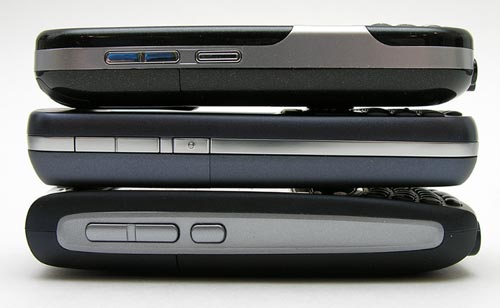 Top to bottom: Palm Centro, Palm Treo 800w, Palm Treo 750
A smartphone stackup shows that the 800w is a bit thinner than the other two devices.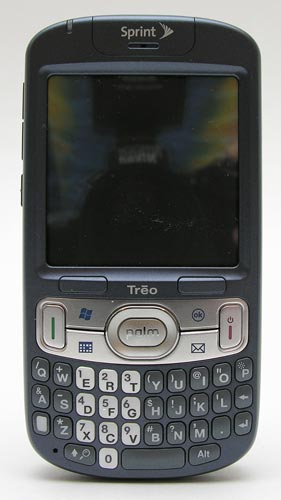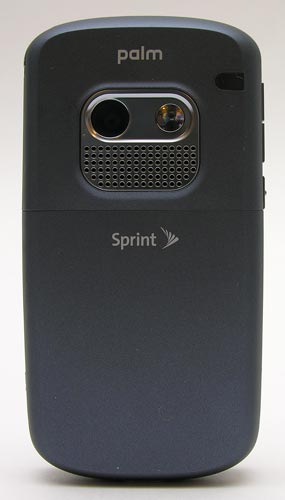 At the time of this review, the 800w is only available in one color. It is Grayish Blue, with the back half of the case having a rubberized texture for better gripping. For the most part, the updated design of this phone really hasn't changed that much from previous Treo's. It still has the familiar QWERTY keyboard, 5-way navigation button and a camera on the back. One big difference is that the display is 320 x 320 pixels. That's a big improvement over previous Windows Mobile Treo's, that were only 240 x 240.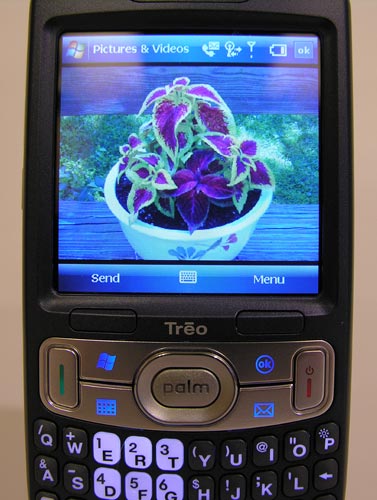 The display is crisp and vibrant, but I wouldn't mind if it were just a little bit brighter. The image above is at max brightness and was snapped without flash.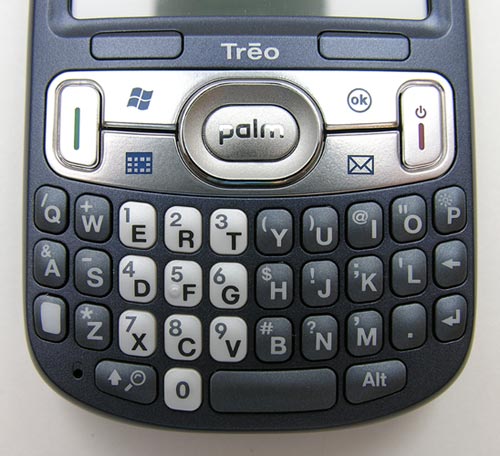 The backlit keyboard is easy to see and type on. I like this keyboard better than the one on my Centro due to the fact that the keys do not have shiny clear bubble tops which are sometimes hard to see. The application, control and navigation buttons are also superior to the Centro. They feel more robust and I really like the small Left and Right buttons that map to the bottom screen functions. It's easy to hold this phone in one hand and use the thumb of that hand to access all the buttons to make a call or launch a program. All of the buttons have excellent tactile feedback, so you'll know if you've actually pressed the button.


On the Left side of the phone, you'll find the volume adjustment buttons and a Voice recorder launch button. Then on the Right side there is the stylus slot, an IR port and the MicroSD card slot that is accessible without needing to remove the battery cover.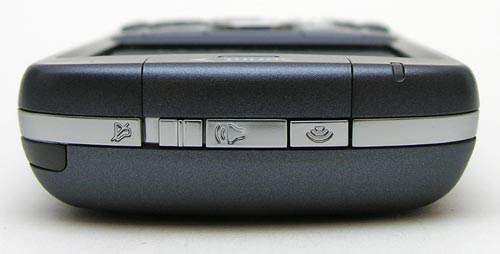 Along the top edge of the phone, you'll find the ringer on/off button and the one-touch WiFi button. Yes, this is the first Treo to have built-in WiFi. Hold the button down for a few seconds and it will turn on WiFi and show you a list of available networks that you can connect to. Hold the button down again and it will disconnect from any connected network and will turn the WiFi feature off.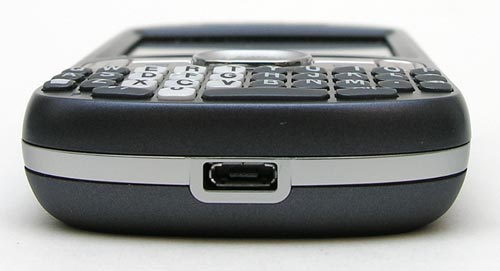 Take a look at the bottom of the 800w and you'll find an unusual sight for a Treo… The Universal / Athena sync and charge connector has been replaced with a Micro USB connector.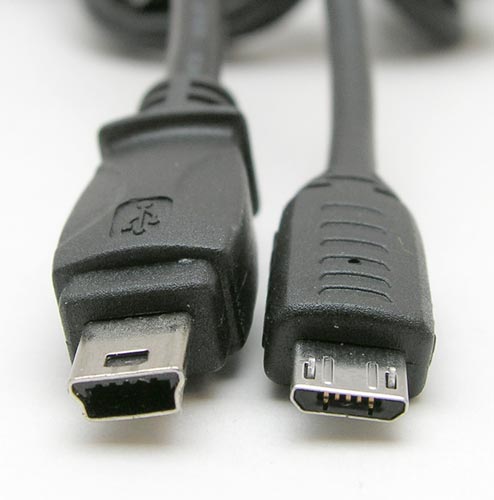 If you haven't seen a Micro USB connector before, here's how it compares to a Mini USB connector. The Mini is on the Left, while the Micro is on the right. I'm a little disappointed that the Mini USB wasn't used as most people have several extra Mini cables hanging around that they could use to sync and charge. This special connector is also used for the included headset. That's right, the 800w does not have a 3.5 or 2.5mm earphone jack. Bummer.
Camera
Treo's have not been known for their fantastic photography prowess, and that hasn't changed with the 800w. Although the resolution has been increased to 2 megapixels, the images it can snap are mediocre at best. Great for snapping when it's the only camera you have handy, but that's about the extent of it. Here are a couple examples to check out…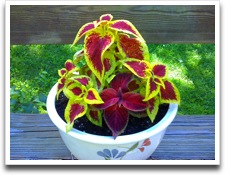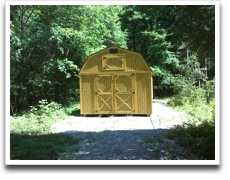 Click thumbnail to view full sized image
As you can see, the images are only so-so. They have good color, but are not every sharp. You also can't get too close to your subject… as in macro shots. Which for me is one of the more useful uses for a mobile phone camera. I like to snap info out of books or magazines instead of writing things down. No joy doing that with the 800w.
Overall Performance
The Treo 800w feels very responsive even when there are quite a few applications loaded. It helps that this Treo has more memory that previous models. There's just a very slight lag when an application loads, but once loaded, switching between them is very quick.
I was able to watch some videos using the Windows Media player and was happy with the performance.
Call quality is clear and volume levels are loud enough for me. Reception seemed fine, but during most of my testing, I was roaming on Verizon.
As for battery life, I didn't do any real testing as I had the phone plugged into USB off and on to install applications. The battery does have a lower capacity than some previous Treos, but the talk time and standby time are listed as pretty close to the Sprints prior Windows Mobile Treo.
Software
In addition to all the regular Windows Mobile applications, Palm and Sprint have added some of their own special sauce to the mix. First of all, the Today screen has quite a bit of functionality.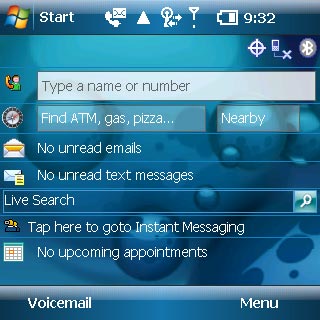 You see all the standard items such as upcoming appointments, number of unread emails, etc., you can start typing a name or a number to lookup someone to call.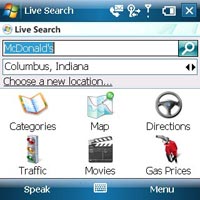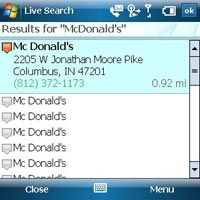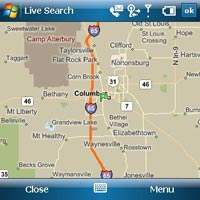 You can also conduct searches via Live Search or the Maps application. Speaking of Live Search, I really love that application. You can look stuff up my typing in a name, or by speaking it.
Some of Sprint's bundled in applications include:
Sprint TV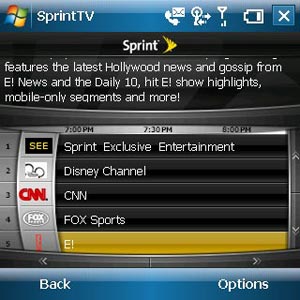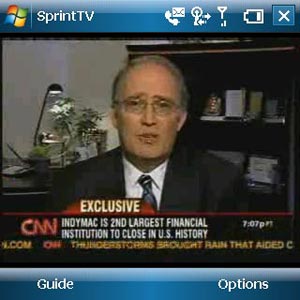 More than 50 live television channels available including CNN mobile, FOX sports and E! Entertainment; access NFL Network and special programming via Sprint Exclusive Entertainment. There are full episodes of various shows like Hannah Montana. No, I don't watch that show. Really! ;o) The quality isn't HD or anything, but it's fun to watch something when you're bored. Works over WiFi too.
Pocket Express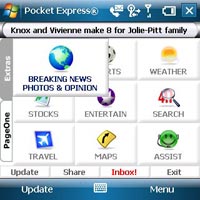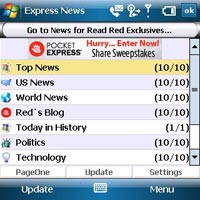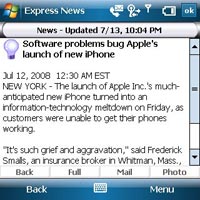 Easy to navigate web portal with customized up to date content such as sports, weather, news, stocks and movie info. This is another application that I like to waste time in when I'm waiting for someone or taking a break.
Sprint IM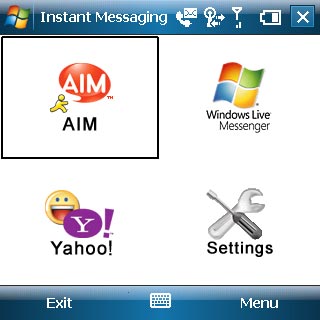 Access to Yahoo! Messenger, AOL's AIM® service and MSN Messenger.
Sprint Navigation

Delivers voice-guided and on-screen turn-by-turn GPS-enabled driving directions, 3-D moving maps similar to an in-car navigation system or personal navigation device, as well as more than 10 million local listings and real-time intelligent traffic alerts with one-click rerouting, anywhere on the Sprint Mobile Broadband Network.
Sprite Backup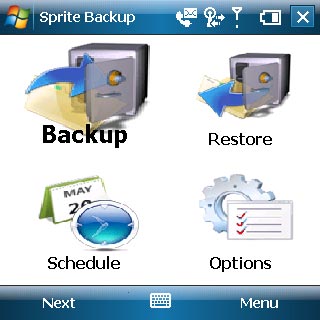 Easy to use backup and restore application with scheduling abilities.
Corporate business users will be interested in the fact that you can use this device with an exchange server to for up-to-date email, contacts, calendars and access to other productivity applications. Delivery of Outlook email using Direct Push Technology requires your company to use Microsoft Exchange Server 2007 or 2003 upgraded to service pack 2.
Conclusion
From the VERY short time that I've been able to play with the Palm Treo 800w, I can tell you that I'm really liking it so far. I just wish it was already available in a GSM version so that I could buy one for myself (sorry Sprint). I really like the new case style, the 320 x 320 display and of course the built-in WiFi. If I was in the market for a new smartphone (I just bought myself a Centro), I might very well buy this one. If you are a Windows Mobile fan that likes a QWERTY keyboard in a nice compact package, you should really check out the Palm Treo 800w.
Price is $249.99 after a $250 instant savings, $100 mail-in rebate, and two-year contract.