We use affiliate links. If you buy something through the links on this page, we may earn a commission at no cost to you. Learn more.
I love my 15 inch Macbook Pro when I use it at home on the couch, but my affection wears thin when I travel with it. Carrying it a gear bag slung over my shoulder and having to pull it out at various airport security checks, does get old. That's why anytime I see a small computer, my interest is immediately piqued. When HP contacted me last week to offer me a look at their new ultra-portable HP2133 Mini-Note PC, I was happy to oblige. Here's a quick look at it…
The Mini-Note is available in five different configurations that range in price from $499 – $849 and include various processor speeds, choices of Microsoft Vista flavors and even a distribution of Linux (SUSE). I was sent the $599 model designated as KX868AT.
Hardware Specifications
Operating system – Windows Vista Home Basic 32
Processor – VIA C7-M ULV processor (1.2 GHz, 128 KB L2 cache, 800 MHz FSB)
Memory – 1 GB 667 MHz DDR2 SDRAM
Memory slots – 1 DIMM
Hard drive – 120 GB 5400 rpm SATA
Display size – 8.9-inch diagonal WXGA
Graphics – VIA Chrome 9
Integrated camera – VGA camera
Ports and slots – 2 USB 2.0, 1 microphone in, 1 headphone/line-out, 1 external VGA monitor, 1 RJ-45, 1 AC power, 1 Express Card/54, 1 secure digital
Network interface – 10/100/1000 NIC
Wireless – Broadcom 802.11a/b/g
Battery – 3-cell (28 WHr) high capacity Lithium-Ion
Power supply – External 65-watt Smart AC adapter, 6-foot (1.8-meter) power cord included. Total length including external AC adapter is 12 feet (3.66 meter). HP Fast Charge Technology
Weight – 2.8 lb (1.27 kg)
Dimensions (w x d x h) – 10.04 x 6.5 x 1.05 in (255 x 165 x 27 mm)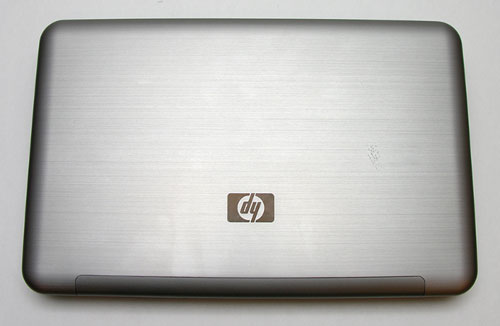 The HP2133 has been designed for the education market, and as such, it is both sturdy and rugged. The shell is brushed aluminum, that feels very sleek in hand. For some reason, it brings back memories of the Palm Tungsten T for me. I know it isn't a PDA, but just like that classic metal bodied device, I find myself wanting to pick up and touch this laptop. There are no sharp edges on this computer, all the corners are rounded and smooth.
It feels very solid and well built. It actually feels more substantial than my Macbook Pro.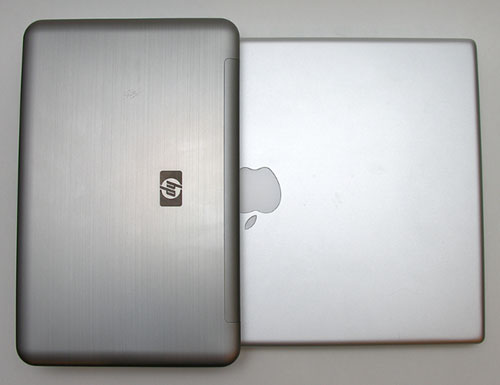 This laptop is the prefect size for traveling. As you can see from the image above, it is less than half the size of my 15″ Macbook Pro. I can't help but wish that Mac OS X was one of the operating system choices in the five configurations…

Never miss one of our posts again. Sent MON, WED, and FRI with the latest gadget reviews and news!
On the front edge, there are two small chrome slider switches with LEDs built into the switch knobs. The switch on the Left is the power switch and the switch on the right is for Wifi. There is also a small disk status LED next to the power switch.
Speaking of the hard drive, it is protected by the HP 3D DriveGuard. This sends a signal to shut down the hard drive upon sudden movement or shock by using a three-axis digital accelerometer chip.

On the Left side of the laptop, you will find a VGA out connector, heat vents, a USB port, microphone and earphone jacks.

On the opposite side there is an Express card slot, SD card slot, another USB port, Ethernet jack, AC adapter port and a security lock connector.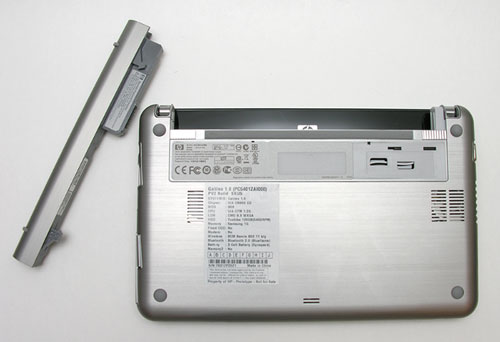 On the bottom of the laptop, you'll find the removable battery and various heat vents.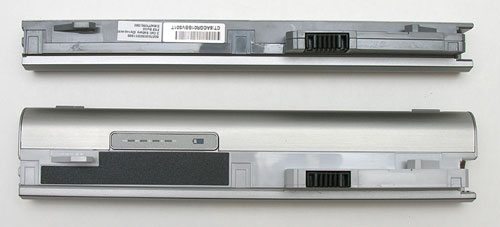 HP sent both the regular three cell battery as well as a six cell extended battery.

Here you see the extended battery installed. It does add considerably to the bulk of the laptop (from 2lb 13 oz to 3lb 3oz), but it has an added benefit of raising the back of the computer to a nice level for typing. The 3 cell battery will power the laptop for around 2.5 hours, while the extended battery can almost double that.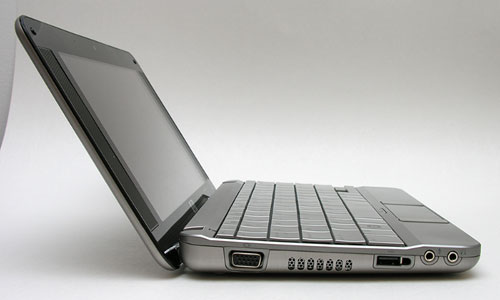 Opening the display reveals a glossy screen and wonderful keyboard. By the way, the display does not have a latch, it's just held closed by the hinge mechanism, which feels quite sturdy.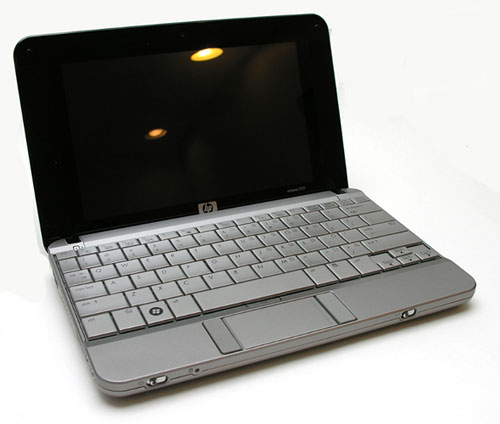 The display has speakers on either side of the screen. The sound provided by these speakers is really really good.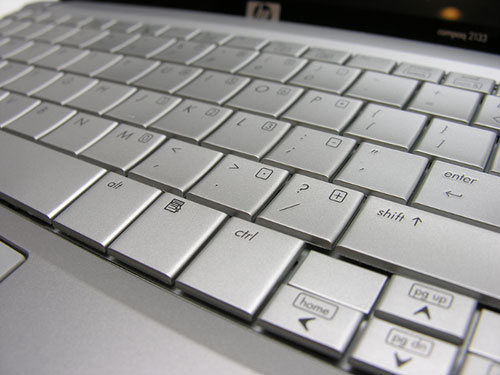 The keyboard on the Mini-Note is fantastic for such a small laptop. It's actually 92% the size of a regular full-size keyboard. The keys are metal and are slightly bowed in middle. The size of each key is generous and the travel is comfortable. As a fast touch typist, I had absolutely no problems becoming acclimated to typing on it.
This keyboard hides a nice feature. It's spill proof! The keys themselves also have a clear coating applied over them that protects the finish and printed letters and characters.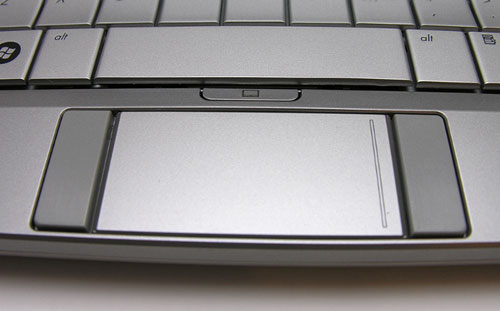 The small 2.5 x 1.25 trackpad has a rubber 'mouse' button on either side. Even though the trackpad is quite small, it works well. That said, I'd probably bring along a small wireless mouse if I were to travel with this computer. I've never been a big fan of using trackpads.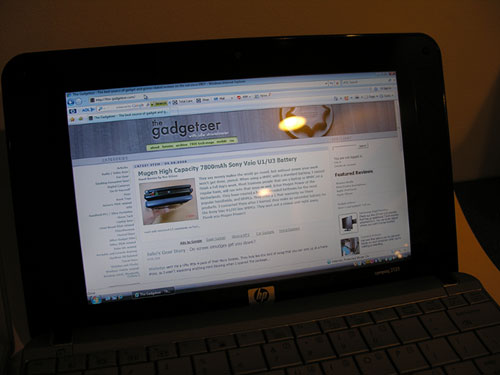 The 8.9-inch diagonal WXGA display is wonderful. Set by default at the maximum resolution of 1280 x 786, it is soooooo much better than the EEEPC, that I can't even tell you. Here you see The Gadgeteer in all its glory… No side scrolling required. Yay!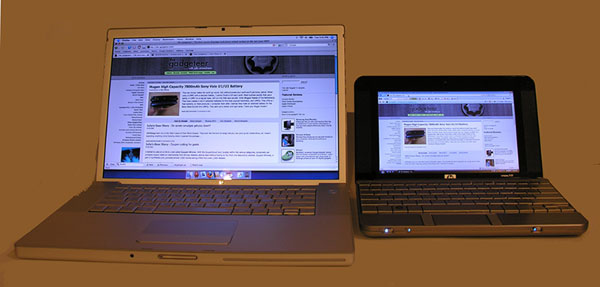 Here we compare my Macbook Pro and the Mini-note both viewing the same page. Papa Bear and Baby Bear ;o) Surfing with the Mini-Note was a pleasure.
The configuration that I was sent shipped with only 1GB of memory and Windows Vista installed. To say that I would rather stick a fork in my eye than use Vista is an understatement. But that said, the Mini-Note in this configuration does an admirable job. I noodled around with it and Office and felt that the laptop was very responsive, with little lag. If I were going to buy one of these laptops, I would most likely put Windows XP on it, or a distribution of Linux. Either one would probably make the machine feel even snappier.
Conclusion
I'm extremely impressed with the HP 2133 Mini-Note laptop. So much so, that I don't want to send it back tomorrow! The size is perfect, the display is great, the keyboard is wonderful and the price is nice. Sure, you can get yourself an ASUS EEE PC, for less money… But after you get your hands on the Mini-Note, the EEE PC feels and looks like a cheap toy. I actually purchased the EEE PC for myself thinking I would use it instead of my Macbook Pro for traveling. The small display and low resolution were absolute deal breakers for me though. I would take the Mini-Note on a trip with me in a heartbeat. Well, I would if it were running something other than Vista ;o) If you have been shopping for an ultra-portable laptop, please do yourself a favor and take a look at this one before you buy anything else.
Product Information
Price:
Manufacturer:
Hewlett Packard
Pros:

Metal body
Size
Great display, speakers and keyboard

Cons: