We use affiliate links. If you buy something through the links on this page, we may earn a commission at no cost to you. Learn more.
I don't know about all of you, but the first thing I do after getting seated on a flight is to open the seat back pocket to find the latest issue of the Skymall catalog. I didn't change that habit on my last trip when I went out to San Francisco for MacWorld Expo. One of the more interesting items that I saw in the catalog was the tiny iwave cube portable microwave from icube designs. Coincidently, a few days after returning from the trip, I was contacted asking if I might like to review this mini appliance. Of course I said yes. Let's take a look…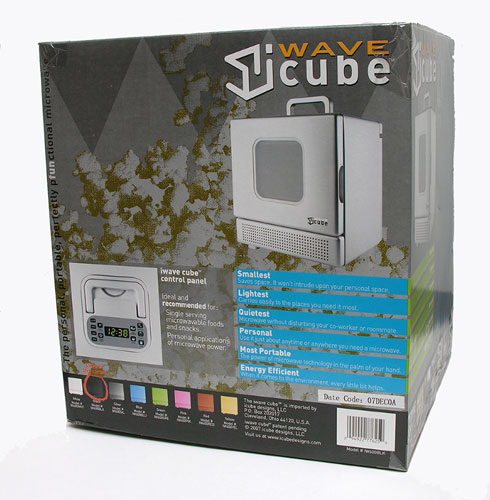 Available in eight colors including White, Black, Grey, Blue, Green, Pink, Red and Yellow, I was sent the Black model.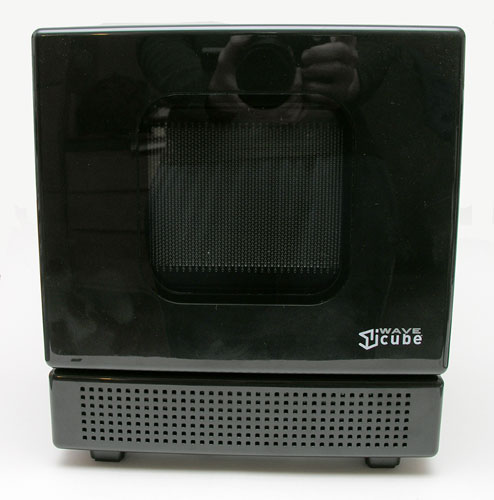 With a footprint of 10.5 x 12 x 10 inches, the iwave cube takes up less than one cubic foot of space. It is definitely a little microwave, making it perfect for a dorm room, office cubicle, etc.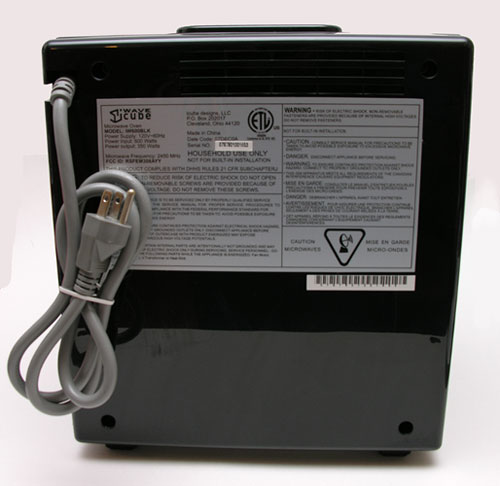 It weighs 12 pounds and has an output of 600 watts. The grounded three-prong power cord is about 42 inches long and is attached at the top back corner. Not sure why it's attached at the top instead of the bottom. This causes you to lose about 10 inches of cord length, if you need to plug it into an outlet below the device.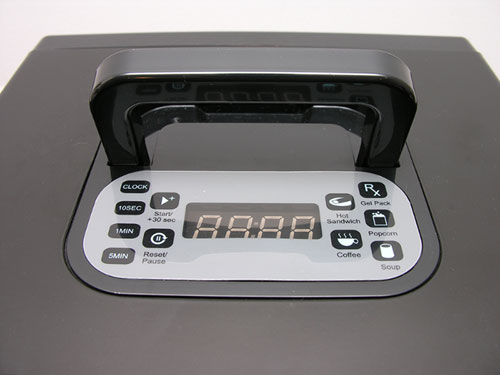 The user interface is located on the top of the iwave, along with a convenient handle. The location of the buttons may make placement of this microwave a bit problematic as you'll probably not want to put it on a shelf above eye level. Doing so will make it really difficult to see / press the buttons.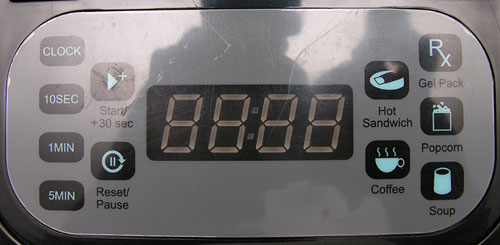 As you will notice, the interface is simple and user friendly. You can't punch in a specific time such as 1 minute and 23 seconds. Instead, you can press the 10 second button several times to a maximum of 1 minute. You can press the 1 minute button several times for a maximum of 5 minutes and the 5 minute button twice to give you a maximum of 10 minutes. There are also buttons preprogrammed for items such as hot sandwiches (can you say Hot Pockets?), Popcorn, Coffee, Soup and Gel Pack. The times associated with these items are:
Hot Sandwich – 4 minutes 30 seconds
Gel Pack – 1 minute 40 seconds
Coffee – 5 minutes, 6 minutes (press the button twice to toggle between the two settings)
Soup – 5 minutes, 6 minutes 30 seconds (press the button twice to toggle between the two settings)
Popcorn – 4 minutes 30 seconds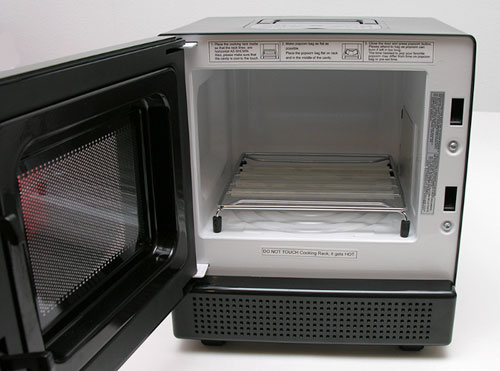 When you open the door, you realize just how small the iwave cube really is. With the accessory rack in place, the heating area is only about 8.5 x 8.0 x 5 inches (0.30 cubic feet). I think the metal rack is really only needed for popping corn, but the instruction booklet doesn't make that clear.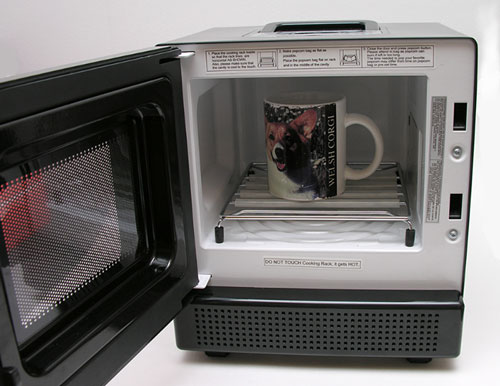 You won't be cooking a whole chicken in this little guy as it's basically for small items such as heating your coffee (or for me, tea), single serving snacks, small bowls of soup, etc.
When the door is open or while you are cooking, there is a small light that shines from the top of the interior of the microwave so that you can see the activity inside. Depending on the size of the item placed inside, you may not be able to see the activity though.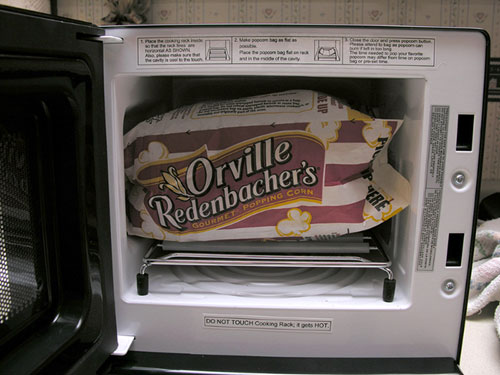 I was pretty sure that I would not be able to use a regular sized package of microwave popcorn in this device. I didn't think there would be room once the bag expanded. I decided to go ahead and give it a try and I was wrong, it worked fine.
In use, I found the iwave cube to be surprisingly quiet while cooking. Besides the fan noise, it will beep with every press of the keypad and when the cooking time is complete it will beep several times. It's not overly loud, but I do wish there was a setting to turn that off.
There are a couple of downsides to this product that I would like to point out. Since this device is only 600 watts, it will take longer to heat up items compared to regular full size microwaves that might be 3 or even 4 times more powerful. There's also the fact that you can buy a smaller regular microwave for less than half the price of the icube wave. I found an 800W Oster microwave with a foot print of 17 x 13 x 10 inches on Best Buy's site for $50. So if you have just a little more space, you can save quite a bit on a mini microwave purchase.
Other than those issues, the iwave cube is super easy to use, portable, cute as a button and perfect for small spaces. If you must have the smallest microwave currently known to man, then this is the one for you.
Product Information
Price:
129.95
Manufacturer:
icube designs
Retailer:
Sharper Image
Pros:

Small footprint
Easy to use
Portable

Cons:

Expensive
Small capacity
Low wattage
Button location