We use affiliate links. If you buy something through the links on this page, we may earn a commission at no cost to you. Learn more.
Hard drive capacity gets larger each year and many of us keep filling what space we have with critical, precious, or useless data. That is what happened to me. My 250gb LaCie external drive was down to less than 5gb of remaining space. I had been erasing data I probably shouldn't and it was definitely time to invest in more space. I thought about 500gb or 750gb drive but decided to bite-the-bullet and get a 1TB drive.
Many manufacturers are producing terabyte external drives these days. I thought about another LaCie or Maxtor but I have been so pleased with my Buffalo Technologies 320gb MiniStation I decided to try one of their larger external drives.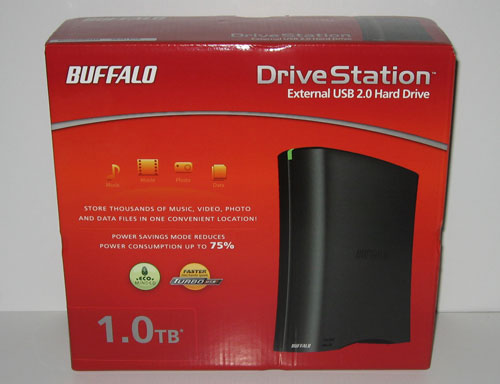 Buffalo Technologies' DriveStation HD-CEU2 ranges in capacity from 320gb up to 1tb.

While many of the external hard drives currently on the market have either an aluminum or glossy plastic housing, the Buffalo DriveStation is refreshing utilitarian (just like the MiniStation), constructed of a hard matte plastic shell. It's construction is excellent.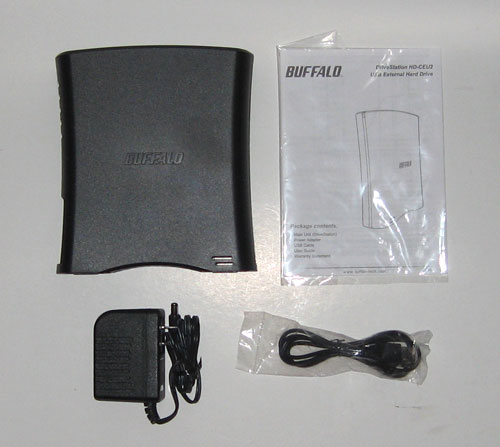 Package Contents
Buffalo 1TB DriveStation TurboUSB Hard Drive
Power cable
Standard USB cable
Turbo USB utility
Memeo AutoBackup, SecureLockWare Encryption
Turbo USB utility installation instructions
Memeo quick start guide
Hardware Specifications
| | |
| --- | --- |
| Drive Interface | SATA |
| Hard Drive Sizes | 320GB, 500GB, 640GB, 750GB, 1.0TB |
| Rotational Speed | 7200 RPM |
| Standard Compliance | USB 2.0 |
| Connector Type | USB Type A |
| Dimensions (WxHxD in) | 2.12 x 7.9 x 8.0 |
| Weight (lbs) | 3.5 |
| Power Consumption (W) | 10W (2.7W in power saving mode) |
| Operating Environment | 41-95° F |
| OS Support | Vista, XP, 2000, Mac OS X |
| Warranty | One year |
Features
TurboUSB – faster transfer speeds
Power savings mode reduces power consumption by up to 75%
Automatic setup, no drivers needed
Pre-formatted for immediate use
Supports USB 2.0
Near-silent operation

Buffalo Technologies have many types of external and network hard drives currently available. The main feature that led me to the DriveStation HD-CEU2 was its Eco-friendly power usage. According to Buffalo, the HD-CEU2's 'Eco-Minded' power savings mode reduces power consumption by up to 75%. The drive is smart enough to go into sleep mode and immediately wakes when your computer does.
Like the MiniStation, Buffalo includes a Mac and Windows compatible utility that enables the DriveStation's TurboUSB feature. According to Buffalo, this application increases the drive's transfer rate to as much as 64 percent faster than that of a typical 4,200-rpm USB 2.0 drive. This application plus the DriveStation's 7,200-rpm drive does make file transfer/backup very quick.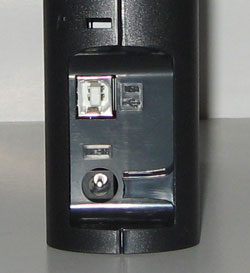 There are very few noteworthy things to mention about the exterior of the DriveStation housing. The back of the case has the USB and DC power cable ports.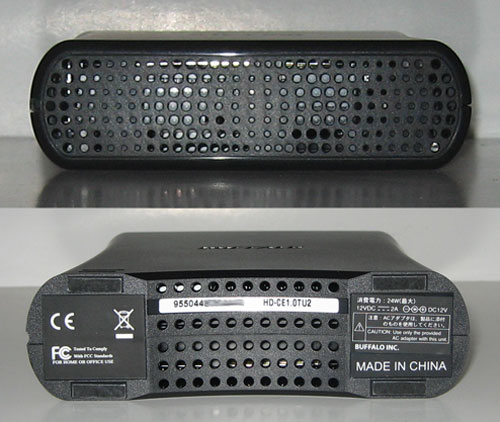 Another great feature about the HD-CEU2 is its nearly silent operations. The drive has vents on the top and bottom to enhance airflow through the housing. Its fanless design and whisper quiet drive make it almost as silent as the MiniStation. Truly the quietest 3.5" external hard drive I have ever used/seen.
This drive makes my old LaCie seem like an old, loud, slow dinosaur…..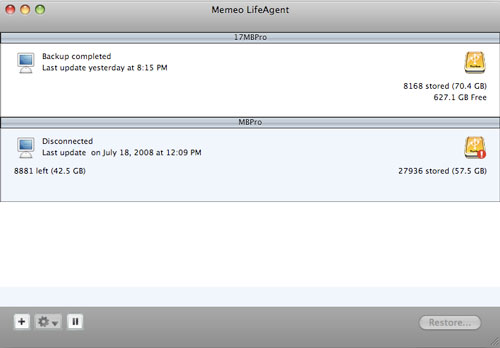 Also, like the MiniDrive, Buffalo bundles Memeo's backup software (Windows and Mac versions) with the DriveStations. Memeo is more of a file/document backup software application than a complete disaster-recovery program. It does not take an image of your drive to use in restoring your system if your drive fails (i.e., like Time Machine). It backs up individual files then monitors if they have been modified and only updates those. So, the initial backup takes a while but subsequent ones go relatively quickly.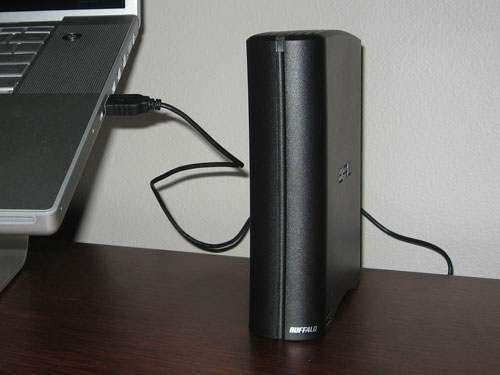 The Buffalo DriveStation HD-CEU2 is just what I wanted, definitely zero buyers remorse. It's form, function, and build quality are excellent, combined with its nearly silent operation, power savings design, and bundled software make the HD-CEU2 a great buy. It can be found at various online retail sites for between $165 and $250.
Product Information
Price:
419.99
Manufacturer:
Buffalo
Pros:

Quality construction and materials
Excellent utilitarian design
Faster than the average 3.5" external hard drive
Power Savings mode reduces power consumption by up to 75%
Good bundled TurboUSB/backup/encryption utilities
Turbo USB application works on both Win and Mac
Nearly silent operations
Good value

Cons:

Only a one year warranty
Does not include Mac encryption software