We use affiliate links. If you buy something through the links on this page, we may earn a commission at no cost to you. Learn more.
I have been using a 4gb Micro Vault Tiny USB Flash Drive by Sony for about a year now. And while I have other higher capacity thumb drives, I typically reach for my Micro Vault Tiny on the way out the door. This extremely small USB flash drive is not only incredibly portable but incredibly losable as well. So, when I found out Sony had released a 8gb version of the Micro Vault Tiny I started looking for a good deal.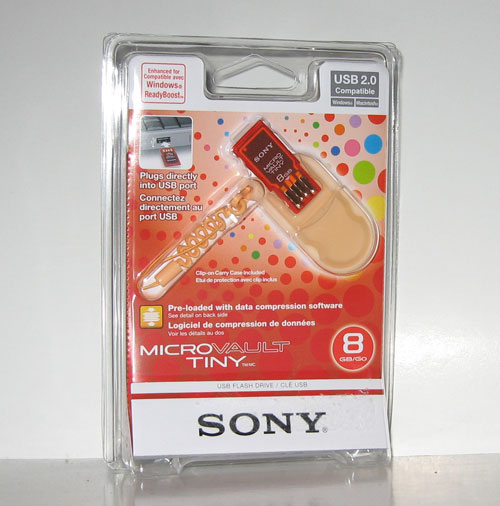 It is a shame that there is so much plastic in Sony's consumer packaging, many times more material than the flash drive itself….but I digress.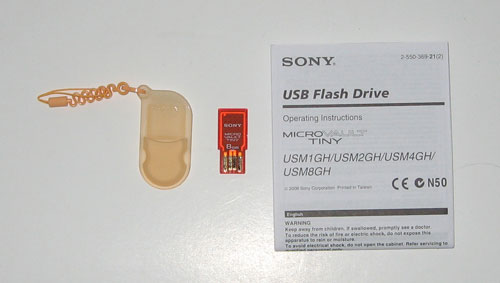 Package Contents
Sony 8gb Micro Vault Tiny USB Flash Drive
Slipper Case
Virtual Expander (automatically compress and decompress data) application
Operating Instructions
Hardware Specifications
| | |
| --- | --- |
| Drive Type | Solid State USB Flash Drive |
| Hard Drive Sizes | 1GB, 2GB, 4GB, 8GB |
| Standard Compliance | USB 2.0 |
| Connector Type | USB Type A |
| Dimensions (WxHxD mm) | 14.5 x 30 x 2.7 |
| Weight (g) | 1.5 |
| OS Support | Windows Vista, XP, 2000 & Mac OS X |
| Warranty | One year |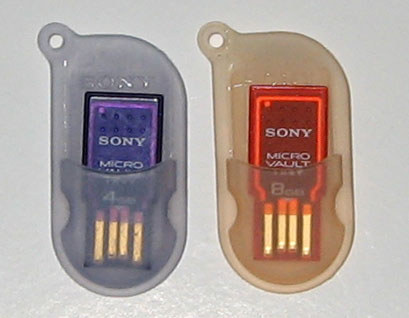 Other than capacity and color, there is no difference between the 1gb, 2gb, 4gb and 8gb versions of the Micro Vault Tiny.

The Micro Vault Tiny is the smallest flash drive I have ever seen/heard of. It weighs almost nothing and is more or less the volume of a quarter. A device only in spy movies a few years back.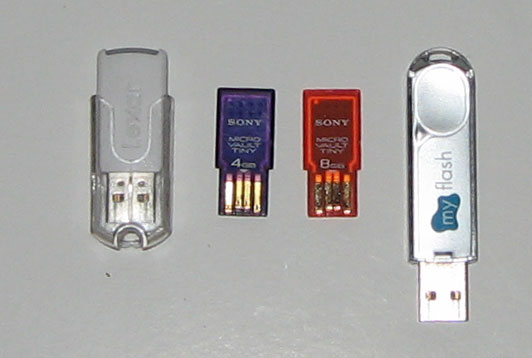 Along with being extremely small and light weight, the Tiny flash drive is relatively fragile compared to other drives on the market. It could easily be snapped off in a USB port or cracked if too much pressure is applied to it. I recommend carrying it in its slipper case or something else to protect it.

The Micro Vaults upload/download speeds are typical compared to other flash drives.
Speed test:
File used: a 85.1mb folder of 39 jpg images.
Copying file from Macbook Pro to the Micro Vault Tiny took 18 seconds
Copying file from Micro Vault Tiny to the Macbook Pro took 6 seconds
The Tiny comes preloaded with Virtual Expander, a Windows application that automatically compresses and decompresses data during the upload/download process. According to Sony's website, this application allows you to store up to 3 times as much data.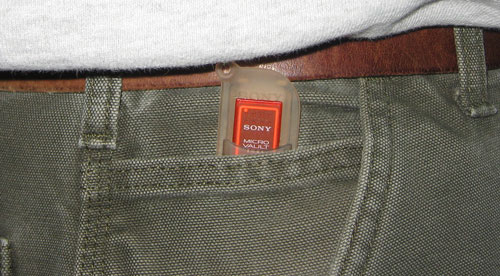 The Micro Vault Tiny really can be kept anywhere (and lost forever in the blink of an eye). I prefer to carry mine in the coin pocket of my pants/jeans. The slipper case that Sony provides is okay, but I am hoping to find a small, rugged container that can carry both of my Micro Vaults.
As I have stated above, Sony's Micro Vault Tiny is my thumb drive of choice. I wish Sony had a 16 or 32gb version of this flash drive. But for now, I am happy with the 8gb version (12gb if I carry both with me). If you are looking for one of the smallest and lightest USB flash drives around, the Micro Vault Tiny is definitely worth considering.
Product Information
Price:
59.99
Manufacturer:
Sony
Pros:

Quality construction and materials
Excellent design
Unsurpassed size, weight, and portability
Good value (vs size/weight)

Cons: